Every year on May 4th, Star Wars fans celebrate the epic American movie franchise that was created by George Lucas.  Even though this movie phenomenon began over 40 years ago, it still continues to capture the attention of movie-goers of all ages.
If you have a Star Wars enthusiast in your family, or perhaps you are one yourself, you'll want to check out this pretty awesome list of ideas to help you pay tribute to your favorite Star Wars character or movie.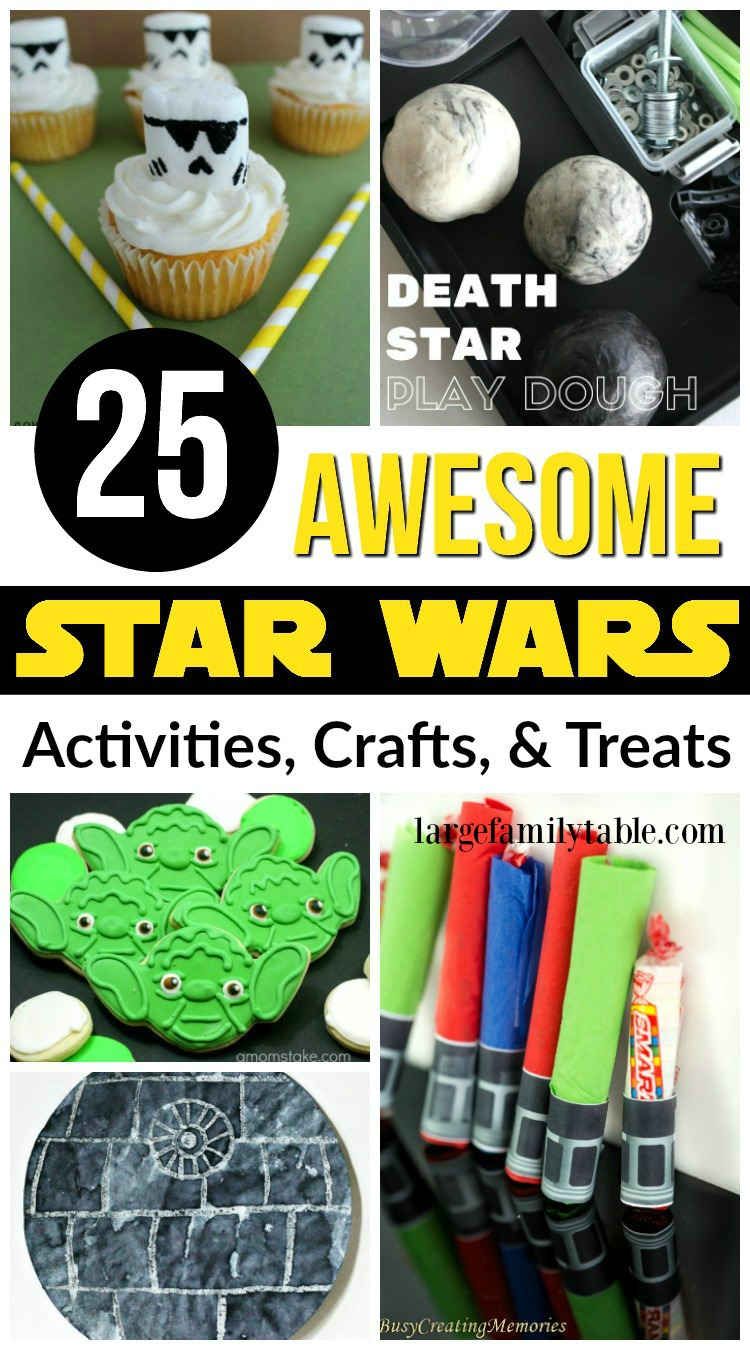 25 Awesome Star Wars Activities, Crafts, & Treats
Turn this much-loved, classic treat into one of your favorite characters from Star Wars. This post shows you how to make Yoda and Darth Vader Rice Krispie Treats.
Ewoks are adorable!  And so is this Ewok hood you can make for your little Ewok.
There are so many fun things you can do with pool noodles. One of them is to turn them into your very own pool noodle light saber!
These Star Wars finger puppets are so cute. They are available for sale, but if you are handy you could probably make your own.
So yummy, these Yoda cookies look! These cookies would be a perfect addition to any Star Wars themed party.
This R2D2 Craft is fairly easy, and it can be done with a variety of ages.  There are directions for both younger and older kids.
Here is a fun and simple way to add a little Star Wars flare to your popsicles. These Light Saber Pops are sure to be a hit with all the neighborhood kids this summer.
This Simple Yoda Puppet Craft can be whipped up in a snap.  It would make a great stick puppet for a puppet show.
If you ever wanted to be Princess Leia, this DIYPrincess Leia Yarn Headband will get you one step closer.  This headband would go nicely with any Princess Leia costume.
This Ewok Cake is almost too cute to eat.  Any little Star Wars fans would delight in having this cake for their birthday party.
Need a party favor for your Star Wars party?  These Star Wars Smarties Light Saber Craft Treats are sure to be a hit.
With just a brown paper lunch bag, some construction paper, and a little paint, your kids can make a Chewbacca Paper Bag Puppet.  And did I mentioned you'll be painting with a fork!?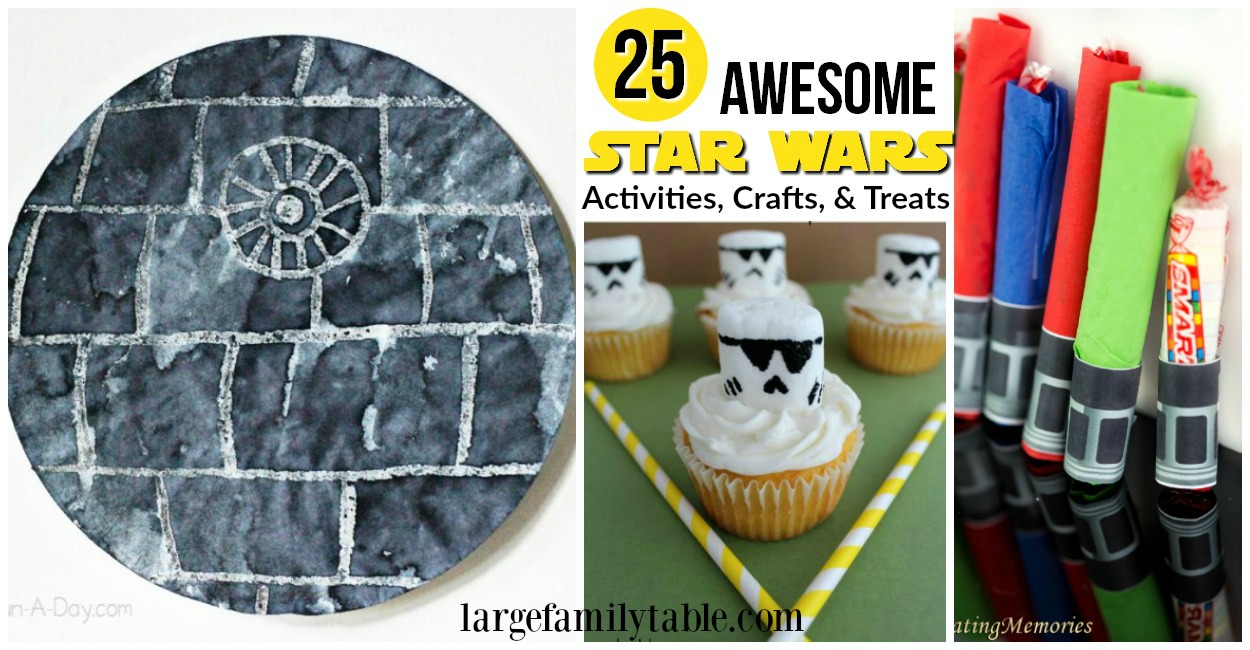 Let your child be creative by making and decorating their own Star Wars Droid Crafts.
Kids love Perler beads and they will love making this R2D2 craft with this handy Perler Bead R2D2 Pattern.
These Crayon Resist Death Stars are made with cupcake liners. This is a very clever craft created by an 8-year-old Star Wars fanatic.
Transform a paint stirring stick into everyone's favorite wookie, Chewbacca. This Chewbacca Craft from a Paint Stir Stick is soooo cute!
You will need to have basic sewing skills to complete this little cute and cuddly Mini Ewok Softie.
You can get really creative with empty toilet paper rolls.  Try your hand at making your favorite Star Wars characters out of this craft medium. Which of these Toilet Paper Roll Star Wars Characters will you make first?
With three paper plates, you can make a Paper Plate BB-8 Droid Craft.
Devour one of the greatest movie villains of all time when you eat one of these Darth Vader Cupcakes.
The idea to top a cupcake with a marshmallow and turn it into a Storm Trooper Cupcake is brilliant and super simple!
Here is another easy paper plate craft that you can use in your Star Wars puppet show. You've got to check out this Paper Plate Darth Vader Puppet!
Kids will surely have a blast playing in thisLego Star Wars Yoda's Swamp Slime Activity sensory tub.  Detailed instructions on how to set up the bin are included, as well as play ideas.
Using this Star Wars Sensory Writing Tray is a fun and memorable way to practice letter formation, spelling words, or sight words.
Make your own dark colored play dough, add some props, and let your little one go to town creating their own version of the Death Star with this DIY Death Star Play Dough Kit.
Which one of these awesome Star Wars crafts and activities will you and your kiddos try first?
25 Out of This World Star Wars Activities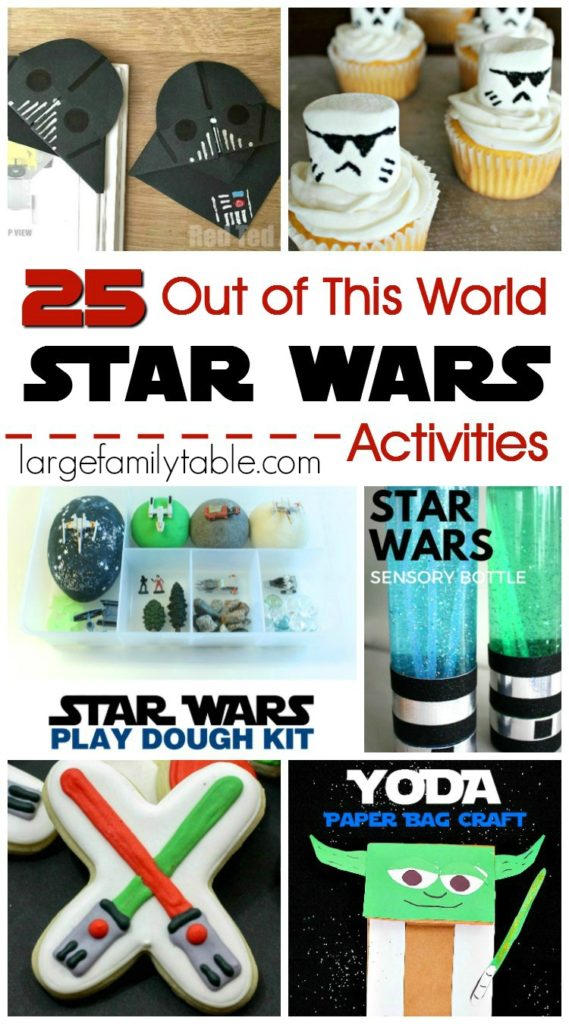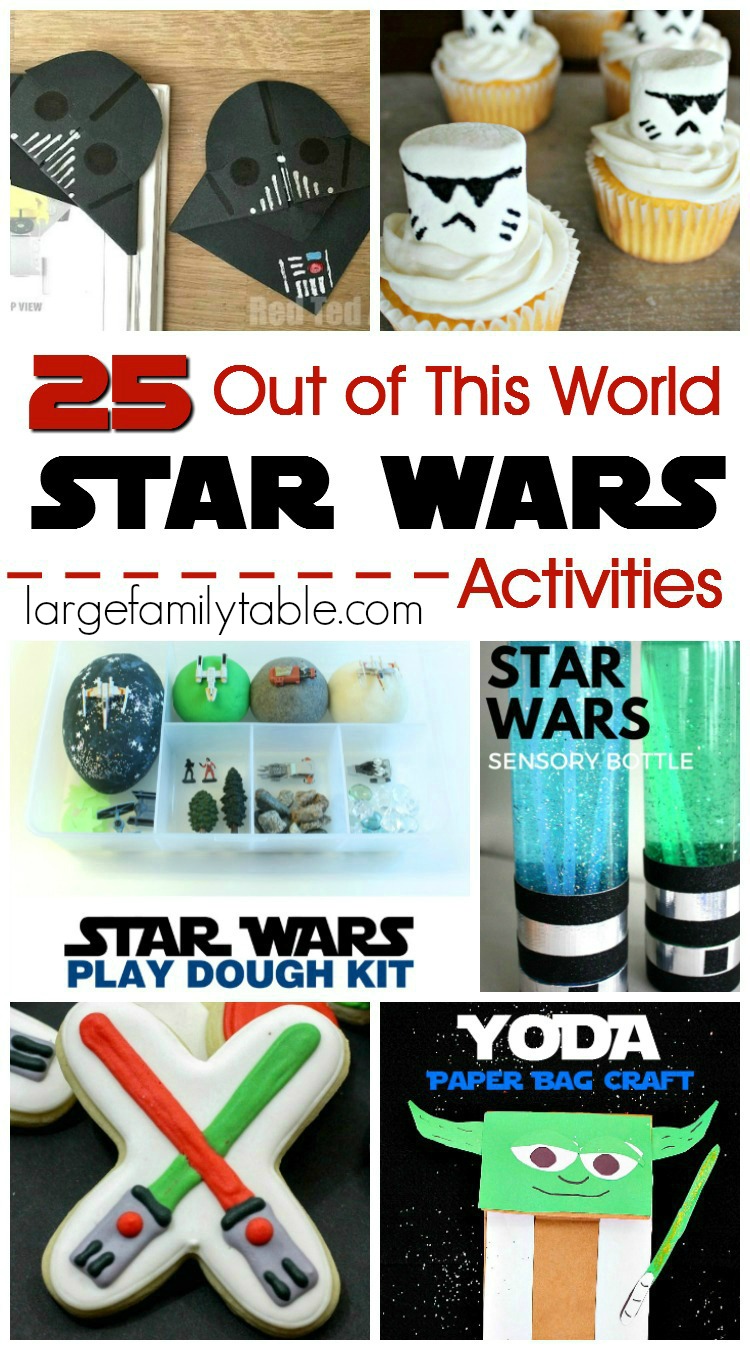 If you've enjoyed this list of 25 Star Wars Craft ideas then you'll LOVE this post with 25 MORE Star Wars Activities!