You're looking in the fridge and all you see is Thanksgiving leftovers. You know you have to get creative with them or your family will mutiny. What to do with them? You get them all out and make after thanksgiving casserole bake. It's a recipe you've probably eaten before at Grandma's house where no food went to waste. It's that same mantra all large family moms know and love.
**Use special promo code HELLO20 to take 20% off your first order in the shop including the SUPER MEGA ULTIMATE Large Family Freezer Meals Bundle here!**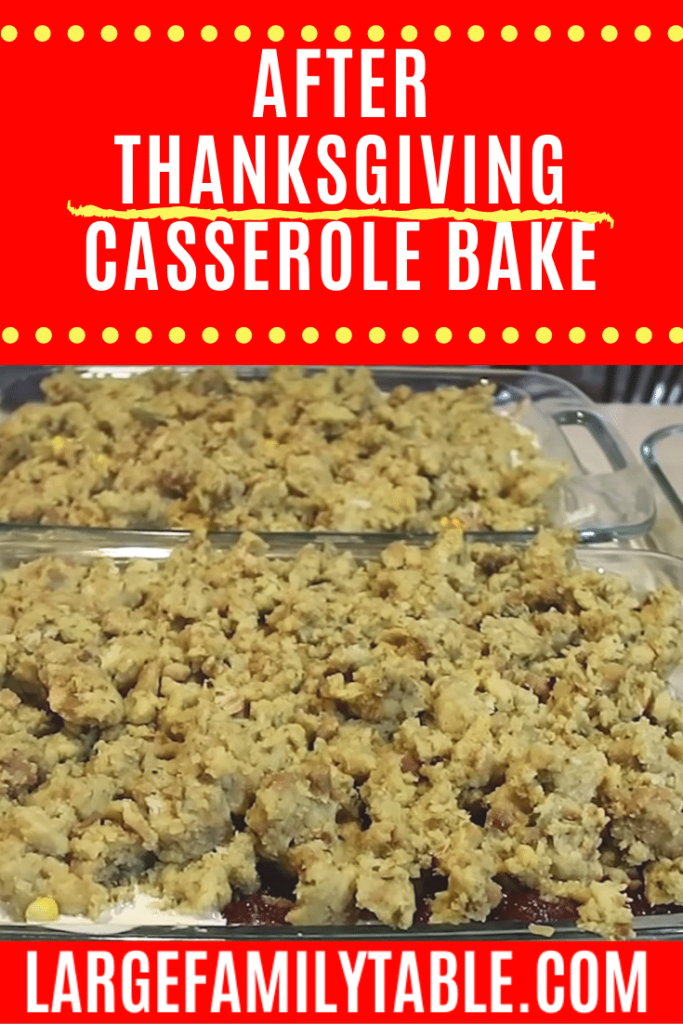 This is one of those recipes that you take a pinch of this and a dash of that then mix it up with whatever you have on hand. Don't you love recipes like that?! You can't go wrong with that recipe! Don't fret over not having a ingredient. Just skip or substitute it and continue on.
Take out your 9 x 13 baking pans and all your leftovers. Start with a layer of mashed potatoes, Get it all spread out then layer leftover turkey, veggies, gravy, and cranberry sauce if you have it. Top it off with leftover stuffing. Want to cook it right away? Cover with foil and cook for 30 to 45 minutes. Want to freeze it? Cover with 2 layers of aluminum foil then 2 layers of plastic wrap. Keeps in the freezer for 3 months.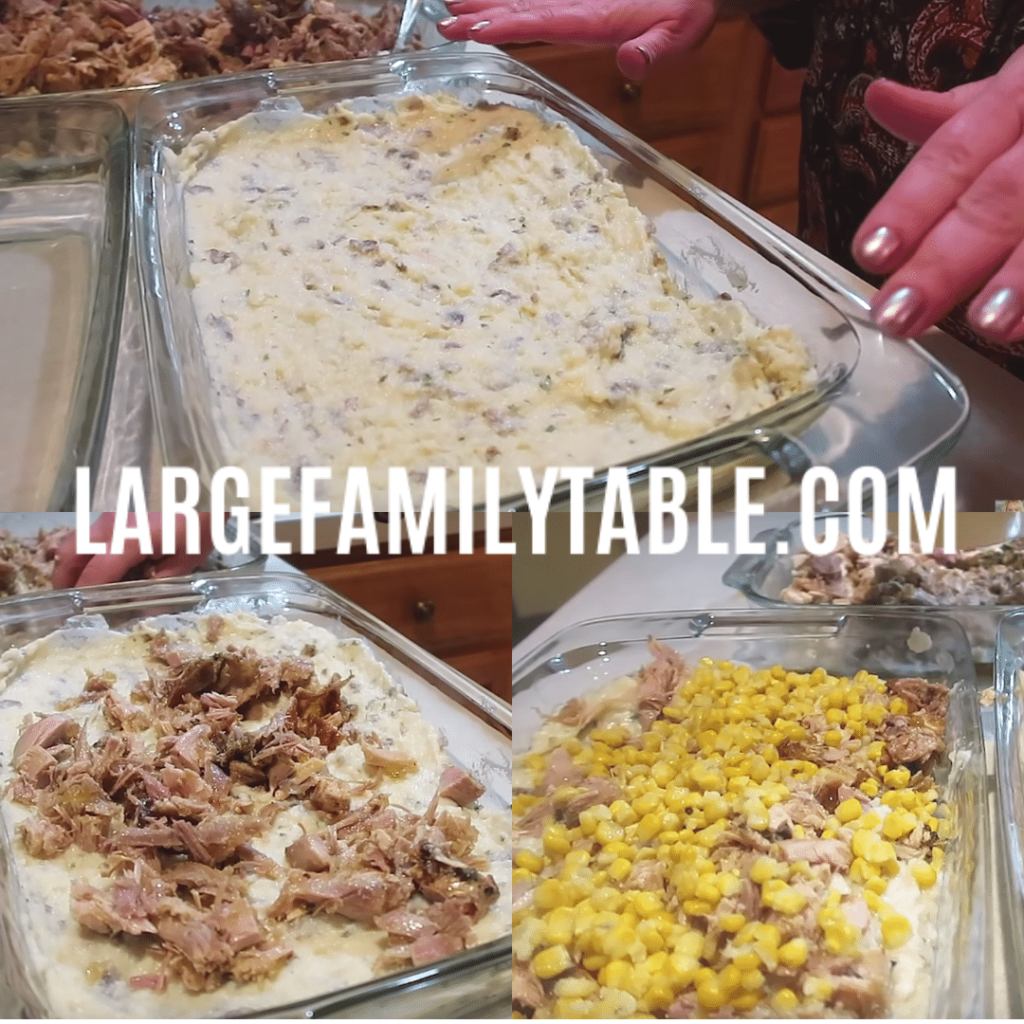 Print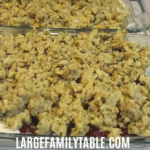 AFTER THANKSGIVING CASSEROLE BAKE RECIPE | LARGE FAMILY FREEZER FRIENDLY
Author:

Prep Time:

15 mins

Cook Time:

40 mins

Total Time:

55 minutes

Category:

Dinner

Method:

Oven

Cuisine:

Leftovers
---
Description
This casserole bake is a perfect freezer friendly way to use up all the leftovers.
---
Ingredients
Leftover Turkey

Leftover Stuffing

Leftover Gravy

Leftover Mashed Potatoes
Leftover Veggies (corn, green beans, carrots – whatever you have!)

Leftover cranberry sauce (if desired)
---
Instructions
In 9×13 pan layer mashed potatoes, leftover turkey, veggies, gravy, cranberry sauce (or not), and top with leftover stuffing.

Cover with layer of foil and bake at 375 degrees for 35-40 minutes
---
Notes
To freeze:
After step 1, cover with 2 layers of foil then 2 layers of plastic wrap. Store in freezer for 3-6 months.
To reheat, take out of freezer 24 hours in advance.
Place in fridge to thaw.
Unwrap all but one layer of foil and follow step 2.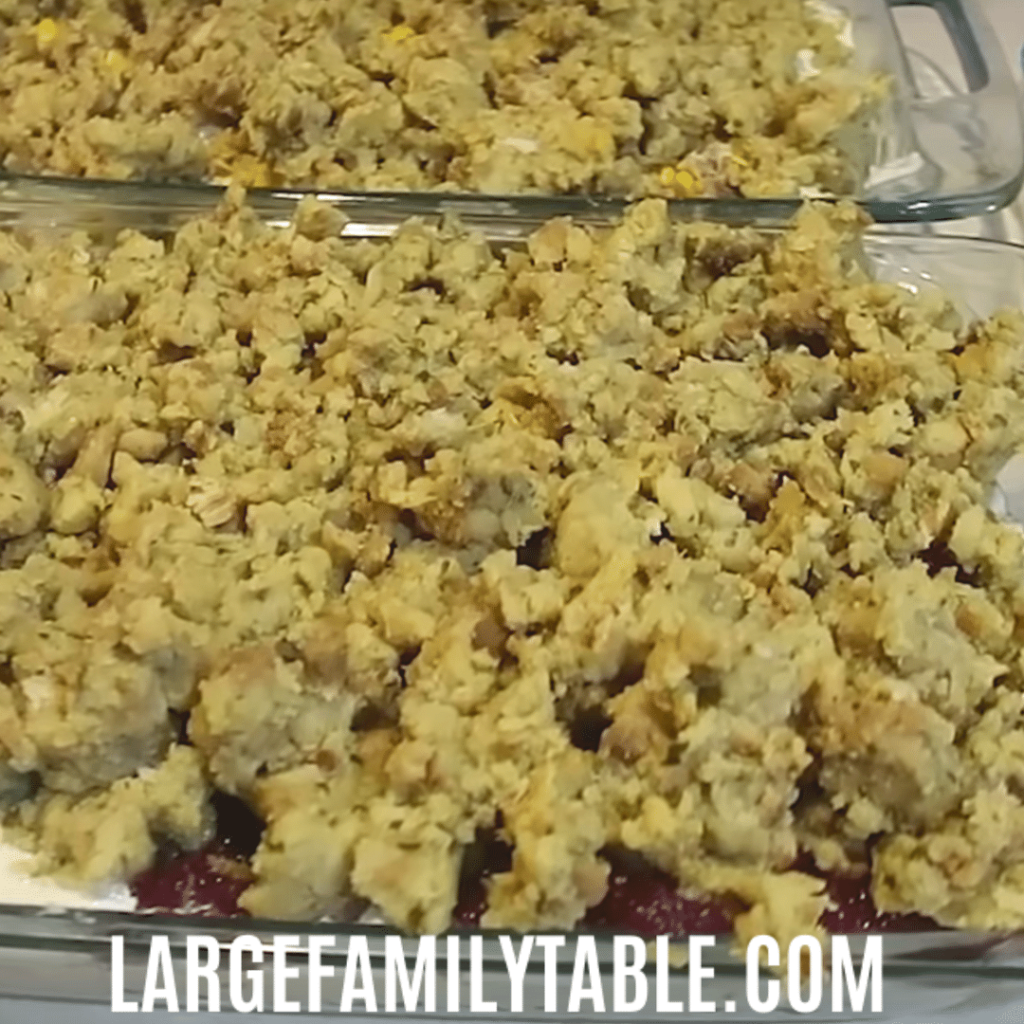 After Thanksgiving casserole bake is one of those comfort food recipes your family will come to treasure as a post holiday treat. It's like Thanksgiving all over again when you find it in the back of the freezer. Best part is you don't have to prepare anything to go with it. It's a complete meal in one pan! It's a large family mama's dream come true!