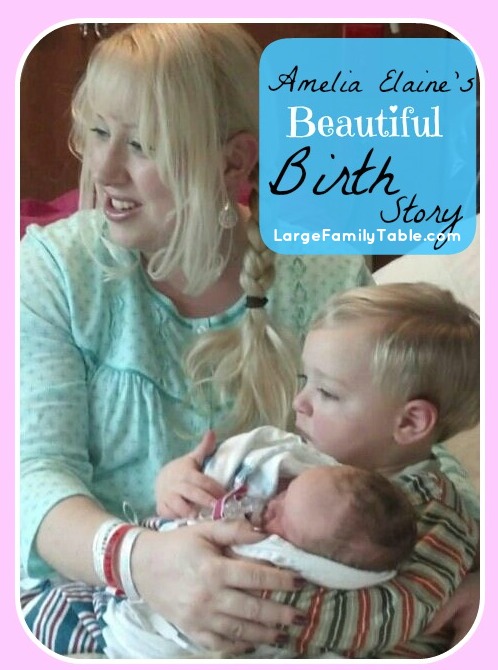 My due date of February 2nd came and went. As many of you know once you go over the magical due date the end-of-pregnancy misery amplifies. My third trimester was spent mostly on the couch from exhaustion and muscle aches and pains. Going over my due date was not part of my plan and hadn't happened in my previous five pregnancies. I comforted myself that Amelia would come in the Lord's perfect time. During my overdue week, I had three nights of intense contractions that kept me up for hours but lost strength and rhythm by morning. Finally, on the morning of February 9th, I awoke at 5:45 a.m. with an intense contraction. I thought that I would time the contractions starting with the next one. That time never came because less than two minutes later came my next contraction. By the time I made it down the stairs (without falling ;)) to the bathroom, I had several contractions. I called to my husband that we had no time to wait around and time these puppies – we best go now!
During the 15 minutes that it took for us to get out the door and in our van I had seven contractions and was coming to terms with the fact that I might have this baby on the side of the road. I was praying that the Lord would help us get to the hospital so I could have her there. The fact that my water hadn't broken yet gave me some peace; although I felt the moment that it would break I would be out of time.
Now, this is how you know that for us bloggers blogging touches many aspects of our lives. I had just read my friend Amy's (Raising Arrows) birth story for her sweet baby Creed. In Amy's birth story, she mentioned how from experience they wanted to call ahead to the ER and give them a heads up that they were coming in. This way her and her hubby wouldn't have to stand around at the check-in desk (of course her story has a different twist ;)). As Trav was flying down the road, and my contractions are coming strong one minute apart, Amy's blog post came to mind, and I called the ER in a flash and told them the following:
Hi, there. In about ten minutes a big van is going to pull up outside and a wild pregnant woman in a fuzzy blue bathrobe is going to be rolling out with contractions one minute a part. Oh, yeah – this is my sixth baby. I need someone standing there waiting to take me upstairs to OB or we may be delivering the baby on the sidewalk.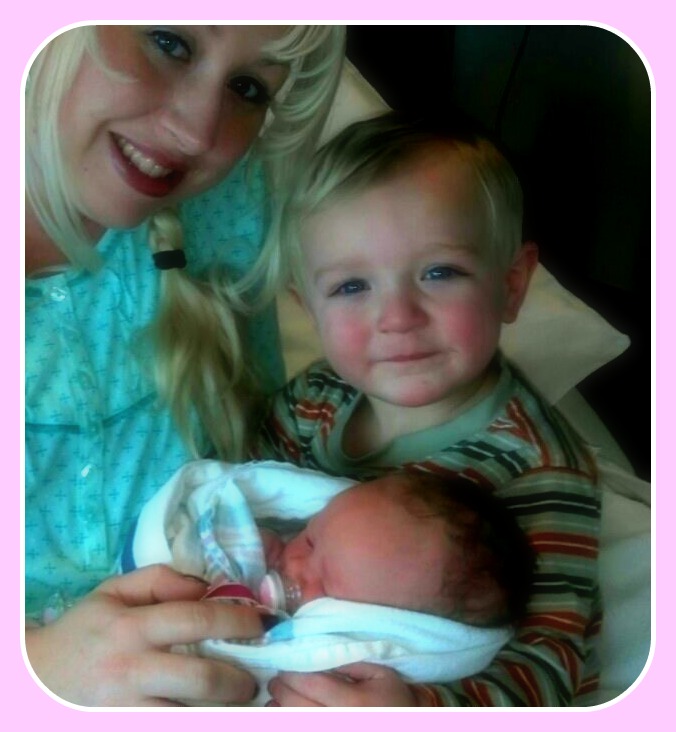 The hospital staff was on their toes that morning. When we pulled up, they had two nurses and a paramedic waiting with a stretcher. I think they were disappointed that I wasn't going to have a sidewalk delivery as they had time to whisk me upstairs to labor and delivery. Once upstairs they had the L&D room ready for both the baby and I. My midwife was ready for action, but I was shocked to find out that I was only 5 cm dilated. My midwife explained what happened was I had a large bulge of water under the baby's head. This was causing my body to speed up and get ready for delivery. She ordered my epidural which was very anointed as it has been with all of my births. My water broke on its own a few minutes later, and to my great relief, my contractions spaced back out. I had time to rest and put on my make-up before delivery. (I like to feel human when at all possible.) My mom, Travis, and Naomi were in with me for the delivery and at 11:37 a.m. Amelia Elaine was born weighing 9.6 lbs and 21 inches long!
Amelia is a joy and delight. We all have enjoyed every coo and burp from this beautiful little creation from the Lord. Her name means "handiwork of the Lord," and we see this each day. Our youngest sons, Liam (2) and Gabriel (3), are on official baby watch. If Amelia twiddles a mitten off or has a spit bubble, they join together to shout the news. We hear "awwww, baby" throughout the day. Naomi (6) is out-of-her-gourd with happiness about having a baby sister. Jadin (12) and Zion (9) are sure to remind me when they haven't had a recent turn holding their sweet little sister.
Now that I've been delivered from my hardest (but worth it :)) third trimester to date you'll be seeing more of me here on the blog. I'm refreshed, revived, and beyond ready to start sharing more of our journey here!