If you are in the mood for something delicious, then perhaps this Apple French Toast Casserole is what you need to make. Any large family table would love this meal for breakfast because it's a French toast theme and is also a casserole! Moms and dads love this meal because it's so easy to make and those bellies get full!
*Use special promo code HELLO20 to take 20% off your first order in the shop including the SUPER MEGA ULTIMATE Large Family Freezer Meals Bundle here!**
Why Make Apple French Toast Casserole?
You may be wondering why you should make this dish. Well, when it comes to a casserole, you may want to switch up your options now and again. Of course, baking casseroles can be a hit with the family or they can turn out to not be a favorite. When I first fed this to my kids for breakfast, they were SO excited and it has been asked for again and again!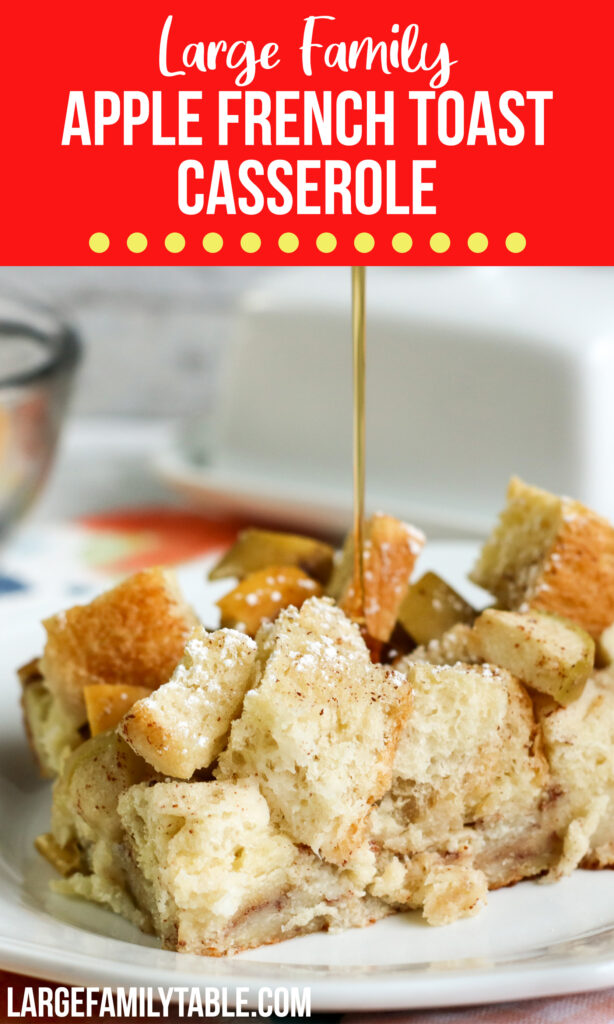 Ingredients for This Casserole
Are you curious about which ingredients go in the casserole? It's time to start gathering all of the ingredients to make this dish. This casserole uses simple every day ingredients that you probably already have in your pantry.
I bet you can't wait to use up those loaves of day-old bread. Finally, you have something to do with the bread. Don't forget to cube it. Of course, you can also make your own yeast or no yeast bread, too!
I use a lot of eggs in my recipes, as you can see. This casserole calls for ten eggs! I try and buy eggs when they are on sale for this very reason.
This recipe also calls for cinnamon, sugar, and vanilla which are the best ingredients for making french toast.
Don't forget about the apples you will need for this recipe. They really make this casserole so yummy!
As you can see, there are lots of yummy ingredients in this recipe. The full list of ingredients and step-by-step directions can be found in the recipe card.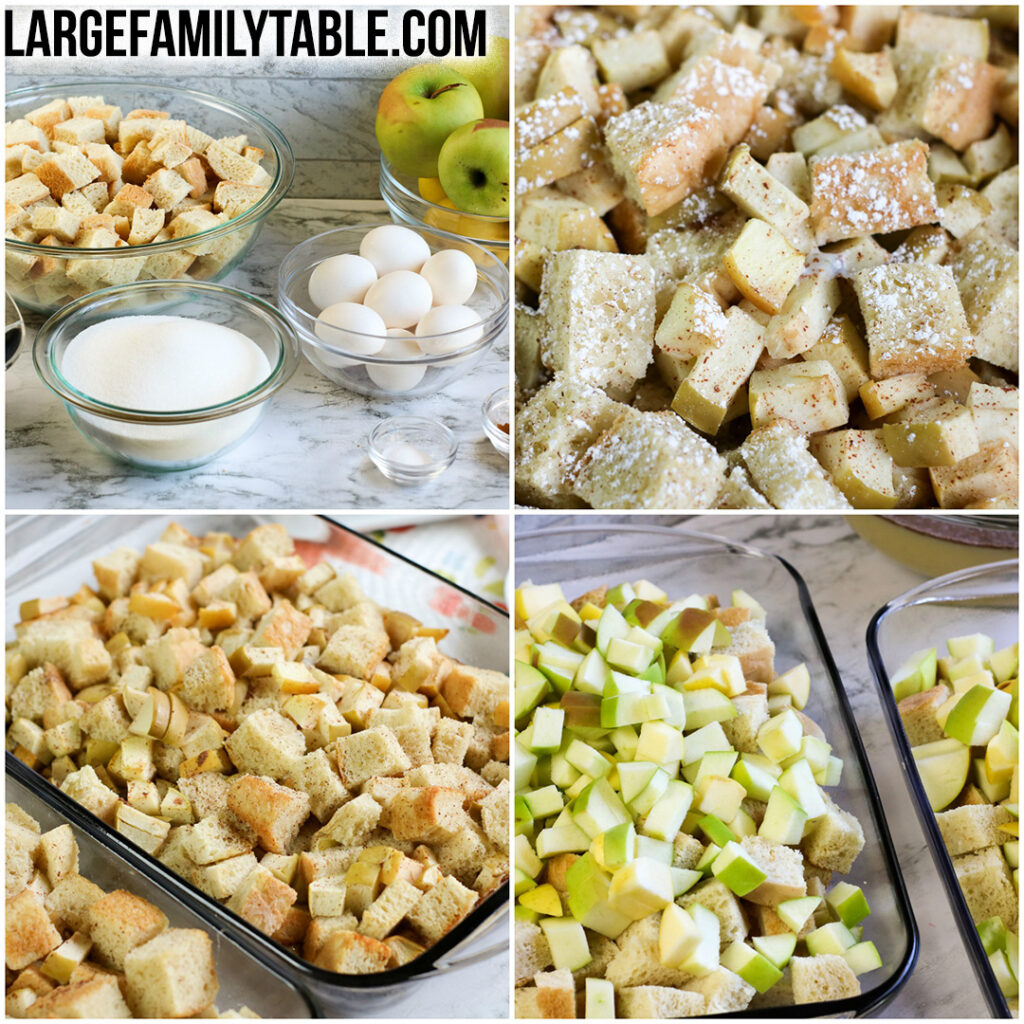 How to Store French Toast Casserole
Once you've made this Apple French Toast Casserole, you don't want it to go to waste. Choose a container that is airtight to store this casserole in the fridge. You can keep it in the refrigerator for 3-5 days before it goes bad. If you choose to freeze it, double wrap it in Saran Wrap or foil, to keep it as fresh as possible. You can freeze this casserole for up to two months.
What to Serve with This Casserole?
In my family, casseroles are designed to keep everyone full. However, it never hurts to make a protein as a side with a casserole. You can make bacon, sausage, or turkey.
If you need a drink side to go with it, then go with coffee, hot chocolate, milk, orange juice, apple juice, or even water.
I feel as though this French toast casserole serves as both a dessert and a breakfast. Once you make this for your family, it will be requested that you make it again. There is only one thing left to do and that's to enjoy it. What's your favorite part of this recipe? Leave a comment below.
Where can I find more large family breakfast recipes?
Breakfast doesn't have to be complicated to be filling and healthy. I know it may seem easier to buy pre-made breakfast items, but you can save lots of time and money just by making breakfast ahead of time with my Breakfast Freezer Meals Pack, it's number 10 in my Large Family Freezer Meals Series. It includes 10 amazing breakfast recipes with directions to help you make 25 breakfast meals to put in your freezer!If your freezer is already full or you just don't have the freezer space, then try my Easy and Simple Large Family Sheet Pan Breakfasts which includes 10 delicious and easy breakfast meals to make your large family. Save time and money!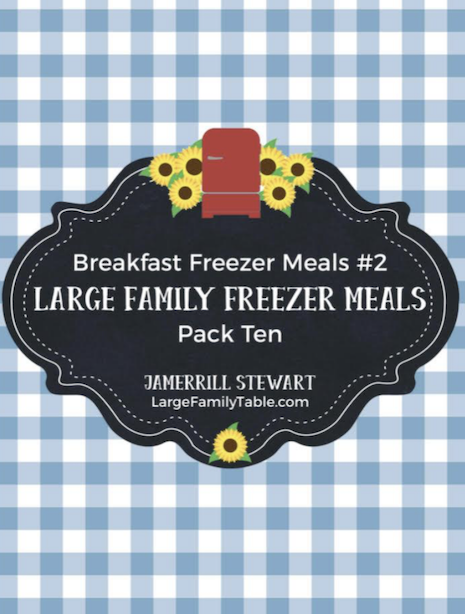 Here are more breakfast ideas your family will enjoy!
Apple French Toast Casserole
Print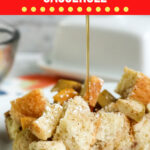 Apple French Toast Casserole | Breakfast Ideas for a Large Family
Author:

Prep Time:

15 Minutes

Cook Time:

60 Minutes

Total Time:

1 hour 15 minutes

Category:

Breakfast

Method:

Oven
---
Description
This Apple French Toast Casserole is delicious on so many levels. Your large family table will love this casserole for breakfast. 
---
Ingredients
2 loaves day old bread, cubed

10 eggs

1 ½ cups milk

1 ¼ cups sugar

2 tsp ground cinnamon

2 tsp vanilla extract

1 tsp salt

6 large apples, peeled, cored and diced
---
Instructions
Prepare two (9×13) casserole dishes with nonstick cooking spray.

Divide the bread and apples between the two casserole dishes. Toss together.

In a large bowl, whisk together the eggs, milk, sugar, cinnamon, vanilla, and salt. Pour evenly over the casseroles. 

Cover and refrigerate to allow the bread to soak for at least an hour or overnight.

Preheat the oven to 350 degrees. Uncover and bake for 60 minutes or until the eggs are completely set.
Keywords: Apple French Toast Casserole
This is a great casserole to make ahead, or even the night before when your preparing dinner. Then it's ready to go in the morning. Nothing beats a hot syrupy breakfast!
FREE Emergency Pantry Planning Pack!
Don't forget to sign up for the emergency pantry planning pack for free to help you plan your pantry meals! The free Emergency Pantry Planning Pack will help you plan your needed pantry items! Printable pages include pantry inventory, grocery lists, meal planners, list of pantry staple items, and more.