Now that I've shared the best freezer cooking methods to help you fill your freezer fast, I wanted to chat more in-depth about the benefits to having large family freezer meals of whatever size stash you can pull together during your current season. Here are 10 amazing benefits of large family freezer meals!
Get the Best-Selling Large Family Freezer Meals Collection here! Use promo code HELLO20 to take 20% off your first order!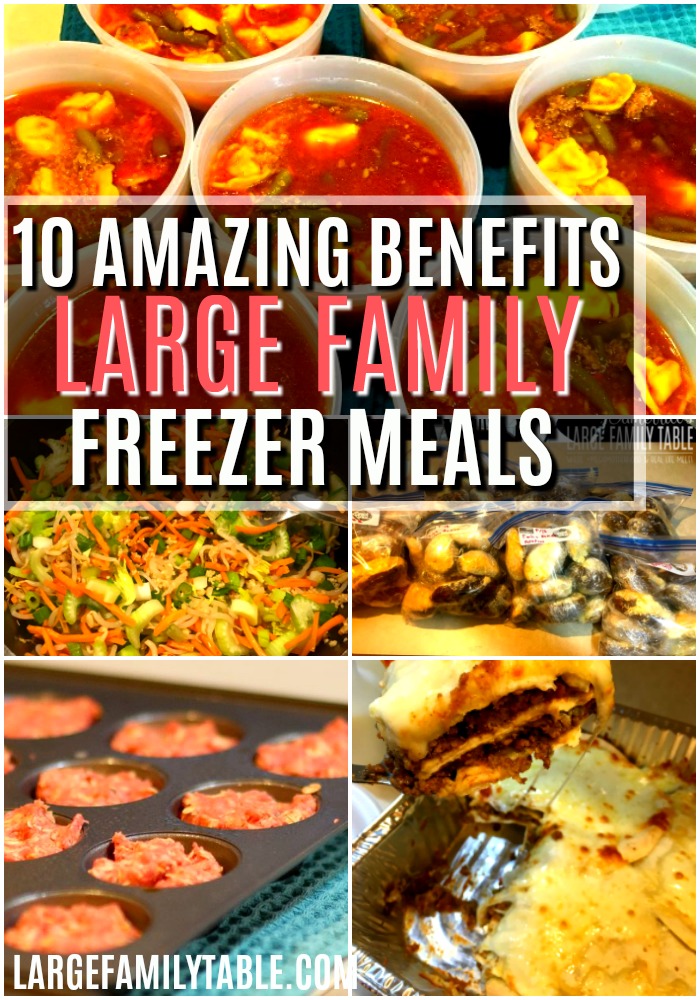 Also, don't forget to snag the best value Large Family Freezer Meals Bundle featuring the brand new large family freezer meals packs 1, 2, 3, 4, 5, 6, 7, 8 & 9!
10 Benefits of Having Large Family Freezer Meals
1.) A lifesaver when sickness hits
Having meals in the freezer is a lifesaver when illness hits the house! If I go down with a cold bug having freezer meals are a blessing to my husband and children since I'm down for the count. If several children are sick, but I'm still standing, the freezer meals lighten my load. This way I can still feed the family and put my time into tending to sick children versus spending time in the kitchen.
2.) Share with those who need a meal (or two or three)
We all have friend's who've had a new baby, known a family from church who is having surgery in their household or have welcomed a new family who just moved to the area. Sadly, there are also times when there's a death of either family, or friends, and we feel our heart pulled to be a blessing during that time. Being able to load a few make-ahead meals from the freezer into a box while adding in a bag of salad and dressing, is the perfect way to bless others.
3.) Take advantage of seasonal savings and favorites
We've heard of the zucchini flood, and now you don't have to let precious zucchini go to waste! You can have a big freezer cooking afternoon where you make *all the zucchini bread.* Plan your freezer cooking around seasonal savings and family favorites. Even having chopped onions, celery, and green peppers in the freezer can be extremely helpful!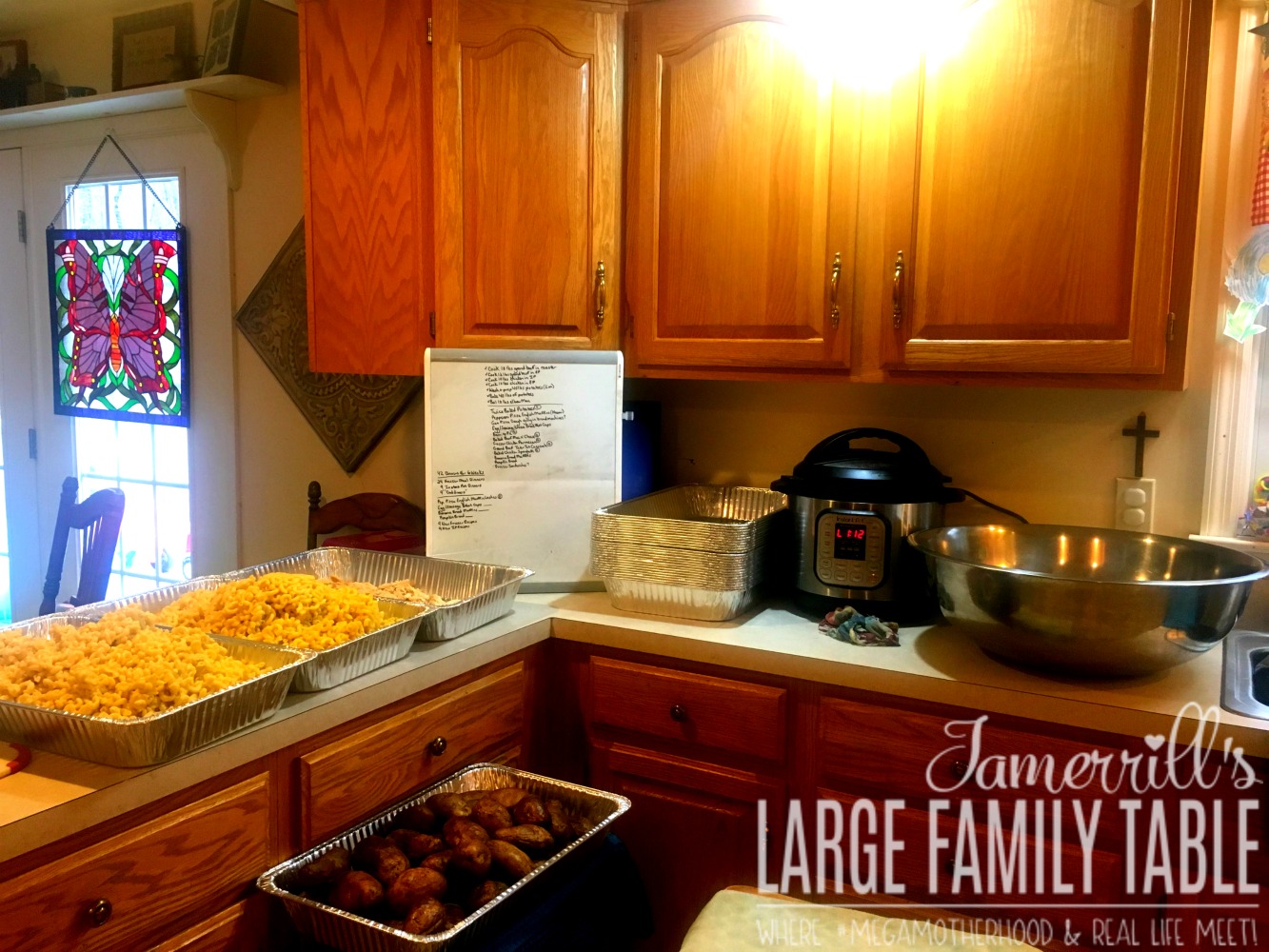 4.) Save time and sanity
On YouTube, I did a freezer cooking and freezer meals Q&A live stream over the weekend. One of the many questions I answered from viewers was, "do you find it really saves time to have a day where you do all the cooking, or is breaking it up and just doubling meals better?"
My answer is I honestly think it depends on the season and schedule in the household. For me, in my current season, I find it easier to take a day or two and stock my freezer with tons for the coming weeks. This way I don't have a dinner mess in my kitchen every night. Instead of standing in the kitchen and making a meal double or triple every evening to build a freezer stash, I can instead read to my children for an extra hour.
This is how I currently save my time and sanity meal wise. You may be in a season where making a double or triple batch of one meal a few times a week works well for you. Go with what works, momma. Save your time and sanity the best way for you in your season.
5.) Pregnancy and Postpartum
We don't use freezer meals every night (currently 3 to 4 times a week around here on average), although there are weeks when we do. During my pregnancy and postpartum time last summer with baby number 8, I had built up such a mega freezer stash that we had super easy freezer meals for breakfast, lunch, and dinner for about eight weeks. That covered those last few weeks before the baby and the several weeks after he was born.
Having a freezer meals stash for yourself or helping a friend build hers is a blessing when the new baby arrives!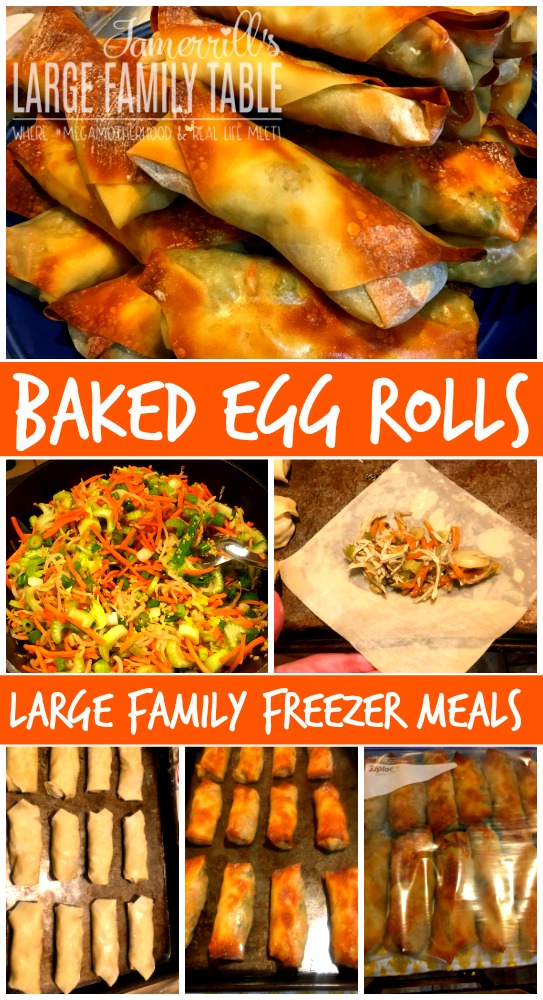 6.) Use up grocery store deals
Did you get a great deal on ham, chicken breasts, or ground turkey? Whatever store deals you can find can be used up in creative freezer meals for your family. I had found 2 lb bags of chopped onions and colored peppers on sale for only $1 a bag about two months ago. Just this past weekend I pulled those bags out of my freezer and used those veggies in homemade freezer meat loaves and spaghetti sauce.
NOW you can get the entire ULTIMATE SUPER MEGA Large Family Freezer Meal Packs 1, 2, 3, 4, 5, 6, 7, 8, & 9! Brand new packs 7 & 8 are low carb and pack 9 is by special request Dairy Free!
7.) Family Travel
If you're traveling not too far from home and can keep your meals frozen for the trip, you can save additional money by bringing freezer meals along. We've done this for beach house stays. The beach house has a kitchen, and I can make meals. I also like to bring a few freezer meals for the freezer there for nights that I would rather rest. Mommas are allowed rests, too. 🙂
8.) Eat healthy from the freezer
Sometimes people think freezer meals are unhealthy, but that doesn't have to be the case. You are the boss of the ingredients. Tweak the meals to match your nutritional goals. I may serve my family (gasp!) a hot and bubbly lasagna, but the meal doesn't have to stop there. We do lots of fresh veggies around here whether that means a big salad or simple sliced colored peppers, carrots, and dip.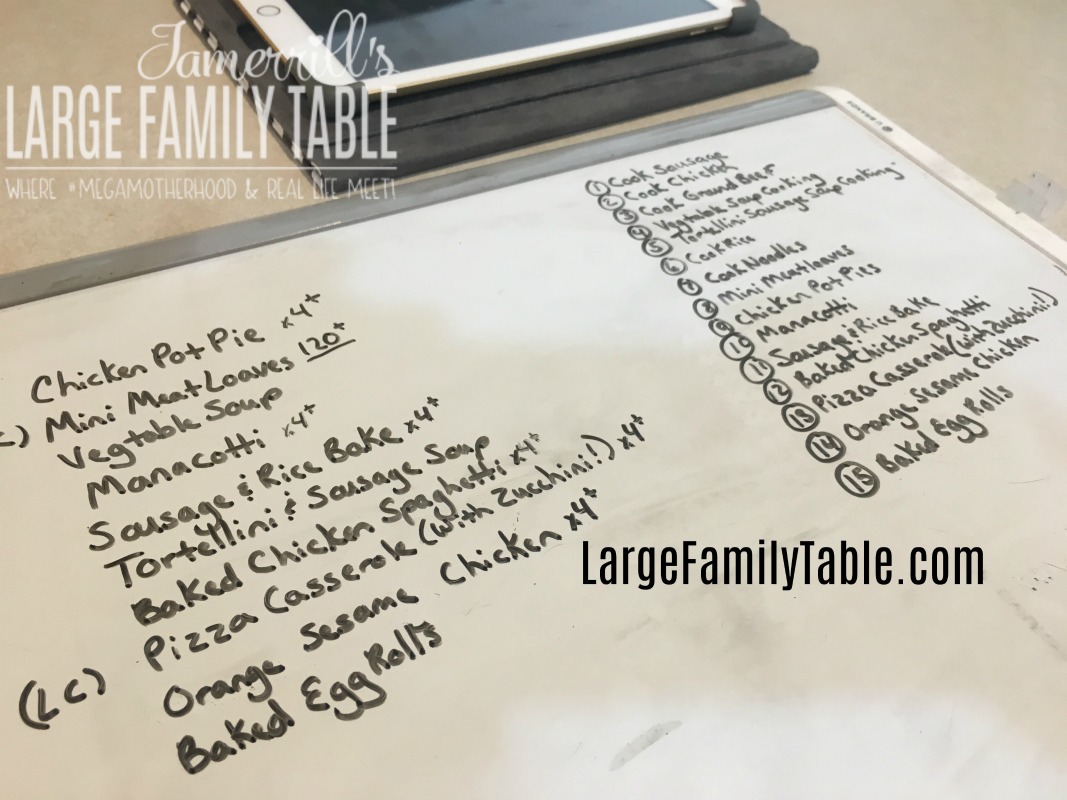 9.) Special one on one time with a child
For your actual freezer cooking time, you can use this time as a special mommy-child time. I'll call different children to "help" me make a big batch of muffins for the freezer. Or I'll let a teen pick the music or show and we'll listen to their picks and chat while we chop up a big ham or make a huge batch of french toast together.
10.) Money Savings
And of course, there are big money savings with having a big batch a freezer meals ready to go. It's so helpful when you're out for the day running errands and you don't have to have the dinner pressure on your head for when you get home. Freezer cooking with a plan allows you to shop for your meals with a purpose. You use up ingredients instead of those sitting, and can actually cut down on waste by following a freezer meals plan!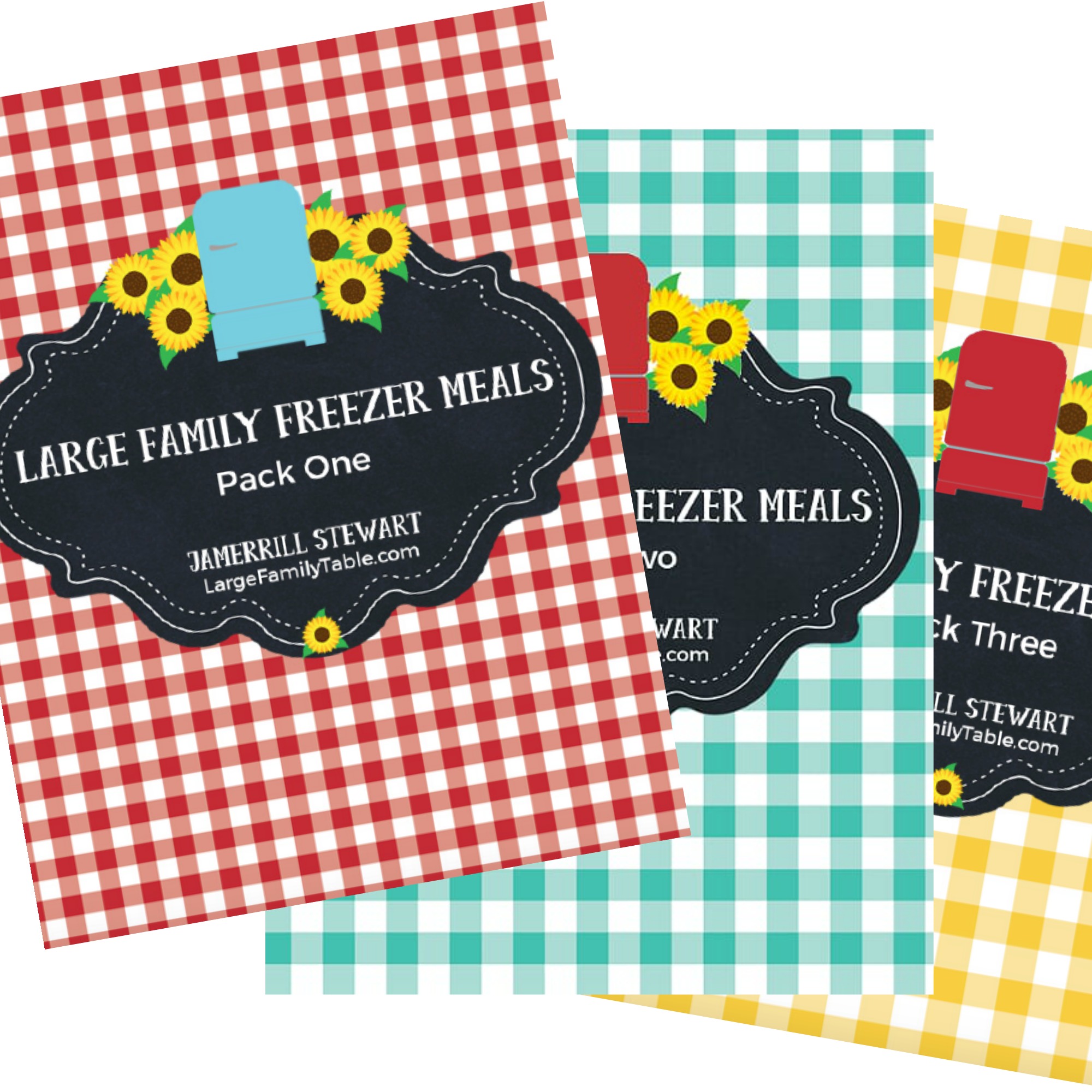 Large Family Freezer Meals Packs 1 through 9 are now available!
What other moms are saying about the Large Family Freezer Meal Packs
"Most freezer meal menus and methods aren't made for a large family, so I have to double (and sometimes triple!) the everything – what a hassle! Finally, there's a freezer meal plan made for me – the large family mom, who needs a break in the kitchen and more time to spend with her kids! The recipes in the Large Family Freezer Meal Packs are simple, frugal, and made for real-life moms who don't have the time and energy for fancy ingredients and overly-complicated instructions. No more tweaking too-small recipes and spending hours in the kitchen! Yippee!"
~ Amy Roberts, RaisingArrows.net
"Jamerrill's Large Family Freezer Meal packs are a sanity-saver for this busy mama. I love the extra tips and helpful instructions. I can either do all of the recipes in a massive freezer meal cooking day or pick one meal to do for the evening and batch cook it to stock up the freezer with extras. I can easily adjust the recipes with my own favorite ingredients. The best thing, though? My kids will love all of these meals just as they are written! "

~ Tauna Meyer ProverbialHomemaker.com
NOW you can get the entire ULTIMATE SUPER MEGA Large Family Freezer Meal Packs 1, 2, 3, 4, 5, 6, 7, 8, & 9! Brand new packs 7 & 8 are low carb and pack 9 is by special request Dairy Free!