Are you ready for flavor? The Big Family Freezer-Friendly Southwestern Casserole recipe has just enough kick to make it tasty without all the spice. You can eat it for dinner right away or freeze the casserole, baking it at a later time.
Southwestern Casserole
If you like Southwestern-style meals consisting of seasoned beef, beans, and cheese, make this Big Family Freezer-Friendly Southwestern Casserole. You will use simple ingredients to prepare your ground beef and pasta before adding them to a casserole dish with all the other ingredients, including green chiles and diced tomatoes. The flavorful casserole is a huge hit for both children and adults. The best part about it, other than its great taste, is that you will not need to serve anything else with it.
****Use special promo code HELLO20 to take 20% off the entire MEGA DEAL get-it-all Bundle including the best-selling Large Family Freezer Meal Packs 1-12 + so much more!!****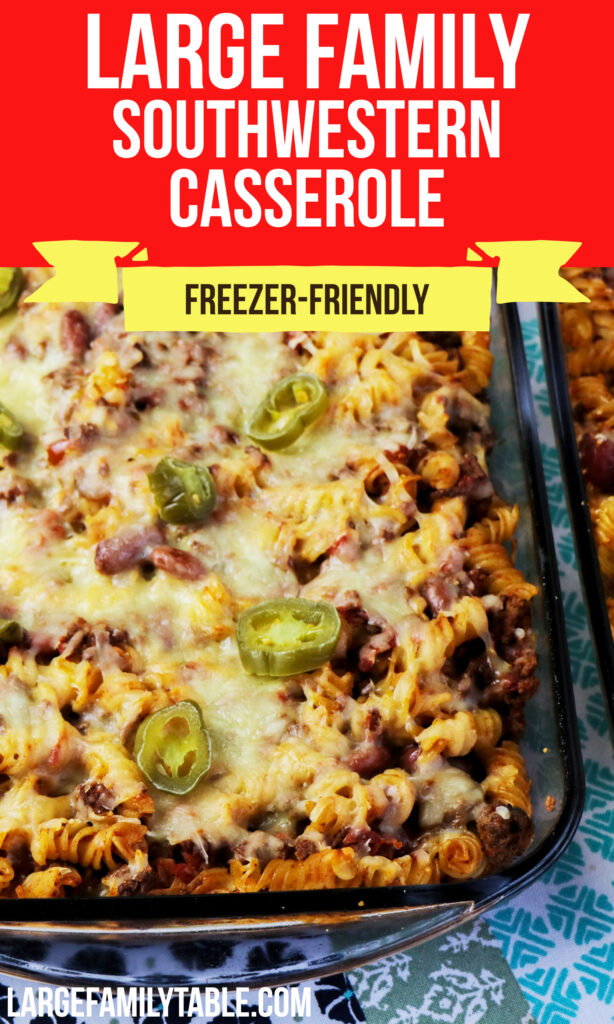 Ingredients You Will Need to Make the Southwestern Casserole
Before getting started, make a trip to the grocery store to buy the following ingredients:
Rotini. Boil the rotini as directed on the box and then drain the pasta of any water.
Lean Ground Beef. Use at least 4.5 pounds of ground beef. Try cooking a big batch of ground beef and making a few of these ground beef recipes to stock your freezer.
Onions. Dice your onions into bits and pieces.
Taco Seasoning. Grab your favorite taco seasoning to use on your ground beef. More taco-style meals here!
Kidney Beans. Rinse and drain the kidney beans before adding them.
Monterey Jack Cheese. Be sure to sprinkle plenty of Monterey jack cheese over the casserole.
You should also have tomato paste, water, diced tomatoes, and chopped green chiles when assembling the Big Family Freezer-Friendly Southwestern Casserole.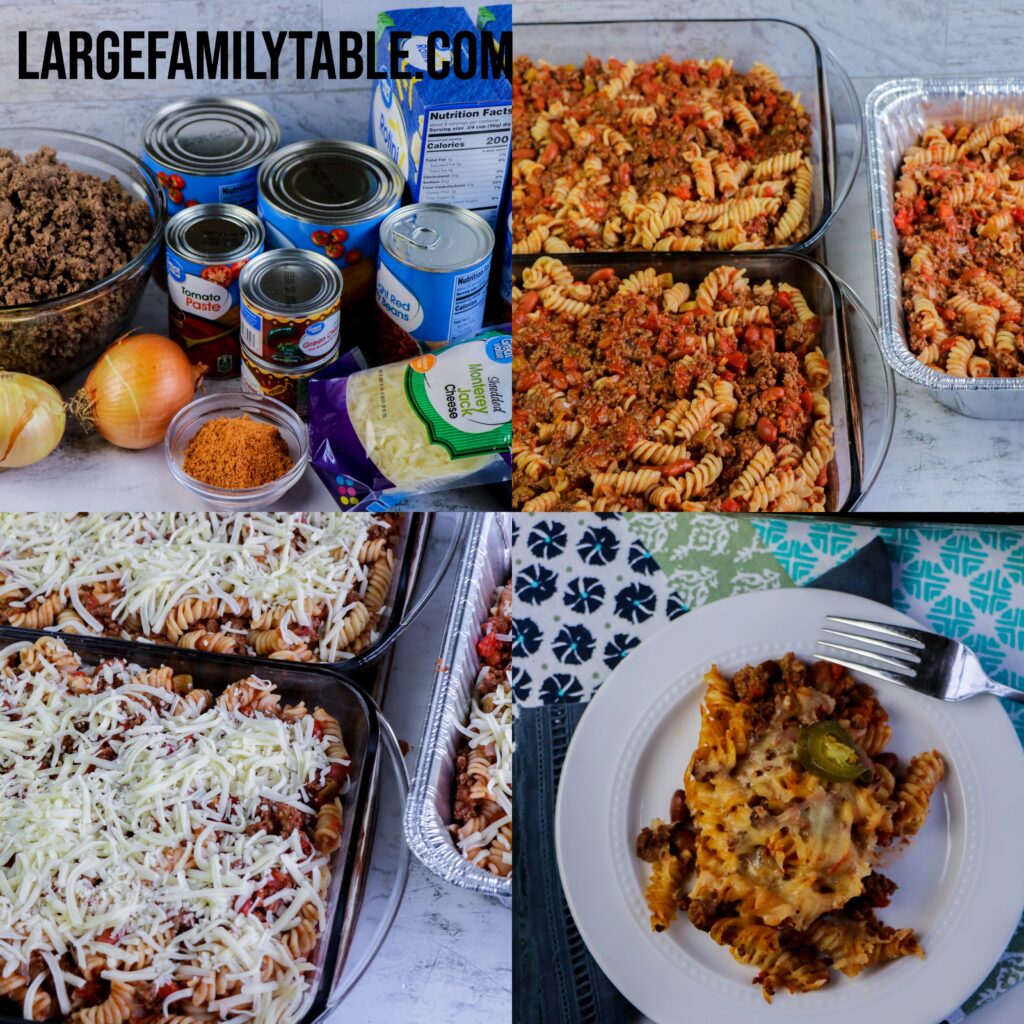 Do I Have to Use Rotini Pasta?
Rotini pasta is a great addition to this casserole. However, if you want to use what you have, you can replace it with other types of pasta. Macaroni, rotelle, and bowties are just a few types of pasta that you can use when preparing the Southwestern Casserole.
Kidney Bean Alternatives
If you do not have kidney beans or would rather not use them, you can always use red beans or black beans as an alternative. These alternative beans will provide the same texture as kidney beans while contributing to the flavor of the dish. I often use whatever type of beans I have on hand to save money.
Can I Use Canned Green Chiles?
If you would like to avoid buying chiles and chopping them into pieces yourself, you can buy diced green chiles at the grocery store. Several discount stores offer these canned chiles. Buying pre-diced chiles is a great way to save yourself some time while still adding the flavorful ingredient to your casserole.
What to Side and Dessert Should I Make with the Southwestern Casserole?
Serve the Southwestern Casserole freezer meal with a spring salad and homemade bread with garlic. You can purchase frozen garlic bread or prepare your own bread at home using this French bread recipe, butter, minced garlic, and parsley flakes.
You can also add a side of vegetables like Sheet Pan Roasted Broccoli, Collard Greens with Ham, or Garlicky Green Beans and Tomatoes.
In addition, you can add a delicious dessert to stretch the dinner. Try adding one of my many make-ahead cookie recipes, Baked Apples, Strawberry Trifle, or Banana Heath Pudding.
How to Freeze the Southwestern Casserole
You know how much I enjoy filling my freezer. You can freeze this meal too! After assembling all your Southwestern Casserole ingredients into a large baking dish, cover it with aluminum foil, and place the casserole in the freezer. You can leave it stored in your freezer for up to three months.
Always thaw the casserole overnight in your fridge before following the baking directions included in this recipe. Because you can freeze the Southwestern Casserole, you might want to make it when you have extra time and hold onto it until you need a good home cooked meal on a busy night.
Here are More Large family Casserole Ideas!
I have lots of taco-style meals to try. Start with this Taco Sheet Pan Pizza. It includes the recipe plus a whole list of meal ideas!
If you want to try a different casserole here are more ideas.
We have a large selection of casseroles, slow cooker meals, freezer meals, and low carb meals. Be sure to check them out!
Do you have more casserole recipes?
I have so many more casseroles in my shop. Check out my Classic Casserole Dinners & Freezer Meals Cookbook One for Now, One for Later! It includes 10 delicious, classic casserole recipes that will make two 9×13 casseroles each–one to eat right away, and one to put in your freezer for a later date. It's an easy and quick way to build a freezer stash.
Big Family Freezer-Friendly Southwestern Casserole
Print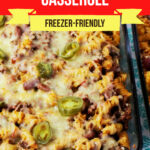 Big Family Freezer-Friendly Southwestern Casserole
Author:

Prep Time:

25 Minutes

Cook Time:

30 Minutes

Total Time:

55 minutes

Yield:

2 9×13 Casserole Dishes

Category:

Dinner

Method:

Oven
---
Description
Prepare a meaty, cheesy meal with this delicious Big Family Freezer-Friendly Southwestern Casserole recipe. You can eat it right away or freeze the casserole, baking it at a later time.
---
Ingredients
2 (16 ounce) boxes rotini, cooked according to package directions

4.5 pounds lean ground beef

2 large onions, diced

⅓ cup taco seasoning

1 cup water

4 (14.5 ounce) cans diced tomatoes

1 (12 ounce) can tomato paste

2 (4 ounce) cans chopped green chiles

2 (15 ounce) cans kidney beans, rinsed and drained

4 cups shredded Monterey Jack cheese
---
Instructions
Preheat the oven to 350 degrees. Prepare two 9×13 casserole dishes with nonstick cooking spray.

In a stock pot, cook the ground beef with the onion, crumbling the beef as it browns, until the beef is no longer pink. Drain well and return to the pot.

To the stock pot, add the taco seasoning, water, diced tomatoes, tomato paste, and green chiles. Stir until well combined and cook over medium heat until the sauce begins to boil.

In a large mixing bowl, combine the sauce, cooked rotini, and kidney beans. Transfer to the two casserole dishes, dividing evenly, and top with Monterey Jack cheese.

Bake for 30 minutes or until the edges are bubbling and the cheese has melted.
---
Notes
How to freeze:  Cover tightly with aluminum foil and freeze up to 3 months. Thaw in the refrigerator overnight. If using glass baking dishes, place on the counter as the oven preheats. Remove the aluminum foil. Follow the above instructions to bake.
Keywords: Big Family Freezer-Friendly Southwestern Casserole
Make this easy casserole ahead and enjoy it on a busy day. Your whole family will enjoy the classic flavors and you will enjoy the convenience of a freezer meal.
FREE Emergency Pantry Planning Pack!
Don't forget to sign up for the emergency pantry planning pack for free to help you plan your pantry meals! The free Emergency Pantry Planning Pack will help you plan your needed pantry items! Printable pages include pantry inventory, grocery lists, meal planners, list of pantry staple items, and more.