Big Family Grocery Shopping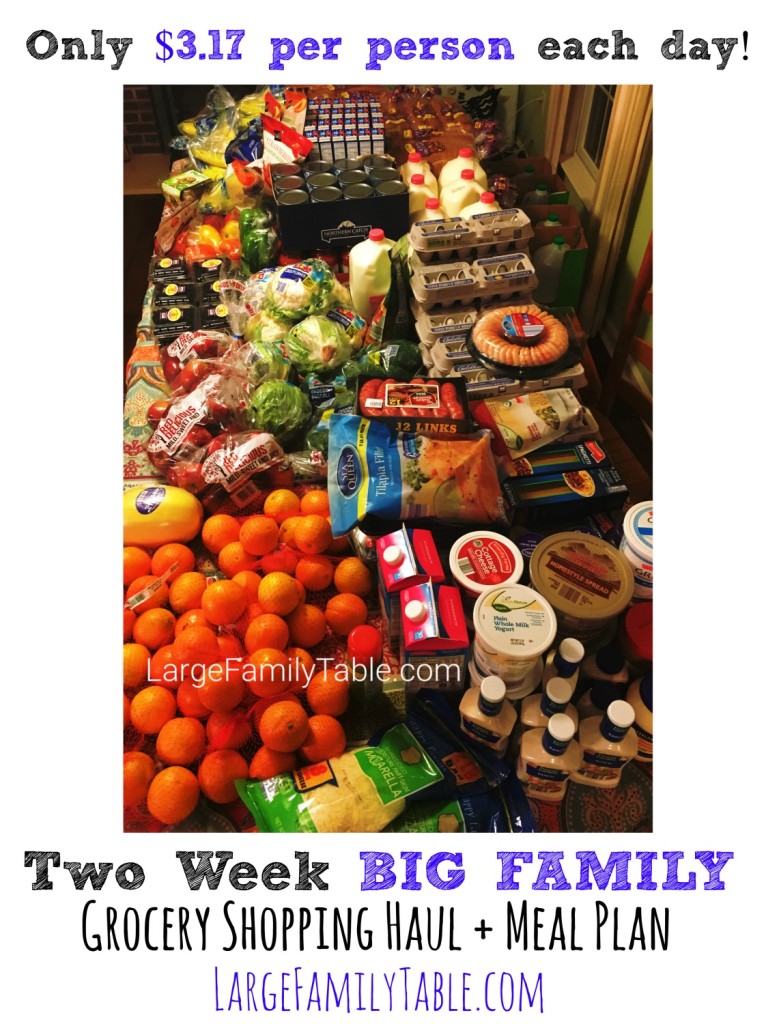 My son Zion and I hit the stores one morning for a two-week grocery shopping haul for our big and bustling family. You can watch our actual shopping time here in Mom's Day Out Large Family Shopping at Aldi, Dollar Store, and Walmart.
At Aldi, I spent $366, plus in a separate transaction, I received a $10.22 refund for chicken I was double-charged for in my last large family grocery haul. I got 98% of everything we needed at Aldi, which is becoming more and more of my norm. I wasn't finding the meat I wanted at Aldi this week, and I needed a few items for an upcoming birthday at Walmart. So I spent another $34 at Walmart on ice cream and candy for the kids (a junkie treat 🙂 ) and two meat packages. Walmart still didn't have what I was looking for either. It was just an off shopping trip meat wise, I guess.
Large Family Grocery Budget
If you're interested, you can read my Large Family Grocery Budget from 2015. In this post, I shopped mainly at Costco, plus a local discount grocery store and Walmart. The budget amount hasn't increased, if anything it has decreased a few hundred dollars most months shopping mainly at Aldi after we moved. I now come in more consistently around $800 a month for our big family budget. $800 is the norm now vs. the steady $1,000 it was so any savings here or there is always appreciated. I need to do an updated post that shares more about what I've learned shopping at Aldi this past year. Hopefully, we can get to that soon. 🙂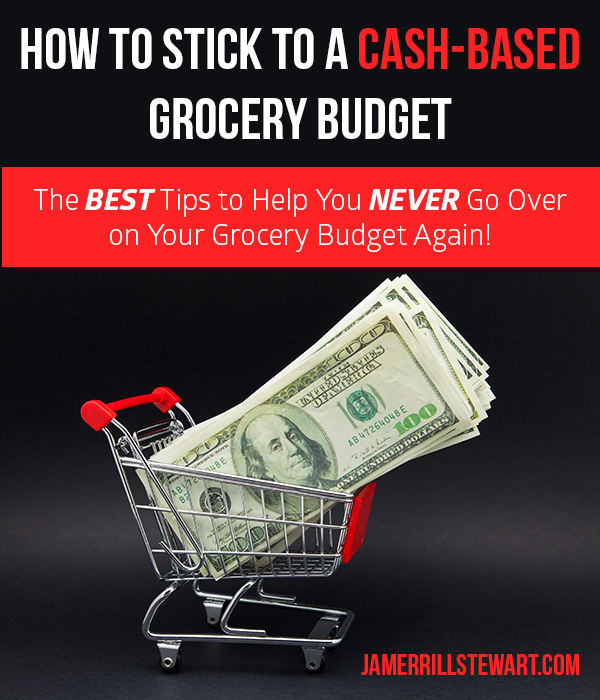 You also might find How to Stick to a Cash-Based Grocery Budget helpful.
Big Family Grocery Shopping Haul
This two-week grocery shopping haul comes in at around $391 ($366 at Aldi – refund of $10.22 + $35 at Walmart) for our family of nine. Including my big and tall husband, two teen boys, my pregnant self, and five busy and bouncing kiddos ages 10, 7, 6, 4, and two who EAT! We're also home full-time homeschooling and running a home business (my blogging/YouTube and online efforts you can read more here in How I Support My Family of Nine Online). This means we don't have any away from home school breakfast or lunches to factor in our meal plan. My husband is finishing up his last semester of college, but I pack his lunch most days (hello leftovers!). This breaks down to $3.17 per day for each family member. Considering there are some days even the two-year-old will eat four eggs for breakfast I think it's pretty good overall.
Fruits and Veggies
Blackberries $1.29 x 12 packs
Oranges $3.49/4 lb bag x 6 bags
Frozen Strawberries $2.09/bag x 3
Frozen Peaches $2.09/bag x 2
Bananas $0.44/lb x 46.27lbs
Apples $3.49/3 lb bag x 4
Kiwi $3.49/package x 1
Organic Kale $3.49/bag x1
Spinach $1.49/bag x 1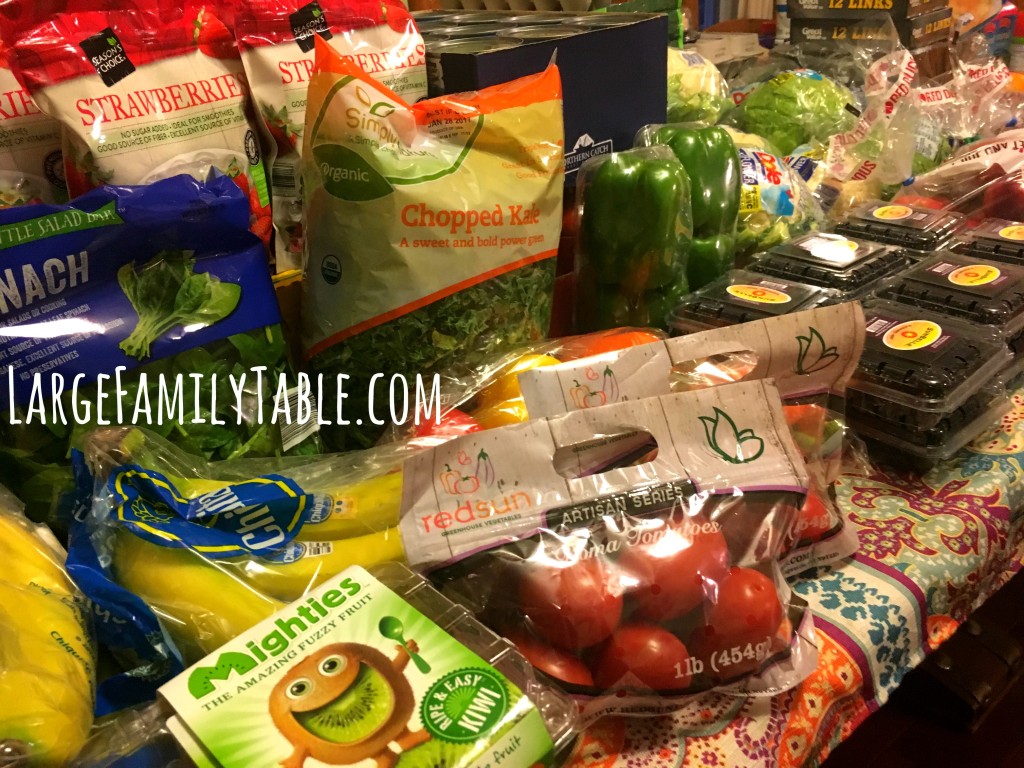 Cauliflower $0.99/head x 5
Tomatoes $1.49/lb x 2
Multi-Peppers $3.49/3 pack bag x 2
Broccoli $1.49/crown x 4
Lettuce $1.49/head x 3
Green Peppers $1.69/2 pack x 2
Spaghetti Squash $2.99 x1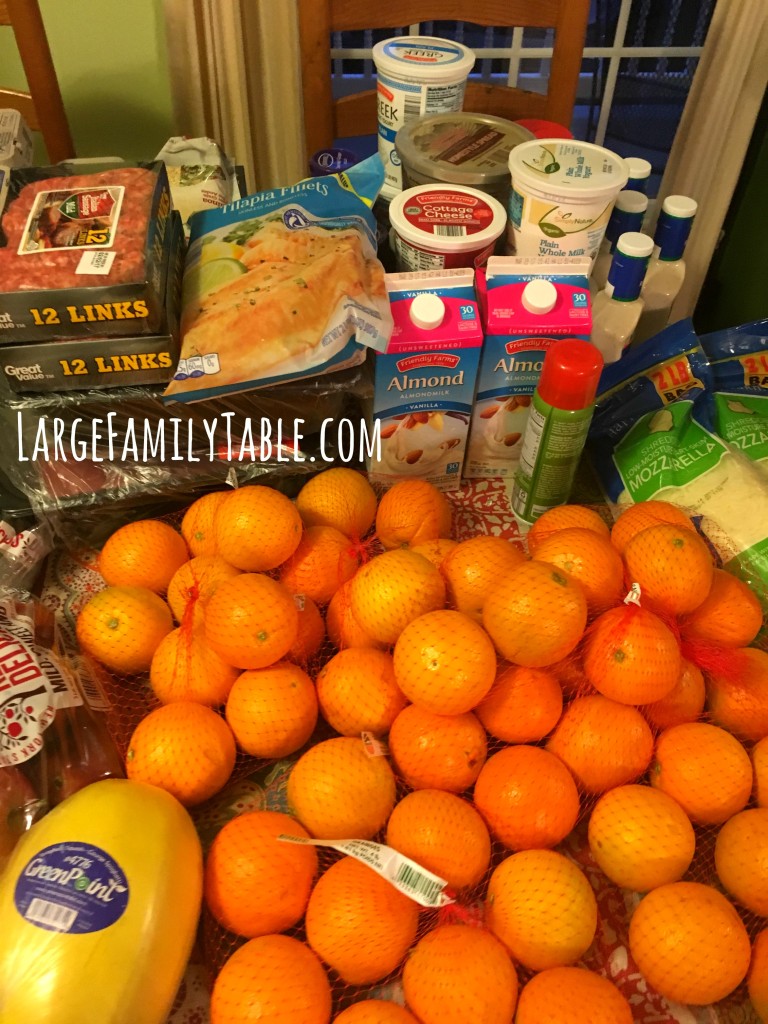 Pantry Items
Pizza $4.99 x 3
Spaghetti Noodles $1.45 x 5
Spaghetti Meat Sauce $1.19 x 12
Taco Shells $0.89/box x 12
Macaroni & Cheese $0.33/box x 24
Organic Quinoa $2.99 x 1
Grape Jelly $1.39 x 3
Peanut Butter $2.99 x 3
Mayonnaise $1.89 x 1
Olive Oil Spray $1.49 x 1
Stevia $3.99/bag x 1
Spring Water $0.79/gallon x 8 (This is for washing my hair, and really should have been separate from our grocery budget, in our household budget. But I bought it while at Aldi so oh well for this time!)
Light Canned Tuna $0.65/can x 48
Ranch Dressing $1.29 x 5
Tartar Sauce $1.29 x 2
Ice Cream Cones $1.24 x 1 (Walmart)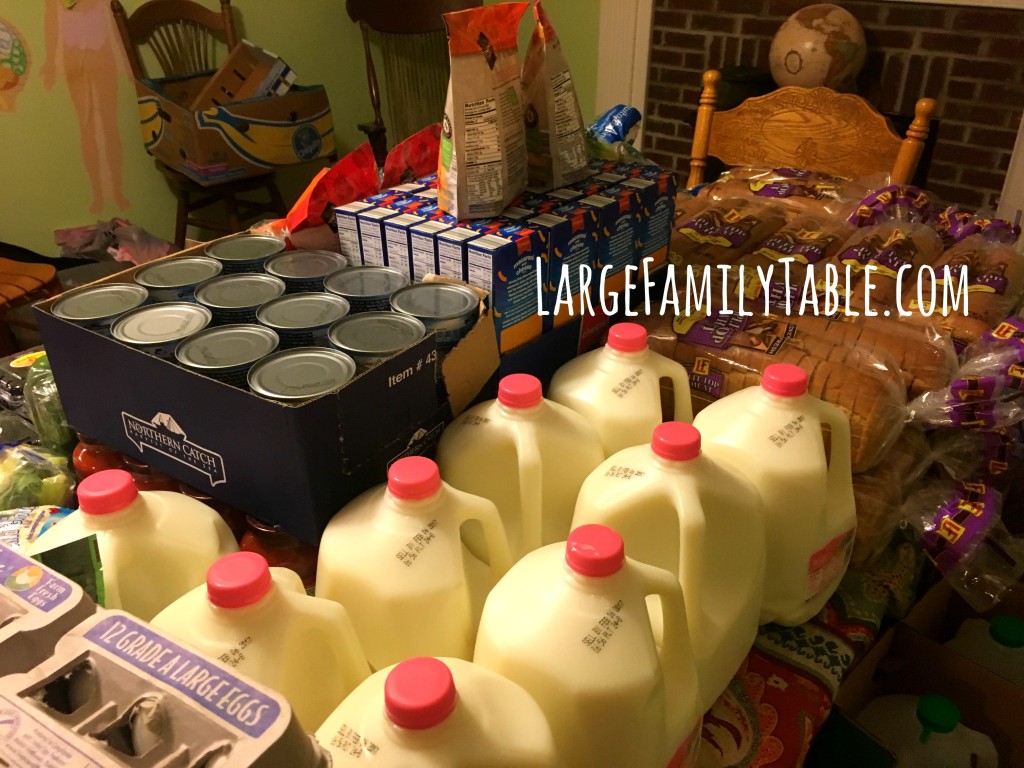 Dairy/Refrigerator Items
Skim Milk $2.16 x 10
Almond Milk $1.99 x 2
Eggs $0.45/dozen x 20
Mozzarella Cheese $5.89/2 lb bag x 2
Cottage Cheese $2.29 x 2
Organic Yogurt $2.99 x 2
Plain Greek Yogurt $3.49 x 2
Butter $1.79 x 2
Wheat Bread $0.50/loaf x 18 (We keep bread in the refrigerator and freezer)
Reeses Cups $1.78/12 pack x 1 (Walmart) Kid's ice cream party treat! 😀
Blue Bunny Ice Cream $6.97/tub x 2 (Walmart) Kid's ice cream party treat! 😀
Sour Cream $4.74/tub x 1 (Walmart)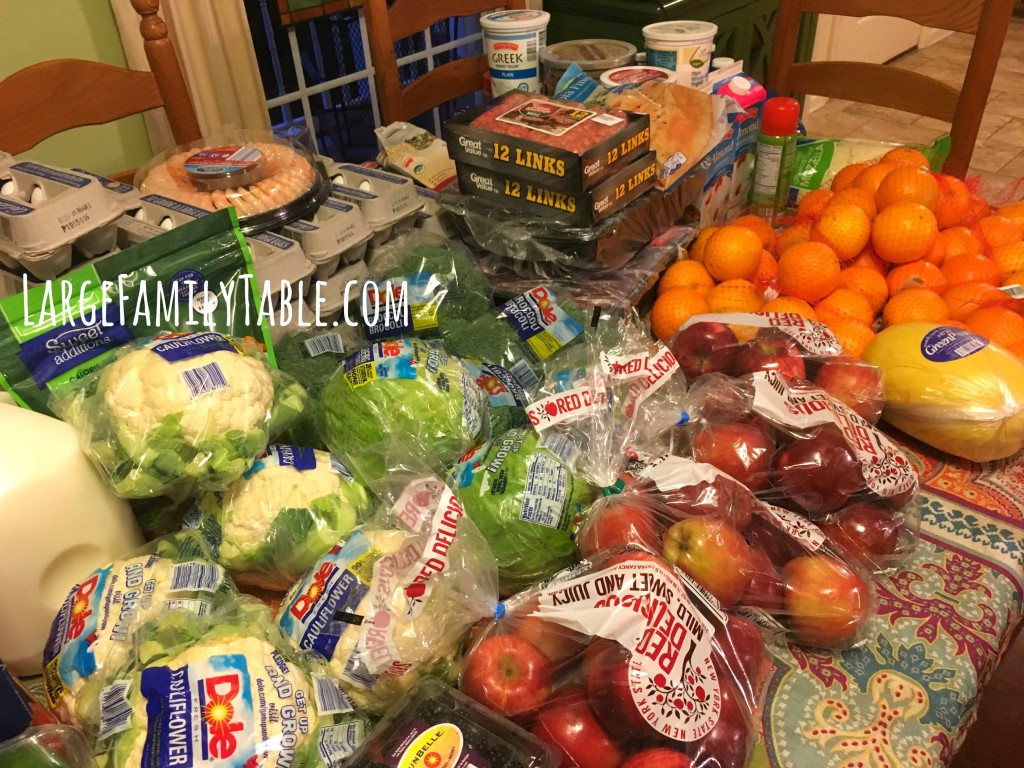 Meat
Tilapia $5.29/bag x 1
Ground Beef $11.63/5 lbs x 2
Shrimp $6.99/ring x 1
Italian Sausage Links $6.54/dozen x 2 (Walmart)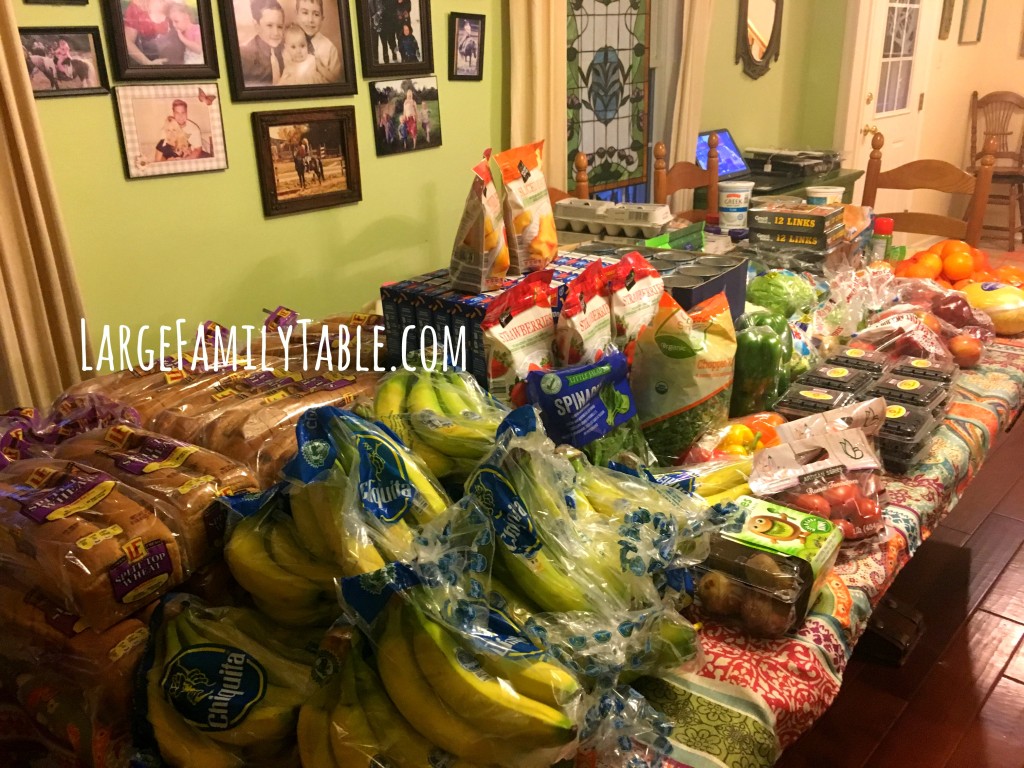 Big Family Meal Plan for Two Weeks
Breakfasts
Fruit
Smoothies
Eggs in a variety of ways
Oatmeal which you don't see in this haul, but we have several in the pantry.
Lunches
Dinner leftovers as available
Tuna Salad Sandwiches/Fruit
Egg Salad Sandwiches/Fruit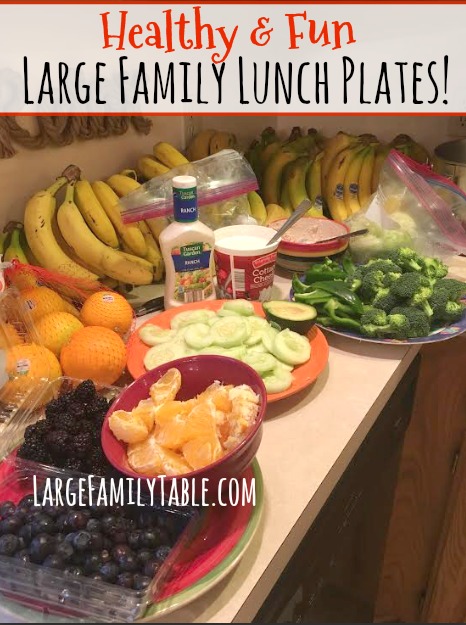 Fruit/Veggie Plates We love to set out all the available fruits and veggies and make individual lunch plates full of everyone's favorites. To do this though we need to have a lunch time at home without having to run out for errands. We have several days during this two weeks that we'll have to run out around lunch time. On those running days it'll just be sandwiches and fruit on the go.
Dinners
All dinners will be served with lots of fresh veggies. I also shove spinach and kale into whatever dishes I possibly can.
Tacos x2 I plan to make Tacos on Tuesdays. We'll have enough leftovers to have tacos again on Wednesday. No, we don't get sick of tacos 🙂
Italian Sausage & Peppers
Spaghetti here's a cute old video of how we do homemade spaghetti sauce
Chicken Alfredo/Veggies Slow Cooker Chicken and Broccoli Alfredo recipe
Meatloaf/Veggies Here's how I do Meatloaf in The Slow Cooker
Tilapia/Veggies I haven't filmed this as of yet. Here are several Tilapia in foil packet recipes Baked tilapia and veggie foil packets, Tilapia Foil Packets, and Foil Packet Baked Lemon Tilapia.
Big Weekend Meal: Beans/Cornbread Here's Jamerrill's Beans, Rice, and Cornbread Recipe | Large Family Style!
Big Weekend Meal: Ham/Northern Beans Soup Try Basic Ham and Bean Soup, Great Northern Ham & Bean Soup, and White Bean and Ham Soup.
Breakfast for Dinner
Leftover Night(s) Some meals will carry leftovers and some will not. We'll use them when we have them.
Pantry Challange Night(s) We have some traveling coming up, and I plan to do some pantry challenges before/after our trip.
Snacks
Raw Broccoli
Raw Cauliflower
Pepper Slices (yes, even my about to turn four year old loves to eat an entire green pepper as a snack 🙂 )
Oranges (LOTS this time!)
Bananas (Hoping to be able to freeze some finally!)
Apples
Blackberries
Smoothies
Cottage Cheese
Hard Boiled Eggs
I like to have banana bread fresh or in the freezer too, but don't know that I'll get to it this go round.
You can read more

large family snack idea

s

here.
Click here to see all my large family grocery hauls. And here are all of my large family meal plans.
Two Week BIG FAMILY of 9+ Grocery Shopping Haul (Only $3.17 per person per day!)
Click here to watch the full Two Week BIG FAMILY of 9+ Grocery Shopping Haul (Only $3.17 per person per day!)