How to Stick to a Cash-Based Grocery Budget
The BEST Tips to Help You NEVER Go Over on Your Grocery Budget Again!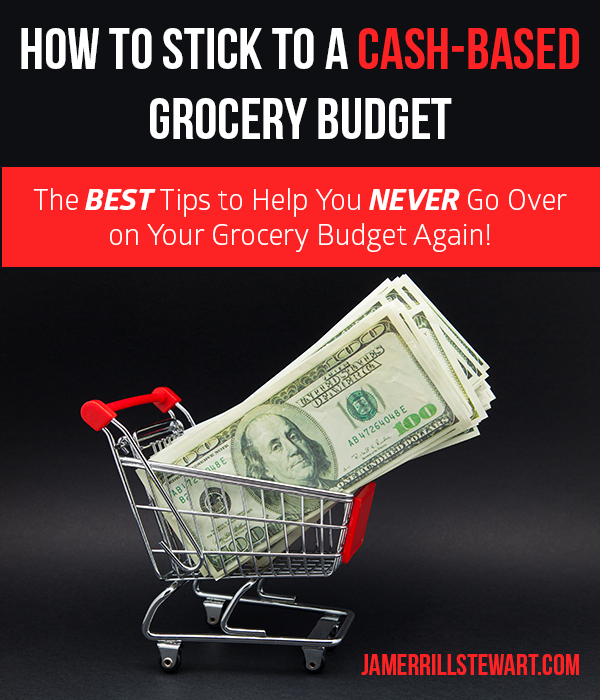 I received a question on my Once a Month Grocery Shopping Haul for Our Large Family post in which I gave a very long winded reply. Surprise, surprise 😉 #JamerrillUsesaLotofWords #ItsBecauseIDon'tHaveaLotofGrownUpsAround
I realized my entire reply could be a blog post. So here ya' go 😉
Question from the comments, "I'm wondering how you are able to get everything on your list or pick up extras at the store when you find deals on things, and still stay within your cash limit? I find that I just can't stay within the budget most times, even with a meal plan and grocery list. Prices just seem to vary so much from trip to trip! I am very careful about planning for our family to eat, and when I say I go over budget it's not completely blown out of the water or anything, but an extra $30 here or $40 there each time (sometimes more, sometimes less), really adds up. But anytime I try to cut back on certain foods or items, it just doesn't last us like it should. Please help!"
Why Grocery Shop with Cash Only
Do you shop with cash? As in the green bills and not a debit card? I was forever going over $10 at this store, and $30 at that store, when I shopped with my debit card. Then through Dave Ramsey's Financial Peace University my husband and I learned about an MIT study that showed something interesting; when you shop and make your purchases with cash it actually activates the pain receptors in your brain. When you shop with plastic, yes – even a plastic debit card, it does not stimulate the pain receptors. This means your brain actually FEELS something when you shop with cash.
Practical Tip: Write a check for the budgeted amount for groceries and cash it. Put it in an envelope. Then only buy groceries out of that envelope. Don't buy anything but groceries out of that envelope. Again, this is wisdom we've learned from Dave Ramsey. We're not that smart.
We've been doing a cash-based budget for our family finances for about 3-years. On our grocery day I take out only the budgeted grocery cash and I spend only that cash. I feel dirty now when I use my debit card. Dave Ramsey isn't against the use of debit cards, but he does teach that we need to feel money again. When I shop with my debit card I don't feel it and it's easy for me to overspend. I also believe shopping with a cash based grocery budget saves another $300-$500 a year, most likely far more.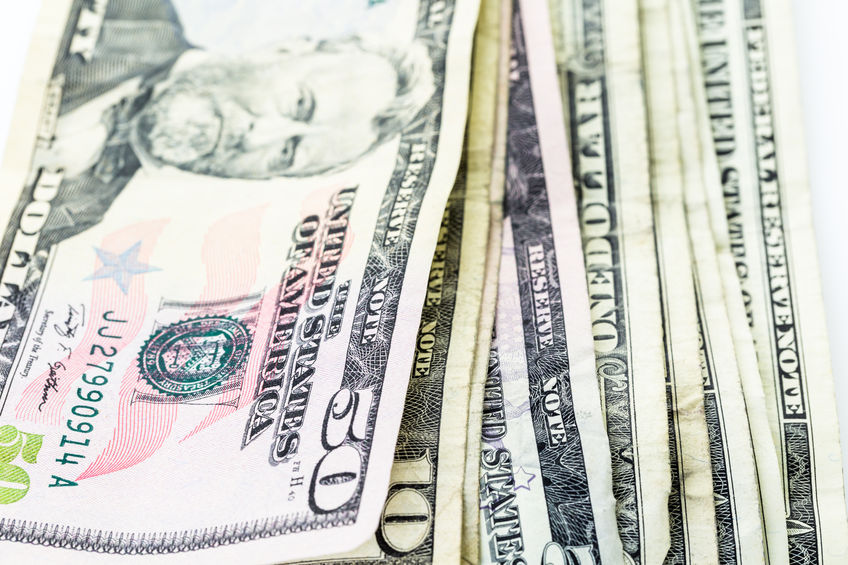 Don't Shop Sales or Chase Deals
In being purposeful with the cash in my budget I don't look for extra items and additional deals. You won't read that often online. However it's true that it's only really a deal if I need the item. I don't go into all these stores on my once-a-month grocery shopping trip to build a stock pile on what they have on sale on that particular trip.
Some moms do this, they work the sales/stock pile system hard, it works great for them – and I'm cheering them on. In my opinion to work sales well you need to go weekly or biweekly grocery shopping. Shopping specific sales and deals takes extra time each trip to coordinate.
This is time that personally for me between raising a family, homeschooling a herd, and running a full-time business with team members, I don't have the extra time during this season to shop that style. If you find yourself in a season where you can put the time into working sales and creating a meal plan off of those sales you might find some tips in how I feed my family of 7 for $400 per month. You can also read here on how to save money on groceries by building a stock pile.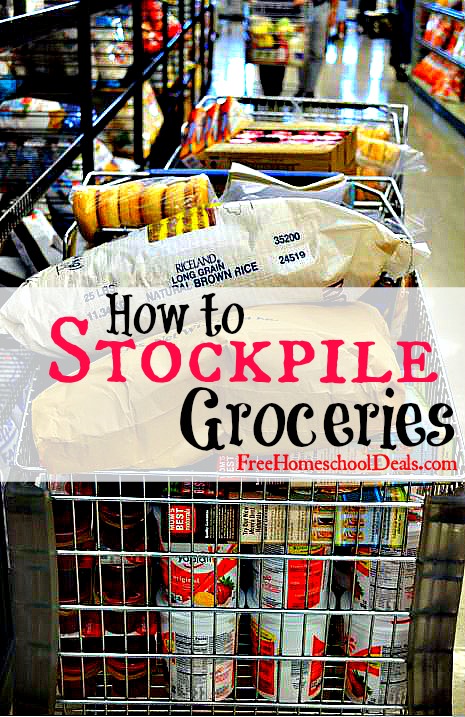 Also, The Prudent Homemaker has information on how she feeds her growing family of 9 on 40-cents a day. You read that right. She appears to have made an art and ministry out of cooking from scratch, raising full gardens and feeding her family well. You can also read her schedule here.
Shop for the Best Price on the Items You Need 
There's one avenue of meal planning and saving money on groceries that says, "shop the grocery deals first, then meal plan around your deals."  I do the exact opposite, at least during this season. I'm not finding the best deals and making those deal items into my meal plan. I do my large family meal plan first and then shop for my meal plan specific products at the best price.
Real Life Example
Example if I need chicken breast I don't have time to wait for chicken breast to be on sale and go back to the store then. I assess the chicken breast choices in front of me when I'm there to shop. I buy the best quality chicken breast at the best price at that time. My time and energy savings are very valuable too! And really, unless I've put a lot of time into working a deal up on chicken breasts, how much will I really save once my time is factored in, additional gas expenses (in my situation I live over 30 minutes away from major stores), etc.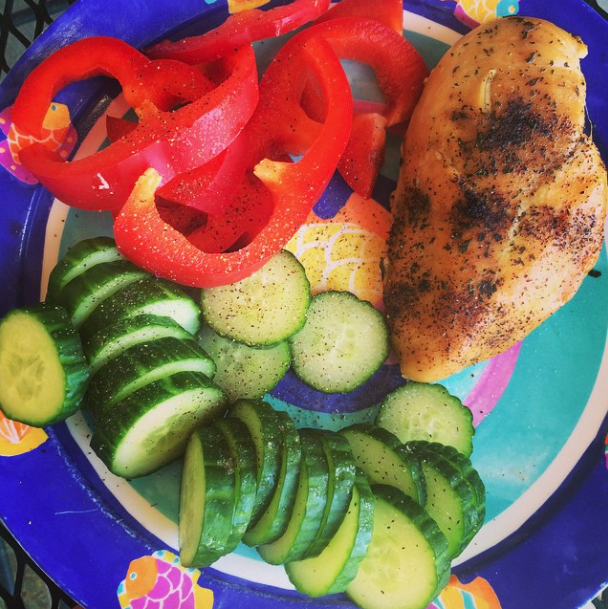 That being said that doesn't mean I shop unwisely. I get a lot of the same items every month (meats, fruits, vegetables, oatmeal, brown rice, yogurt, and marked down bread – I'm fairly boring 😉 ) so I know what the price ballpark should be. You can create a grocery price match book to keep track of the best prices and fluctuations.
I see when fruits and vegetables change seasonally so I take advantage of what's in season. At the time of this posting strawberries are substantially lower so we've been enjoying a lot of strawberries. I watched milk get up to about $4 a gallon. Now for the last several months it's down to around $2.59 a gallon. This means I'm picking up a few more gallons of milk right now because I know we always need milk and I see the savings value.
Have a "Deals" Budget
In a situation where you'd like to still take advantage of deals you can designate a certain percentage of your grocery budget for variable deals.  The only store where I'll find valuable deals consistently is my local grocery outlet called Sharp Shopper (you can see this in my videos). I take advantage of these deals because I don't have to put energy into couponing or price matching. In the large family grocery budget breakdown I share that in that store in particular I have about $60 of "deal money." Since Sharp Shopper is a grocery outlet I never know if they'll have 2/$1 bags of bagels or a case of something special. So I plan for part of my money in that store specifically to take advantage of their deals.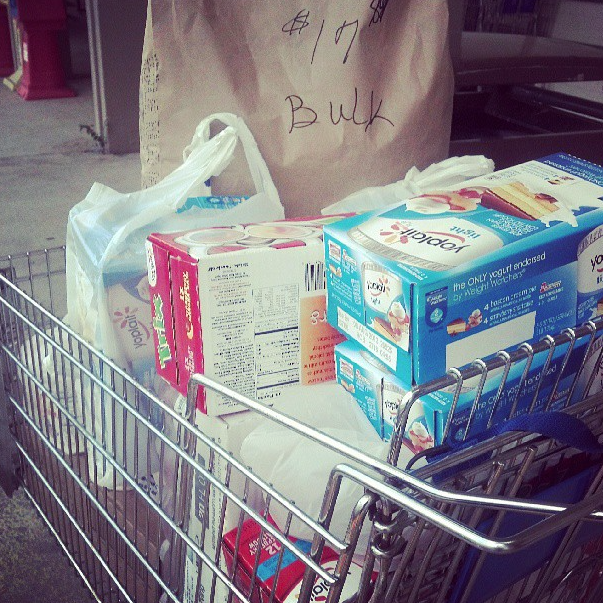 My caption from Instagram, "Raided our local sharp shopper for 4/$1 yogurt, 25 .lbs of oatmeal, 7 .lbs of cheese, and more!!"
Meal Planning in Advance + Make a Grocery List
To stick to a cash based grocery budget, complete your family meal plan in advance and make a grocery list. It amazes me how often I use to go to the grocery store without a meal plan in place or a full grocery list. By having a meal plan in place first, it helps give me focus for creating my grocery list. Once my grocery list is created I'm ready to grocery shop on purpose for the items I want and need.
How do you stick to your grocery budget? Have you ever tried a cash-based budget for groceries?
____________________________________________
A personal note for my reading friends who come around a lot…
I sure do talk an awful lot about food, huh?
You're going to see a pattern here.
On JamerrillStewart.com, since it's named after me ;), we're going to have continual conversations about:
Food because I like to feed my face and I feed the faces of all these sweet people all day, everyday.
Jesus and the Bible, because I have to feed my heart and head with God's Word each day or I'm not the best me.
Family life because we live it everyday.
We'll continue to talk lots on homeschooling, because once you've homeschooled for a decade it burrows down to the depths of your soul. And I just love supporting homeschooling families and making life a little easier for them when I'm able.
In the meantime I'll just keep threatening to share more about blogging and business. Can't seem to get my mouth open on that just yet. Trying!