Natural Birth Story
He's here; he's here! Baby Daniel Joel is here! Daniel was born on December 18, 2014, at 5:10 a.m., weighing a whopping 9 lbs. 14 oz. and 22 inches long.
I'm sure you're glad for my sake that he has arrived because my end-of-the-third-trimester whining had significantly increased. By the time I shared my 37+ Week Pregnancy Update, which included how I was preparing for the Natural Birthing Center and the home prepping of making DIY "Padsicles," I was pretty much at my breaking point as a very pregnant mother-of-many. I colored my hair, started on Evening Primrose Oil for the first time, and with my prodromal labor increasing, I was more than ready to have this baby.
On the evening of December 17th, towards the end of Travis and my annual Christmas shopping date day out with no kids, while we were sitting at Applebee's for dinner, I started to feel real contractions!
It was joyous because these contractions started at my mid-back and wrapped around the front of my body to my abdomen. They had to be real!
While sitting at dinner, they came every 20 minutes. We squeezed in one more Christmas shopping stop after dinner because I knew Daniel Joel would make his appearance soon and it would bother me to go into labor with items still on my Christmas list.
By the time we got home, the contractions had spaced out to every hour to hour-and-a-half. I still knew something had changed, although I didn't have anything solid to call my into my midwife. My mom had been visiting off and on for the last few weeks in anticipation of Daniel's arrival and to help us with childcare coverage. You know you can always attempt to plan on the baby details. However it's hard to tell how things will really go down, and having a 3rd adult around is so helpful.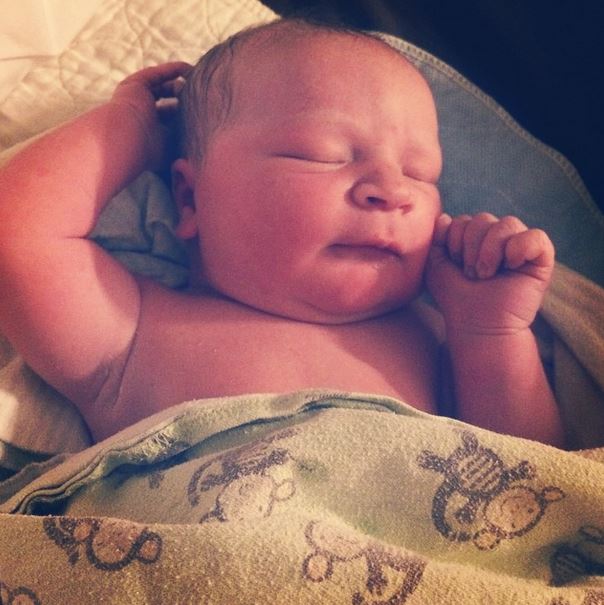 Daniel Joel was born at 5:10 a.m. Lots of snuggles in progress 🙂
With five of my previous six births, my water broke naturally at home while I was lying in bed praying for it to break.
I like for the Lord to be really obvious. You too?
I went to bed on the 17th praying for my water to break and woke up at 12:45 a.m. with my water breaking.
This is where Trav and I actually got a little stumped. With my six hospital births we knew as soon as my water broke, I would be admitted, and we'd have a baby. However, with the natural birthing center, they wanted to know how far apart my contractions were and really wanted me to wait until they were 4 minutes apart. When I called my midwife within a few minutes of my water breaking, I still didn't have an established contraction pattern to report.
This is just one of the many reasons I'm thankful for my husband. Travis made an executive decision that we were still going in because the center was 30 to 45 minutes from our house and he was confident that once we got in the van my contractions would pick up. For a few minutes, I worried about what we would do if we got to the center and I still wasn't having substantial contractions. This was unfounded because by the time we reached the center the contractions were coming every 3.5 minutes. Praise God for a wise husband!
Zion and Baby Daniel reading Mindcraft novels on Christmas. Naomi enjoying holding Daniel, and Daniel looking like a Sumo baby. Oldest son, Jadin, holding Daniel while Gaby works on his photo bombing skills. And finally, all the siblings enjoying their turn holding Daniel.
We arrived at the birthing center around 2 a.m. The following hour and a half were full-on, steady contractions but nothing spectacular (although it was spectacular enough that I knew the baby was on his way!!). The midwife filled the birthing tub, and I hung around the fireplace mantel in the birthing room and timed my contractions on my phone. Around 3:20-ish the midwife mentioned how I was really quiet overall and maybe I would be one of those women who naturally births without hardly a sound.
Murphy's Law! Within a few minutes, my labor drastically changed. I no longer wanted to stand and felt it was time to get into the tub around 3:30 a.m. Then for the next hour and forty minutes, I believe I was a fairly insane wild woman.
I threw up several times in a bowl. I screamed like a woman on TV in labor. I requested more hot water. I asked for a bowl of ice and wash cloths. I dug my hands into the ice and basically soaked my head in ice water with each contraction. (Luckily these midwives are quick at crazed birthing women's requests!)
For the first 30 minutes or so I felt that the tub was what I needed. As labor progressed, I really couldn't figure out how I was supposed to "get comfortable" in the tub. I had heard the tub was the best thing ever (and maybe some of you who've birthed in a tub can share how you found peace with it), but as we got closer to Daniel's appearance, I wanted nothing to do with the water.
About 10 minutes before he was born I got out of the water. (Again, the wonderful midwives let me do whatever I felt I needed to birth – there was no pressure from them.) I stood through a few contractions and then suddenly was sitting down on a birthing stool and quickly birthing the baby! Once he was ready, it all happened so fast!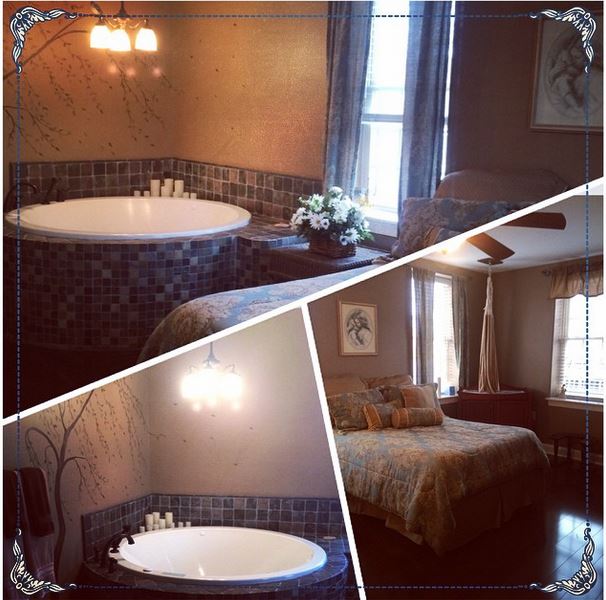 The beautiful birthing room at the natural birthing center where Daniel was born and the tub that I'm still not so sure about.
Let me tell you; I almost instantly felt better. It was such a relief to have Daniel born. Within a few short minutes Daniel and I were snuggled into the bed, you see pictured above. He was able to quickly begin nursing like a champ. From about 5:30-7:30 the baby and I, along with the midwives taking turns, and my husband, all napped. It was wonderful to be relaxed and able to enjoy the new baby time plus get some snoozing in.
From 7:30-9ish, Daniel and I were more awake, and I sent Travis out to get me breakfast. Finally, around 11 a.m. the three of us were able to head home. Of course, all the children couldn't believe that I had just had the baby and was now home. It was a new experience for us all. We visited briefly in the living room, giving every sibling a few minutes of baby-holding time. Then Travis, Daniel, and I were able to go upstairs and sleep most of the rest of the day away.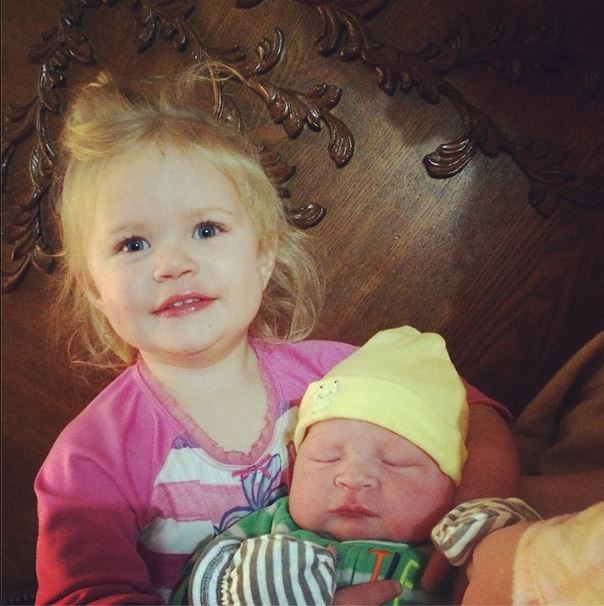 Amelia holding Daniel the evening after his birth.
So looking back, what is my review of my first natural birthing experience?
Friends, I'll tell you that yes – it was labor. It was a labor that was less than 2 hours. It was a labor that was full of faith. With every contraction, I just focused on one word: JESUS. Birthing naturally, I knew my body was doing what the Lord created it to do. I had nothing hindering my body or God's timing within the whole experience. Everything was just as it should have been.
My healing afterwards was very quick.
Those padsicles? I didn't need one.
Swelling? Very minimal because I didn't have hours of I.V. fluids.
Pain control? I rotated basic Tylenol and Ibuprofen for about 72-hours.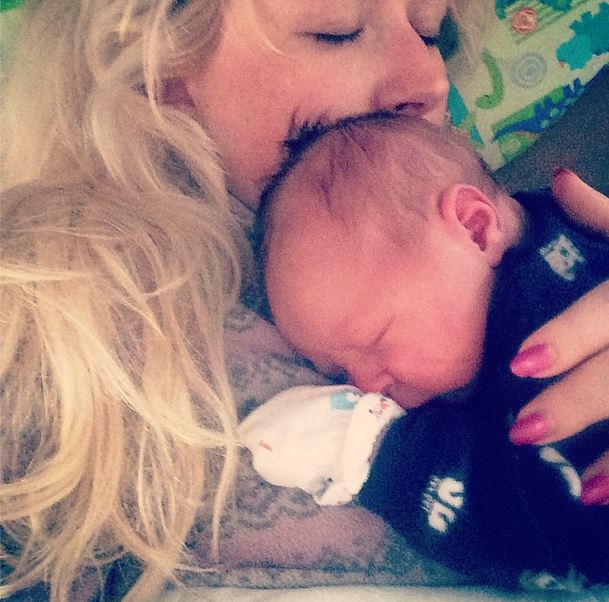 How Daniel and I spent our first few days at home, napping and marathon nursing.
Is a 100% "natural" birth a new god that is the only "correct" way to bring a life into this world? No way!
I feel the Lord gives us wisdom and we need to listen to His voice. Doctors, nurses (hey, I was one), hospitals, medication all have their purpose and place. So, 100% no condemnation.
Would I birth at a Natural Birthing Center again? You betcha!
Read about our afforable healthcare coverage here if you're interested.