Day in the Life: Should We Buy a Foreclosure Property?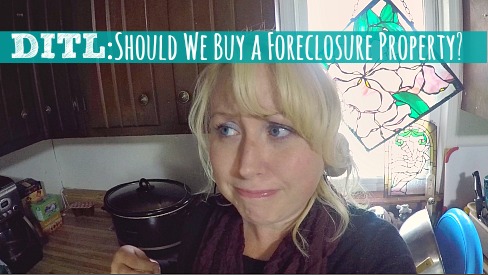 Click here to watch the full DITL: Should We Buy a Foreclosure Property? VLOG.
I mentioned this week in my quick chit-chat Periscope, that we've been in the heat of getting our house on the market, etc. As far as purchasing, we're doing some negotiations for one property in particular. Along with those negotiations, I've still kept my eyes open for any other great deals that we'd hate to miss. Travis and I always talk out our options. When we're done talking out our options, we then talk our options out more. 🙂
For about 2-days we contemplated potentially buying a foreclosure property. It's a beautiful country farm with 30-acres and 360 views. The farm house is of course a wreck and there are pine trees growing up in the middle of the in-ground pool. There's still a lot of potential for the right family. It was tempting with the views alone!
A current update is we're kind of "over it" for now, but it was still an idea that we had to work through. We visited the property twice in those 2-days. I had to mentally work through the process of buying and renovating a farm in its current state of disrepair. Travis, our real estate agent, and our mortgage broker were very patient with me while I processed, asked a gazillion questions, and subsequently realized it wasn't the best course of action for our family. However if your family has renovated properties or worked with foreclosures before, please share your wisdom in the comments below!
Additionally in today's Day in the Life vlog you'll see a lot of meals and household busyness from the day. Liam helps me wash dishes, and Gabriel helps me make breakfast, too. It was a church day, plus the time change, along with looking at property. Lots of life going on. 🙂 Click here to watch the full DITL: Should We Buy a Foreclosure Property? VLOG.
Don't Forget:
Also, don't forget to download your FREE Thanksgiving Household Printables Set with Grocery Shopping List, Menu Planner, Recipe Cards + More!
In the today's vlog I also mention sharing the link for "Zero Noodles" as I called them in the video. These are a healthy noodle substitute for those of you who love noodles as much as I do. Here's my affiliate link to see the noodles I mention in the video.
I'm working now to get videos edited and some fun upcoming articles completed so you can hear more from me next week. Until then look for me popping in for quick chit-chat breaks on Periscope, and sharing pictures from the moments on Instagram.
Have a beautiful weekend!