Last week we had a  perfect day to get a little messy and make homemade play dough. The homemade play dough recipe that I use is pretty much the classic version as you'll see below.
Homemade play dough is PERFECT for frugal homeschool fun! Plus, kids really feel like they're accomplishing something cool and it's a family project! My 8-year old, Naomi, can be my big helper. The younger boys, Gabriel and Liam, can help quite a bit too.
Homemade Play Dough Video Recipe for Frugal Homeschool Fun!
Click here to watch my homemade play dough recipe video with lots of kitchen antics and Mr. Liam being a very busy and "helpful" 4-year old as usual. 😉 Please like, comment, and subscribe to my JamerrillStewart.TV YouTube channel where I'm encouraging moms in motherhood, homeschooling, and big family life every Monday, Wednesday, and Friday!
 Homemade Play Dough Recipe Ingredients 
All the ingredients needed to make homemade play dough come in around $7 bucks. We can make a lot of play dough at that price, and believe me, we go through a lot of play dough around here!
My recipe is of course doubled up to make it large family size. You can cut this recipe in half for a smaller portion. I shared a smaller version of this recipe here in this play dough post.
Homemade Play Dough Recipe
2 Cups All-Purpose Flour
2 Cups Water
1 Cup Salt
2 Tbs Cooking Oil
2 Tbs Cream of TarTar
Drops of Food Coloring of your choice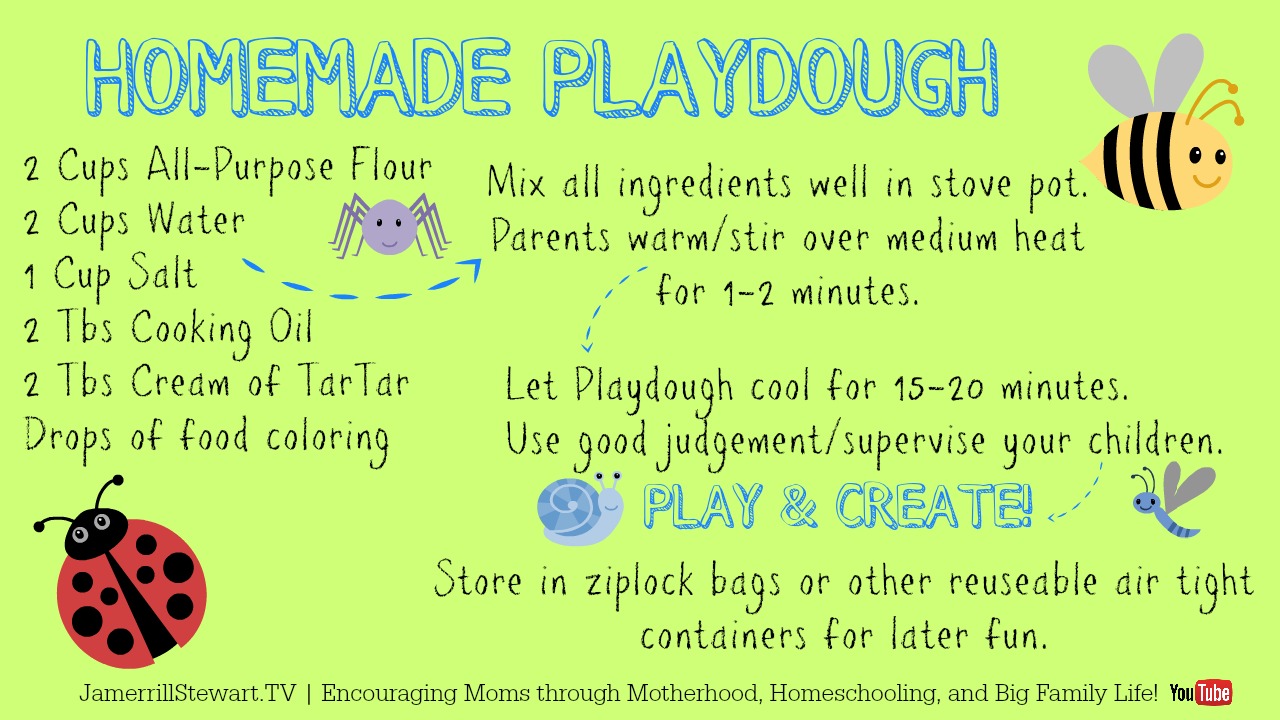 When it's all said and done I store our homemade play dough in zip lock bags. You can use any air tight containers. I've seen some ideas on Pinterest where moms reuse plastic baby food containers to have a small selection of play dough ready.
I have a growing Pinterest board with over 60 homemade play dough recipes. It includes ideas for scented play dough, edible play dough, glitter play dough and more. I also have a round up of over 50 homemade play dough recipes here.
Homemade Play Dough Recipes on Pinterest
Follow Jamerrill Stewart 's board Homemade Playdoh Recipes on Pinterest.
What homemade play dough recipes have you tried?