A fall sensory jar art project is a fun addition to your fall activities. You can use this as a decoration or throw it in your bag to keep little people occupied while out and about. Making sensory jars is a fun way to learn about a season while also making a needed item for your child's current sensory diet. It becomes a dual purpose item. This frugal mama is always on the lookout for items that can serve multiple purposes.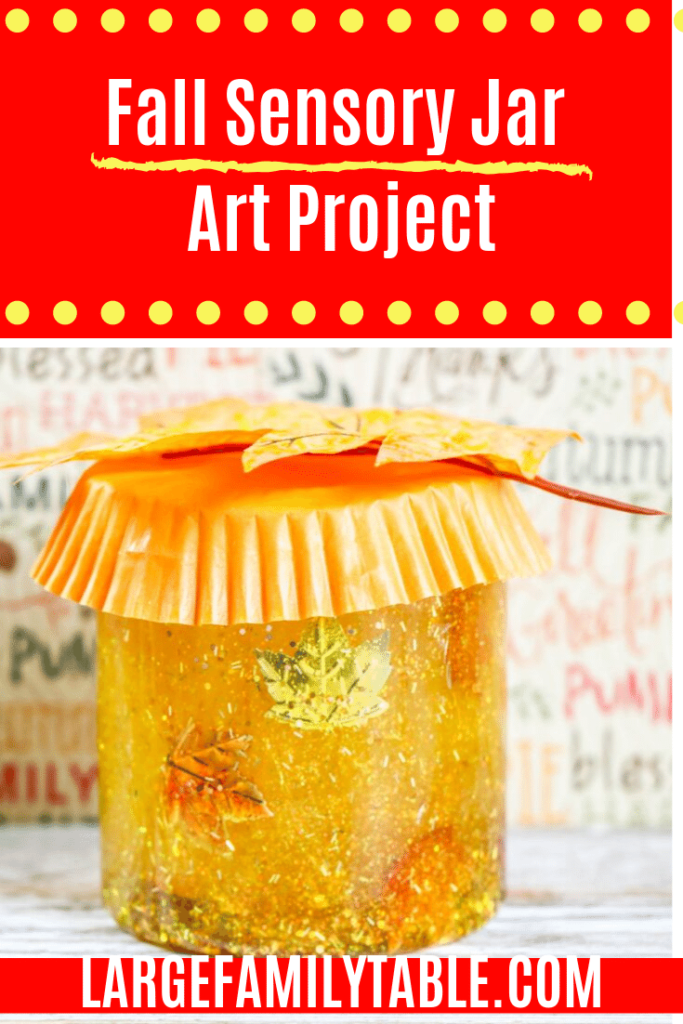 What is a sensory jar?
Sensory jars are also known as calm down jars. They are used as a non messy way to give children sensory input to their five senses. Sensory bottles or jars are great to pack and take with you when you need to keep your child occupied but not make a mess while doing it. Children have fun making them and using them.
Supplies needed for fall sensory jar
1 (8 ounce) plastic storage jar (available at Michaels or Amazon)
1 (6 ounce) bottle Elmer's Glue in yellow
About ½ cup warm water
About 1 tablespoon glitter or confetti (if desired)
Toys (if desired)
For this project, we used:
Maple leaf foil confetti
No toys
No additional glitter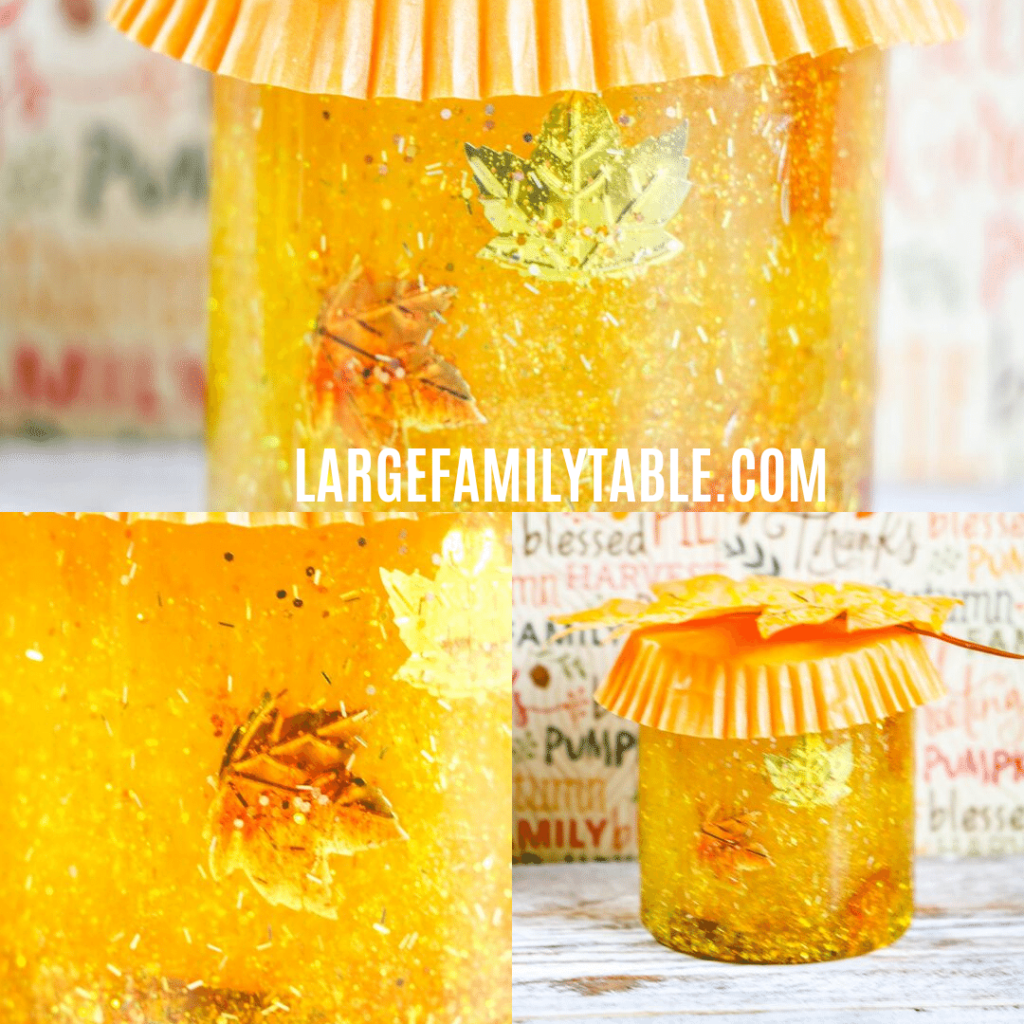 Instructions for making a fall sensory jar
Empty the glue into jar.
Fill the empty glue bottle about half full with warm water (about ¼ cup) and seal with the lid. Shake well to combine the remaining glue with the water. Pour into jar with glue and stir to combine.
If you are adding glitter, stir the glitter into the glue mixture.
Seal the jar and shake well. If the glitter or confetti does not move easily, add more warm water. If the glitter or confetti moves to quickly, add additional glue.
When the content of the jar move according to your preference, seal the jar and glue the lid closed to avoid spills.
If desired, cover the lid with a cupcake liner or additional decorations.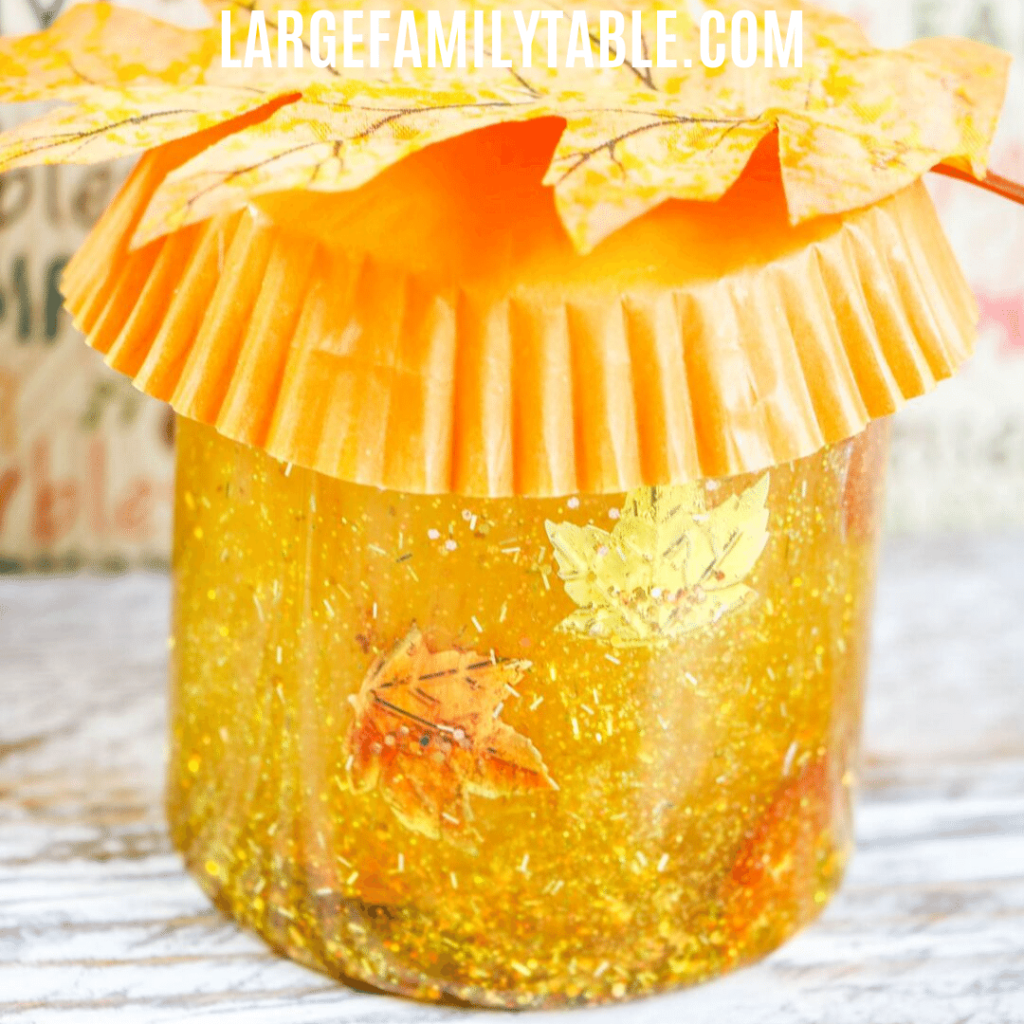 Enjoy your sensory jar everywhere. You can use this same project to make a winter/spring/summer one by changing up the colors and additional items. Don't have any jars, plastic or glass? Use water bottles to make them too!
Looking for more fall fun?
Apple Tree Paper Bag Craft Project
Pumpkin Paper Bag Craft Project
Homeschool Apple Play and Learning Activities