Ahh, morning. The birds are singing, the sun is shining, the coffee is…in the microwave where it has been for the past hour because I meant to get it hot again but I keep forgetting it's in there. Baked oatmeal blueberry muffins are a great accompaniment to that cold coffee!
Are your mornings hectic? Trying to get the kiddos fed and your coffee down and some semblance of order to the day can be a real challenge, especially for those mamas that aren't "morning people". Because most kids definitely are morning people. : )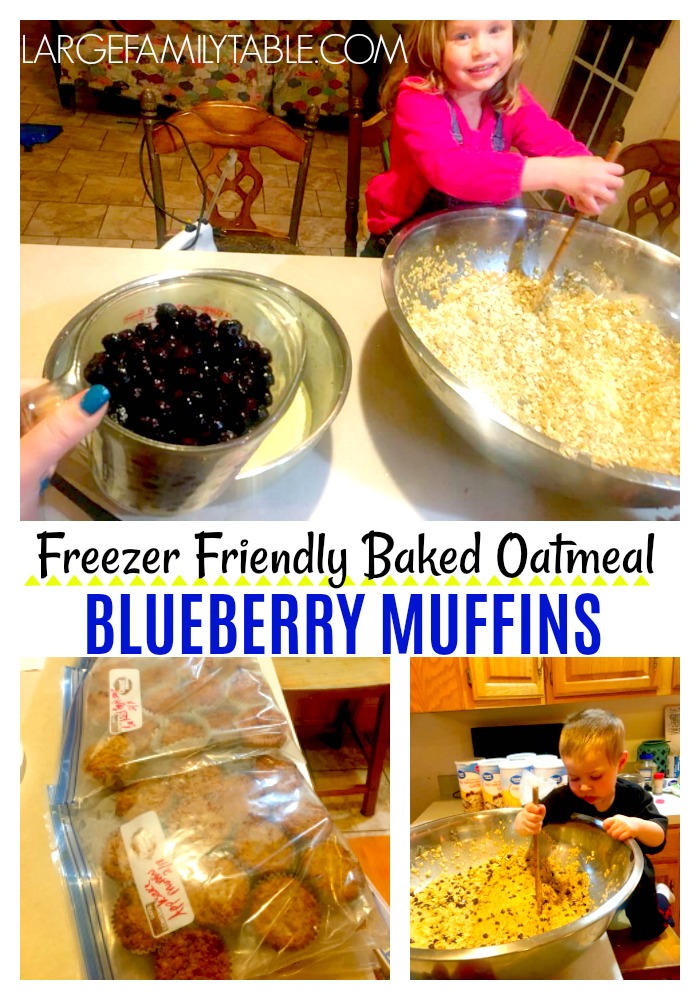 I love having breakfast foods that I can pull out of the freezer to make our mornings a bit more smooth. I make a whole bunch of muffins and freeze them so that I can just pull them out later when we need a quick breakfast. Of course doctor these baked oatmeal muffins up anyway you'd like and serve with fresh fruit, yogurt, hard-boiled eggs, or cheese sticks.
Let these thaw out the night before you need them and they'll be ready to heat in the morning, either in the microwave or in a warm oven. And feel free to use frozen blueberries in these; just give them a dusting of flour to keep them from sinking to the bottom of your muffin cups. Don't ask me how I know this little trick.
Print Baked Oatmeal Blueberry Muffins
---
Description
An easy breakfast that you can make ahead and freeze for those days when you need to feed the kiddos (and yourself) a delicious breakfast without a lot of hassle.
---
Ingredients
12 cups old-fashioned oats
8 tsp. baking powder
4 TBSP cinnamon
4 cups brown sugar
2 TBSP vanilla
1 cup oil
2 cups applesauce
4 cups milk
4 cups blueberries
---
Instructions
Mix all dry ingredients in a very large bowl.
Stir together wet ingredients, then add to dry ingredients.
Mix well.
Scoop into greased muffin tins or use muffin papers.
Bake at 375* for 30-35 minutes.
Cool completely and place in freezer bags.
To serve, let thaw overnight and reheat in the microwave or in the oven on warm.
---
Notes
I was out of cinnamon when I made these the last time, so I used allspice instead, You can also substitute ground cloves for the cinnamon. As always, use what you have!
Makes 5 dozen.
FREE MEGA FREEZER MEALS PLANNING PACK!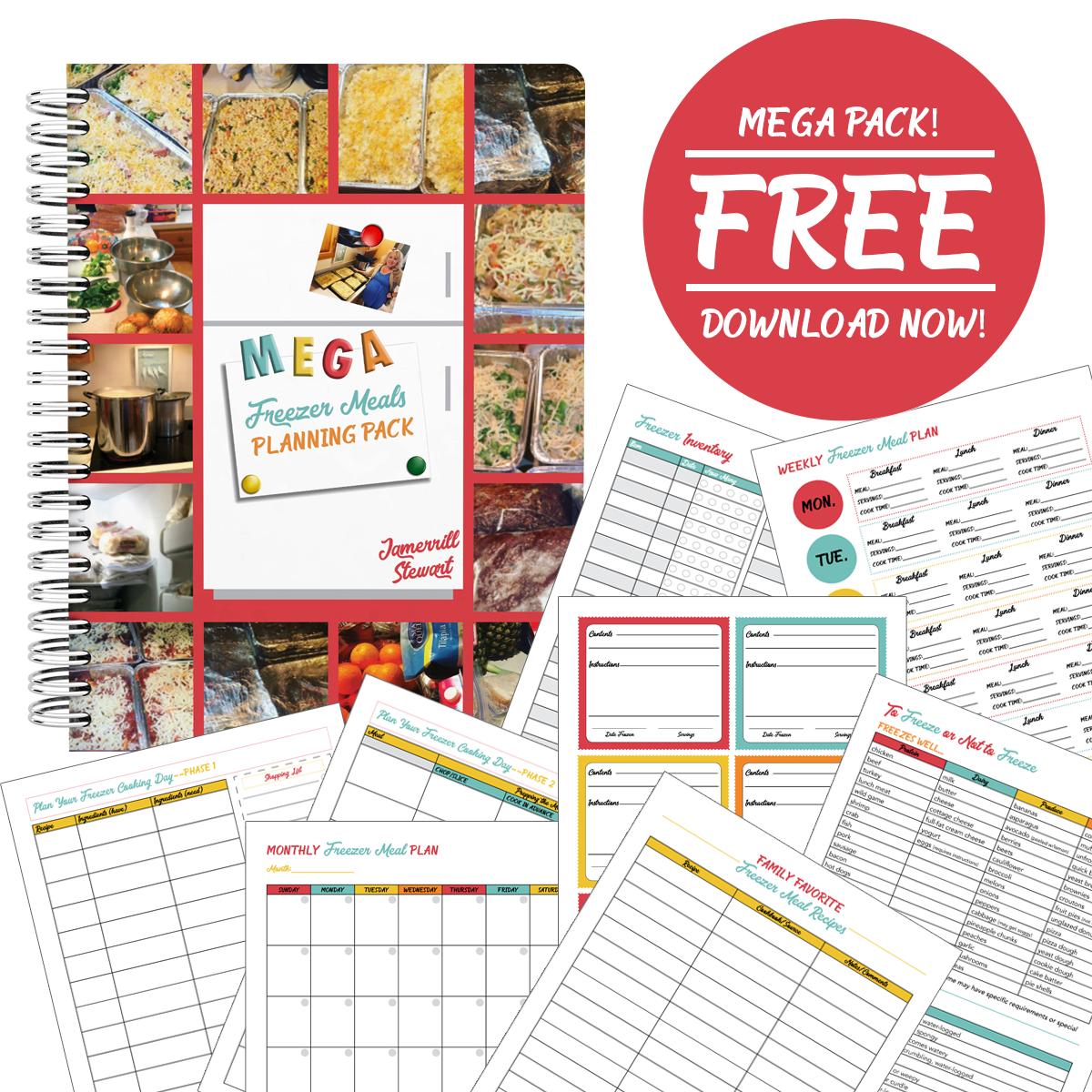 Sign up for your free Mega Freezer Meals Planning Pack here!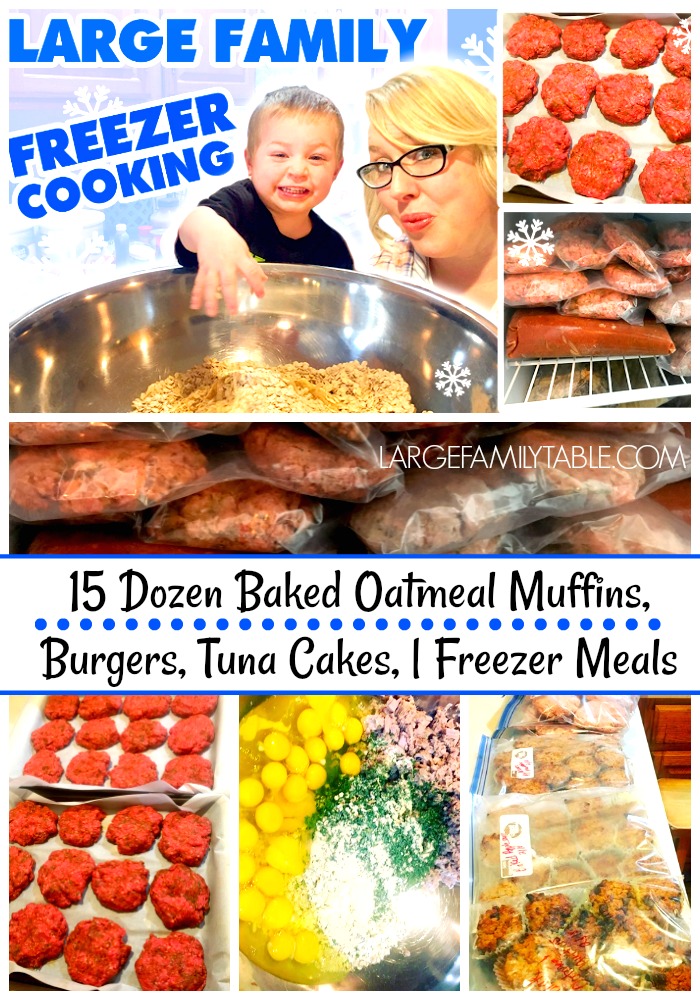 See these muffins in action here on Large Family Freezer Cooking: 15 Dozen Baked Oatmeal Muffins, Burgers, Tuna Cakes, | Freezer Meals!