?Get the Best-Selling Large Family Freezer Meals Collection here! Use promo code HELLO20 to take 20% off your first order. 🙂
This Garlic Steak & Veggies Sheet Pan Dinner Recipe will really hit the spot when dinnertime rolls around! Your family will think you're amazing (because you are!), and you'll just be so happy about how easy it came together that you won't even mind doing dishes later. 😉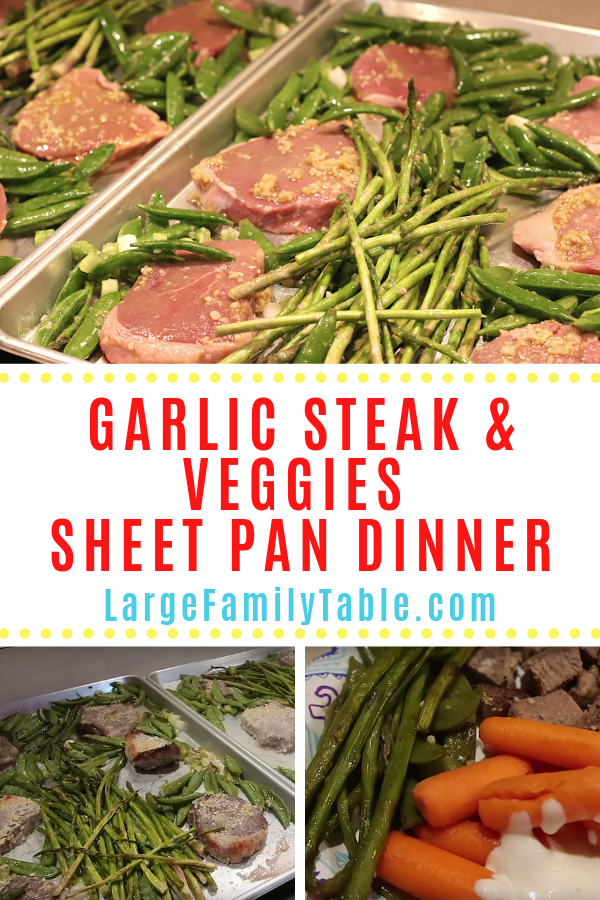 Garlic Steak & Veggies Sheet Pan Dinner
The Meat
After preheating my oven to 425 degrees, I pulled out about 4 lbs of Eye of Round steaks. I'm not picky about my cuts of beef, and these were the only cuts of steak at Aldi that week, so that's what I bought. Decisions are easy when there's only one choice, ha! (All that to say – use your favorite cut, if you can find it, lol!)
The Veggies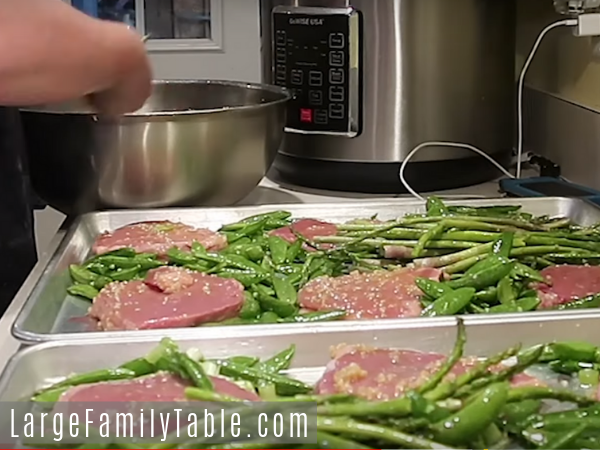 For veggies, I went with sugar snap peas, some lovely asparagus, and a few green onions to round out the flavor in this large family sheet pan dinner. And garlic, because, mmm-garlic!
The Cooking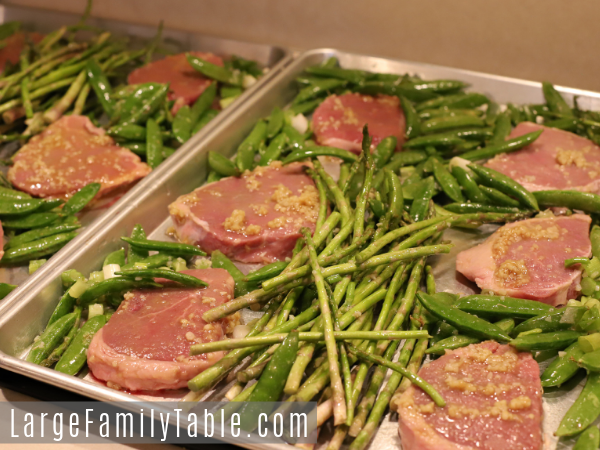 Next up, it's time to arrange the seasoned steaks & veggies evenly across two large sheet pans, spreading the veggies out around the steaks. Bake at 425 for 15 to 20 minutes, until your steak reaches your desired doneness 🙂
All that's left to do is serve it up, eat, and enjoy!
Tell me, how you like your steak cooked? Medium? Well-done? Rare?! 😀
Watch me prepare this recipe and 4 more Healthy Sheet Pan Dinners!
More Sheet Pan Dinner Recipes
Print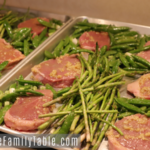 Garlic Steak & Veggies Sheet Pan Dinner Recipe
---
Description
Enjoy this easy to make and tasty to eat healthy sheet pan dinner!
---
Ingredients
4 lbs steak cuts (I used Eye of Round)
4 (8 oz) packs of Sugar Snap Peas
1 lb asparagus
4 green onions, chopped
1/4 cup olive oil (to roll veggies in)
3 TBS minced garlic
1 TBS garlic powder
1/4 cup olive oil (to roll steaks in)
2 TBS minced garlic
---
Instructions
Preheat oven to 425.
In large bowl, place 1/4 cup of olive oil, 3 TBS minced garlic,  and 1 TBS garlic powder; mix until combined. Add in sugar snap peas, asparagus, and chopped green onions, and gently toss veggies until coated with oil and garlic.
In another bowl, add 1/4 olive oil, 2 TBS minced garlic, and dip each steak individually before placing on two large sheet pans. Spread vegetables out around steaks.
Bake at 425 for 15 to 20 minutes, until your steak reaches your desired doneness, rotating pans part way through baking time. 🙂
More tasty steak recipes –