Make a decorative Large Family Gratitude Box to use as a centerpiece at the family dinner this Thanksgiving. Use the box to add all the many things you are thankful to have in life.
The Gratitude Box is a small box that contains little notes of all the things you have to be thankful for in life. It is an excellent way for people to be happy for what they have instead of dwelling on what they do not have in life. It is the perfect craft to complete around the Thanksgiving holiday because it encourages everyone in the household to come up with at least one thing they are grateful for each day. You might also try making our Pumpkin Paper Bag Craft, our Fall paper Bag Craft, or our Autumn Stained Leaf Project for Kids.
****Use special promo code HELLO20 to take 20% off the entire MEGA DEAL get-it-all Bundle including the best-selling Large Family Freezer Meal Packs 1-12 + so much more!!****
Large Family Gratitude Box
By the time Thanksgiving arrives, you can go through the Gratitude Box with your loved ones and read the notes aloud to see what everyone has said. This is so great for large families! Everyone can sit around and talk about what they are thankful for.
It is not difficult to make a Gratitude Box. All you need is a handful of supplies and a bit of creativity to come up with a box that looks great and offers enough space for all the thankful notes you plan to put inside of it.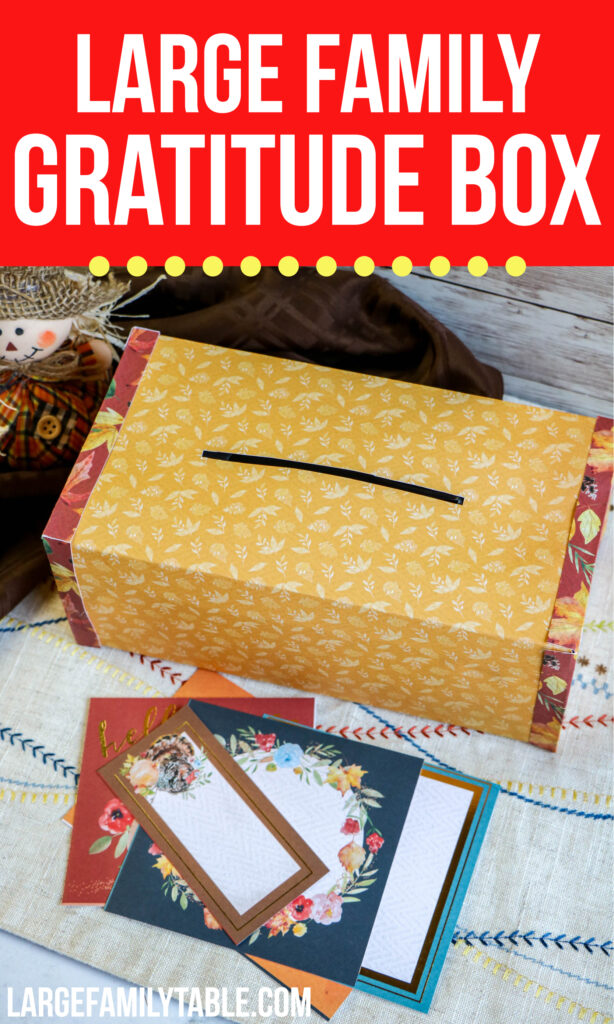 Supplies Needed to Make the Gratitude Box
When making a Gratitude Box at home, make sure to have the following supplies ready to use:
Tissue Box. The tissue box is what you will use as your Gratitude Box. Make sure to remove any tissues from it before you get started.
Scrapbook Paper. You will use scrapbook paper to cover your tissue box's sides, giving it a more decorative appearance.
Glue. The glue helps you get the scrapbook paper to stick to the tissue box with ease.
Scissors. Always have scissors available to cut scrapbook paper into the correct sizes before applying those pieces of paper to your tissue box.
As you can see, you only need a few items to quickly prepare a custom Gratitude Box. You can make as many of these boxes as you would like.
How to Make the Gratitude Box
Putting the Gratitude Box together is simple. Place your scrapbook paper on your tissue box to get an idea of how much of the paper you will need. Begin cutting your scrapbook paper before applying it to the tissue box with glue.
Allow the glue to dry, and then add stickers to your Gratitude Box if you would like to cover the edges and other areas of the box. You can use your scrapbook paper scraps as paper for the notes that you will add to the box when writing down what you are thankful to have in your life.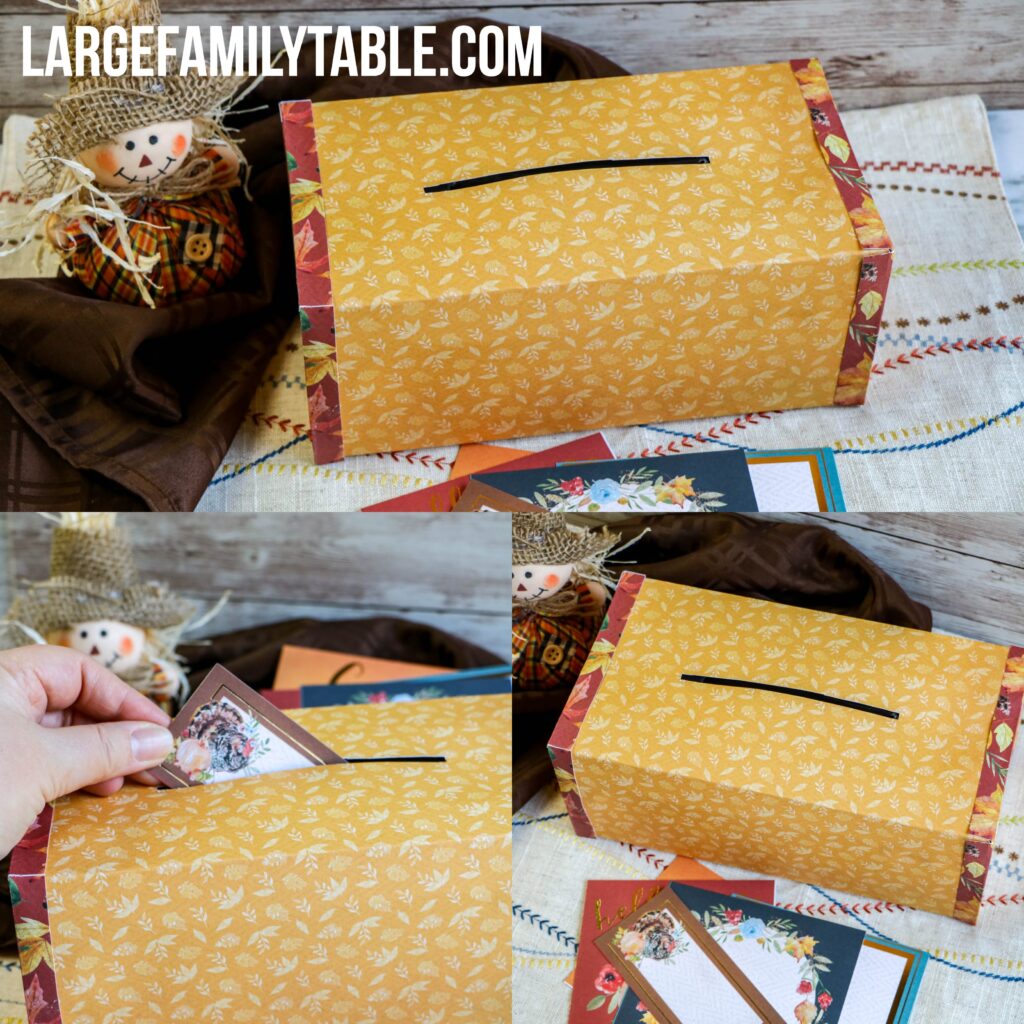 Why You Should Make a Gratitude Box
You should make a gratitude box to keep track of all the positive things you have in life. It is easy to feel discouraged and stressed over situations, but when you see all the many things in life that are going good for you, it will put a smile on your face.
Not only is it good for you to add grateful notes to the box, but it is also good for you to teach your kids to be grateful. This large family gratitude box can get every large family excited about being grateful and thankful!
If you have a large family, you might want to consider this Large Family Gratitude Box for them this year. It may be a new tradition to add to your home this thankful season.
Need some cute ideas for planning and saving memories?
The holidays are not the only time we make special memories. As a homeschooling mom, you are always making memories in the simple moments of everyday life! In my Real Life Homeschool Mom's Planner and Memory Book, you will find tons of useful ideas for your Large Family Life! There are Family Memory Pages, Holiday Memory Pages, as well as goal lists, budget forms, meal planning lists, and many additional pages to plan and remember all the important elements of real life!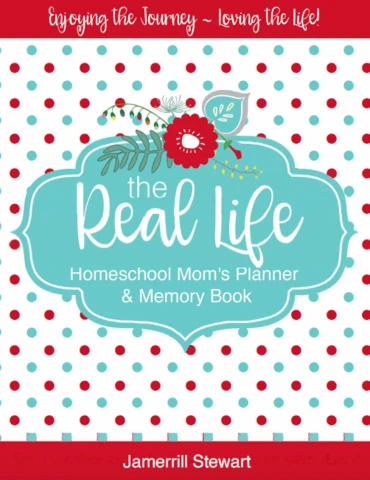 More holiday themed crafts to make with your kids!
This fun craft is a great way to spend time with your children and encourage them to be thankful. One other benefit is that it uses up things that you would have thrown away. Enjoy this craft and project with your whole family!
FREE Emergency Pantry Planning Pack!
Don't forget to sign up for the emergency pantry planning pack for free to help you plan your pantry meals! The free Emergency Pantry Planning Pack will help you plan your needed pantry items! Printable pages include pantry inventory, grocery lists, meal planners, list of pantry staple items, and more.