Help, I'm Homeschooling! Now, What?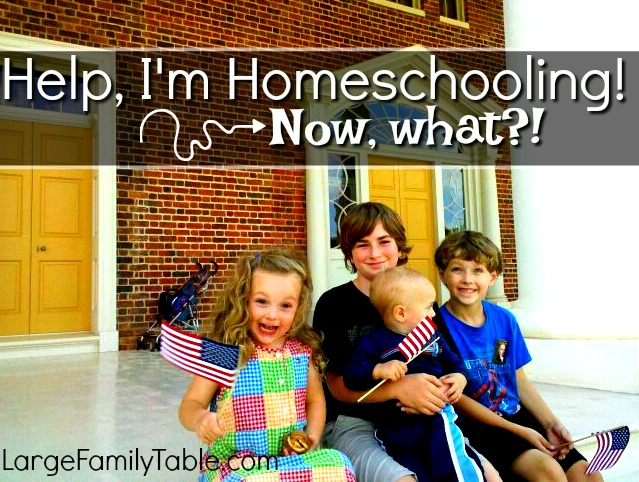 Congratulations! You've taken the big step—homeschooling! You bought your curriculum, and no doubt have a closet full of school supplies. Your dreams are big for your family's educational lifestyle, but for many, those pesky fears of self-doubt and second-guessing may be raising their ugly head. Have no fear; you're not alone. All of us homeschooling moms started where you are now.
Can I do this?
What was I thinking?
Why won't this child sit?
Maybe my mother-in-law was right?!
We were all once starting out with nothing more than a whisper from God in our heart and a box of curriculum in the mail, left only with our quiet fears of now what.
Now, what?
Here are a few tidbits I've picked up along the way:
*Take it day by day. It's easy to find yourself caught up worrying about the next level of math or how are you ever going to teach your child fill-in-the-blank. All you can do is what needs to be done today. You can't live tomorrow. You can't live yesterday. Make this day the very best.
Zion's favorite place to do his homeschooling reading is on the trampoline. In this picture, he's age 7 and reading Prince Caspian and the book of James.
*You are not a public school classroom, and your homeschool doesn't have to look like one. Set up a learning area for the kids to spread out their materials. However, never underestimate the simple kitchen table, couches or a blanket spread outside. Our family has a schoolroom only because we needed space for more bookshelves.
*Snuggle, A LOT! Enjoy those babies and snuggle together on the couch while reading great books. Enjoy these years and don't pressure yourself. Remember, one of the many gifts of homeschooling is the gift of time.
Jadin age nine and Zion age six reading together at our pond in 2009.
*Have your school time, but also keep learning fun and light. Keep lessons short and sweet to make school fun! There are plenty of years of formal education. Little fingers can only hold a pencil for so long and then it's time to run, jump and play!
*Don't compare your homeschool with others. God created your family uniquely. Your children are His unique creation. No one knows what they need more than He does. Remember, you only want His very best. Read how the Lord took over our homeschool here.
*If you have an infant, or will be having a baby during your school year, I suggest investing in a good baby carrier. These are my affiliate links for the Moby Wrap and Ergo Carrier I use. I wear the baby throughout the day. This helps a lot during school time in my world. These are my thoughts for homeschooling with a newborn and also how to homeschool with little ones underfoot (and enjoying it!).
Gabriel age 2 and Liam nearing age one in 2011
*Be creative for quiet time. If you need quiet 1:1 time with a child, work that need around the nap times of younger children or when your hubby is home. For a season, I had one child that I helped with math at 8 p.m. every night. This is when this child worked best and we had the quiet time he needed.
*Allow for a learning curve. It's going to take some time to learn this lifestyle called homeschooling. I tell new homeschoolers all the time that their homeschool will look like what daily life in their family looks like. What style, method, mode, and structure, you will utilize will come in time. It took me a good three years to feel like we were homeschooling. Come to find out; we had been all along!
Our first day of the fresh homeschool year in 2009. Jadin and Naomi were catching critters in old coffee cans to look up in nature books. Zion was busy reading to little Gabriel. These are sweet days I wouldn't trade for anything.
*Limit outside commitments as needed. During different seasons, I have found our family with many outside commitments. We realized we were running from thing to thing, in the name of "enrichment," "extracurricular," or "interest." Now we weigh whether the activity is in our family's best interest. We don't want to live on the run so we might not take on tap lessons, winter basketball, and karate at the same moment if we expect to get in regular field trips and family game night, too. There's a balance you'll learn over time and I'm sure you'll do great.
*Go with God. If an aspect of your school isn't working, stop and pray. If a child is having trouble, stop and pray. If you feel discouraged, stop and pray. Know from the get-go that you CAN'T homeschool successfully without God's direction.
More Homeschool Encouragement
These are a few of the homeschooling articles I've written over the years that other mommas tell me they greatly enjoy. xoxo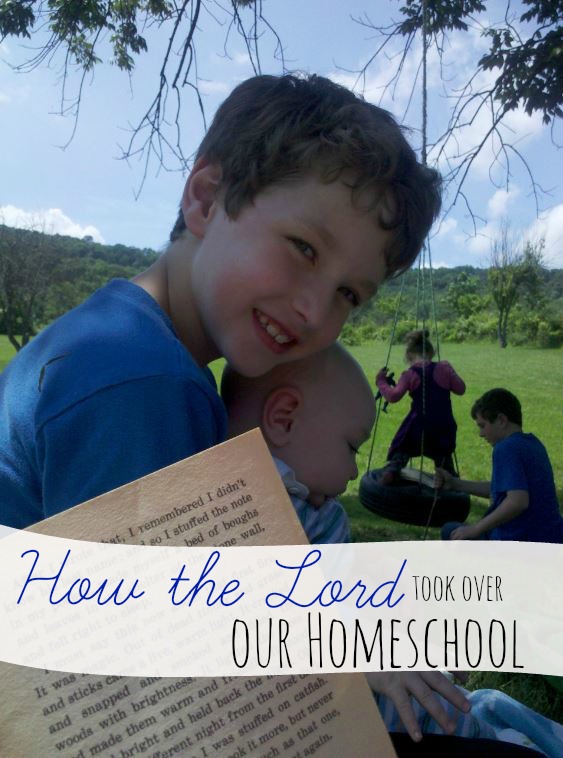 Letting Go & Letting God: How the Lord Took Over Our Homeschool one of the very first article's I ever shared online in 2011. This article is also very fun because this boy is our son who is nearing graduation. Let them homeschool in their Batman capes, moms! xoxo
Homeschooling with Little Ones Underfoot and Keeping Your Sanity
8 Things I Want New Homeschooling Moms to Know
Why Homeschool: The Gift of Time
How I've Saved Thousands on Homeschool Curriculum
Homeschool Routines and Curriculum Plans for 2016-2017
Mommy, YOU'RE the Best Homeschool Preschool Curriculum!
May your homeschool, children and learning overflow with God's richest blessings!
I first wrote this article for Heart of the Matter in 2011.