Homeschool Mom Work Schedule
A few weeks ago, I wrote a post sharing several personal details of the last three years of my working homeschool mom journey. I also shared that I would let you know my new homeschool mom work schedule attempt that Travis and I are trying this winter.
The last three years have been very good for me work-hour wise. The amount of hours I work is always a huge consideration for me because obviously, the hours I'm working are hours I'm not with my family for the most part. And as homeschooling moms, many of us are on this homeschool journey to enjoy and pour as much of ourselves into our children and family life as we possibly can.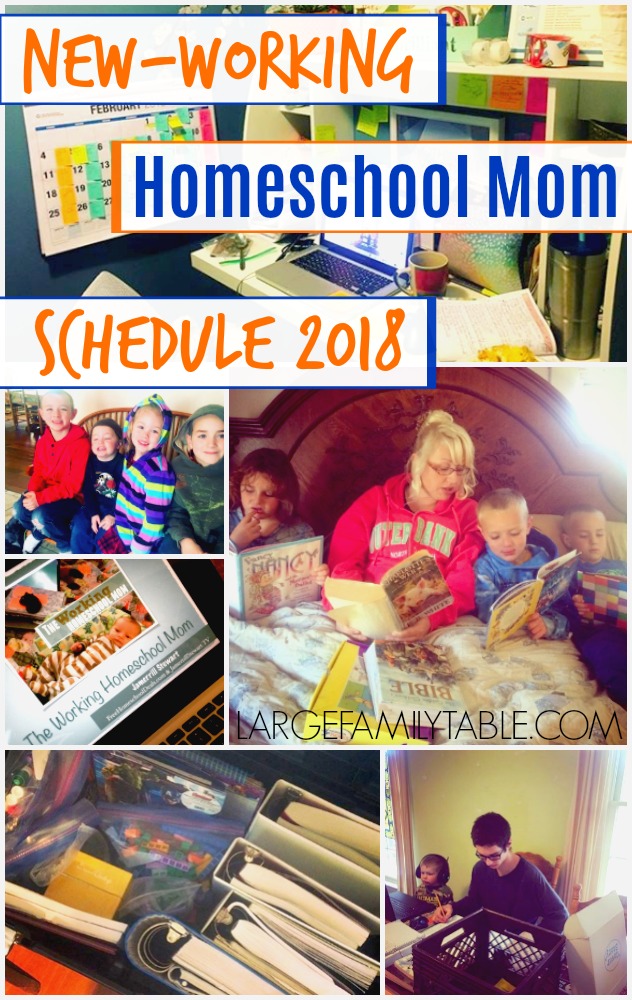 As I also shared, I've averaged around 15 hours a week for 2015, 2016, and all but the last 3-4 months of 2017. My business-minded momma brain had planned that once Travis was done with his two years of additional schooling, my ONE dedicated work day per week would become two or sometimes three.  An example of these dedicated workdays would be, in addition to working every Saturday as I have for years, I would also work Tuesday and maybe Thursday as well, or any two or three-day combination that would fit with our family life that week.
We attempted that homeschool mom schedule, adding in more workdays for me, for several months this fall including mid-August, September, October, and November. On paper, this schedule looked like it would work perfect for our family. However, assessing those working months a few months in, I could see myself one week being highly productive with my work time and then the following week, I would kind of sit back and wonder what happened to the work time and feel guilty.

There are a few other reasons I ended up not caring for my long awaited schedule configuration. I want to live most of my waking hours as momma, enjoying and soaking in my children. I felt the weekly workdays wearing on me. I want weeks where I can live my real life and not sit behind this laptop, even though this laptop is a blessing on many levels. My momma heart and my creative brain need big chunks of time off of the internet.
I want to stress that as I share my attempts, struggles, and successes, I absolutely do not want to discourage another homeschool mom seeking a work schedule that will work for her family during different seasons. Different homeschool mom work schedules and homeschooling and family routines work during different seasons. There are many, many, homeschool moms who manage to homeschool and work, either inside or outside of the home. So, before I go any further sharing more of my working homeschool mom experience, I want to also share that I wrote this new post with a few different homeschool mom work schedule configurations we've used over the years. If YOU'RE looking for various schedule ideas, you'll want to check out that post.
Here are 7 Working Homeschool Mom Schedules & Routines I've used in different seasons!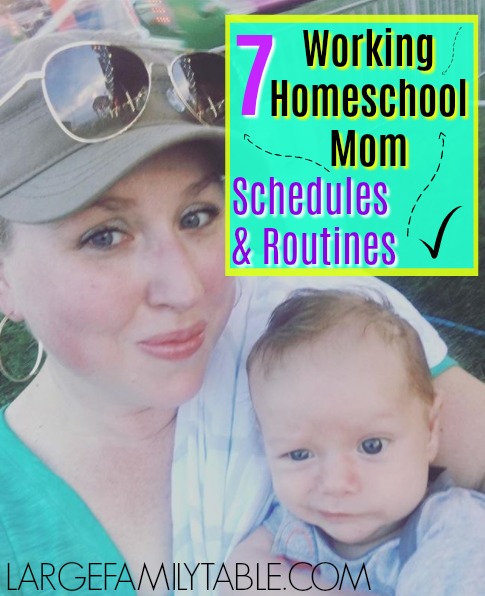 And remember this perfect quote from my friend Crstyal Paine when sharing her family's current schedule  "Also, I want to give the caveat that this schedule might change next month — or even next week! So don't hold me to it… because I think good schedules are like good budgets: they are there to serve you and not the other way around!"
Another Confession: Another Tried and Failed Schedule Attempt
After having given that work schedule a trial for almost four months, having dedicated work days every single week was wearing on my momma's heart and still not what I feel works best for us. I began to think back to other homeschool mom work schedules we've tried in the past.
This is what sprung schedule attempt #367-B Section C (ha!) over the holidays. I decided I would flip back to early mornings so I could have uninterrupted family days and not have to lock myself away in my office several days a week.
However, the ENFP in my personality is continuing to learn life lessons and as I'm nearing forty, these life lessons are rolling over me one after another. Between the sweetie baby and getting up with him at different times, or staying out later with our teen sons and enjoying taking them to a movie or an event (ending up out with them about one night a week), or playing a board game that runs long with the younger children – ALL ASPECTS OF A LIFE I LOVE DEARLY – lots of real life makes it so I am not in a season where I can realistically or consistently get up super early or even moderately early.
I want to be able to enjoy an event, outing, late evening game, or movie without the pressure of, "I have to get to bed…I have to work at 4 am or 5 am!" With now eight children, ages infant through almost adult, I need to be able to pour into them and take spur-of-the-moment opportunities without extra unnecessary pressure on myself.
Not putting unnecessary pressure on myself is another freeing lesson the Lord is walking me through.
So heavy heartedly, after trying to flip myself back to a consistent early-morning hustle, I felt pretty defeated work-hour wise. I went to Travis and said I was just going to go to a completely surrendered, try to work when and if I can and maybe never, kind of a schedule for my work hours. Travis has walked through all of my schedule thoughts over the years. He knows me. He knows when I've worked too much, when I need to hire more help, when I need to cut back, or when I need to make time to get some hours in.
The Attempting To Be Gentle Edition
AND THAT'S WHEN HE HAD SUCH A GREAT IDEA FOR US
….drum roll, please
What if I only worked every other week?
It sounds so simple.
It sounds too simple.
But something about it really made sense for our family's dynamics.
As I shared, part of my problem was that one week I felt like I knocked my to-do list out of the ballpark and the next week I felt kind of dull and burned out and like my time was wasted.
Doing the homeschool mom schedule math, previously, I was working about 8 to 12 dedicated days a month and feeling like only half of those were a good use of my and my family's time.
With my new schedule attempt, if I could work one long "weekend" we'll call it, every other week, that would still give me 6 to 8 work days a month. And if those work days could be done fully focused and feeling fresh, and with my mama heart tank and our family's heart tank full of lots of quality love and time together all the other days, it might just work!
So that, my friend, is what we have implemented schedule-wise. I have been working a long weekend every other week for over a month now.
How We're Implementing This New Schedule
How this works exactly is, I look at our family schedule for the upcoming month and I look at the days around every other weekend. I pick anywhere from 3 to 4 of those days as my focused workdays.
We go to church on Sundays and like to have that mostly as a restful family day. As an example of my work weekend, I could work a Thursday, Friday, and Saturday. And then have 10 to 12 days of focused homeschool mama life.

Or, like this weekend when I'm writing this article, I have worked Friday and Saturday, took Sunday off as a restful recharge day for the family, and now I'm busting out work on Monday and Tuesday. However, already looking ahead at our family calendar for February, in two weeks between our five-year-old's birthday and the kid's archery training starting, I will only have a two day work weekend in the middle of February. Finally, the last weekend in February, I'll have a four solid days, focused-work weekend. That means for the entire month of February I will only be in my office and behind my desk for six full days.
What My Work Time Looks Like Now
The nature of my work has changed over the years. As you can tell, I do quite a bit on YouTube now. I film on the fly. I film snippets of my homeschool mom days, our large family meals, my grocery hauls, thrift store finds, and more. And still to this point, three years later, my vlogging does not feel like work. I thoroughly enjoy it. Vlogging really is a lot of fun for my soul! So at this point, I do not count my video creation time as "work" because it's very free-form, fun, and happens within my real mom life. It feels like I'm journaling the days and chatting with good friends.
Another thing that has freed me up is hiring out my video editing. I have included video editing in my work time amounts this fall because editing was taking me about 10 or so hours a week. However, about two months ago, I hired our oldest son's video and photography business to now handle all my editing and he's doing a beautiful job!

On my workdays now, I handle emails, sponsorship opportunities, marketing orders, writing personal blog posts that I enjoy (hey, I'm doing that now), researching and developing my upcoming podcast, working on my homeschool mom book project, and working through the development of several Large Family Table food-related products. I also still do a lot of my own graphics (obviously — ha!), write newsletters to my subscribers, loosely plan out my upcoming videos, and handle anything else that gets added to my to-do list during all the days I'm not sitting behind my laptop.
I do have several people who work for and with me, and just to encourage you, this has come slow and steady over time. They keep many of my other balls in the air flipping around, such as scheduling my social media channels, editing these long-winded blog posts, transcribing my recipe videos, and much more. I have found that hiring help is one of the keys so I can continue to grow my business over time.

For me, after all these years in various homeschool mom schedule attempts, this one, of working a long weekend every other week to bust out my master to-do list projects, plans, and needs, is the best configuration we have tried in a looooooooong time. It feels like it really meets the needs of the encouraging work I do and the family I love so dearly.
LARGE FAMILY INCOME Work At Home Mom Update 2019
If nothing else, I hope that sharing my homeschool mom work schedule process helps you. My work needs change. Our family needs change. Life changes for us all. My big key to keeping going is I haven't quit, even when I've thought maybe there was no way. I do a lot of surrenders and a lot of asking Jesus to direct me and show me the way for this path He has me on. I pray you are encouraged to keep trying and experimenting to find a setup that will work best for your homeschool family life!
Here's more in Work-at-Home Mom Adventures.
2020 update –> 💥WORK AT HOME HOMESCHOOLING MOMS with 19 KIDS!!! How We Run Businesses, Homeschool, & Run Our Homes!