Homeschool Organization
During this in-between time of moving into our new house, Travis finishing his two-year college program, me having baby Benjamin, and yeah – overflowing real life – I've used extra kitchen cabinets for our homeschool organization and storage.
Like so many homeschooling moms, I have a book hoarding problem obsession and feel that all the books at used homeschool book sales and thrift stores must be given a good home if they'll help build our family library (as evidenced by my near hysterical Homeschool Mom Thrift Store Haul for Chapter Books and just one of my many New & Used Homeschool Book Hauls).
Upcoming Homeschool Bookshelves Planning
We've steadily been growing out of the kitchen cabinet storage idea. Our upcoming plans are to do an entire wall of homeschool bookshelves this spring. Here are the dream homeschool bookshelves we're currently planning on getting at IKEA. Shelving ideas could change. But for the moment these are the direction we're leaning. We'll have room for two sets of these, plus corner shelving too. IKEA will be a long day trip for us – we are waiting for nicer weather all the way around. Please share in the comments what you use for shelving!
Current $40 Facebook Find
Sometimes though, a deal is a deal, and when I saw this beautiful hutch on Facebook at about 4 a.m. (*cough* I was up with the baby 🙂 ) for $40 I thought I could use it in my life! Travis and our teen boys spent an evening picking it up for me and hauling it into place.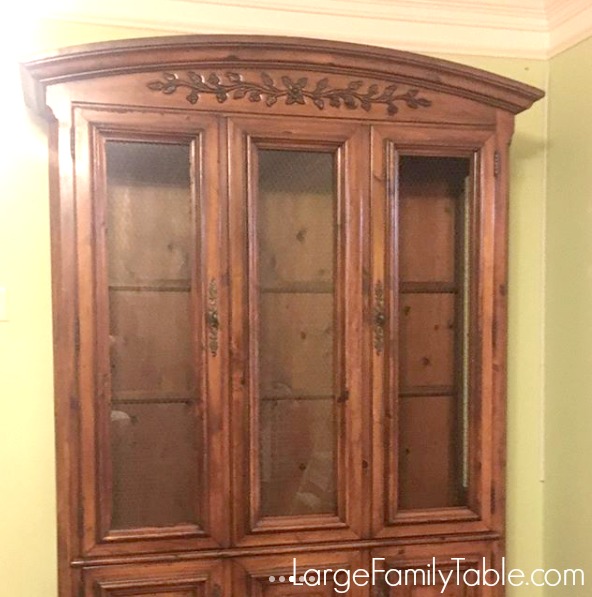 In today's newly released Homeschool Mom Week in the Life Vlog I share many aspects of our homeschool family week including this lovely new homeschool organization hutch! I've been staring at the new hutch for the past now two weeks while waiting for Travis to get the part he needed to secure it to the wall. The parts finally came (part of living in the wilderness, our nearest Lowe's didn't have what he needed so hello online ordering.) I'm believing this coming week I'll finally be able to load it up and get to homeschool organizing just how I'd like it.
Homeschool Organization Hutch ($40 Facebook Find!) | Homeschool Mom Week in the Life
"In today's homeschool mom week in the life vlog I share snippets of our large family life from 1/17/18 to 1/21/18. We go to our homeschool group, go to the movies, take in lots of hikes (of course), get in some cleaning and organizing, and find a home for our new homeschool organization hutch! I share my Walmart grocery ordering saga and talk about a freezer cooking day that I finally gave up on happening anytime soon (ha!)."
Click here to watch the full Homeschool Organization Hutch ($40 Facebook Find!) | Homeschool Mom Week in the Life!
What great finds have you found for your homeschooling mom life?