Homeschool Routines and Curriculum Plans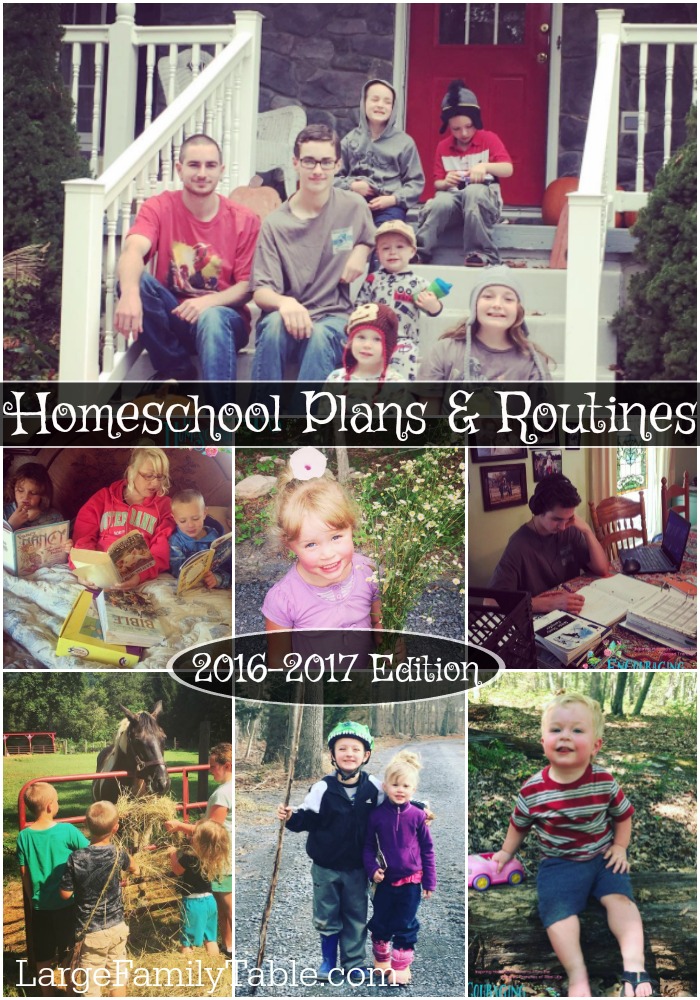 I recently published a new Homeschool Routines and Curriculum Plans for 2016-2017 vlog (with a travel/shopping vlog, too 🙂 I stop on the side of the mountain to share about new features of our 2016-2017 homeschool year. As promised in the video I'm sharing my overall gentle homeschool routines and curriculum plans for the new school year below.
This post contains my affiliate and sponsor links which help support my online efforts, thank you!
Homeschool Toddler, Mr. Daniel!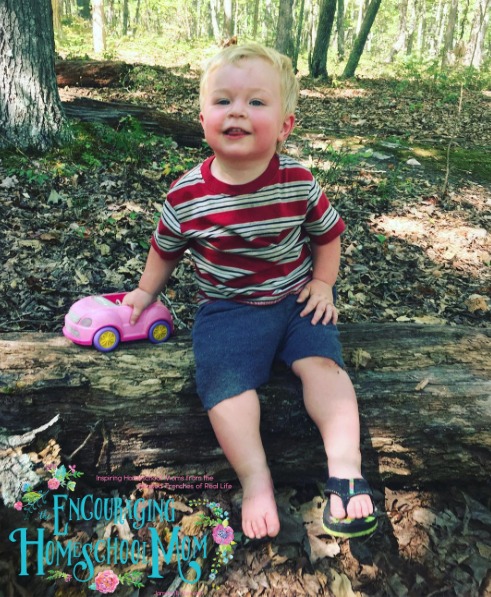 Mr. Daniel is marching fast, quick, and in a hurry towards his 2nd birthday! He's 21-months at this moment, and still graciously taking long 3 hour afternoon naps (thanks, Lord!). He's usually good and worn out from our morning nature walks and fort building in the forest. My plan is we'll continue to tackle our big afternoon read aloud stack with the messy elements of lapbooking during his afternoon naps. Besides his nap time Mr. Daniel is right in the middle of whatever excitement is transpiring. He won't miss a thing!
Preschool Years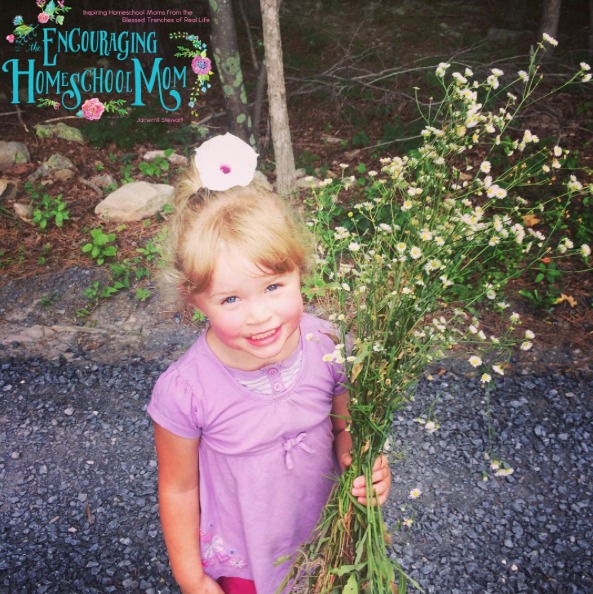 From Instagram, "Miss Amelia put a morning glory in her hair as her "crown," and picked a bouquet of wildflowers on our nature walk today ❤️ We also collected pine cones and interesting rocks."
Amelia is using Time4Learning for an interactive preschool time. I share more here in How We're Using Time4Learning with the Littlest Learners. Amelia loves Magformers, too! She is also following along with our read aloud time, All About Reading, hands-on cooking time, daily nature walks, and more. I share more thoughts on homeschool preschool in Mommy, You're the BEST Homeschool Preschool Curriculum.
Early & Middle Elementary
Math and Language Arts
Gabriel, Liam, and Naomi are enjoying Time4Learning for Language Arts and Math. They've continued to use T4L over the summer as you can see in the Traveling Homeschool. Along with their T4L Language Arts, they'll continue with All About Reading and All About Spelling.We also love the entire collection of Draw-Write-Now books. Gabriel and Liam both have a Math-U-See curriculum level they're completing. Naomi is additionally working through Rod and Staff for math-based bookwork.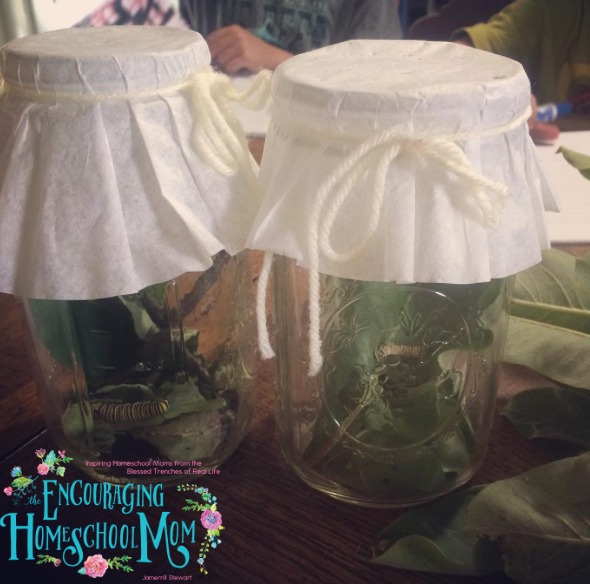 Natural (fun!) Science
For science, we're enjoying our own DIY curriculum at the moment which includes fun science games from Educents (like this Magic School Bus Science Game which reviews several topics), hatching butterflies, daily nature walks, we also have a few Magic School Bus Science Kits to finish working through. We'll continue to check out stacks of books on various scientific interests. In recent weeks we've enjoyed these extra large human anatomy wall clings to inspire scientific conversation. I'll share more of our science adventures on Instagram and YouTube throughout the year.
Glorious Homeschool Read Alouds
Seriously, my favorite part of homeschooling 🙂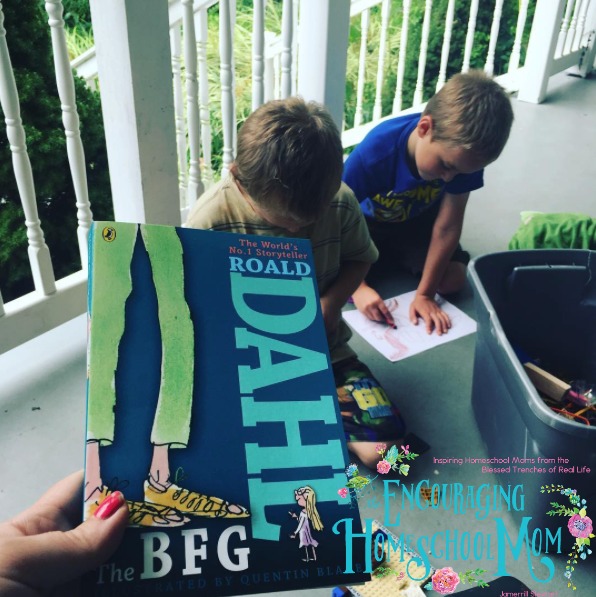 For History, Government, and Literature (I stack those together :), we'll continue soaking up great reading through traditional family read alouds. You can read this sweet post about how we do read aloud time at our house from 2011. Not much has changed, it's one of my very favorite times of the day. Here is a list of 10 of our family favorite read alouds.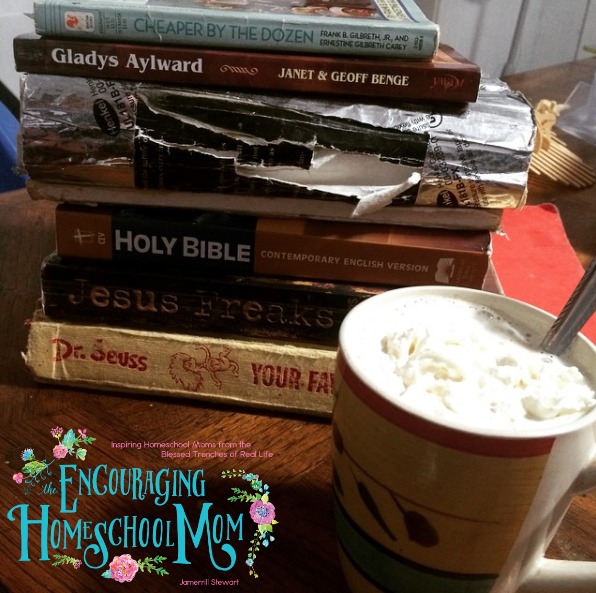 From Instagram, "Diving into the read aloud stack with extra caffeine this afternoon." If you're interested, you can catch glimpses of our past homeschool table work and read aloud time here, here, here, and here.
Bringing Back Lapbooks & Notebooking
When Jadin and Zion were in their elementary homeschool years we did a lot of lapbooking and notebooking (here's a fun blast from the past with our Where the Red Fern Grows Literature Unit Study & Lapbook). As we've added several babies over these last years, I've slowly dropped the lapbooking and notebooking. Like I'm sure you understand, many seasons are give and take. My big plan is to work lapbooks in during our afternoon read aloud time for Amelia, Gabriel, Liam, and Naomi. I'm also laying out notebooking elements using NotebookingPages.com for Naomi to work on. If you're interested more in lapbooks I also have the BIGGEST List of Free Homeschool Lapbooks.
Nostalgic Homeschool Interruption
Will you join me?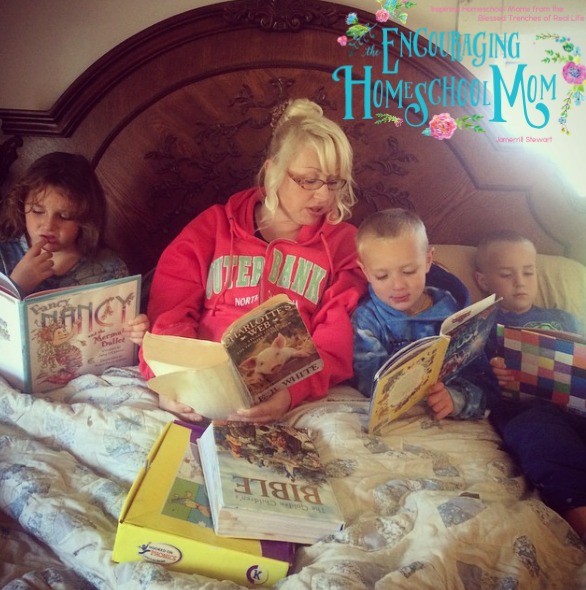 Pregnant Momma couldn't move, so we brought read alouds to bed!
Okay, and then flipping through my Instagram of the past four years stirred up all my nostalgic homeschool mom feelings. If you'd like to see some fun homeschool highlights from our family here ya go: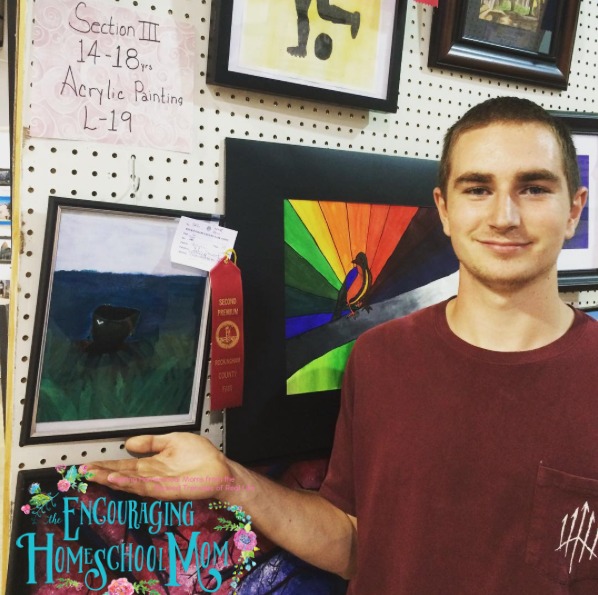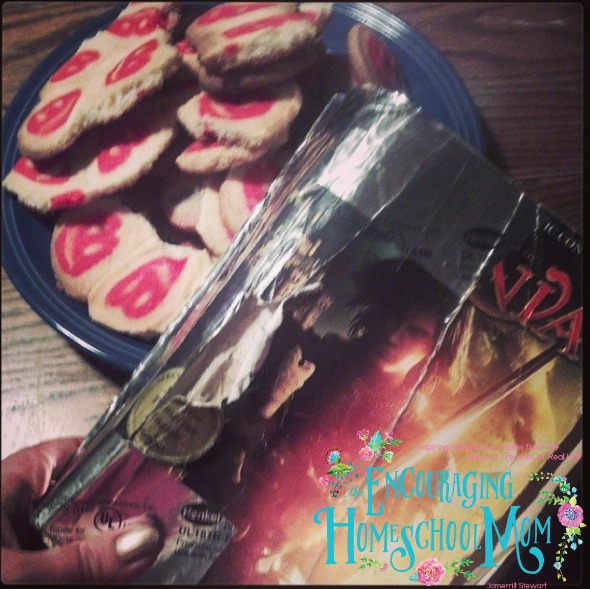 Our beloved, tattered copy of Narnia and cookies!
Thank you for joining me for this brief trip down homeschool memory lane. 🙂
Middle School/High School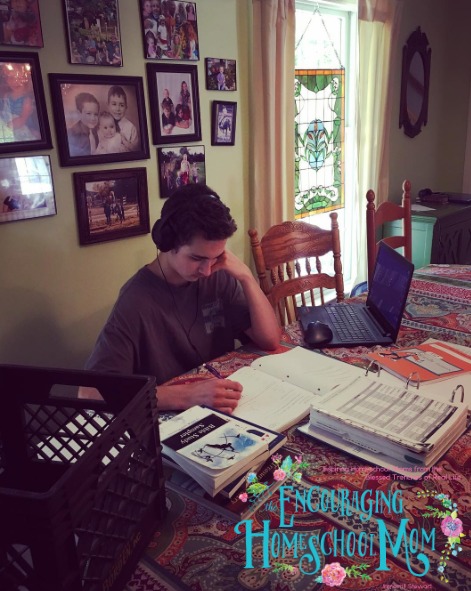 From Instagram, "Reading and viewing friends have asked to see my teen sons #homeschooling in action ? Here Zion is working on his reading stack, @mathusee, and World Geography with @time4learning (sponsor and great for working parents, military families, summer learning, etc.). He also helped move a China Hutch today, so we'll count that as P.E. ??? Of course teens don't always like to be filmed, Zion was cool with me sharing this picture ( thank you, Zion ?)."
I get a lot of questions about my middle schooler and highschooler. As I mention in today's video, the biggest thing I miss that we've fallen out of the habit of over the past year, is those big boys getting in on family read aloud time. Their work stacks can take them 4-6 hours most days. I need to rework things so they can still get in on family read aloud time, while still having the hours to complete their large work stacks. That's my big momma heart goal for 2016-2017 (picture a wild homeschool mom chasing down her teenagers with a huge book here, haha).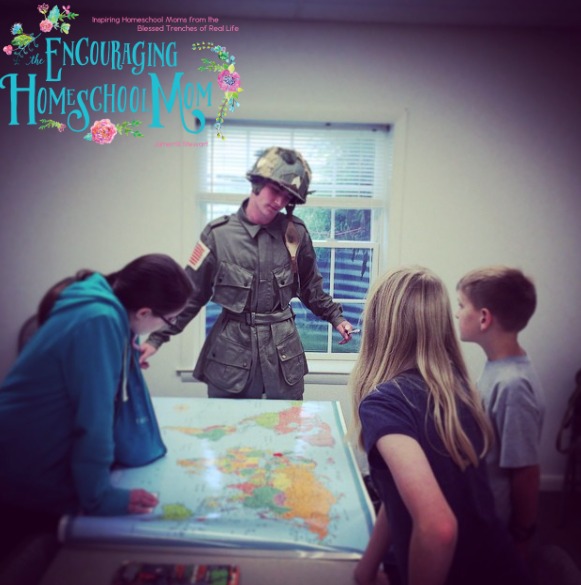 Jadin leading World War II history club at homeschool group
Both Jadin and Zion have a Sonlight Core (Core 100 & Core 200) they're working on. This involves hours of reading on their part each day. Zion is working through a Math-U-See level. Jadin is using Teaching Textbooks. Zion is using Time4Learning for World Geography, and Jadin is using T4L for Highschool English. I'm going to pair both boys together to get High School Biology completed with Apologia this year. Jadin saved and bought his first car with cash ($600 Craigs List deal #woot!), has his learners, and is also doing his driver ed course.
I also mentioned in the video that I would like for Jadin to take the Screen Writing class with Landry Academy. He's not signed up for it yet, but it's on *the list.* We've never taken online classes with the Landry Academy, but I've heard good things.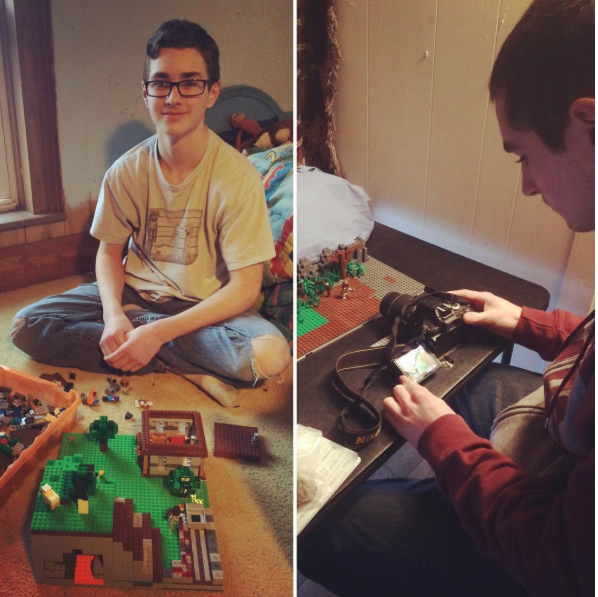 From Instagram, "My "big boys" (getting close to 13 & 16) don't get on my Instagram feed often because they're not "living up my arm pit," like my younger herd of kids do ? They're here though, reading through stacks of books, helping heaps in daily life, and being as creative as they come. Here's a quick glimpse of these smart young men and their after #homeschool hours free time –> Zion (left) is building a #Minecraft #Lego creation and Jadin (right) is filming his stop-motion animation movie to enter in the official @lego #Starwars film making contest."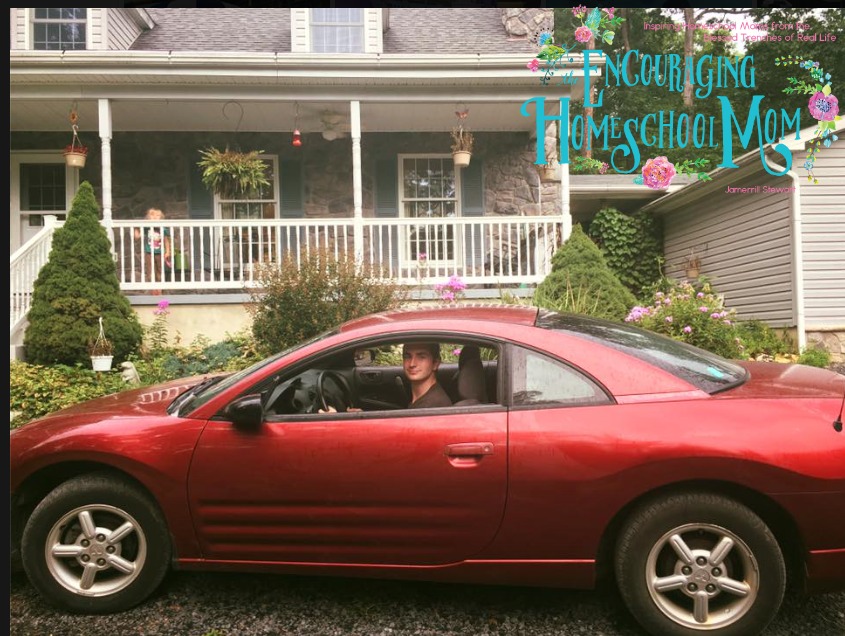 Jadin's first car that he bought off Craig's List!
Zion really enjoys Minecraft. He is doing a Youth Digital Course and additional Minecraft coding course which are both provided through sponsor Educents. Jadin is continuing to go deeper in script/film writing and video production. For several years he has poured hours into making stop-motion Lego films about military history for his YouTube Channel. Both older boys also work on vehicles with their dad, do hours of mowing and outdoor maintenance, and are continuing to learn lots of great life skills like installing toilet seats, changing light bulbs, and mopping floors.
All the Homeschool & Family Extras
Additionally, as a family, we're doing 4-H this year. In 4-H each kiddo will complete a detailed research project on a topic of their choice. We have a monthly meetings and field trips with 4-H (upcoming trip to a sheep farm :).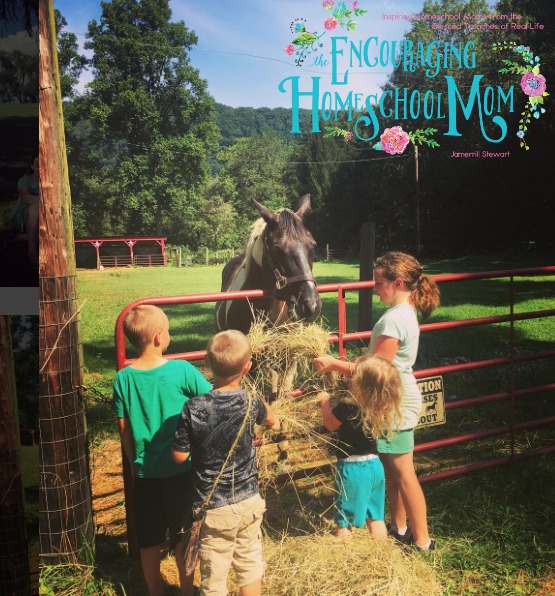 From Instagram, "The Fantastic Four feeding Miss Chickie Baby on Grandmother's Farm."
Amelia, Gabriel, and Liam and doing Tap. Naomi is doing two jazz classes, and Jadin is doing piano. Plus we have our monthly homeschool enrichment group. This year the theme and monthly topic are government elections. The two teen boys do a weekly youth group with about 50-70 friends that also has special outings and events. Besides all of this, we do our family travels including an upcoming ten-day learning adventure. We also have fast approaching field trips to The National Archives, Supreme Court (we're sitting in on a court case!), National Mall, and Medieval Times. We also plan to get more chickens, bunnies, goats, and hopefully an old pony set up during 2016-2017 #lordwilling
Homeschool Family Trips from the past: Night Time Corn Maze, Luray Caverns, Monticello, Trampoline Park, National Zoo, Air & Space Dulles location, Black Water Falls, Creation Musem, Kalahari Resort, National Mall, Gaylord Nashville, OBX, OBX, OBX :), Kings Dominion, and more to come!
So there you go!
Whew, so there you go, friends. These are my 2016-2017 homeschool plans for homeschooling our herd and enjoying this journey as a family. No doubt, every year has it's surprises and unplanned events. I'm sure there's more in store for us than I have planned out at the beginning of the year. I plan to continue to share our homeschool updates on the YouTube channel, blog, Facebook, and Instagram.
Here's to a fantastic year! xoxo
Homeschool Routines and Curriculum Plans for 2016-2017 (with a travel/shopping vlog, too 🙂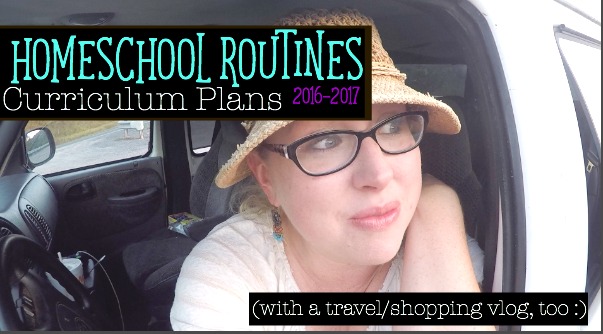 In today's video Daniel and I set out to head over the river and through the woods to Grandmother's house. Grandmother kept the older children at her beautiful mountain farm for an extra week so I could bust through my new project for The Large Family Table (thanks, mom!). On the way, Daniel and I meet Daddy for dinner and hit a Big Lots for Diapers and impromptu discount shoes – yay for 75% off!
Check out all our new homeschool fun and encouragement!