This post contains affiliate links. Here's my full disclosure policy.
Homeschooling with a Newborn
Throughout the year, I often hear from worried homeschooling moms who are expecting to add a new baby at some point during their homeschool year. I don't care if you have one kid or six, there is always the mental process of working through exactly what life will look like with a new little one in the family.
Homeschooling isn't for wimps.
Homeschooling with a newborn isn't for the faint of heart either.
Over the last 10+ years of homeschooling, we've added a new baby just about every other year. We started homeschooling with a 5 and 2-year-old. I remember the days with a 6 and 3-year-old and a newborn.
Or the 8, 5, 2-year-old and a newborn.
The famous 10, 7, 5, 2-year-old and a newborn.
Then there was the 12, 9, 6, 3, 1-year-old and a newborn.
This year will be the 14, 11, 8, 5, 3, 1-year-old and a newborn.
These are a few thoughts from my journey. You can read what other homeschooling mothers suggest about homeschooling with a newborn on the Free Homeschool Deals Facebook page. Over 70 moms chimed in with their thoughts, so be sure to learn from their wisdom!
HOMESCHOOLING WITH A NEWBORN TIPS
Take Care of Mama
These are tips we all know, but we can't hear often enough.
Your body needs rest. Especially the weeks before and after your baby's birth. Make sure you're getting enough sleep at night. If you're having trouble sleeping, then take naps as you're able.
Toward the end of the pregnancy, I feel like a lazy mama cat, and I pretty much am by that point. During the last trimester I sleep from 7pm-7am, and if possible I also get in an afternoon nap.
My little hobby for the past several months is reading through the Trim Healthy Mama book. Ladies, there is so much that I haven't known, or sadly, even taken the time to ponder. Flax seeds, chia seeds, whey protein, unsweetened almond milk and Glucomannan Powder? Never cared one fig about them. Now I'm cooking daily in organic coconut oil and seeing how many recipes I can sneak milled flax into, like my recent tuna cakes that were a hit with the family.
I've been practicing, even more so in this pregnancy with baby Daniel, eating right and really taking notice of what I'm feeding my body.
Let me tell you; I feel amazing! Drinking plenty of water and eating healthy and whole really do make a difference.
Flexibility and Grace
Ahh, here it is. More of the beauty of homeschooling coming out. These words, flexibility, and grace are totally alive and allowed in homeschooling. I slather them on and apply them often.
Use this as a time to employ the wonderful gift of flexibility in your homeschool. You don't have to "do school" from 7:30 a.m. to 3:30 p.m. YOU are in charge of your hours. Remember the gift of time that your family receives through this homeschooling lifestyle.
Family Life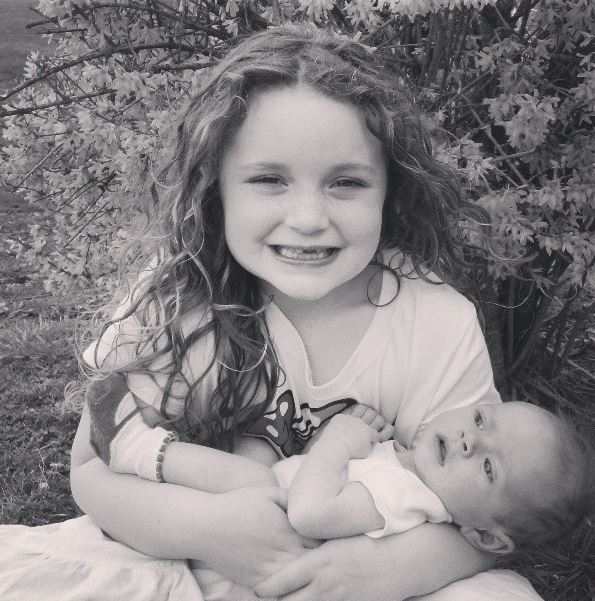 Naomi and 3-month-old Amelia
Family life is one of the reasons why we homeschool in the first place. The baby is a wonderful new life and we need to focus on enjoying him or her as a family. This is not an event to feel rushed through. I want pregnancy and childbirth to not be a burden or hardship in my children's eyes.
Homeschooling with a Newborn Video
(Email readers click here if you can't see the video)
Simple Homeschooling Season
In time before and after my babies' births we instill a simple homeschooling season. We do even more reading than usual. Read Aloud Time is already a huge part of our daily homeschool. In the weeks before and after baby, I spend a lot of days on the couch with my feet up. We'll easily rip through a chapter book a day as a family read-aloud during that time.
This is what read-aloud time looks like at our house and here are our ten favorite annual homeschool read-alouds.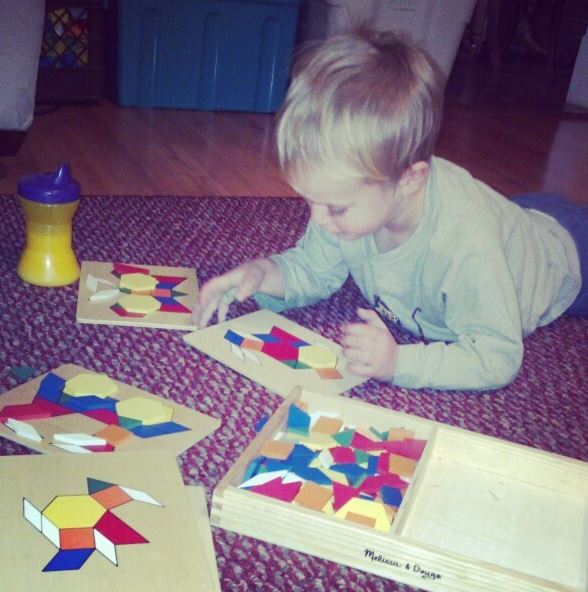 Gabriel, working his pattern blocks during read-aloud time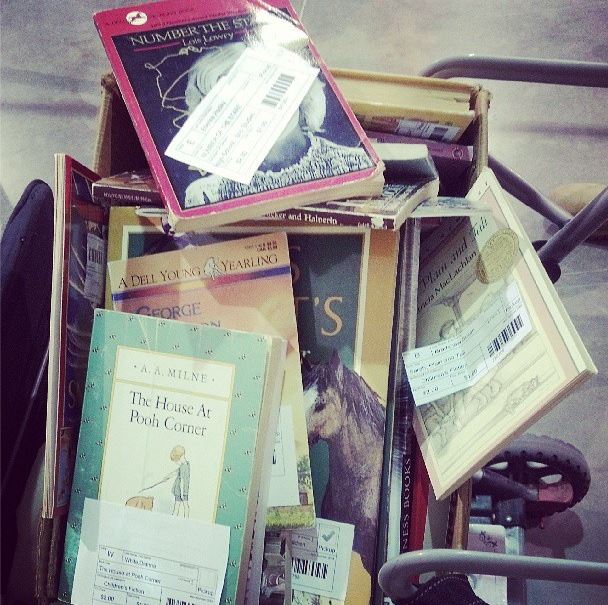 Homeschoolers can never have too many books, right? This is my used book haul from my annual state homeschool convention.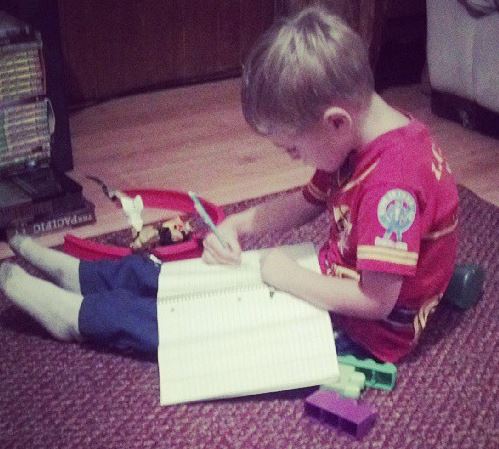 Gabriel drawing while I read
I also don't feel guilty watching a good documentary several days a week when I'm just not moving around as much. We utilize Netflix documentaries as well as documentaries and historical movies on Amazon Prime during this short season.
Baby Wearing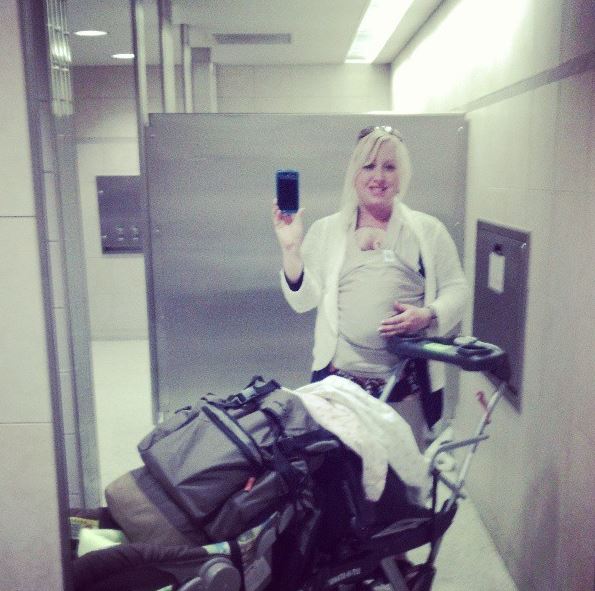 Now this is certainly NOT our typical homeschooling day. This picture shows me wearing Amelia in the Moby Wrap while flying out for the Teach Them Diligently Convention in Nashville.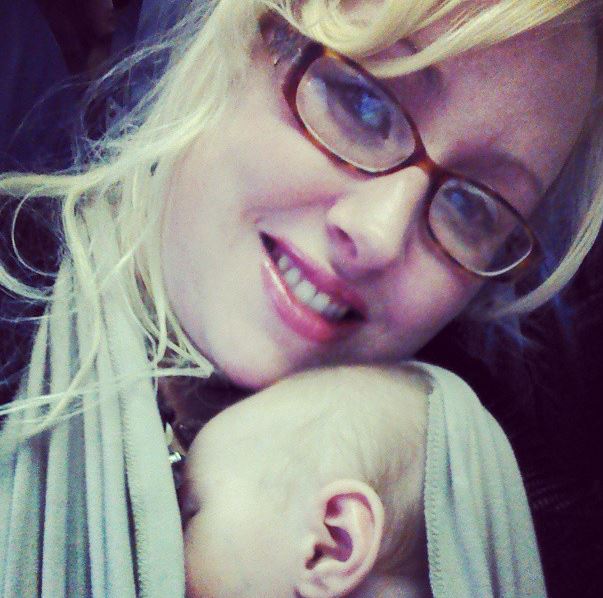 And this is Amelia and me actually in-flight. She must have flown on about six planes by four months old, and I wore her in the Moby Wrap on every flight. It was a life saver!
My biggest tip for the weeks and months that follow a new baby is to wear the baby as much as possible. I use the Moby Wrap for newborn through 4 months old. Around four months of age, I switch to mostly using the ERGO Original Baby Carrier. This way, sweet baby is happy always to be right on mommy. I'm able to breastfeed-on-demand. And my hands are free, for the most part, to help my other children.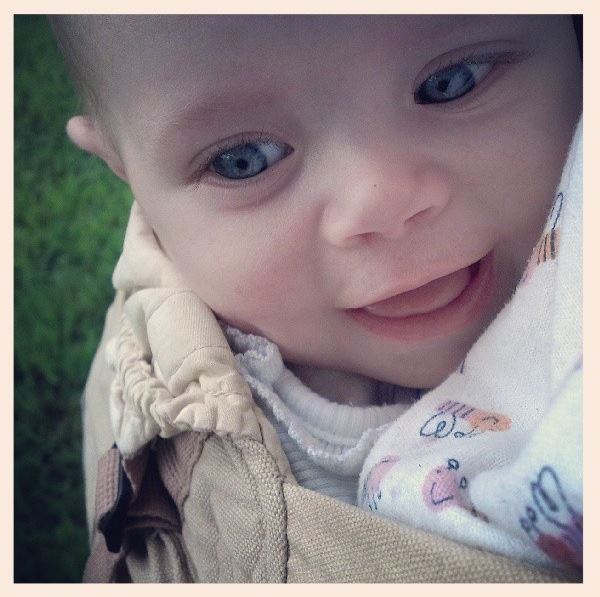 Little sweetie Amelia in the Ergo baby carrier a few months older
Slow and Steady
Lastly, just keep moving slow and steady, Momma. A slower pace will not harm your children. Your homeschooling will continue, although it may look a little different for this season. Hold your baby tight. Enjoy those soft snuggles and make this a family-focused time when your family enjoys the gift of this precious new life.
Additional Resources for Homeschooling with a Newborn
Amy from Raising Arrows did a full series on homeschooling with a newborn last year.
Karyn at Teach Beside Me shares her thoughts on homeschooling with a newborn here.
From Karyn, "The kids needed to understand that there were fewer of the extras. I had to explain to them why we did fewer projects, fewer field trips and less of all the more hands-on things. Kids are very resilient and can easily adapt to changes." read the rest here!
On Simple Homeschool you'll enjoy reading about Angie's Homeschool Day in the Life (with a newborn, 3, & 7-year-old).
My friend Maureen from SpellOutLoud shares tips and strategies for homeschooling with a newborn.
Maureen shares, "But how do you homeschool and take care of a newborn at the same time? The main thing is to enjoy your newborn first and allow your family to marvel at the wonderful gift of a new family member. When it is time to get back into a routine, be flexible!" Don't miss the rest of her thoughts.
On The Kennedy Adventures, Dianna gives a real-life look at Juggling Homeschooling with a Newborn and a Crazy Toddler!
WHAT ARE YOUR TIPS FOR HOMESCHOOLING WITH A NEWBORN?
Copyright: khunaspix / 123RF Stock Photo