How to Catch Up on Housework When You're Behind – (Tips from a Large Family Mom of 9)
*Note from Jamerrill: Friend, today we're going to hear from my friend, Ashley. I met Ashley last spring at a blogging conference. Since we're both large family homeschooling moms, we, of course, became instant best friends. One day I'm going to take a field trip to the restaurant supply store with her. It'll be epic! Enjoy Ashley's tips and tricks today on how to catch up on housework when you're behind!*
One of the most important lessons I have had to learn as a large family mom is how to catch up on housework when I get behind. Getting behind is inevitable, the trick is to get back on track as quickly as possible, but without having to dedicate an entire day to doing so.
There are always seasons where being behind is just part of the package (first trimester of pregnancy, third trimester of pregnancy, newborn days, holidays), but it's important to never get quite so far behind that it feels like you'll never be able to get the house pulled back together.

I don't know about you, but I am just able to "mom" better when the house is in order, or at the very least, if I have a plan to get the house back in order.
Mess begets mess and order begets order, so having a simple plan to reclaim order is essential.
Step 1: Know Your Numbers
As a home manager, it's vitally important that you know your numbers. I'm not talking about budget numbers (although that is important too!), I'm talking about the number of minutes it takes you to accomplish a task.
I know that it takes me approximately four minutes to get a load of laundry folded. I know that it takes me seven minutes to scrub out my sink with softscrub so that it's sparkling and white again. I know that it only takes me forty-five seconds to spray and wipe all of my counters if they are clear of dishes and food. And I know that it takes me two minutes to sweep the kitchen floor.
I know my numbers because I have timed myself, and recorded the numbers of all of my tasks over the course of a week. I go into more details about tracking and recording these "tiny tasks" here. And you can even download my Survival Mode Housekeeping kit that has a worksheet for recording your times.
You only need to track your numbers one time. I promise, I'm not going to ask you to go overboard into high efficiency training. But it's really important to know how long it takes you to do each task, and you'll see why in a minute.
Step 2: Assess Your Mess
Now you are going to need to assess exactly what needs to be done to pull everything back into order. For me, the laundry is the first place I assess, because it's the first place I let slide.
Let's walk through how I assess the laundry.
Because I know my numbers, I know that I must do 1.5 loads of clothing, and one load of either towels or sheets daily in order to be completely caught up each day (I don't ever do a half load, I wait until the next day and run two loads of clothing). So, if I have not done any laundry for two days, I know that on top of the 2.5 loads of laundry I would normally have to do that day, I will also need to get five additional loads done.
That can feel kind of overwhelming, right? Seven loads of laundry in one day?!? Is that even possible with one washer and one dryer?
Yes, yes it is. I would have to be at home all day, and I'd have to be paying very close attention, but I could get it done.
More often than not though, I will break up the work over a span of 2-3 days…because I choose sanity.
Let me give you another example. Let's say the kitchen is a disaster because I just finished a bulk cooking marathon. I've got dirty counters, dishes everywhere, the stovetop needs to be scrubbed, and the floor needs to be swept.
So instead of looking at the giant mess, I break everything down into small tasks, and I know that if it's just me doing the work (it won't be! I will totally recruit a few kids to help!), it will take me about thirty minutes to get the kitchen clean.
Step 3: Do One More
My "do one more" mentality is what helps me slowly but surely get ahead in housework. So, remember back in step 2 where I told you that I would break the seven loads of laundry down and spread it out over a few days? This is my do one more mentality at work.
On a normal day, I have to do 2.5 loads, but I'm two days behind, so I need to do an additional 5 loads to get caught up. Instead of trying to cram it all into one day and accomplish nothing but laundry, I will just add 1-2 additional loads of laundry to my normal 2.5 loads. If I add a few extra loads to each day, I'll be caught up quickly enough.
The important part is…I will have been able to still accomplish everything else that must be accomplished in the day. So that extra laundry didn't turn into a disruption.
This is key. If I were to push myself really hard and get all seven loads washed, folded, and put away in one day, another area of my home (or my children!) would suffer. And then I would have to play catch-up there too.
If instead, I purpose to do one more in all areas of my housework, I will slowly but surely be able to get ahead!
If I do one more in the kitchen by taking the 3 minutes to wipe down a few cabinet doors, or if I do one more by spraying and wiping one window clean (less than 1 minute), I will be able to get it all done in tiny manageable sections. AND! I will also be able to homeschool the children, put on my makeup, cook a delicious dinner, fit in some exercise, snuggle the children, etc.
Do you see now why it's so important to know your numbers?
Step 4: Maintain
If you dedicate yourself to the previous three steps…by the end of the week, you'll be in maintenance mode instead of survival mode.
Maintaining is just as important as climbing out of survival mode though! And the way to maintain is super simple.
Make the do one more philosophy a part of your daily life.
If you have broken down all of your tasks into small, less than 10-minute segments, then really, you can almost always fit in one little tiny task into a lot of different parts of your day.
When you are waiting for water to boil, do a few tiny tasks in the kitchen. If you go upstairs to lay the baby down for a nap, fold just one basket of laundry while you are up there. Every time you go into a bathroom, do one little thing to tidy it up.
This method gets even more powerful if you start teaching your kids to do the same. I go into more detail about keeping everything neat and picked up throughout the day by working alongside the children here.
The most important thing to remember…
Don't let getting behind on your housework get you down. Just get started doing the next thing. You don't have to spend an entire day pulling the house back together.
Let's face it…as moms of large families, we just don't have a full day. And if we did…would we really want to spend it all on housework?
I know I wouldn't!
Instead, spend a little bit of time each day reclaiming a bit more of your home, and before you know it, you'll be ahead!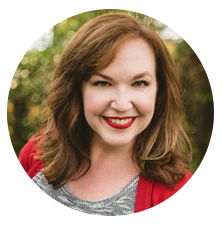 Ashley is a wife and mother of nine children whom she homeschools. She blogs at Perfectly Imperfect Club where she shares with other moms her methods for maintaining order in the beautiful chaos of motherhood to a large family. Ashley loves mega industrial food shopping at the restaurant supply store and gets a thrill over using restaurant-sized equipment. She also loves watching football, trying to beat her husband at badminton, running her online advertising business, debating theology, and she aspires to one day be a roller derby queen. Download her free Survival Mode Housekeeping Kit here.