How to Cook Potatoes in the Electric Pressure Cooker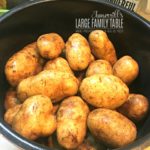 It's easy to cook a big batch of potatoes in your electric pressure cooker!
Ingredients
• 10 lbs of washed potatoes
Instructions
Place 10 pounds of washed potatoes in a 14-qt pressure cooker.
Add one cup of water.
Cook on manual high for 7 minutes.
Notes
It takes 10 minutes to build up pressure, 7 minutes to cook, and about 10 minutes to pressure release.