How to Homeschool When You Can Hardly Afford It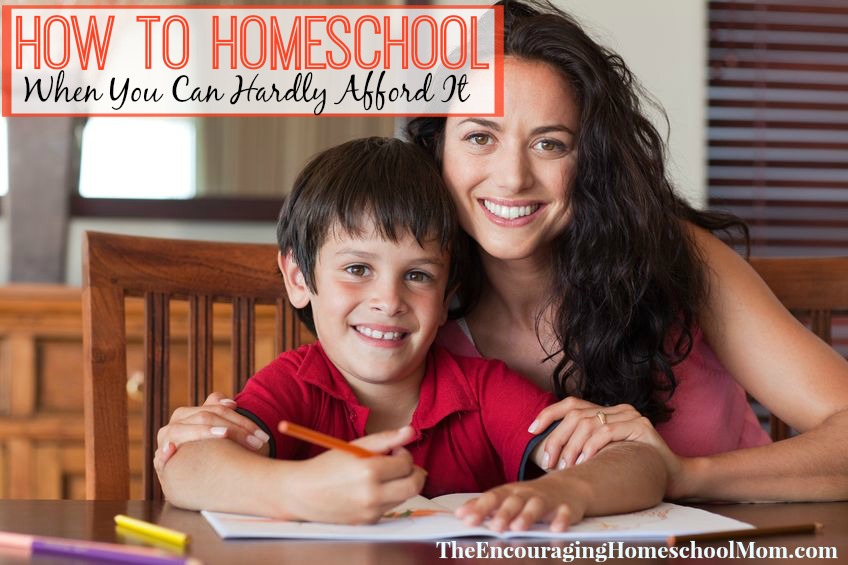 Over the past decade that we've homeschooled, I've begun several homeschool years with little to no homeschool budget. It's not that I didn't want to spend money on homeschooling. There simply was no money to spend.
I've always believed, from the time the Lord directed us to homeschool, that He would provide and even take over our homeschool. This means some years I've had a modest homeschool budget, some years I've had no money to even have a homeschool budget, and some years  my homeschool budget has fallen somewhere in-between.
It's through my own years of facing the upcoming homeschool year with nothing more than the internet, a library card, and Bible in hand that led me to start FreeHomeschoolDeals.com, I'd learned to scour the internet for the best free homeschooling resources, put together unique unit studies based on my children's interest using a high amount of delight-directed learning, and matched up fantastic books from my local library or through amazing used homeschool curriculum and book sales. 
I talk to moms who are jumping into this homeschool thing, but they question how can I homeschool if I can hardly afford it?
Here are a few of my best tips based on the last decade of my frugal homeschooling mom journey.
You might also be interested in:
Start With Your Dream Homeschool List and Wait
Several years ago I was greatly encouraged by homeschooling advocate and hero, Dr. Ruth Beechick, and her phenomenal book, The Three R's. In this book Ruth Beechick encourages parents in teaching their children at home and focusing on Math, Reading, and Writing during the early years of homeschooling.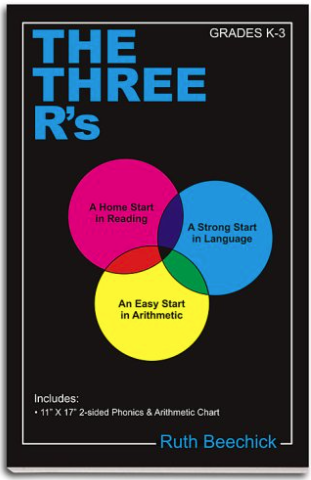 One of my very favorite homeschooling books for the early years of homeschooling.
In The Three R's Ruth also suggests to parents that it's good to make a dream homeschool list of all the homeschool resources they'd like to purchase, but wait for a few weeks or even months before making any purchases. In doing so, homeschooling parents may find that what they thought they needed wasn't what their child needed. By waiting, parents at least ensure they're not simply buying out of emotion.
There's nothing wrong with making wise purchases for your homeschool as long as it's in your budget. Start by first making a clear list of everything you'd like to purchase. You can also list why you'd like to purchase particular items. When you come back to reassess your list you may realize your needs have changed, or only confirm that a particular item is just what is needed.
Figure Out Ways To Save Money On Your List
Now that you've made your dream homeschool list it's time to maximize ways to save money on homeschooling curriculum.
Questions to ask yourself:
What do you currently have available? Check your bookshelves. Truth be told, many of us could homeschool well for years to come if we simply use what we already have.
Can you borrow from a friend first? If you're interested in homeschool curriculum such as All About Reading or All About Spelling or Bright Ideas Press, you could "try before you buy" by asking a fellow homeschool mom if you could borrow her curriculum for a week or two to see if it would work for you. I had two homeschool mom friends offer to let me borrow their All About Reading curriculum to assess if it would work well with my younger crew.
Can you buy your needed homeschool items used? I'll be sharing in my next article and video on how I buy used homeschool. It's a very affordable option.
Are there items you can buy that are currently or upcoming on sale? Since running Free Homeschool Deals over the last several years I've seen a pattern for when homeschool curriculum generally goes on sale. I see special homeschool sales in the spring around tax time. There are usually various homeschool sales throughout the summer and early fall. Over the last few years I've watched as more homeschool curriculum companies offer Black Friday homeschool coupon codes and deals.
There also seems to be a growing annual selection of New Year homeschool deals. Of course homeschool publishers can surprise us with flash sales at any moment; we'll gladly take it. These are just trends that I've seen. Be sure to check the Homeschool Deals section on Free Homeschool Deals for the latest homeschool coupon codes and curriculum price drops.
Utilize Creative Homeschooling Methods
There are many inexpensive methods of creative homeschooling that you can mix in with your studies.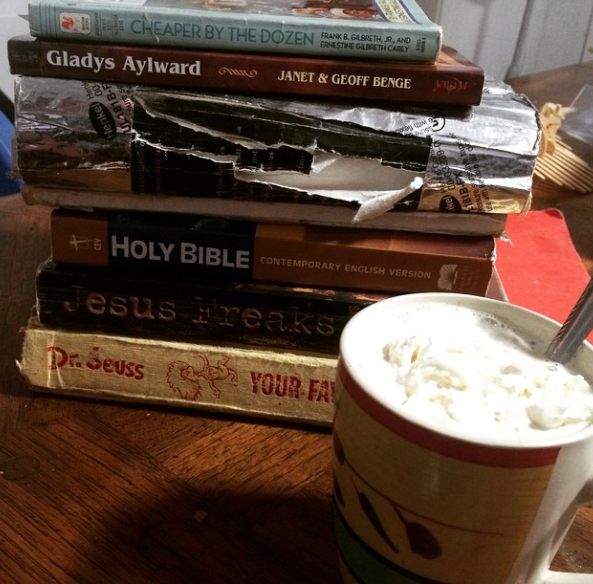 One of our read aloud stacks including our taped together well-loved copy of Narnia.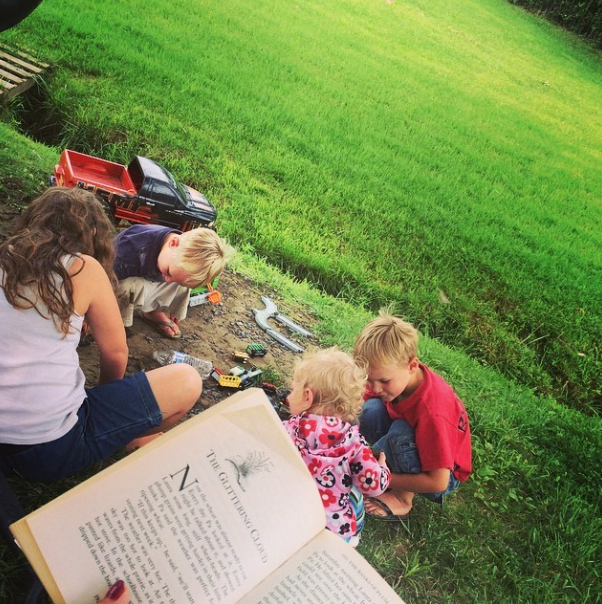 Another view of our read aloud time. I'm reading aloud to the children while they quietly play under our shady tree.
How to Homeschool When You Can Hardly Afford It Video
Click here to watch the full How to Homeschool When You Can Hardly Afford It Video on YouTube! Please like, comment, and subscribe to my JamerrillStewart.TV channel. I share additional thoughts and tips that aren't included in this article.
The Sinking Fund Approach
The term "sinking fund" applies to a business that sets aside money for an upcoming expense over a period of time. You can take a sinking fund approach to upcoming homeschool expenses. Just like holidays and birthdays, you know every year that homeschool needs will arise. If you're able, even adding a small monthly  category to your family budget called "homeschool" can go a long way!
Saving $50 a month would be $600 a year
Saving $40 a month would be $480 a year
Saving $30 a month would be $360 a year
Saving $20 a month would be $240 a year
Saving $10 a month would be $120 a year
Here I share about how shopping for groceries with cash vs. debit card can save an additional $300-$500 annually. That alone could buy a nice selection of homeschool curriculum items!
All Years Don't Match
It's true, all homeschooling years don't match. As I mentioned above, I've had years where I had little to no budget. I've also had years where I started out the year with a budget in hand. When my kids get older I know there are loads of research paper writing services to help them with university essays, so as they grow up, they will still receive a great education.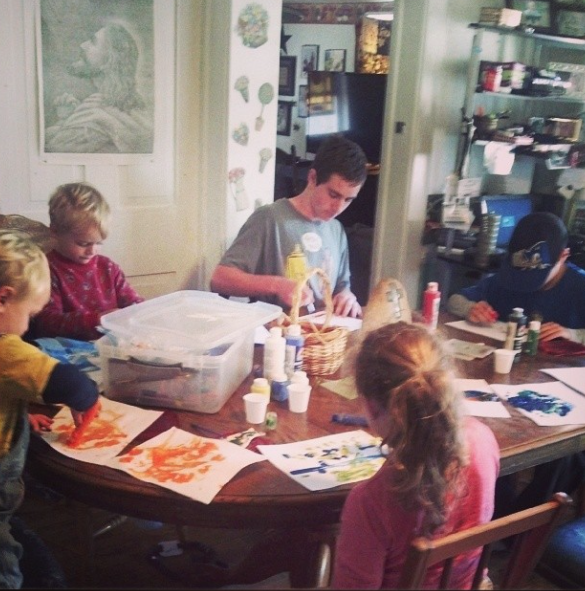 No two years are exactly the same, however each homeschooling year is equally wonderful!
To use an old familiar term, some homeschool years I've had more time than money. Other homeschool years I've had more money than time. My family's homeschool budget has never affected the quality of our homeschooling year. Even in the seasons with little or no homeschool specific funds we've always had a "rich" homeschool life, and you can too!
Please share below how you've creatively homeschooled on a budget! This will be great encouragement to moms. Especially those moms who are just starting out!