HUGE Large Family Thrift Store Haul including shoes, sweaters, jackets, and more!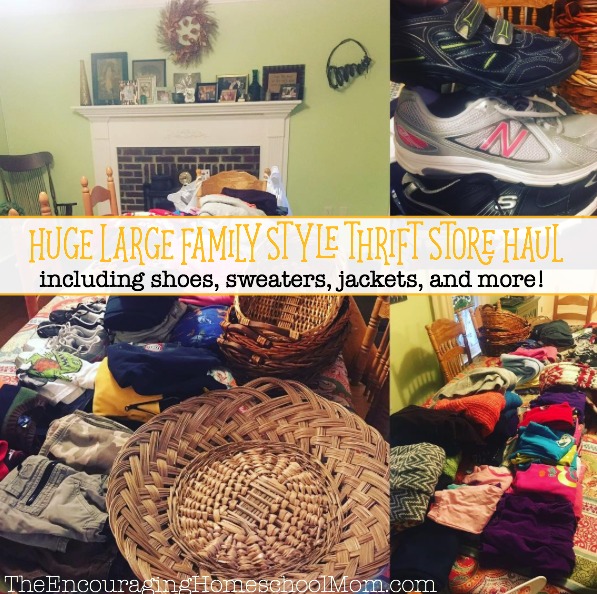 I did it, friends! I was finally able to get into a great thrift store and do a huge large family clothing haul. We snagged name brand shoes, sweaters, jackets, and more!
Large Family Thrift Store Haul Stats
When it was all said and done, it was a $302.88 thrift store haul. The cashier said she never saw anyone spend that much at the thrift store. I should get an award or something. 😉 I was able to get about 85% of the needed seasonal clothing items for six members of our family of nine in this one haul. We needed lots of fresh items and boy we found them on this particular shopping trip. The most expensive item I purchased was a large basket for $3.99. Shoes for $2-$three a pair. Kid's shirts were $2/each. It was an excellent haul full of lots of goodness!
I got 14 new to me sweaters for no more than $3.79 each. Lots of name brands like Anne Taylor, St. John's Bay, Fashion Bug, and others. I also snagged some beautiful new-to-me baskets!
Naomi (age 10) got a dozen new shirts with a combo of sweatshirts, long sleeve shirts, and sweaters. She also got like new Nike hiking boots, Skechers, and New Balance shoes. We didn't find any good pants for her there, but the following day she and I hit a clearance of $3-$7 a pair jeans at Walmart.
Amelia (age 3 1/2) got 23 new shirts for $2/each (I couldn't help myself. I finally had to walk away from the rack), a new winter jacket for $3, new PJs, a pair of pink crocs and pink Skechers.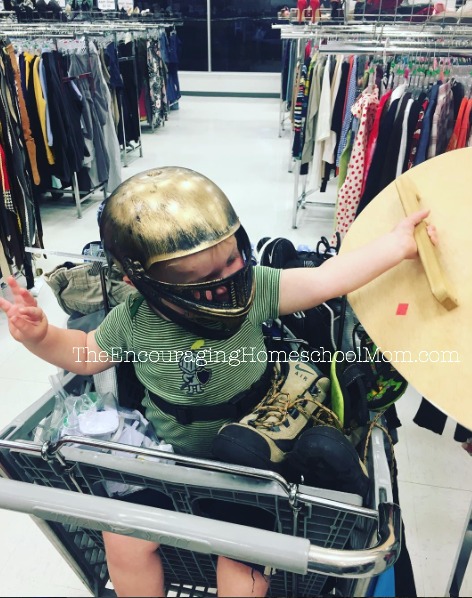 From my Instagram, "Daniel really enjoyed our thrift store shopping this evening! ?"
Gabriel and Liam (ages 5 and 7) got eight new pairs of pants and eight new shirts. They also got two new pairs of sandals, plus a pair of Stride Rite tennis shoes. They both also scored several new creative play dress up items like Knights Helmets, Shields, Transformers Masks, etc. for around $5 total!
Daniel (almost two!) got several new shirts and pairs of pants. I can't put my hand on the receipt at the moment, but all are shown in the vlog. 🙂
What about the teen boys and my hubby? I've received that question many times on this

new

vlog, so I thought I'd answer it real quick here, too. Our teen boys are over six ft tall and wear a size 14 shoe. My hubby is 6-6 and wears a size 16 shoe. It's not easy to find items in any condition for them at the thrift store as a rule. My hubby usually orders his clothing and shoes from a Big & Tall shop. I usually run our teen boys into Target or Walmart to try on shirts, jeans, and new shoes as needed (Yes, Walmart will carry up to size 14 in many locations, but soon we'll have to start ordering their shoes too.). Shopping with a growing family means lots of flexibility and hitting multiple locations at times.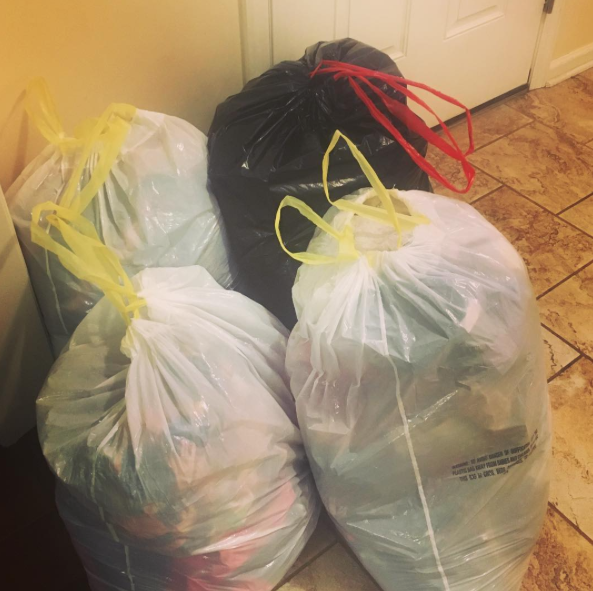 From Instagram, "Feeling accomplished with the big seasonal clothing switch out this evening. Three bags of girls clothes are getting passed on to a friend with younger kiddos. One large bag is ready to donate to the thrift store. I'm almost done purging and working in fresh items. I also have a list of a few more goodies we need. What's your system for handling kid's seasonal clothing needs?"
Click here to watch HUGE Large Family Thrift Store Haul including shoes, sweaters, jackets, and more!
What have you found lately at the thrift store?
Here are all The Encouraging Homeschool Mom's Vlogs!
Sign up for The Encouraging Homeschool Mom Newsletter, and receive this beautiful Family Meal Planner Collection – FREE!