Just in case you thought you were the only one with a total disaster in your house, I am here to show you otherwise. In this real life clean with me video, I pick my worst messes in my house that I need to tackle, my kitchen, my bathroom, and my bedroom including my office. It doesn't get much worse than those three rooms.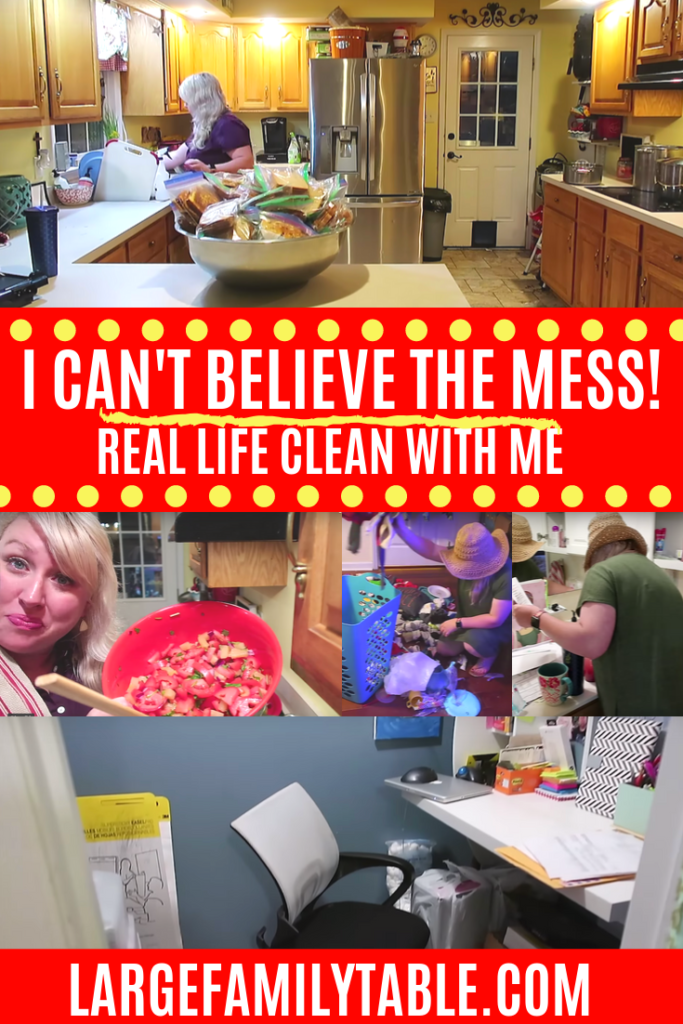 In the kitchen we go, where the mess from my freezer cooking day remains. I'm doing my Feeding My Freezer challenge with a group of people so you get to watch me do my Instastories as well. Such is the glamorous life of a Youtuber.
Wait? Who is that blond haired lady walking through my kitchen? Yes, my mama is here to visit. That's why you see me standing around talking while cleaning. Why aren't the kids helping, Jamerrill? Well, the kids had already worked really hard cleaning the upstairs zone of cleaning their bedrooms, closets, bathroom, and hallway, so that's why you only get to see me.
I had just finished up a couple of hours of freezer cooking. I did 8 loaves of french toast, 8 dozen or was it 4 dozen? blueberry pancakes, some blueberry waffles which was a terrible idea, then Travis did 75-100 freezer pb & J. This was all for my Feeding My Freezer Challenge I was leading with about 5,000 participants online. On this particular challenge day, we were trying to get some breakfast meals in the freezer. You also get to see me do some Instagram stories for the challenge as well. A little behind the scenes action for you.
Why is Amelia in the trash can? In the there is never a dull moment in the Stewart household, She had found a baby box turtle. After showing Daniel and Grandma, she asked for a jelly lid that was in the trash to use as a water bowl for her new turtle friend. She also grabbed some kitchen scraps we have saved for our chickens to feed him. It was so fun.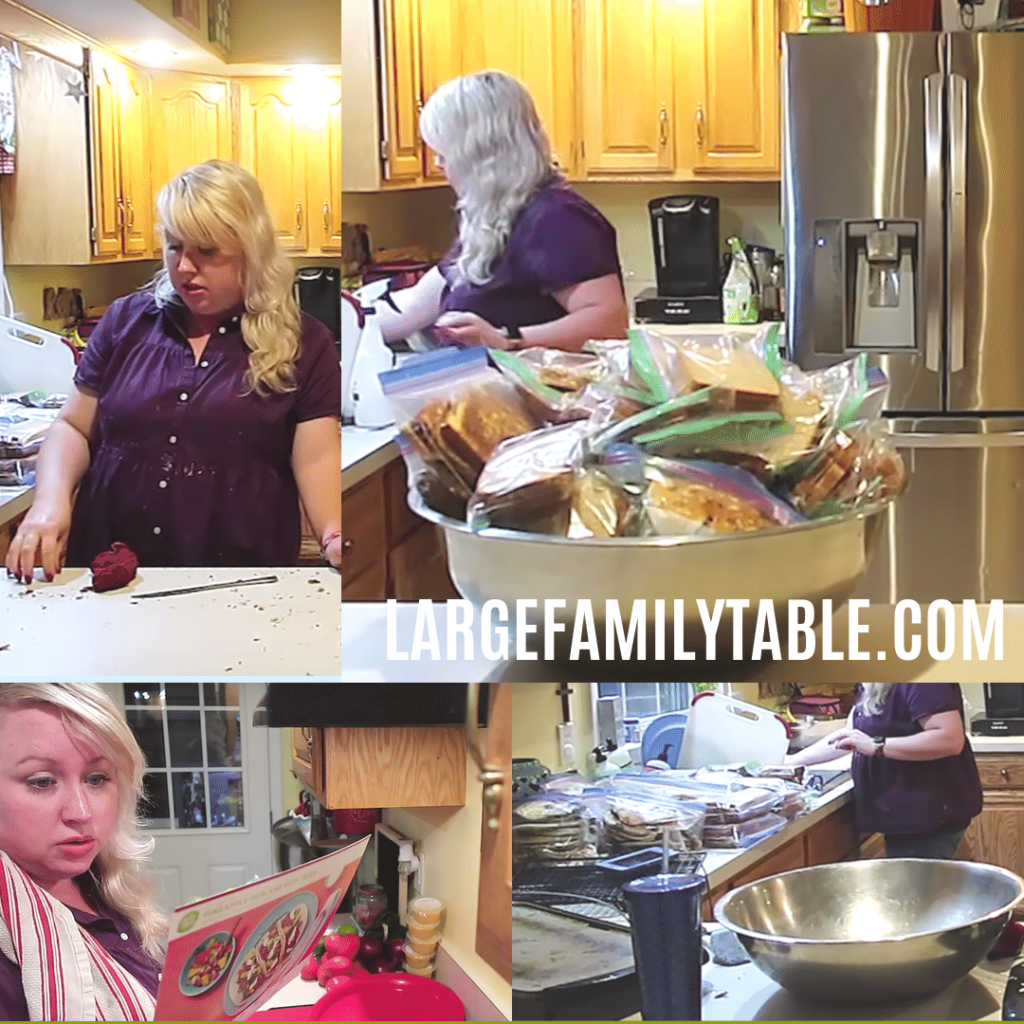 I really need to go back to clean my overflowing bedroom and office but before I can do that I have to clean up my freezer cooking mess. Just wiping down the shelves, walls, and anything else that catches my eye. Picking up my Instant Pot and my 14 qt pressure cooker as well as pulling my pants up. Trying to keep myself together here. I finally picked up a small bag of sugar in case you've been following my powdered sugar substitutions. I needed it for the pancakes. You get to see the boys going in and out doing things for me too.
A lot of things are happening on this day. I'm sharing my stories with my mama like you do when your mama comes to visit. Just a few minutes before all this cleaning started, I heard this loud alarm sound outside. It's not typical to hear a loud alarm sound in the country. I went outside to investigate the sound which brought me to the septic tank. If you live rurally, you know all about septic systems. The red light is flashing, alarms are sounding. There is clearly something happening here. Travis went out, checked out the motor which was hot to the touch and meant it all needed to be turned off. I immediately call the septic repair guy as one does when their septic alarm is screaming at them. For added fun , there are 10 people in the house including my mama with 4 cousins coming to visit for 5 days. There is about to be 14 people in this house. We need our septic system to work. The next morning, the septic guy comes out to tell us the terrible news that we need a new pump and motor. Ugh! $2300 later and we are good to go. If you ever wonder why I do sponsored videos, there's your answer. (really any sponsored videos I do help pay for the amazing team who help me and work for my online!!)
While all that septic mess is happening, I keep cleaning up my freezer mess. My waffle irons are great but so hard to clean. The inside pieces don't come out and you can't submerge them in water. I spray with vinegar spray, let sit then wipe off with a hot soapy rag. I use a butter knife to get the edges being sure to not scratch the inside. I do the same thing with my griddle. Anyone got any inside knowledge on how to make this job easier?
The fun part of this video is watching my purple shirt get dirtier and dirtier. I should wear an apron but I'm hard headed. This is real life mama right here. You won't get any whitewashed videos of my life. All real life all the time.
I get to use my mama's square griddle for this freezer session. Mom had passed it down to us a while ago but we had never used it. Get it in the cabinet only to discover a crazy dirty counter. You know how it is. You clean one thing then notice another is dirty then cleaning those things make more of a mess. Such is the life a large family mom.
Here's an interesting story from my chiropractor appointment that morning. He will have me lay down and with my left arm try to push out as hard as I can against his hand. I can hardly do it. Then he'll go through and tap on my arms a few times which he claims is sending signals to my brain. Once he's done, I have full strength in my arm again. He makes a believer out of me every time. God bless him. I hope he never retires or I will be in bad shape. I go about twice a month to be sure my neck stays on my shoulders. That's real important!
Time to gather all the food I made in my freezer cooking session that morning. I pull out my monster 30 quart mixing bowl to make it easier to carry out to the garage freezer. Lots of people have ordered this bowl after watching the many ways I use mine. It's my go to bowl for everything.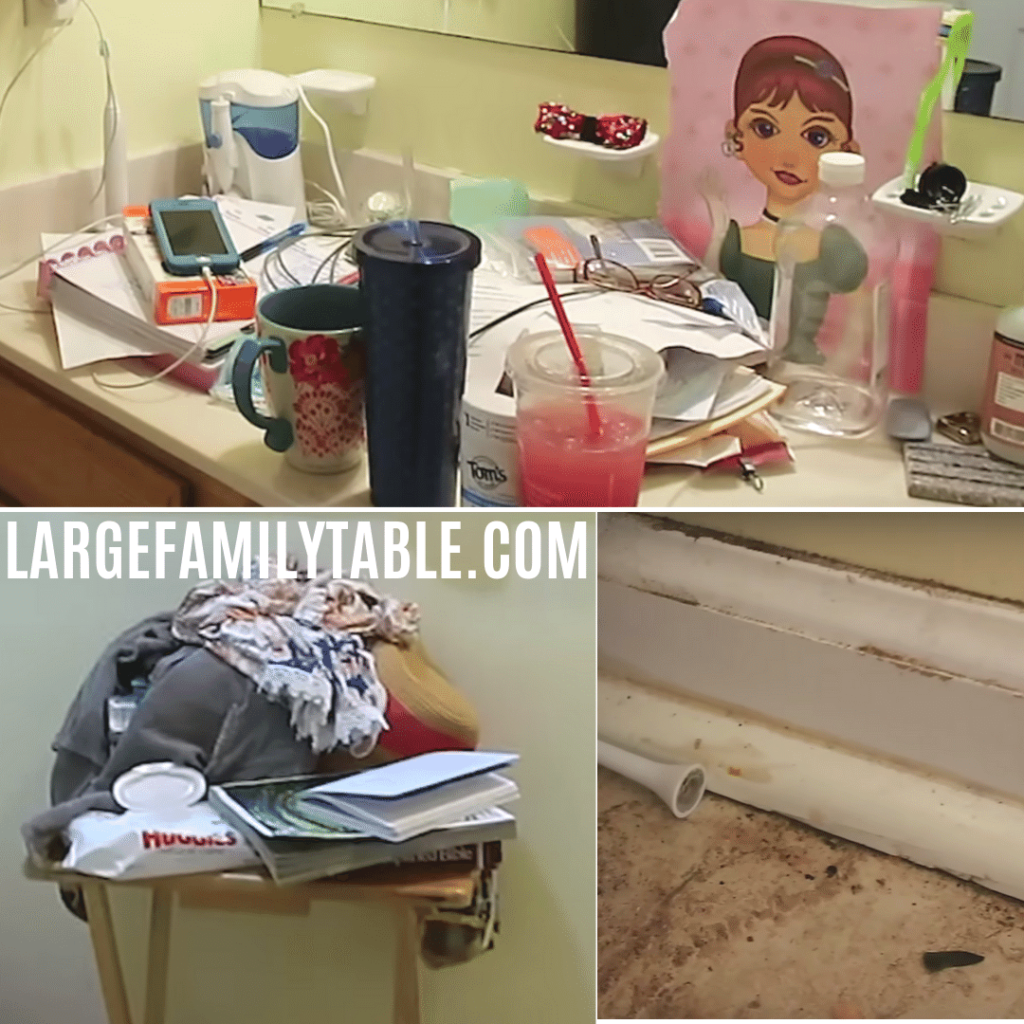 Time to make the beef tacos to feed all these people. There is enough to feed the 10 of us dinner then lunch again with the 4 extra cousins. I love when I get several meals out of a recipe. You see me keep glancing at the time while I'm cooking. I still need to deep clean my bedroom, bathroom, and office. Let's be realistic, Jamerrill. It's going to take about 3 hours to do and the day is fading fast. I will have to postpone that until the next afternoon.
You'll see me stretching my neck while I cook. It's been doing well but when I had that ailment that kept me in bed for a week, it jammed up my neck a bit from the compression of sitting. I usually get 10,000 – 13, 000 steps in a day. That week, I only got in about 500 steps a day. Movement is good to keep it loose. After my chiropractor appointment , within a few days, all is back to normal.
The kids will come to talk to me while I'm cooking, but they see I'm filming so they stop. I have to remind them that with these voice over videos, it's ok to talk to me. Who knows what we're actually talking about. I continue cooking the beef tacos and add 3/4 of the cilantro. Cilantro makes everything better.
The homemade salsa comes along nicely once I stop trying to juice half a lime and quarter them instead. Even the chickens loved the limes rind and all. Chop up some onions for the salsa and taco meat and we are good to go.
Here's a fun tip for your limes. Squeeze some lime juice into your sour cream to give it some pizazz for your tacos. Hard to believe that one little trick will revolutionize your taco eating but it will. #momwin
Those brightly colored plates are from my new Ikea haul. Ikea trips are always so fun. You can watch me load up the plates while I shove food into my pie hole. Such is the life of a large family mama.
Surprise! It's the following afternoon. All the cleaning, all the time. You didn't think I was going to forget about my bedroom, bathroom, and office, did you? The sink area is overflowing due to my previous illness. Every time a kid would bring me papers, I would have them put it on my sink. The end result is you can't see the sink.
Put away the floss picks and all the contacts so we can make some piles. A pile for shredding, a pile for filing, a pile of things I need to do something with, kids artwork. I have a file with each kid's name to put their artwork after it's been hung up and celebrated. A great tip I learned from my dear friend, Andrea Mills,. Such a treasure to look at them later.
Just doing a basic cleaning with bleach wipes while sucking down my strawberry lemonade that Travis brought me from time. I do love that man of mine. Wiping every surface now that I can see them all so we can get them fresh smelling and clean.
White trim is so beautiful but so hard to keep clean. Get on your hands and knees Jamerrill and get that as clean as you can. A fresh coat of paint would be so nice here too. Add that to my house wish list. Maybe someday!
Off to the bathroom area for a deep clean. Zion and Naomi had done a great job keeping it up while I was sick. It's been a week and I know it's in need of a deep mama clean. They had cleaned the other 2 bathrooms in anticipation of company coming on this day.
Put on my extra summer hat while I get all the magazines, Bibles, and journals off the little table and out of my bathroom. When the little people want to take a bubble bath, I look at them while I'm in there with them. I decide that maybe the bathroom isn't a great place to put a table full of books. Out the door it goes. If the table isn't in there then I won't want to stack anything in there.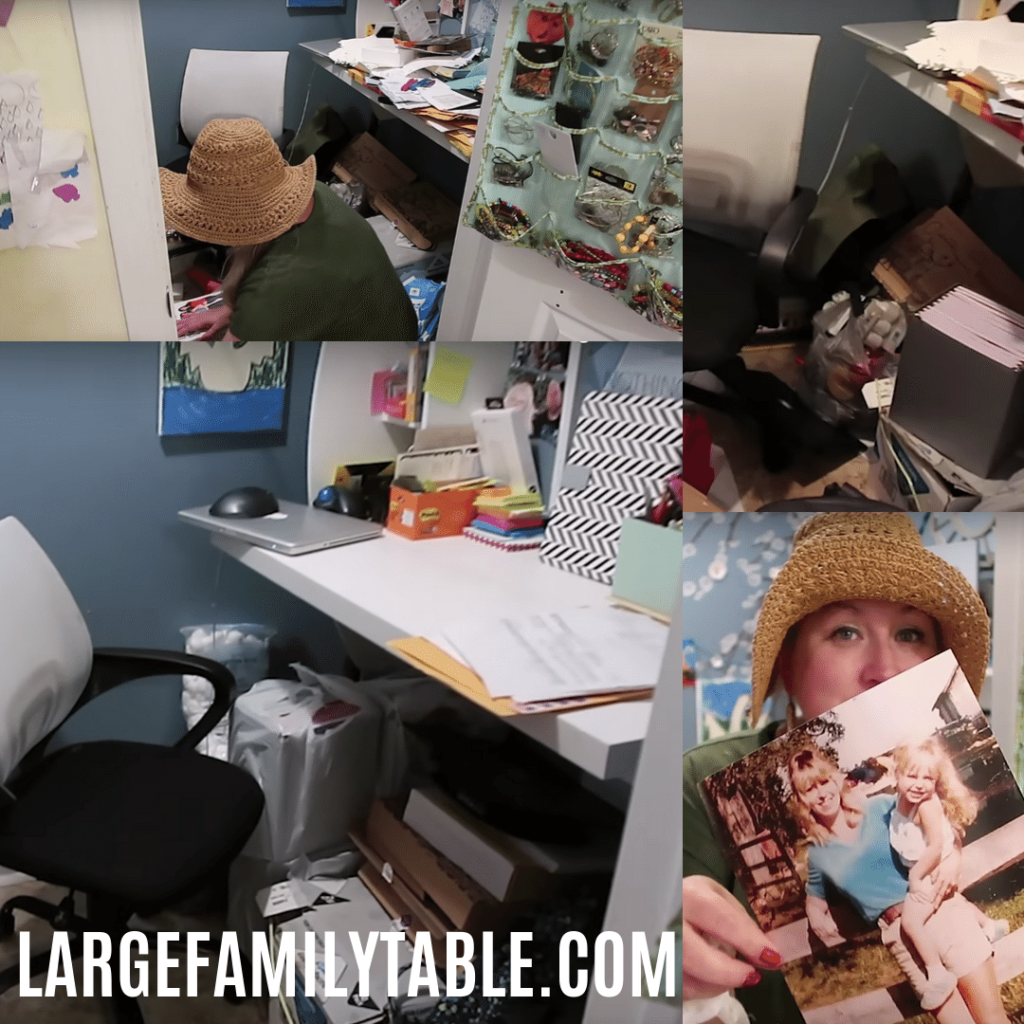 Just wiping with the bleach wipes. If out of wipes, I'll use a vinegar and water combo or (this is my referral link) Mrs. Meyers. Usually though it's just the vinegar. If I want to be super fancy, I use these wipes. Crazy how fancy in adulthood is using bleach wipes in the bathroom. Can't say I don't keep it real.
I'm listening and sometimes watching one of my upcoming Youtube videos. I like to watch them a time or two before publishing them. This helps me not make a complete fool of myself in these videos.There's plenty of foolishness left in the there for your amusement. Don't worry about that!
Bathroom is done so it's on to the office. First thing to tackle is my hat collection. I probably have 50 of them in that bin. Why do you wear hats, Jamerrill? Well, I like hats and we are outdoor people. Hats keep the bugs away, the sun out of my eyes, and my noggin warm in the winter. What's not to love? Plus with a hat you can skip a shower and no one knows.
It's easy to for this room to get out of hand. You know the saying, "A place for everything and everything in its place". Sometimes I just need to stop and remind everything where its place is located. Get everything back in line and handle my business.
Well, I have saved the best for last, my bedroom. I pick up my side of the bed first and sweep. What I want to do is a in depth organizing but I've already been cleaning for 3 hours. Time is not going to allow that to happen so cleaning is all it gets. Put that bathroom table right there to hold all my stuff. Sometimes my bed becomes my office instead of my closet. A mama's gotta do what is necessary to bring home the bacon.
I started sweeping around the ottomans then I moved them. Whoa! Then I got under my bed. Found all the missing shirts, lego pieces and sippy cups. That mystery's been solved. Just big fat crazy nasty happens! I'm committed to getting under everything this time. We often use this room as a family room so it can get out of hand quickly. It's been about 3 or 4 months since I swept this well and you can tell!
There you have it! A fun, multi day cleaning session with me. I hope this encourages you as well as shows you that real life happens and we all do the best we can with the time we have. Keep plugging away at your tasks. It will all get done in due time.