Create the perfect pick-me-up with this Iced Pumpkin Spice Latte recipe. Who needs Starbucks when you can make this flavorful fall-themed beverage at home? It is much simpler than you might think!
Iced Pumpkin Spice Latte
When it comes to my beverage of choice, lattes are at the top of the list. While you know I love my coffee, I also love the sweet taste of the coffee and frothy milk combined to create a drink that keeps me going on my most stressful days. If I were to say that I could do without my morning coffee, I would be lying, but this latte is a super close second. Not to mention adding one of these Homemade Cinnamon Rolls with Icing or these Pumpkin Cinnamon Rolls (because there's no such thing as too much pumpkin flavored goodness!). This is one beverage I love to have to help me get a jumpstart to my fall morning.
This recipe is one that I thoroughly enjoy because it contains added pumpkin flavor to make the latte taste even better. It is a great beverage to have when the leaves start turning colors, and summer is officially over.
*Use special promo code HELLO20 to take 20% off your first order in the shop including the SUPER MEGA ULTIMATE Large Family Freezer Meals Bundle here!**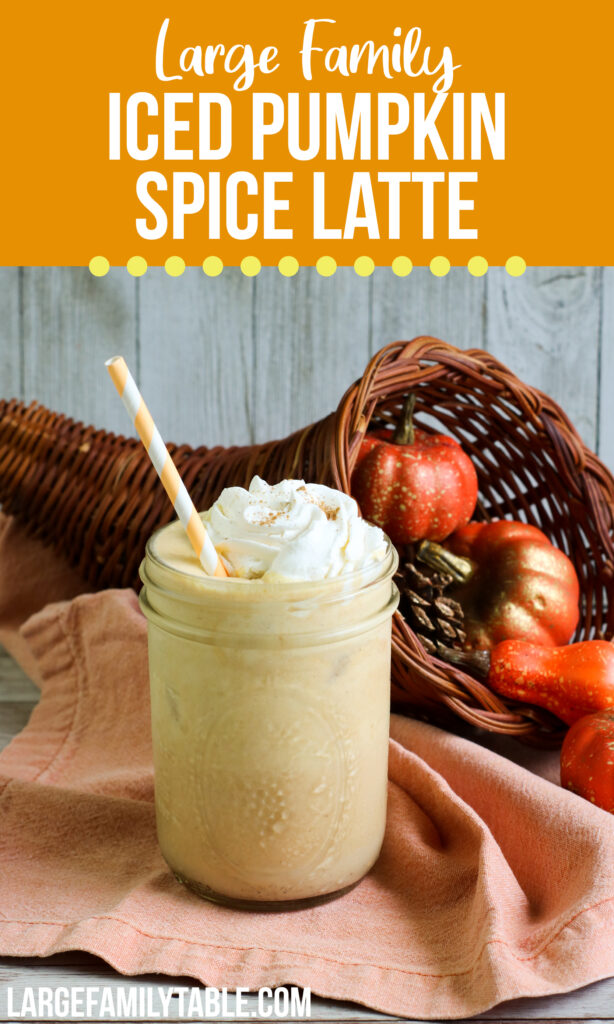 Latte on a Budget
I prefer making this Iced Pumpkin Spice Latte over buying lattes from any of the chain coffee spots. I can save money while preparing the beverage at home. With the right ingredients, this beverage has such a fresh and fulfilling taste to it. The best thing about this treat is that it is the perfect special drink for breakfast, a dessert, or a special holiday treat!!
While I do not give this drink to my kids because they do not need to have the extra caffeine, this is one beverage that my husband and I like to drink often in the fall. This recipe only makes one, BUT you can easily double for you and the love of your life.
The Perks of Preparing the Iced Pumpkin Spice Latte
You probably already realize how much money you can save by making this Iced Pumpkin Spice Latte at home instead of ordering it from somewhere else.
While the savings is certainly a good enough reason to start preparing this at-home latte, you can enjoy additional perks of preparing this beverage.
For example, you can make it the way you want using either espresso or strong cold-brewed coffee.
It only takes a few minutes to prepare the beverage by blending the ingredients and then pouring it over a cold cup of ice.
I like to put mine in a reusable plastic coffee cup with a straw attached to it so that I can take my latte with me wherever I go.
It is a huge convenience and a lot better for the environment than using a disposable cup.
Enhance the Flavor of Your Pumpkin Spice Latte Even More
The Iced Pumpkin Spice Latte calls for pumpkin puree, milk, and coffee, but you can add a few more ingredients to your latte for extra flavor. Some people like to add a spoonful of maple syrup to their lattes, while others like to sprinkle ground cinnamon on top because of how well it goes with the pumpkin flavor.
If you are dairy-free, you can use an alternative to cow's milk. Almond milk is a bit too thin to create the perfect consistency, but macadamia milk or oat milk will work correctly to help you make the ideal Iced Pumpkin Spice Latte. You might even want to select one of the flavored options, such as vanilla oat milk, to give your beverage that extra sweetness.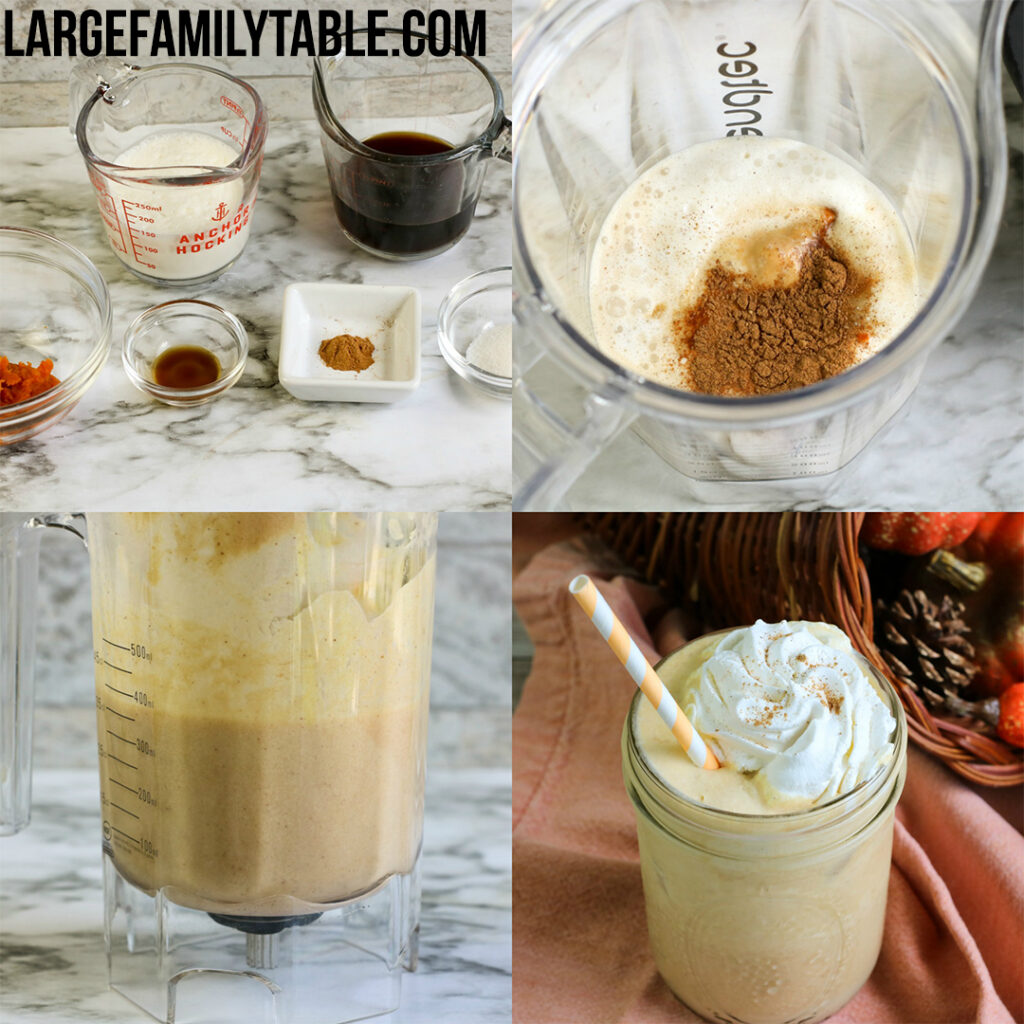 Looking for a perfect cookie to serve with your Iced Pumpkin Spice Latte?
The cookies in my Easy & Frugal Make Ahead & Freeze Cookies Baking Book will pair well with the Iced Pumpkin Spice Latte!!  In this book you will find 10 easy and yummy recipes for large-batch cooking baking! You can prepare them for holiday get-togethers or gifts or just for fun any of the year!! 
Here are some breakfast treats to go along with your Latte!
Iced Pumpkin Spice Latte
Print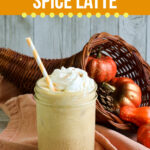 Iced Pumpkin Spice Latte | Large Family Mama Fall Recipes
Author:

Prep Time:

15 Minutes

Total Time:

15 Minutes

Category:

Breakfast
---
Description
If you are a large family mama that needs a break on a budget, go ahead and make this Iced Pumpkin Spice Latte. 
---
Ingredients
2 tablespoons pure pumpkin puree
½ cup half and half
1 tablespoon sugar
¼ teaspoon pumpkin pie spice
¼ teaspoon vanilla extract
¼ cup strong brewed coffee, chilled, or ice brewed coffee
Sweetened whipped cream, for serving
Additional pumpkin pie spice, for serving
---
Instructions
1. Add the ingredients to a blender.
2. Blend until combined and frothy.
3. Pour over ice.
4. If desired, garnish the coffee with whipped cream and a dusting of pumpkin pie spice.
Keywords: Iced Pumpkin Spice Latte
This latte is a real treat! You'll get spoiled starting your day with it. It's also the perfect afternoon snack, too. There's never a wrong time for pumpkin and coffee.
FREE Emergency Pantry Planning Pack!
Don't forget to sign up for the emergency pantry planning pack for free to help you plan your pantry meals! The free Emergency Pantry Planning Pack will help you plan your needed pantry items! Printable pages include pantry inventory, grocery lists, meal planners, list of pantry staple items, and more.