Joyfully Developing Story Telling Skills in the Homeschool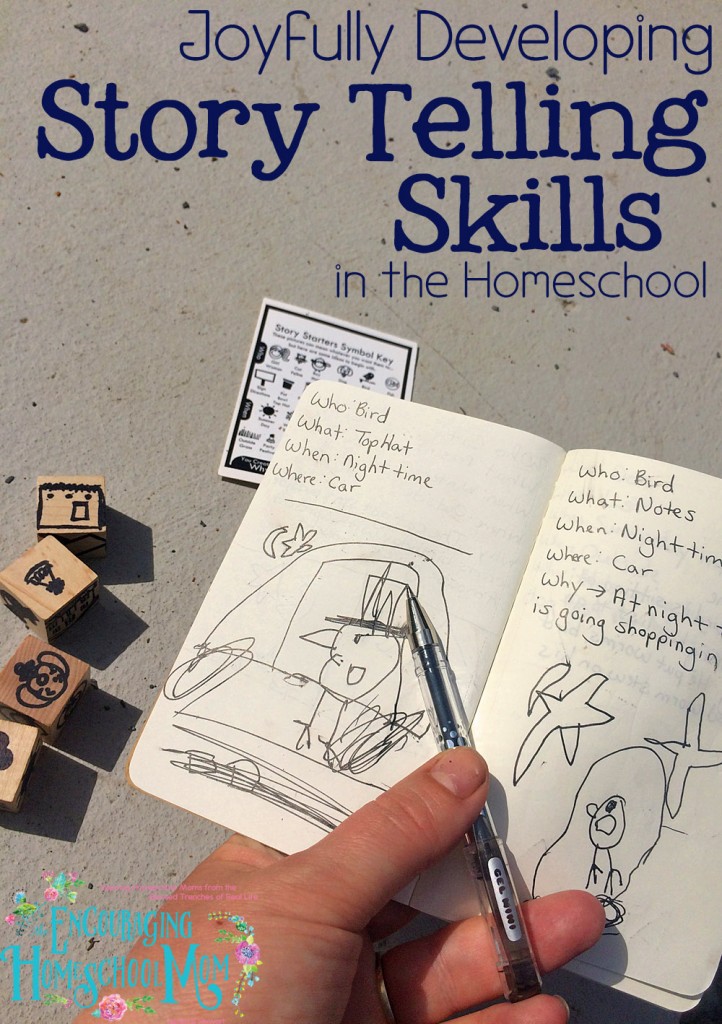 This is a heart-felt sponsored post supported by a company I truly love to work with, Educents.com.
In a world filled with technology and screens, the act of storytelling is something of by-gone days. But with Story Starters, that doesn't have to be the case. Enjoy the art of storytelling with your children and make memories that will last forever! We enjoy taking our Story Starters kit outside in the sunshine. Our 9 year old, 6 year old (almost 7 :), 5 year old, and even Miss Amelia (age 3), greatly enjoy using Story Starters together. They call it our "story telling game."
The Story Starters Kit includes the following items, packaged in a beautiful tin box:
♥ (4) 1-inch dice, hand-stamped with non-toxic, archival black ink; each die has 6 sides
♥ A moleskin notebook entitled "My Little Book of Why" – the perfect place to write down all of the stories your imaginations dream up
♥ A bookmark for the notebook
♥ A Symbol Key – a laminated key to help with spelling and ideas
♥ A miniature pen – fits in the enclosed tin so you don't lose it!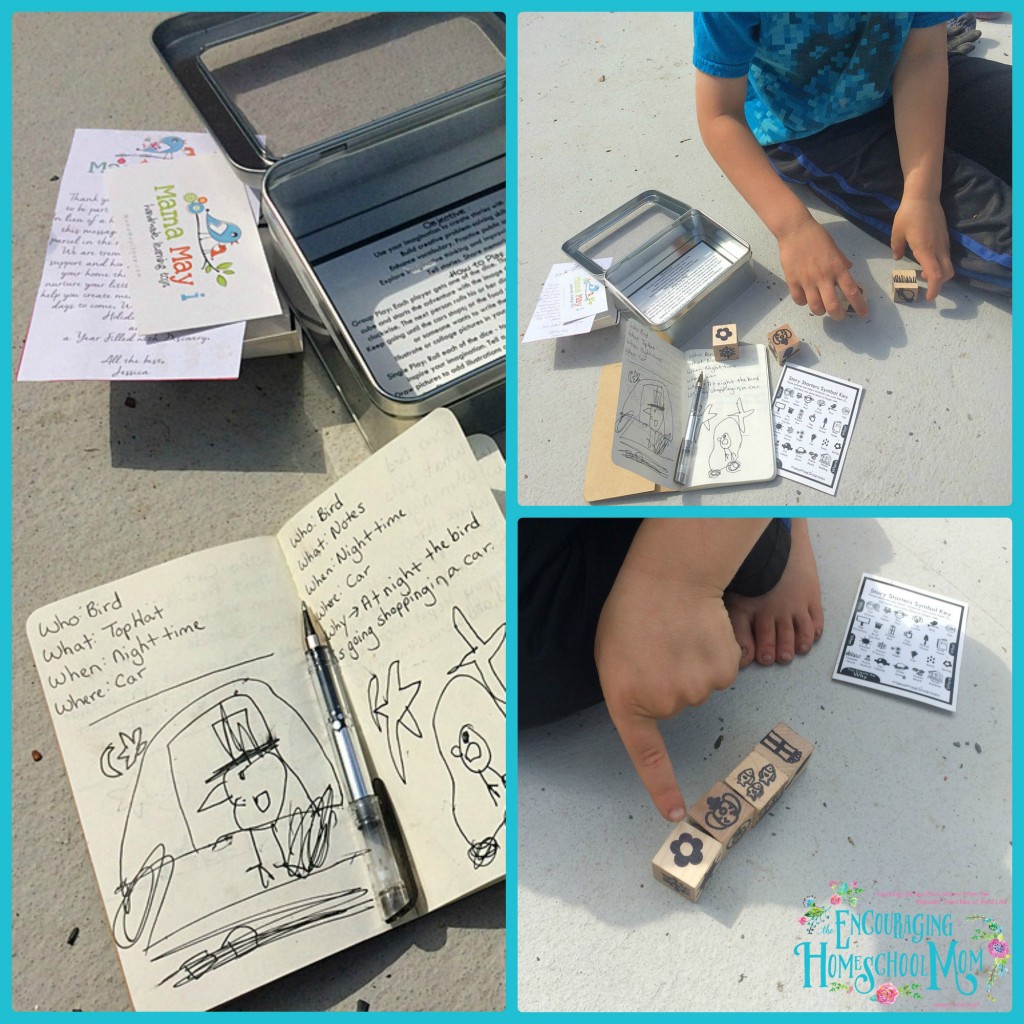 The Mama May I Story Starters Kit helps you build a story with your children with the roll of the dice.
Each of the included wooden dice have an image related to the who, what, when, and where of a story. The fun part happens when your imaginations run wild with the why.
To play, simply roll one of the dice. The image on the die will get you started with the beginning of your story, and then let your imagination do the rest. You can jot down your story ideas, or you could even illustrate them in the included notebook.
My children spun some tall tales when it came to the why. We'll end up with a creative story about a bird (who), with a cup of coffee (what), in the spring time (when), flying to space (where), and the why can go on for minutes on end!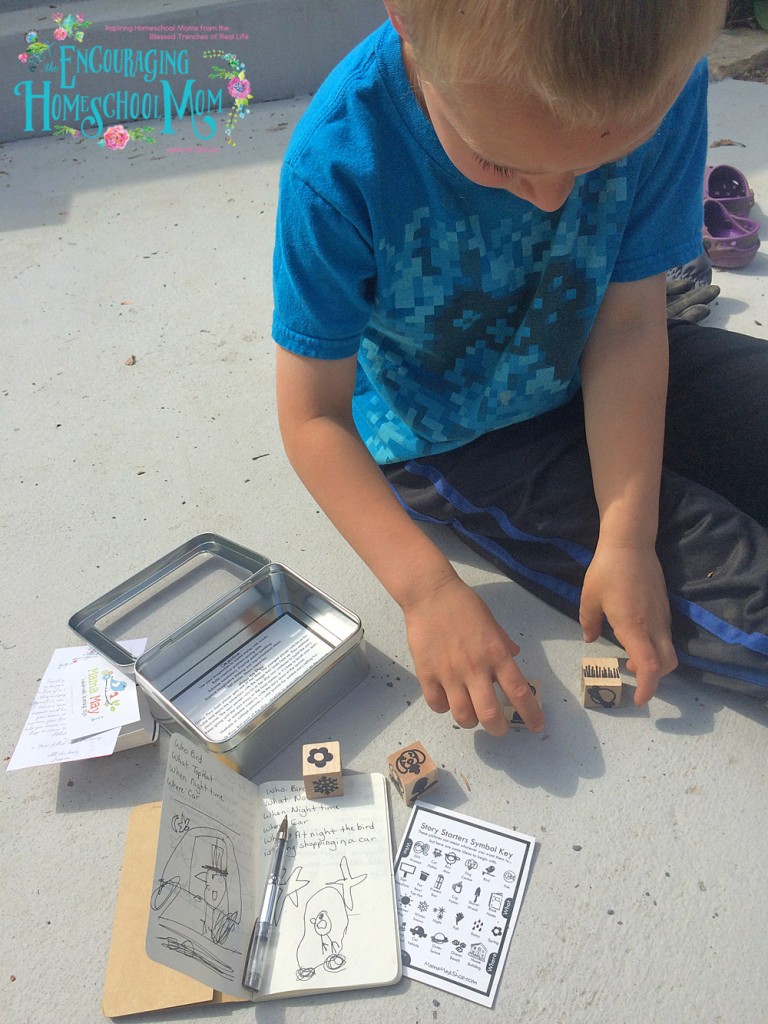 Not only is Story Starters a memory-maker as you brainstorm tales of mystery or delight, it also sharpens the imaginative part of our brains, forcing us to be creative. What a unique way to work on problem solving, building vocabulary, and original thinking!
Story Starters is just right for Kindergartners through 3rd Graders, homeschoolers, Montessori students, and anyone who loves a good story!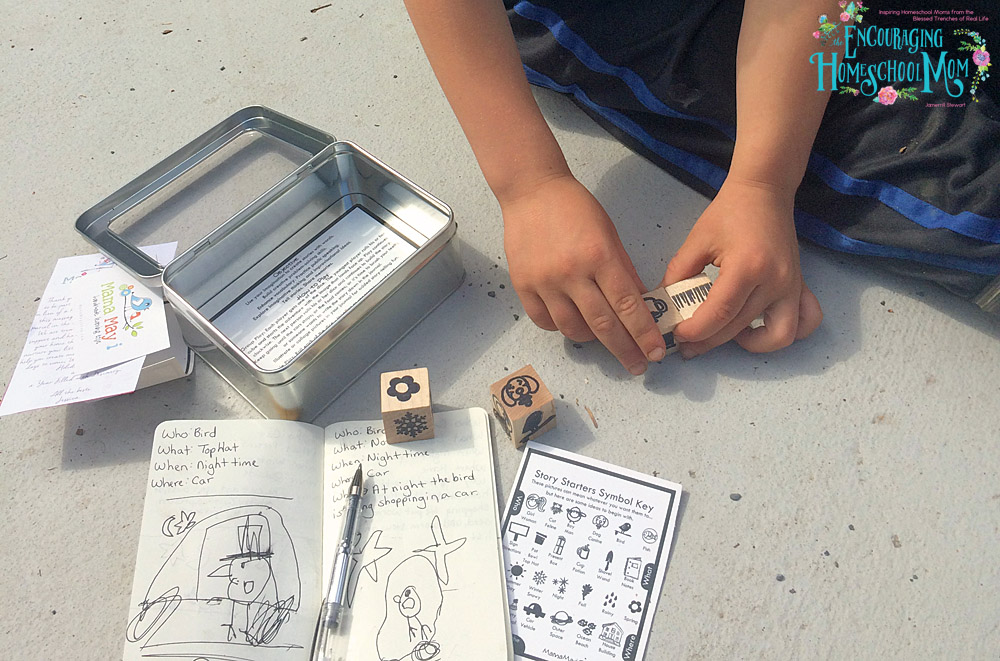 You can easily buy the Mama May I Story Starters Kit right from our friends at Educents! DON'T FORGET to use coupon code FHD10 to take an additional 10% OFF! Just click on the button below: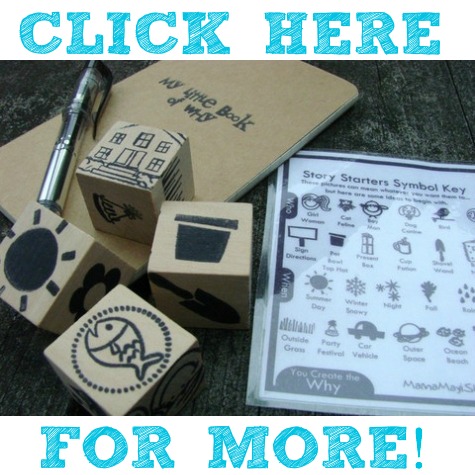 *Educents is one of the wonderful sponsors of FreeHomeschoolDeals.com and TheEncouragingHomeschoolMom.com. I only work with companies who I feel offer the best homeschool products and resources for my wonderful readers and let me tell you I'm a big fan of Educents! There are several products that I've chosen, which my family and I are receiving free of charge (thank you, Educents!), so I can share our homeschool experiences with you. I picked the Story Starter Cubes listed above because I just knew my kiddos would love them, and boy I was right!