When you want a flavorful large family breakfast meal, make the Large Family Bacon, Egg, and Cheese Pancake Sandwich. It's sweet and savory, making it the perfect thing to have in the morning.
Bacon, Egg, and Cheese Pancake Sandwich
Do you enjoy combining sweet and savory ingredients to make tasty meals? If you enjoy the way both flavors complement one another, you need to try this Large Family Bacon, Egg, and Cheese Pancake Sandwich. These flavorful sandwiches have the perfect texture and taste, but they will also keep you full. You can make several sandwiches in advance, wrap them, and freeze this meal to have them later. They are easy to reheat and great to have when you want a simple yet delicious breakfast. You can customize these sandwiches too!
****Use special promo code HELLO20 to take 20% off the entire MEGA DEAL get-it-all Bundle including the best-selling Large Family Freezer Meal Packs 1-12 + so much more!!****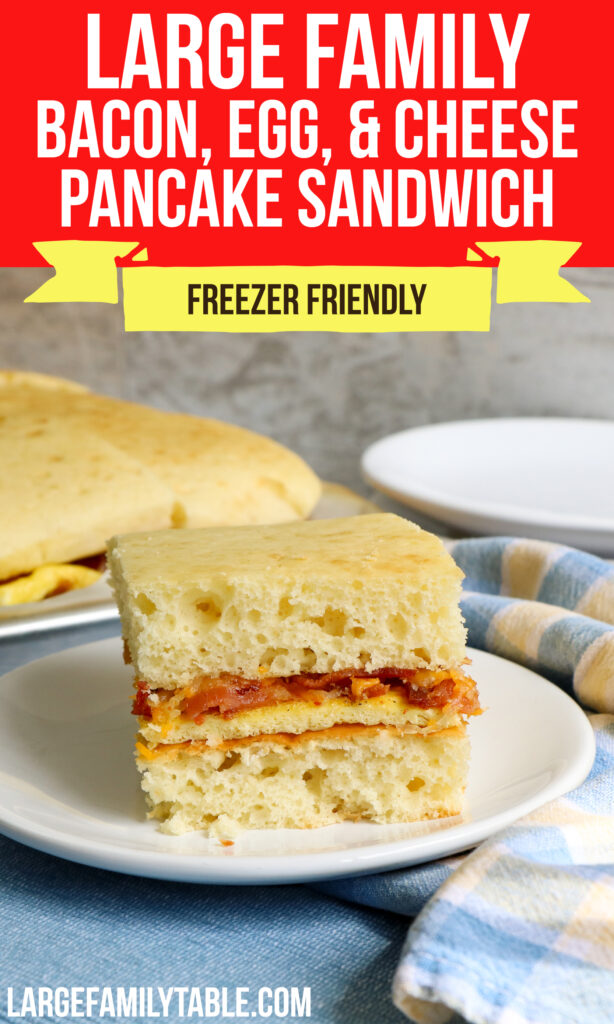 Ingredients Needed to Make the Bacon, Egg, and Cheese Pancake Sandwich
Before you get started, make sure you have the ingredients needed to prepare the Bacon, Egg, and Cheese Pancake Sandwich, including:
Pancakes. I have lots of pancake recipes to try. Here is my sheet pan pancakes recipe to use.
Bacon. Cook three pounds of bacon and chop it into pieces. Try making it in the air fryer!
Eggs. You will need about 12 eggs for the egg layer and an additional six eggs for your pancake layer.
Colby Jack Cheese. The cheese adds more flavor to these sandwiches and is such a great addition to them.
You will also need to have some milk, salt, and pepper to prepare these flavorful breakfast sandwiches from scratch.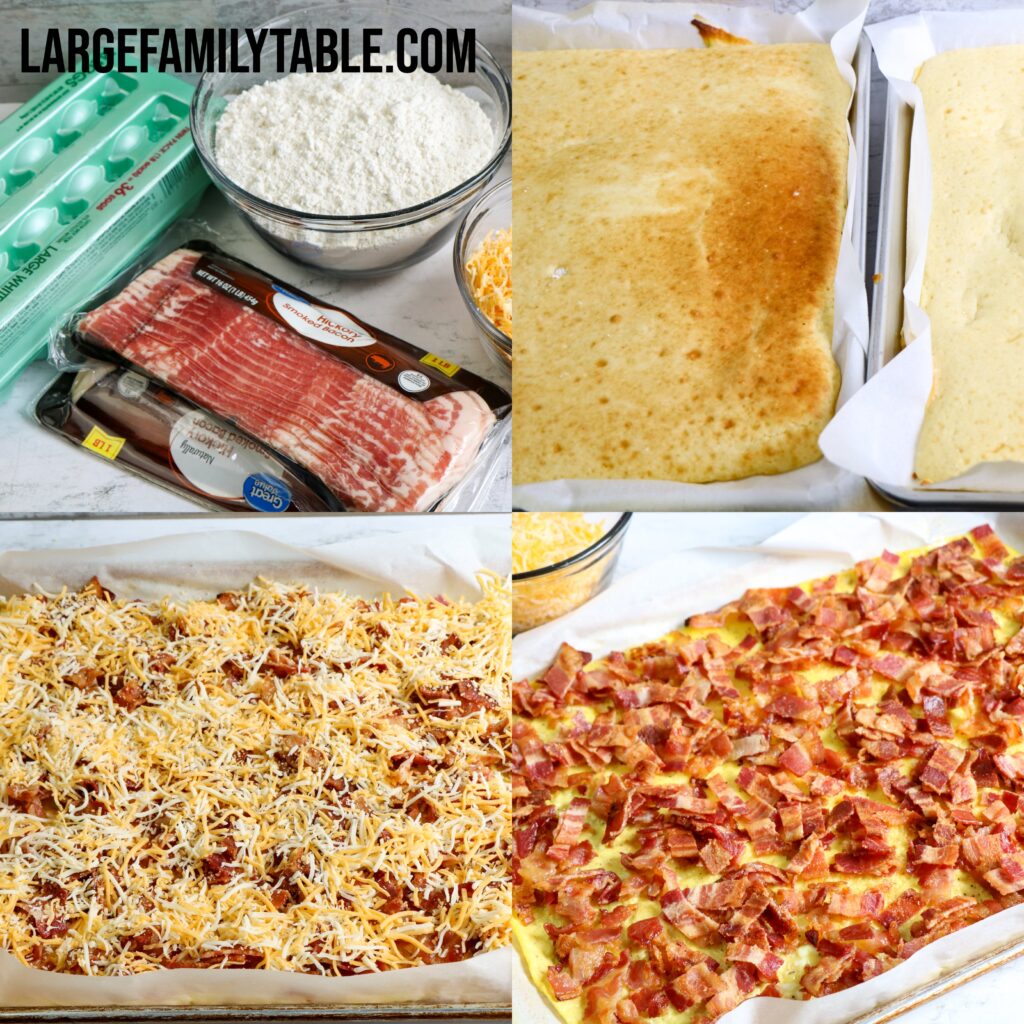 Which Pancake Recipe Should I Use?
This recipe is super flexible. You can use a pancake mix if that feels easier for you. I also have a lot of pancake recipes here on the site that you can use. Many of my recipes include berries or chocolate chips. You can still use these recipes just leave out the berries or chips if you want to keep it like this recipe. Of course, you can leave those in if you want to jazz things up! Here is a list of some of my pancake recipes:
Do I Have to Use Colby Jack Cheese?
The Colby Jack cheese is a tasty addition to these sandwiches. It melts perfectly over the eggs and still tastes great when eaten with sweet pancakes. However, if you do not like it or do not have it available at home, you can use other types of cheese as substitutes. You might want to use American cheese or shredded cheddar cheese as an alternative.
Can I Add More Ingredients to the Pancake Sandwiches?
Yes! You can add more ingredients to the Large Family Bacon, Egg, and Cheese Pancake Sandwich. For example, you might want to add some sausage links, green peppers, onions, mushrooms, spinach, jalapeno peppers, salsa, avocado, ranch or your favorite dressing, or other tasty toppings that go great with eggs, pancakes, and bacon. Try making them southwestern style or another flavor that you really enjoy! You can also take special requests from your family to offer them some of their favorite toppings.
How Do I Freeze the Sandwiches?
Freezer breakfast Meals are a great way to save time in the mornings. You can freeze these sandwiches and have them ready for later. To freeze them, let your ingredients cool before assembling your sandwiches and wrapping them individually in plastic wrap or aluminum foil. Place the sandwiches in a large food storage container with a lid and put them in the freezer. You can keep these sandwiches fresh in your freezer for a month. You can reheat in the microwave or oven.
Here are more large family recipes to try!
We have lots more yummy breakfast ideas!
Where can I find more large family breakfast recipes?
Breakfast doesn't have to be complicated to be filling and healthy. I know it may seem easier to buy pre-made breakfast items, but you can save lots of time and money just by making breakfast ahead of time with my Breakfast Freezer Meals Pack, it's number 10 in my Large Family Freezer Meals Series. It includes 10 amazing breakfast recipes with directions to help you make 25 breakfast meals to put in your freezer!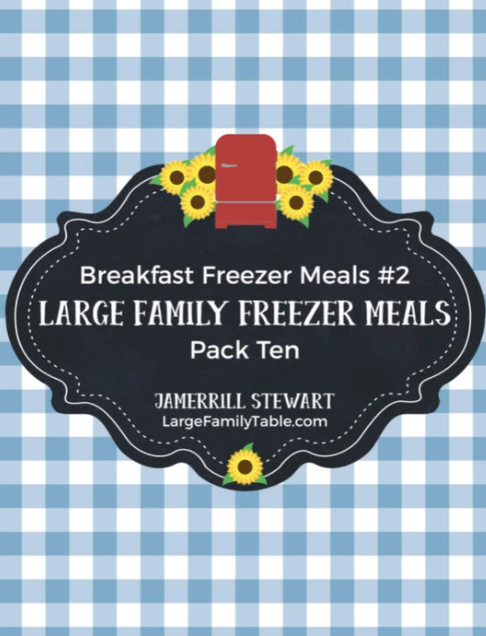 If your freezer is already full or you just don't have the freezer space, then try my Easy and Simple Large Family Sheet Pan Breakfasts which includes 10 delicious and easy breakfast meals to make your large family. Save time and money!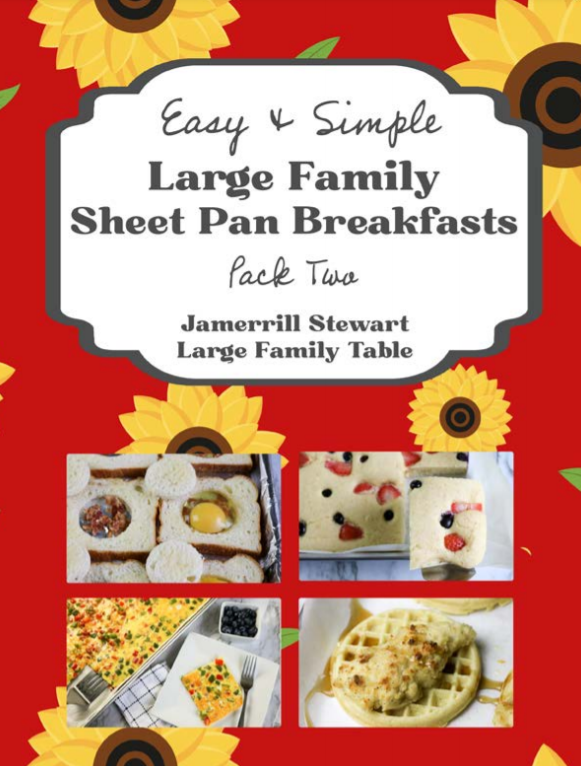 Bacon, Egg, and Cheese Pancake Sandwich
Print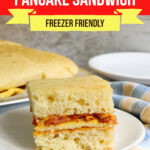 Large Family Bacon, Egg, and Cheese Pancake Sandwich | Freezer-Friendly Sheet Pan Breakfast!
Author:

Prep Time:

25 Minutes

Cook Time:

20 Minutes

Total Time:

45 minutes

Yield:

24 Sandwiches

Category:

Breakfast

Method:

Oven
---
Description
This recipe will make about 24 sandwiches and you will prepare the ingredients for 4 different layers before layering the sandwich.
---
Ingredients
Pancake Layer
6 cups pancake mix of your choice
6 large eggs
3 cups milk
(If you are using your own pancake recipe or one of mine instead of pancake mix, then just follow that recipe and omit the eggs and milk listed here. See the directions below.)
Bacon Layer
3 pounds bacon, cooked and coarsely chopped
Egg Layer
12 large eggs
½ cup milk
½ teaspoon salt or to taste
¼ teaspoon black pepper or to taste
12 slices colby jack cheese
---
Instructions
Preheat the oven to 425 degrees. Prepare three 17×11 inch baking sheets by lining them with parchment paper, setting them aside. Also, line an 18×13 inch baking sheet with parchment paper and set it aside.

Whisk together the pancake mix, 6 eggs, and 3 cups of milk. Divide the batter evenly on the first two 17×11 baking sheets. If you are making your own pancakes from scratch, then mix the recipe and divide it evenly between the sheets, omitting the eggs and milk listed above and follow the recipe you are using instead. 

 Carefully tilt pans to spread the mixture evenly. Place in the oven and bake for 15 minutes. 

While the pancakes are cooking: In another large bowl combine 12 eggs, ½ cup milk, salt, and pepper.  Pour the egg mixture onto the third 17×11 baking sheet. Place in the oven and bake for 15 to 17 minutes or until the eggs are set.

After the eggs have cooked, sprinkle with bacon and cover the bacon with cheese. Return to the oven and cook just until the cheese has melted. 

To assemble the sandwich, layer a pancake with the bacon and eggs, finishing with the second pancake. Portion into breakfast-sized sandwiches.
---
Notes
To freeze, wrap sandwiches individually and then place in an airtight container. Store for up to one month. Reheat in the oven or microwave.
Keywords: Large Family Bacon, Egg, and Cheese Pancake Sandwich
Make this easy breakfast for your next large family meal. It's sure to be a hit with everyone!
FREE Emergency Pantry Planning Pack!
Don't forget to sign up for the emergency pantry planning pack for free to help you plan your pantry meals! The free Emergency Pantry Planning Pack will help you plan your needed pantry items! Printable pages include pantry inventory, grocery lists, meal planners, list of pantry staple items, and more.