---
Description
This large family style Buffalo Chicken Stuffed Zucchini Boats recipe is THM S, Low Carb, Keto, and Gluten Free (as always for Gluten Free read the product labels). This healthy recipe makes two 9×13 baking dishes full. Each 9×13 dish holds about 6 zucchini halves. Serve with fresh greens, topping those with leftover dressing if you like!
---
Ingredients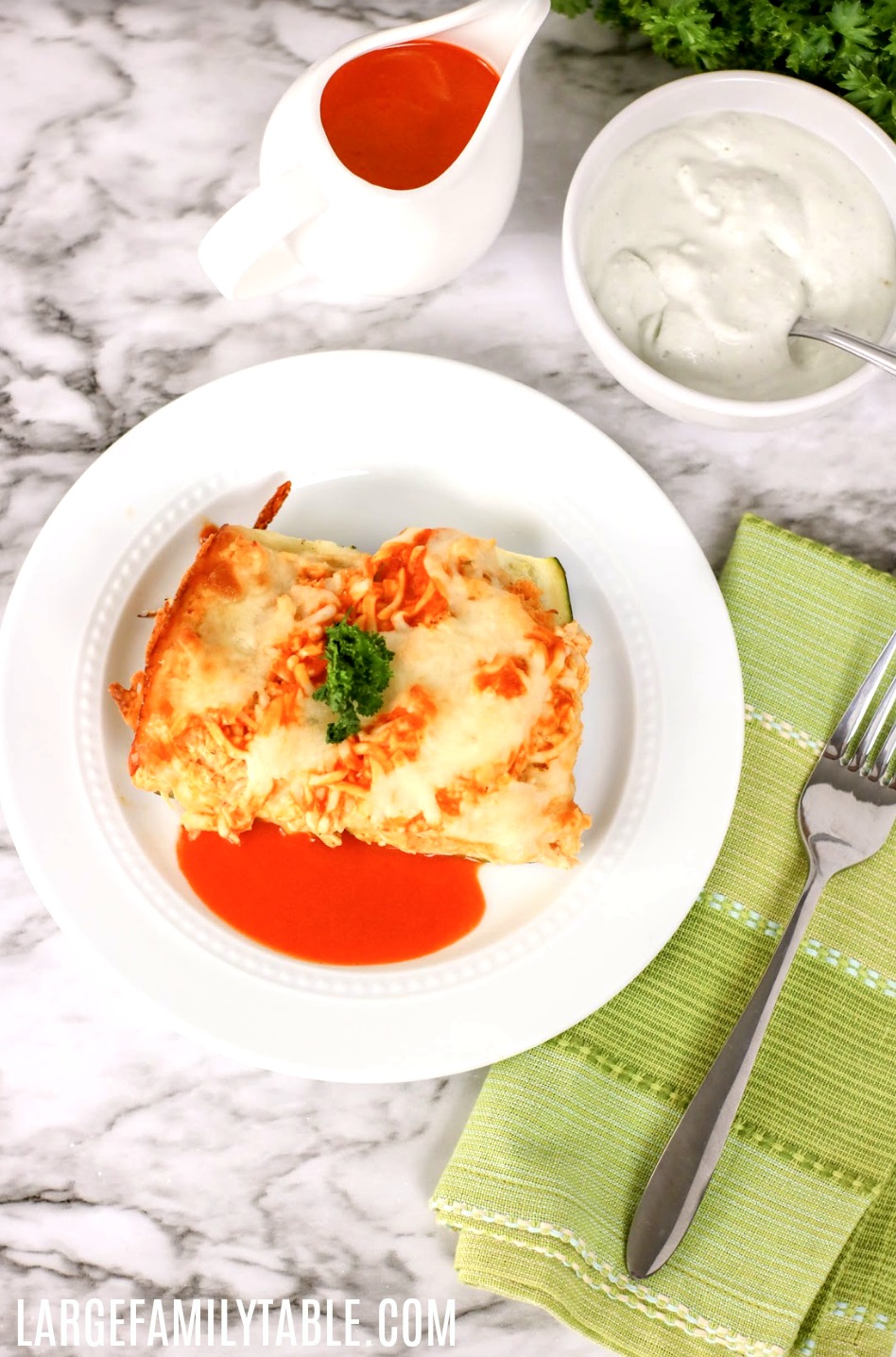 Ingredients
6 zucchini (makes 12 "boats")
3 to 4 pounds cooked chicken breast,
shredded 2 tbsp olive oil
1 tsp pepper
2 (8 ounce) package cream cheese,
softened 2 packets or 4 tablespoons ranch seasoning
1 cup buffalo wing sauce, your favorite
2 cup shredded mozzarella cheese
For blue cheese sauce:
1/2 cup blue cheese crumbles
1/2 cup heavy whipping cream
You will need a few additional splashes of whipping cream to thin dressing as desired
---
Instructions
1. Preheat oven to 400 degrees.
2. Slice zucchini in half lengthwise and scoop out the middle of the vegetable with a spoon leaving about 1/2 inch along the outside creating a "boat." Lighting brush olive oil over inside of the zucchini boat and sprinkle with pepper. NOTE: If you prefer the zucchini to be soft when serving, bake the zucchini boat for 5 to 10 minutes prior to stuffing.
3. In a stand mixer, combine the chicken, cream cheese, ranch seasoning, 1/2 cup buffalo wing sauce and 1/2 cup cheese.
4. Spoon the mixture into the zucchini boats, pressing down. Pile the extra mixture on top until the boats are overflowing slightly. Add the remaining cheese and buffalo sauce over the top.
5. Bake for 15 to 20 minutes until the cheese is melted and zucchini is tender.
6. Meanwhile, in a food processor, blend the blue cheese and heavy whipping cream until thick. Slowly add in a few more splashes of whipping cream until the desired consistency is reached. Serve with zucchini boats.
Keywords: Low Carb, Keto, Trim Healthy Mama,