Large Family Freezer Meal Planning System
I shared a list of Realistic Large Family Meal Planning Using Freezer Meals. In that post, we chatted about ways to use freezer meals daily, save them only for unexpected real life times, or sprinkle them about somewhere in-between.
DON'T MISS the entire ULTIMATE SUPER MEGA Large Family Freezer Meal Packs 1, 2, 3, 4, 5, 6, 7, 8, & 9!! Brand new packs 7 & 8 are low carb and pack 9 is by special request Dairy Free!
Today I'm sharing with you my current large family freezer meal planning system. I'm sharing my thought process for my once a month grocery shopping trip and how I'm meal planning for our large family at this moment. I've done meal planning many different ways over the years. It depends totally on how I need to structure life during the particular season that we're in. And sister, things change!
Wide Sweep Then Drill Deep
What in the world am I talking about here with "wide sweep then drill down deep?"This is how I explained my current large family meal planning system to another mom friend the other day. I do my once-a-month grocery shopping based on the meals I want to make. I have a list for the month that I shop from (of course the freezer cooking shopping portion is a piece of cake now with the planned out large family freezer meal packs). After all these years of feeding these people I know how much milk to buy upfront, how much cash to set aside for a small fill-in haul later in the month, and the fact that my kids can eat down a 40 lb box of bananas at lightning speed!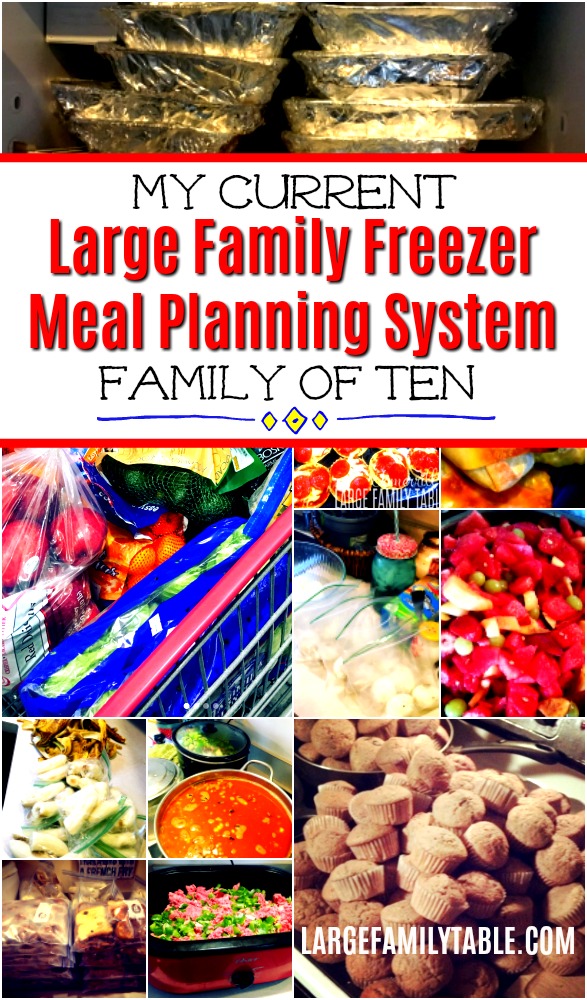 By once a month grocery shopping I have the majority of the food we need for our family of ten for 4-6 weeks. I always say 4-6 weeks because many months when it's time for my big grocery haul, I'll try to stretch it out for a week or two to use up any extras before I shop again. This does involve me going back for a small fill-in haul around the 3-week mark for more milk, fruits, and veggies (back when we were a family of 7 with 5 children ages 11 and under I could still truly only shop once a month). Many months I'm able to do 1-2 dedicated large family freezer cooking days where I stock up 40-60+ large family freezer meals for the coming weeks. During the months when I just can't get in a dedicated freezer cooking day, that's when we really work on eating down our stash of freezer meals.
Then I drill down the actual large family meal plan specifics as to what we're eating for breakfast, lunch, dinner, and snacks on a weekly basis. This has worked well for me over that last several months. Every week is so different from its meetings, get-togethers, field trips, appointments, and needs. On the weekend I can look over the calendar and plan our meals based on the needs of the week ahead. This allows me to customize our large family meal plan for real life, utilize my fully stocked freezer, and still cook fresh meals as I desire and am able.
One Week Large Family Freezer Meal Plan
Here's a view at how I drill down and make a detailed large family meal plan for one week. The weekend before I look at our calendar and our freezer inventory. I think through freezer meals that need to be used up (hey, a freezer lasagna from almost 12 weeks ago needs to serve its purpose in life!). I think about what meat my husband would like to grill and the fresh fruits and veggies that need to be used up. Then I use my 7-day calendar dry erase board to list out the meals for the week.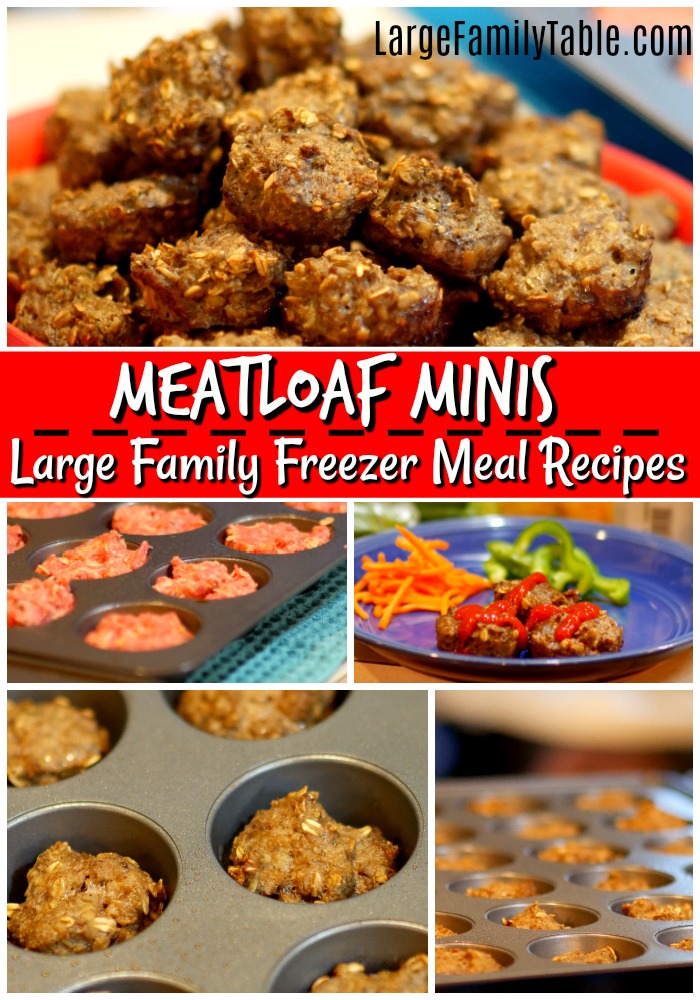 *Low Carb/Trim Healthy Mama note: Lots of moms ask me how I can try to eat lower carb and mostly Trim Healthy Mama inspired while also making a ton of freezer meals for my family. You will see that many, not all, but again many, of my large family freezer meals, are on the lower carb side. The newest large family freezer meal packs 1, 2, and 3 are a mix of real-life meals for real-life moms. Meaning there are plenty of lower carb/ sugar-free options, but there are also sanity-saving favorites. You can see the Table of Contents for each pack here.
For the moms who'd like to know, I put an (LC) beside the meals that swing in the low carb direction listed below. Those are the meals I can eat without any issue. If the kiddos are having blueberry pancakes, I make myself some Ezekiel Bread French Toast or use my Paleo pancake mix I picked up from Costco. And the bulk cooker in me will make a few extra so I have more for myself for another morning. Or I make just my husband and I big loaded omelets. I just gently customized for myself as needed. I usually keep some kind of salad stuff available and my favorite chicken and cabbage soup in the freezer for myself, too. And sometimes ladies, if I've "been good" all day or for several days, I'll go ahead and have the Chicken Fried Rice with the family. It'll be okay 🙂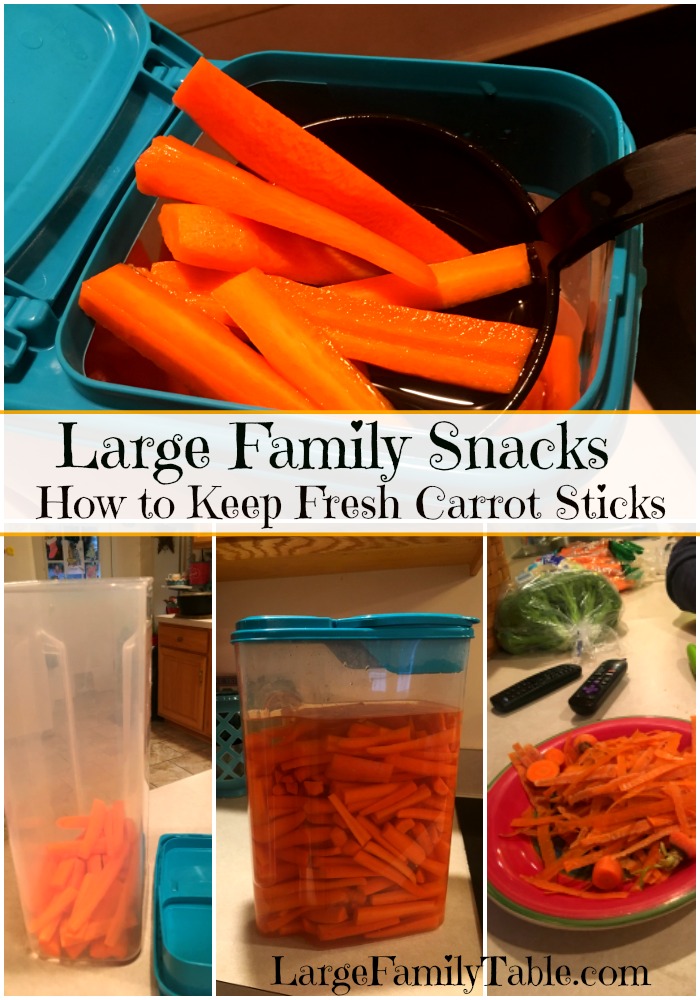 Snacks
Also, before we take a look at a sample one week large family freezer meal plan I get asked a lot for snack ideas for a growing, big family. We always have a ton of fresh fruits and veggies around. I also grab up discounted deal yogurts at a local discount grocery store called Sharp Shopper. Besides that, I'll have hard boiled eggs ready to go, cheese sticks, raisins, popcorn, and other options. If kids are hungry in-between meals they're more than welcome to have a banana and a hard-boiled egg. There will also be times I'll set out special treats from the freezer like freezer fruit bread or freezer cookies just for fun. 🙂
Monday
Breakfast: Freezer Ham and Egg Protein Cups (LC), apple slices
Lunch: English Muffin Pizzas, carrot sticks
Dinner: Garlic Lemon Chicken Freezer Slow Cooker Meal(LC), Brown Rice, Big Salad
Tuesday
Breakfast: Freezer Blueberry Pancakes, Easy oven bacon
Lunch: Packed Lunch to the Lake (Freezer Peanut Butter Jelly Sandwiches/Fruit)
Dinner: Freezer Baked Ziti, Applesauce, carrot sticks
Wednesday
Breakfast: Freezer Ham/Egg/Cheese Bagel Sandwiches, fruit
Lunch: Super Salads (LC) ("Super Salads" are when we chop up all kinds of vegetables and line them up on the kitchen counter like a salad buffet. I set out cottage cheese, various dressings, hard-boiled eggs, various meat protein choices – I have kids who prefer cold tuna and others who prefer shrimp.  Everyone makes a ginormous salad with their favorite fixings!)
Dinner: Easy Freezer Lasagna, veggies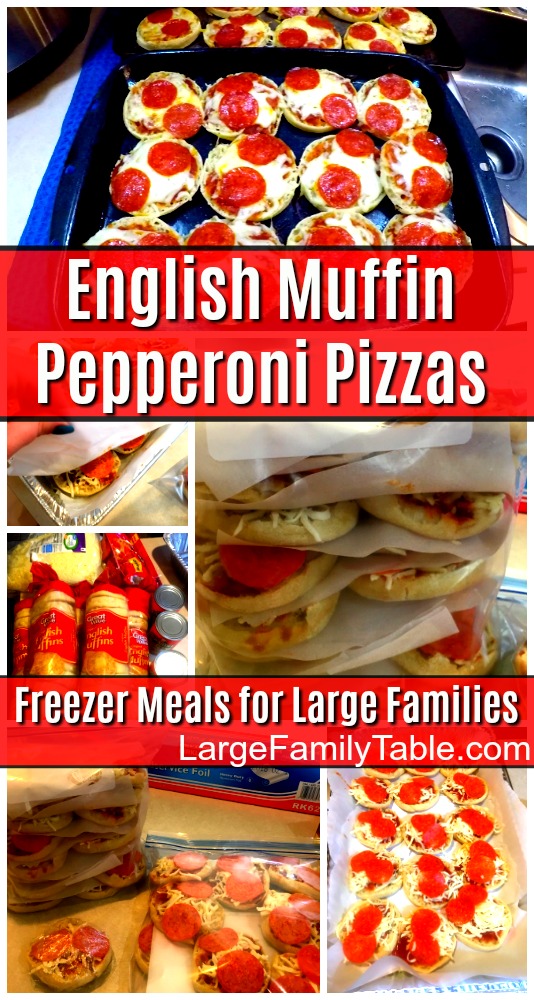 Thursday
Breakfast: Freezer Baked Oatmeal, fruit
Lunch: Appointments Out/ Family lunch at the pizza buffet (I can still get in my lower carb/Trim Healthy Mama attempts but eating a bunch of salad at the pizza place and then having the thin crust Taco Pizza.)
Dinner: Dad Grills Steaks & Asparagus (LC)
Friday
Breakfast: Freezer Bacon & Cheese Egg Bake(LC)
Lunch: Super Salads (LC), Freezer Soup Choices
Dinner: Freezer Beef Stroganoff Bake, Pressure Cooker Corn
Saturday
Breakfast: Freezer French Toast, fruit
Lunch: Freezer Peanut Butter & Jelly Sandwiches, Watermelon
Dinner: Meatloaf Slow Cooker Freezer Meal (LC), big salad
Sunday 
Breakfast: Fried Eggs (LC), Easy Oven Bacon (LC)
Lunch: Lunch out after church
Dinner: "Must goes" (momma rests and the family eats up leftovers)
So there you have it! This is how I'm currently large family meal planning for my family of ten. I'm using freezer meals for at least one meal a day, and yes some days for all three meals. We mix in plenty of fresh fruits and veggies all while I'm saving a ton of daily time in the kitchen. I'm shopping big and cooking big once a month or so, then drilling down large family meal planning specifics on a weekly basis. Be sure to share how you're currently meal planning in the comments below!
ALSO the Large Family Freezer Meals Bundle is now available!