LARGE FAMILY HOUSE TOUR
Before we start with today's large family house tour of our upstairs, including how we currently have the kid's bedrooms set up, you might want to watch my first large family house tour from last year.   In this large family moving post, I shared details and pictures of the weeks following our big move. I additionally shared our downstairs which is our main living area. This space includes our foyer with hall closet, dining room (you see this room in lots of grocery haul videos), combo kitchen and sitting room, pantry, hall bathroom, back deck, linen closet, and master bedroom with separate sink vanity area and full bathroom. Our master bedroom also has a walk-in closet which I have since turned into my home office. 
But First, Why We Bought A Smaller House For Our Large Family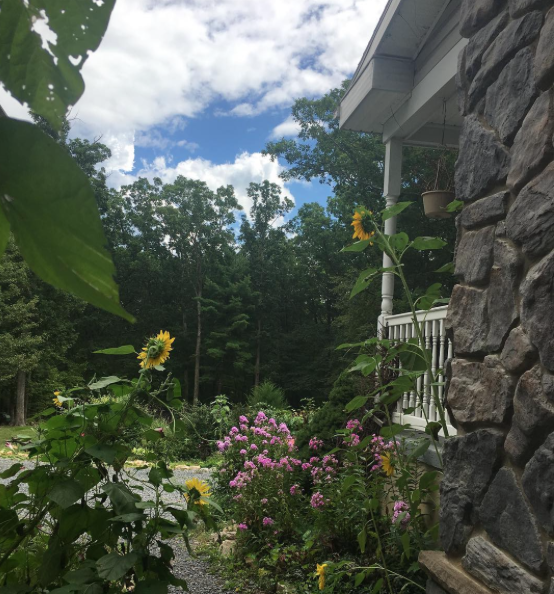 From my Instagram, "Next year there will be more sunflowers (moving years are hard), but I'm thankful for the few we got in the ground this year!"
I'm often asked how big our house is and why we bought a 3-bedroom house with a growing large family. Our house is not huge. It's only around 2,000 sq feet which is actually smaller than our farm house of 10-years. However, the new house has more functional liveable space and we are thrilled with it. 
We looked at several homes that were much larger. We put offers in on houses that were 3,200-5,000 sq feet. Like we attempt to do in many areas we prayed for the Lord to direct our steps and make them sure.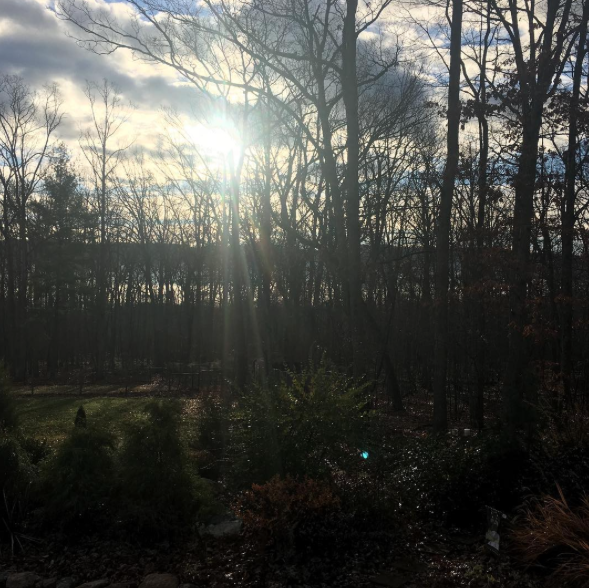 "Beautiful morning view from the front porch," from Instagram. 
I kept coming back to the real estate listing for a cute stone-faced cape cod on 13-acres in the wilderness. Every time I looked through the ad pictures, I would think, "man, if only it were bigger." Finally, my husband and I were looking at two other properties nearby, and we figured we might as well waste our time and see the smaller stone house too. 
When we saw the house, I really felt like I could see our family there. It felt like a lovely vacation home tucked away in the mountains. We went back and forth talking through our options after seeing the stone house. All of the much larger homes still had things they needed. One house what was closer to the 5,000 sq ft mark was so ugly it made me feel sick to look at it. Another house that we had gone in rounds of multiple offers had neighbors too close on both sides. None of the others were working out.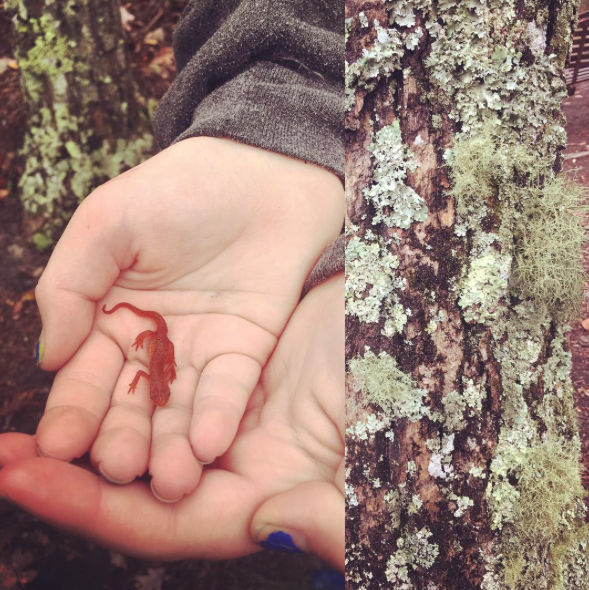 Nature study in our forest. 
What We Really Needed In A New House 
I thought about what we really needed in a new-to-us house. I needed a fresh kitchen with cabinets that I could function in to prepare all our meals. Kitchen storage was important and counter space. I had none of these things in the farm house. 
We wanted a 3rd bathroom, and we desperately needed closets. After living in the farm house for ten years with no closets and expanding our children from 3 when we first moved in up to seven, closets were a priority. 
We also wanted more land. We wanted room for projects, like one day building my husband his dream garage. Also, room for hobby farm animals like a few goats, chickens, and an old pony at some point. 
My husband and I wanted a master bedroom with a master bath. Another thing we wanted was a dining room to fully expand our large family table. We also wanted to upgrade to an incredible advancement called central heat and air. After a decade of hauling and chopping firewood to heat the farm house, although we were thankful for our wonderful wood stove, we wanted push button heat in our life.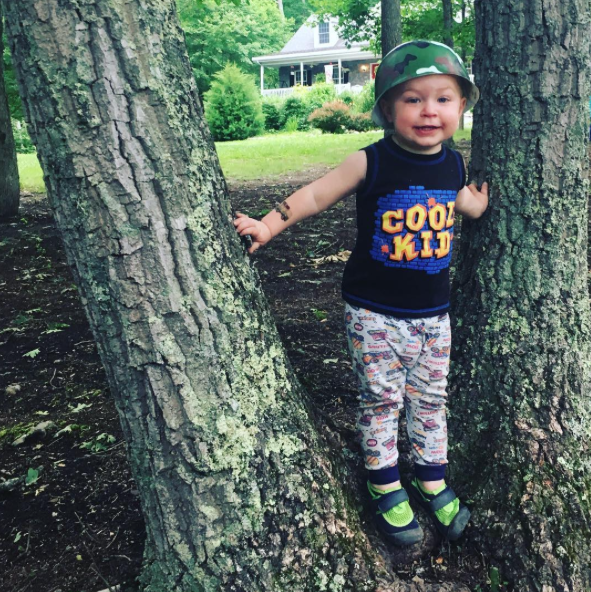 Commander Daniel tree climbing in our front yard. 
So, in the end, the stone cape cod house with its adventure filled forest was our choice. It was at the bottom of the price range of all the houses we toured. This means that although we are not always 100% Dave Ramsey perfect or *any kind of perfect,* we are working to have it paid off and be through Dave's Baby Step #6 within a few years. Then we plan to cash flow turning the large garage into a great room and expanding our breezeway into a pantry/mudroom/laundry room and may even add a 4th bathroom by that point. It's all a slow and steady process, as you know. 🙂 
Upstairs & Kid's Bedrooms Tour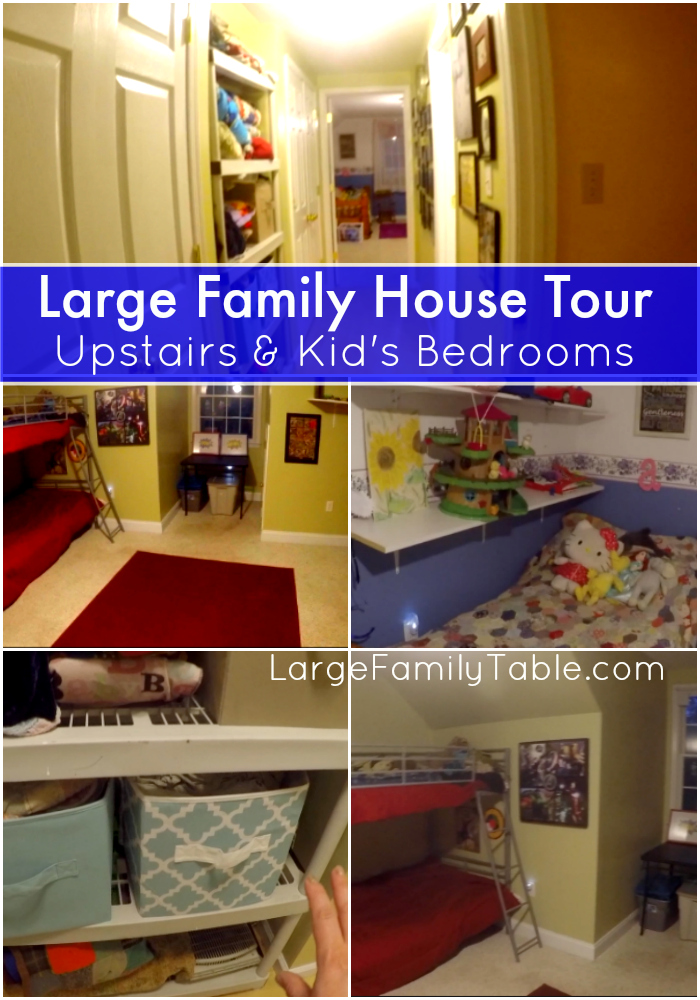 We have a very simple set up in the upstairs of our home. Five boys share a large bedroom with a clothing closet for Gabriel and Liam (6 1/2 and 8-year-old boys) and extra dormer storage. We found it extremely difficult to find the right mattress for each of the boys. After much discussion and lots of review reading on sites like leesa reviews, we managed to find the right single mattresses for them.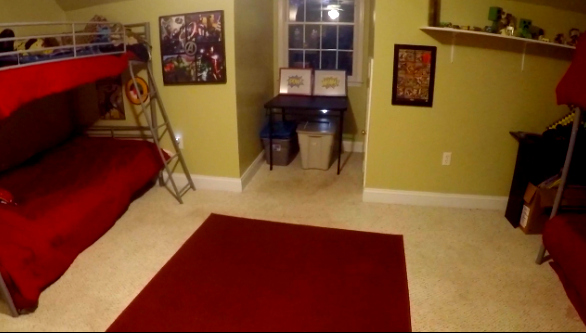 These are not the best quality pictures. I just pulled these quickly from the video. Pregnancy grace 🙂 
In the hallway, we have two additional closets, one for the girls (mainly Amelia's clothing and Naomi's sewing items) and one for our teen boys. There's a small attic that I currently do not utilize due to major purging *think truckloads* from our big move. We have hallway shelving for all of our extra quilts, blankets, sheets, baby covers, etc. There's a full-size bathroom with double sinks for the kids to share. The three oldest kiddos each have their own cabinet above the sink. The younger kids each have their own drawer in the sink vanity.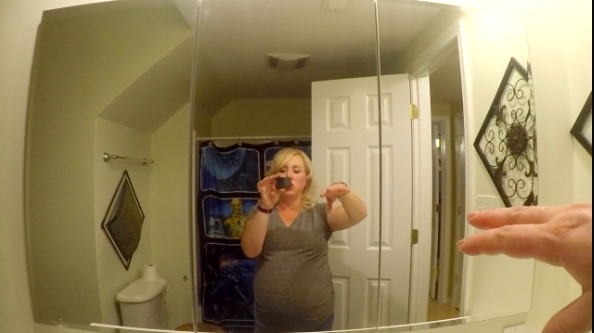 Pregnant belly shot in the upstairs bathroom 🙂
Our two girls share the slightly smaller bedroom at the other end of the hall. Naomi (age 11) has the in-room closet. Both girls share the wonderful extra storage in the cape cod dormer for their various doll houses, toy baby cradles, etc.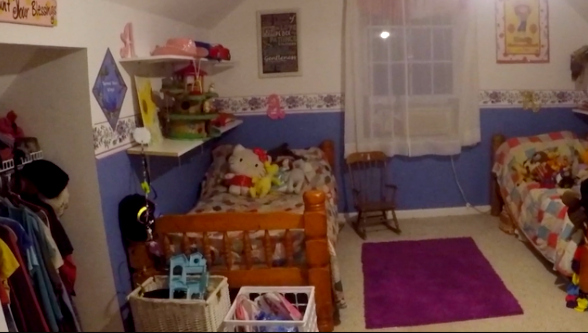 Click here to watch the full LARGE FAMILY HOUSE TOUR | UPSTAIRS & KIDS BEDROOMS | (Sheesh. Finally.)