Easily put together a scrumptious cheesecake with this Instant Pot Turtle Pumpkin Cheesecake. Not only does it contain a blend of some of the best flavors, including chocolate and pumpkin, but it is simple to make because you can prepare it in your Instant Pot.
When you want something a little fancier than our Low Carb Instant Pot Cheesecake, this Instant Pot Turtle Pumpkin Cheesecake is a must-have. If you enjoy pumpkin and chocolate flavors, you will fall in love with this recipe and want to make it as often as possible. It combines the taste of a chocolate turtle candy, pumpkin spice, and traditional cheesecake together to create the perfect culinary creation. Each bite will excite you.
****Use special promo code HELLO20 to take 20% off the entire MEGA DEAL get-it-all Bundle including the best-selling Large Family Freezer Meal Packs 1-12 + so much more!!****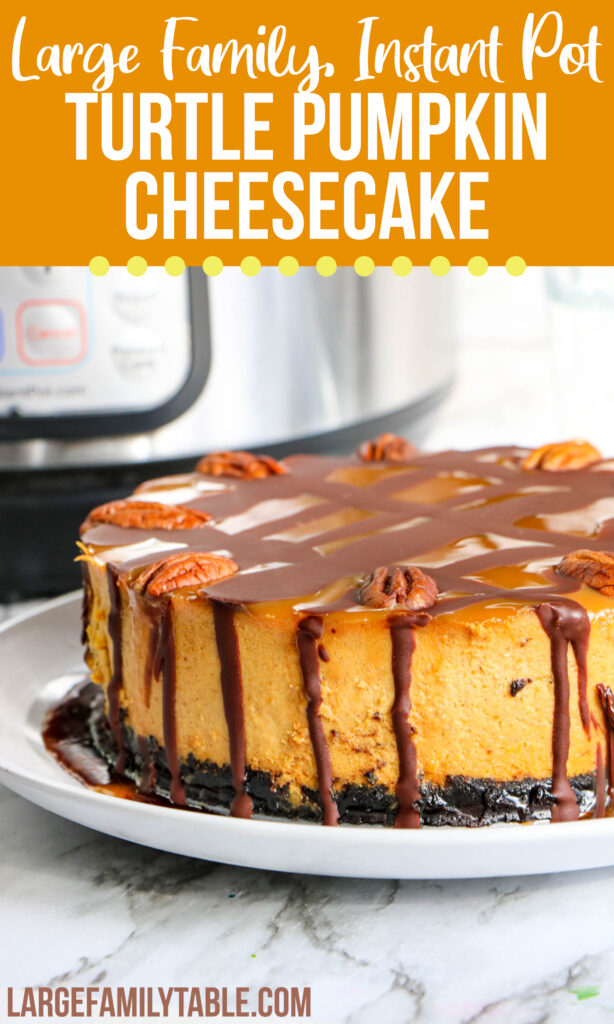 Instant Pot Turtle Pumpkin Cheesecake
If you've been here log enough, then you know we've made all sorts of pumpkin treats like the Pumpkin Cinnamon Rolls, the Keto Pumpkin Chocolate Chip Cookies, Homemade Pumpkin Banana Muffins and many more. Now, we're making the Instant Pot Turtle Pumpkin Cheesecake! It is a great dessert to make for the family, but you can also make it when you want to bring a treat to work or show up to a special event with something delicious to offer to friends and family. It is such an impressive dessert that does not require nearly as much effort as some cheesecake recipes because you can use your convenient Instant Pot to prepare it.
What to Use When Preparing Instant Pot Turtle Pumpkin Cheesecake
Preparing the cheesecake is such a breeze, but you do need to gather these ingredients before getting started: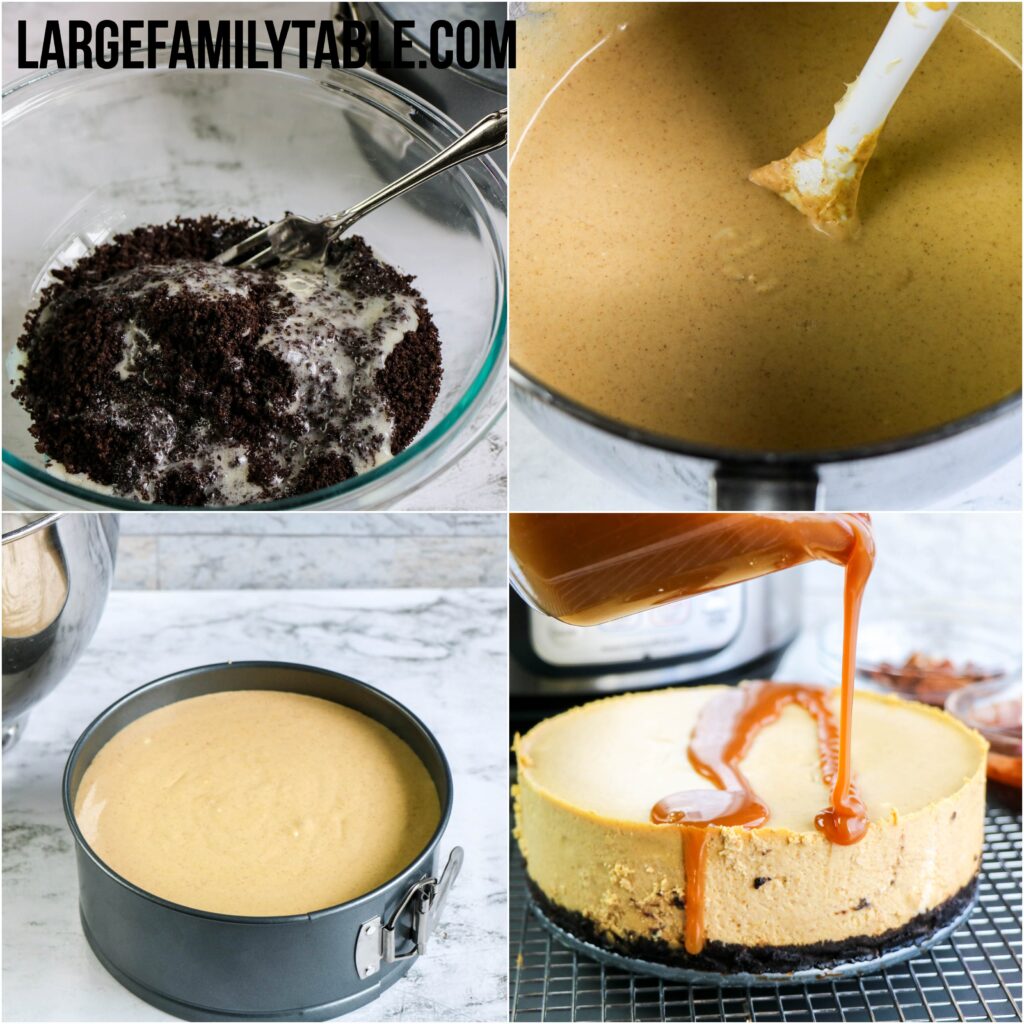 Crushed OREO Cookie Crumbs. You will use the crushed cookie crumbs to create a chocolate crust for your Instant Pot Turtle Pumpkin Cheesecake.
Melted Butter. Melted butter mixes with the cookie crumbs to create that chocolatey crust you want your Instant Pot Turtle Pumpkin Cheesecake to have.
Cream Cheese. If you are making a cheesecake, you need to have some cream cheese ready to mix with sugar and other ingredients.
Pumpkin Puree. The pumpkin puree mixes with the cream cheese and additional ingredients to create that pumpkin spice taste with each bite.
Brown Sugar. You cannot forget the brown sugar for the extra bit of sweetness it adds to the cheesecake.
Pumpkin Pie Spice. The pumpkin pie spice is just as crucial as the pumpkin puree when making a cheesecake just like this one.
Vanilla Extract. A splash of vanilla extract goes perfectly with the cream cheese, pumpkin puree, and additional ingredients.
Along with these tasty ingredients, make sure to have heavy cream, all-purpose flour, eggs, and white sugar to prepare your Instant Pot Pumpkin Cheesecake.
How to Store Cheesecake
Want to store your Instant Pot cheesecake after making it a few days? If so, use a pie storage container to keep it sealed and fresh. You can keep it fresh in the fridge for up to a week.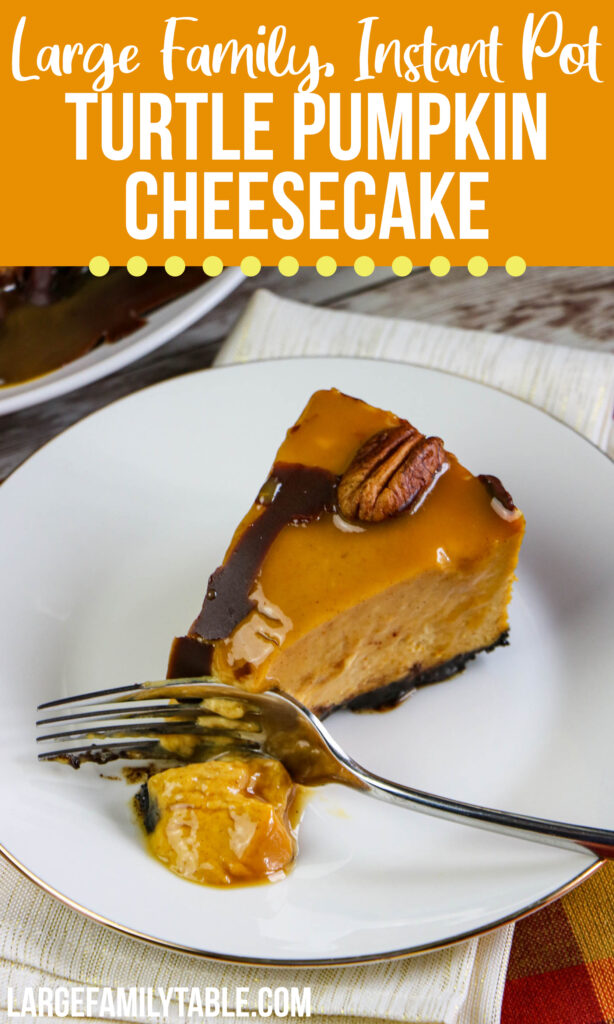 Need more ideas to feed your Large Family over the Holidays?
I am very excited to share this newest big-batch cookbook with you because I truly believe it will be helpful as you plan your family holiday get-together meals (or, really, any large family gathering where you need to feed a crowd)! In my Make-Ahead Holiday Meals to Feed a Crowd, you will find some of those wonderful and traditional holiday favorites like green bean casserole, stuffing, and gravy. But you also will get some "out-of-the-box" recipes that might just possibly become your family's NEW holiday favorites!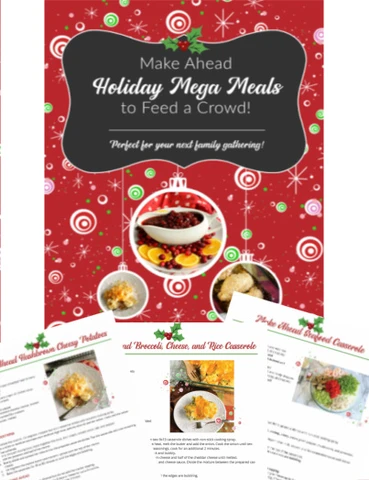 Here are more Cheesecake and Pumpkin recipes to try!
Instant Pot Turtle Pumpkin Cheesecake
Print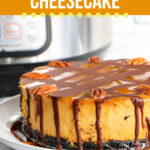 Large Family Instant Pot Turtle Pumpkin Cheesecake
Author:

Prep Time:

20 minutes

Cook Time:

40 Minutes

Total Time:

1 hour

Yield:

16 Slices or Two Cheesecakes

Category:

Dessert

Method:

Instant Pot
---
Description
Easily put together a scrumptious cheesecake with this Instant Pot Turtle Pumpkin Cheesecake. Not only does it contain a blend of some of the best flavors, including chocolate and pumpkin, but it is simple to make because you can prepare it in your Instant Pot. This Instant Pot Cheesecake recipe makes TWO Instant Pot Cheesecakes!
---
Ingredients
For the crust:
2 cups OREO cookie crumbs
4 tablespoons butter, melted
For the cheesecake:
4 (8 ounce) packages cream cheese, room temperature
1/2 cup sugar
1 cup brown sugar
4 teaspoons vanilla extract
2 cups pure pumpkin puree
1 cup heavy cream, room temperature
4 teaspoons pumpkin pie spice
4 teaspoons all purpose flour
6 eggs, room temperature
Topping
1 cup chopped pecans, toasted
4 oz bittersweet baking chocolate, coarsely chopped
2 tablespoon vegetable oil or coconut oil
2 cups caramel topping
---
Instructions
Prepare two 7.5-inch springform pans with non-stick cooking spray. Wrap aluminum foil around the bottoms to protect from water seepage.
Stir together the crushed Oreos and melted butter for the crust. Press into the springform pans.
Place trivet in the bottoms of both electric pressure cooker liner. Add the minimum required amount of water according to the manufacturer's instructions.
In a bowl, beat cream cheese until soft and creamy. Add the sugars and continue beating until fluffy, about 2 minutes.
Add the vanilla, pumpkin puree, heavy cream, pumpkin pie spice, flour, vanilla, and eggs, one at a time, beat just until combined.
Transfer the mixture equally on to the prepared springform pans and spread evenly. Cover the springform pans with aluminum foil to avoid water dripping onto the cheesecake.
Cover the electric pressure cookers and set the valves to sealing. Program for manual or "pressure cook" for 40 minutes.
When the cooking cycle is complete, allow the electric pressure cookers to naturally release the pressure until the pressure pin drops. Remove the lid, cancel the "keep warm" function, and allow the cheesecake to continue cooling inside the pressure cookers for 20 minutes before removing.
Replace the aluminum foil with plastic wrap and refrigerate the cheesecake for at least 2 hours prior to serving.
For the topping: Microwave the chocolate and oil, stirring every 15 seconds until melted.
Allow to cool but not solidify. Top the cheesecake with pecans, chocolate syrup, and caramel topping.
---
Notes
This recipe makes two cheesecakes which serves 16. You will need two Instant Pots to make two at a time or you will need to make one and then the other if you only have one Instant Pot. 
Keywords: Instant Pot Turtle Pumpkin Cheesecake
This cheesecake recipe is so delicious and super impressive! It will make a great addition to your holiday meal or a special birthday dinner. Of course, you can just have it any day and it's great for that, too.
FREE Emergency Pantry Planning Pack!
Don't forget to sign up for the emergency pantry planning pack for free to help you plan your pantry meals! The free Emergency Pantry Planning Pack will help you plan your needed pantry items! Printable pages include pantry inventory, grocery lists, meal planners, list of pantry staple items, and more.