Enjoy a moist and delicious chicken dinner when you follow this Large Family Instant Pot Whole Lemon Garlic Chicken. You can prepare a flavorful entree with ease using your Instant Pot!
When you have a large family, cooking and roasting chicken is normal. Instead of buying small packages of meat and preparing them, you may find yourself preparing larger cuts of meat to feed everyone. If you would normally prepare a whole chicken in the oven, try this stress-free chicken recipe for the most delicious chicken. Not only does it taste great because of the lemon and garlic added to it, but it also cooks faster when cooking in the Instant Pot. It's also dairy-free if you have a special diet.
***Use special promo code HELLO20 to take 20% off your first order in the shop including the SUPER MEGA ULTIMATE Large Family Freezer Meals Bundle here!**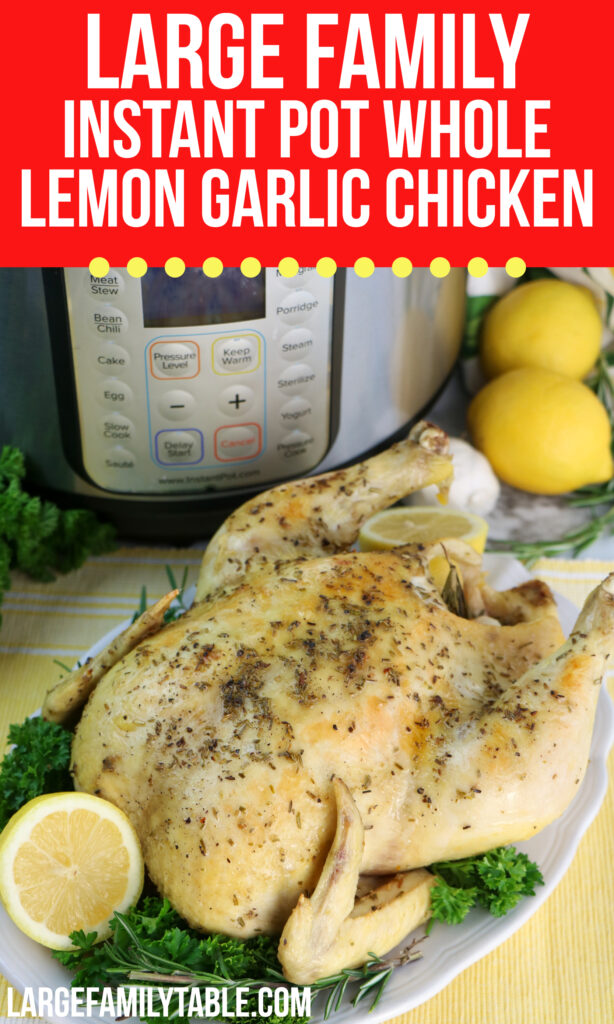 Ingredients Needed
The recipe calls for specific ingredients, including:
Whole Chicken. Use any brand. The chicken should weigh four or five pounds. Here are some make-ahead chicken dinners.
Chicken Stock. Use chicken stock to keep the chicken moist instead of dry. If you do not have chicken stock, you can use water.
Garlic. Cut your head of garlic in half before using it in this recipe.
Lemon. You will cut the lemon in half, too.
Other ingredients to use for this recipe include olive oil, pepper, salt, garlic powder, dried rosemary, and fresh rosemary.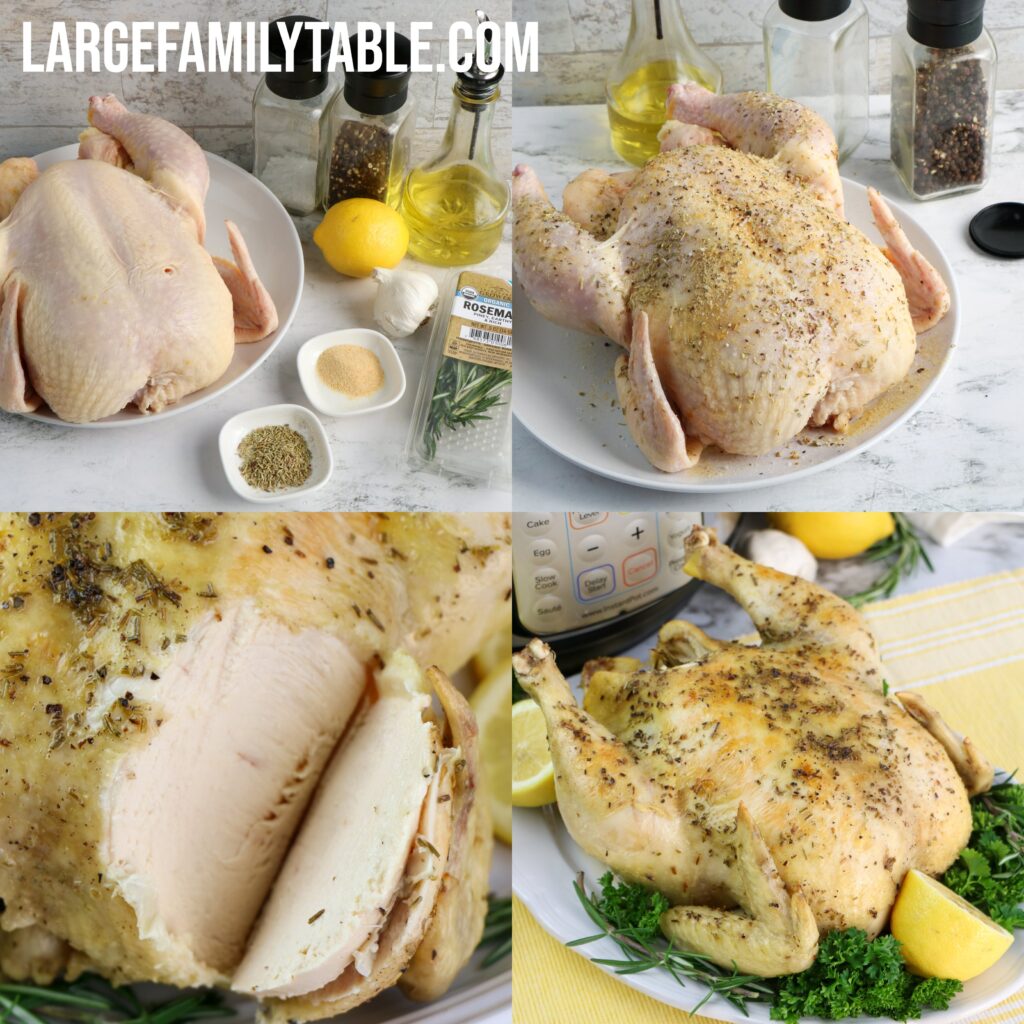 Can I Use Chicken Broth as a Chicken Stock Replacement?
If you do not have chicken stock, but you do have chicken broth, you can use the broth as a replacement. Broth and stock are similar, but stock is just a bit thicker.
What to Serve With the Lemon Garlic Chicken
Serve the Large Family Instant Pot Whole Lemon Garlic Chicken with sheet pan broccoli and Garlic Smashed Red Potatoes. The chicken goes great with cheesy asparagus or garlicky green beans, brown rice, stuffing, or cheesy hashbrown potatoes.
If you serve brown rice or cauliflower rice on the side, you may want to add a bit of butter, olive oil, and lemon juice to it to give it more flavor. The combination of butter, lemon, and olive oil on the rice will go great with the chicken.
What to Do With Leftovers
You may have some chicken leftovers. If so, you can do a lot with them. You may want to store the chicken in a food storage container in your fridge and reheat it when you want to make more chicken dinners with them.
If you prefer to make new meals with it, use leftover pieces of chicken to prepare homemade Spiced chicken Noodle Soup, chicken and swiss casserole, and chicken pot pie casserole. You will never have to worry about your leftovers going to waste because there are tons of great recipes you can prepare with them.
How to Use the Chicken Bones
If you have all the bones from your whole chicken, put them to good use instead of tossing them in the trash. You can add them to a large pot on your stove with water, chopped carrots, chopped celery, and some of your favorite seasonings.
Allow the ingredients to simmer on the stove together for an hour or more to create a flavorful stock that you can use in different recipes. Homemade stock will taste even better than canned stock from the grocery store.
Here are More Large Family Dinner Ideas!
I have lots of large family dinner ideas including slow cooker meals, easy oven dinners, instant pot recipes, low carb dinners, and more!
Do you have more Instant Pot recipes?
Did you enjoy this Lemon Garlic Chicken electric pressure cooker meal? Because I have a ton more recipes in my shop! Check out my Large Family Delightful and Abundant 4-Week Electric Pressure Cooker Meal Plan Pack One, and the Large Family Filling and Wholesome 4-Week Electric Pressure Cooker Pack Two.Or make it easy on your budget and time and grab the DOUBLE BUNDLE that includes both Electric Pressure Cooker Packs packs one and two!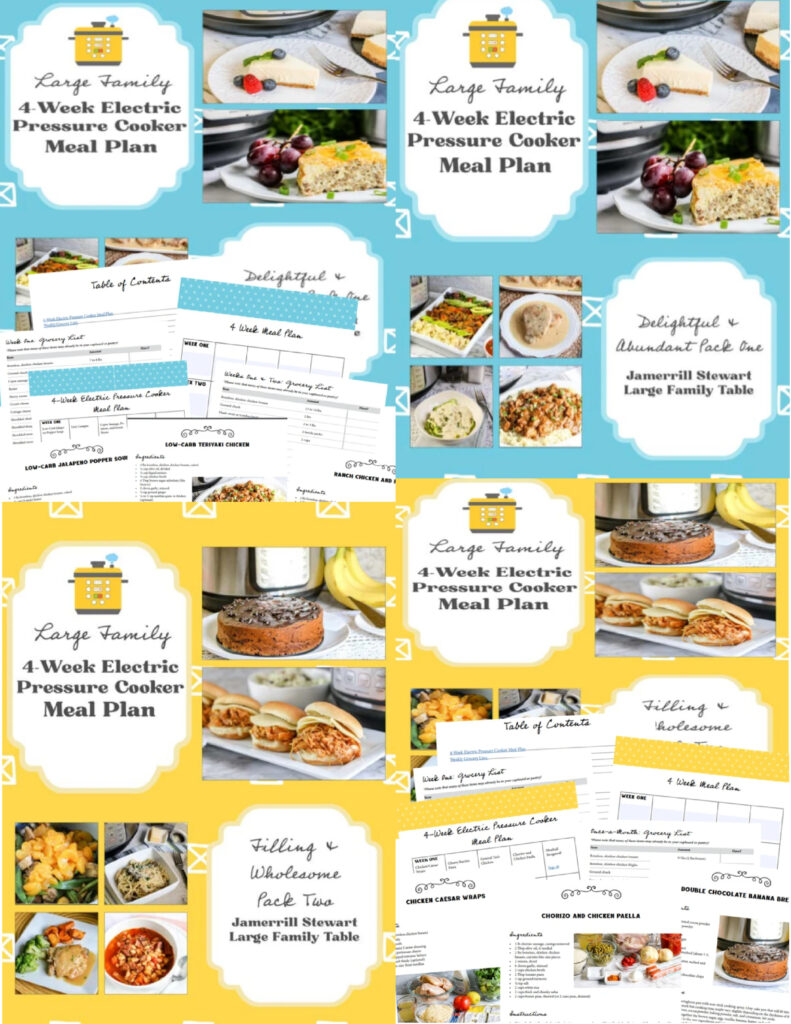 Large Family Instant Pot Whole Lemon Garlic Chicken
Print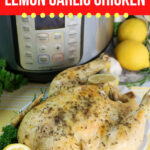 Large Family Instant Pot Whole Lemon Garlic Chicken
Author:

Prep Time:

5 Minutes

Cook Time:

48 Minutes

Total Time:

53 minutes

Yield:

1 Whole Chicken

Category:

Dinner

Method:

Instant Pot
---
Description
Never eat bland, dry chicken again when you follow this Large Family Instant Pot Whole Lemon Garlic Chicken. You can prepare a flavorful entree with ease using your Instant Pot!
---
Ingredients
4 to 5 pound roasting chicken, internal pieces removed and patted dry

1 tablespoon olive oil

1 cup chicken stock or water

1 lemon, halved

1 head garlic, halved

1 teaspoon dried rosemary

1 teaspoon garlic powder

Fresh rosemary, if desired

Salt and black pepper, to taste
---
Instructions
Pour one cup of chicken stock or water into each of the electric pressure cookers. Add the trivet.

Into the chicken cavity, place the garlic, lemon, and fresh rosemary (if using.) Pour the olive oil over the chicken and sprinkle with dry seasonings including salt and black pepper.

Place the chicken on the trivet.

Cover the electric pressure cooker, setting the value to sealing.

Program using "manual" or "pressure cook" for 25 minutes. Allow the pressure to release naturally for 15 minutes before quickly releasing the remaining pressure. Test the chicken for doneness with an internal thermometer, checking the dark meat between the thigh and breast for a temperature of 165 degrees. If the chicken is not done, replace the lid and program the electric pressure cooker to cook for an additional 5 to 10 minutes.

Meanwhile, place the oven rack in the lower third of the oven and preheat the oven broiler.

When the chicken is done, carefully remove the chicken from the electric pressure cooker and place on a rimmed baking sheet. Place the chicken under the broiler for 5 to 8 minutes, watching carefully until the chicken is browned.

Remove the chicken from the oven and allow it to rest 10 minutes prior to slicing and serving.
---
Notes
This recipe makes only one medium chicken. If you want to make enough for a large family you will need to make two chickens in two separate Instant Pots or make each chicken in the same instant pot at two different times. 
Keywords: Large Family Instant Pot Whole Lemon Garlic Chicken
This simple and classic chicken recipe tastes great and cooks up mostly hands-free for a busy mama. Throw in some veggies and potatoes and dinner is ready!
FREE Emergency Pantry Planning Pack!
Don't forget to sign up for the emergency pantry planning pack for free to help you plan your pantry meals! The free Emergency Pantry Planning Pack will help you plan your needed pantry items! Printable pages include pantry inventory, grocery lists, meal planners, list of pantry staple items, and more.