Offer your loved ones a flavorful and comforting side dish with this easy Make-Ahead Stuffing. It is delicious and goes with all kinds of incredible entrees, such as turkey and baked chicken.
When you have a large family, making some meals in advance is always helpful. If your children and partner enjoy stuffing, this Make-Ahead Stuffing dish will become one of their new favorites. You can make it days or weeks before serving it as a side dish with other tasty food items, such as meat and vegetables.
It is a comforting side dish full of flavor that goes with just about anything. Making it in advance simply makes the recipe even better because you can put it together in your spare time, freeze it, and then heat the stuffing when you want to have it as a side with dinner. Try adding this dish to our Slow Cooker Turkey Breast, our Low Carb Thanksgiving Stuffing, or our Instant Pot Ham.
****Use special promo code HELLO20 to take 20% off the entire MEGA DEAL get-it-all Bundle including the best-selling Large Family Freezer Meal Packs 1-12 + so much more!!****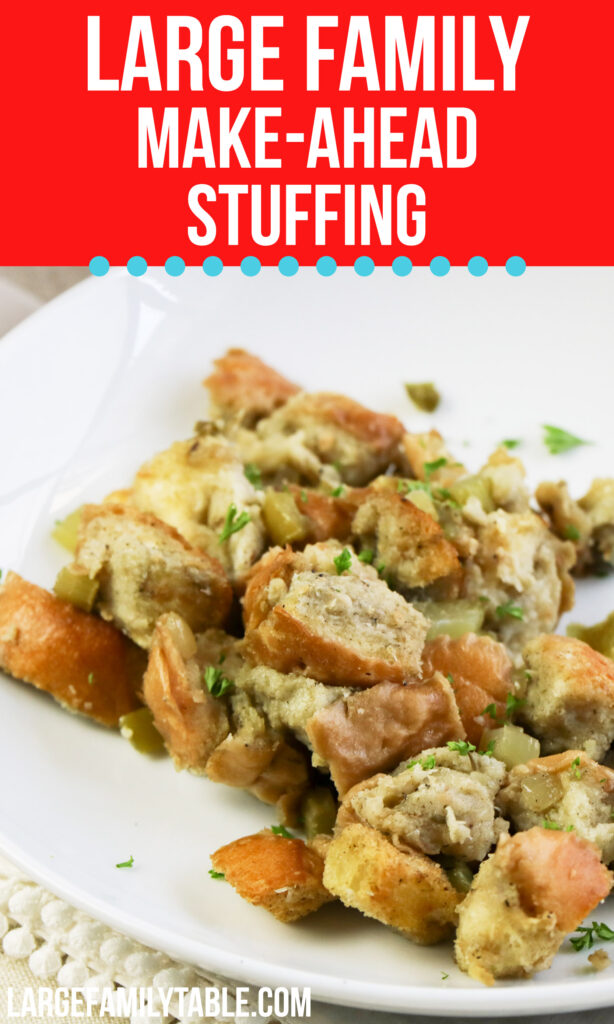 Which Ingredients Are Needed to Prepare Make-Ahead Stuffing?
The Make-Ahead Stuffing requires several ingredients. You should have the following items ready in your kitchen before you get started:
Cubed French Bread. Use cubed French bread to create a thicker and more enjoyable stuffing.
Butter. Adding butter to the bread will prevent it from becoming too dry and keep it as moist as possible.
Celery. The celery provides flavor and a bit of a crunch to the stuffing that gives it more flavor.
Poultry Seasoning. Use poultry seasoning to give your stuffing more flavor.
Bell Pepper. Adding small pieces of bell paper enhances the consistency and taste of the stuffing.
You should also have several seasonings to add to your Make-Ahead Stuffing, such as parsley and thyme.
How to Make-Ahead and Store Stuffing
Making the stuffing in advance is the most convenient part of this recipe. It will still taste good after you have stored it in the fridge or freezer. You must cover the stuffing in its dish with foil, making sure the foil is on tight. After adding the oil to the dish, put your Make-Ahead stuffing in the fridge, and keep it fresh for three days. You can reheat the stuffing by putting it back in the oven for a few minutes.
If you are making this stuffing for a holiday, you might need to store it a bit longer than three days. If so, you should cover it the same way you would when putting it in the fridge and place it in the freezer to stay good for a maximum of three months.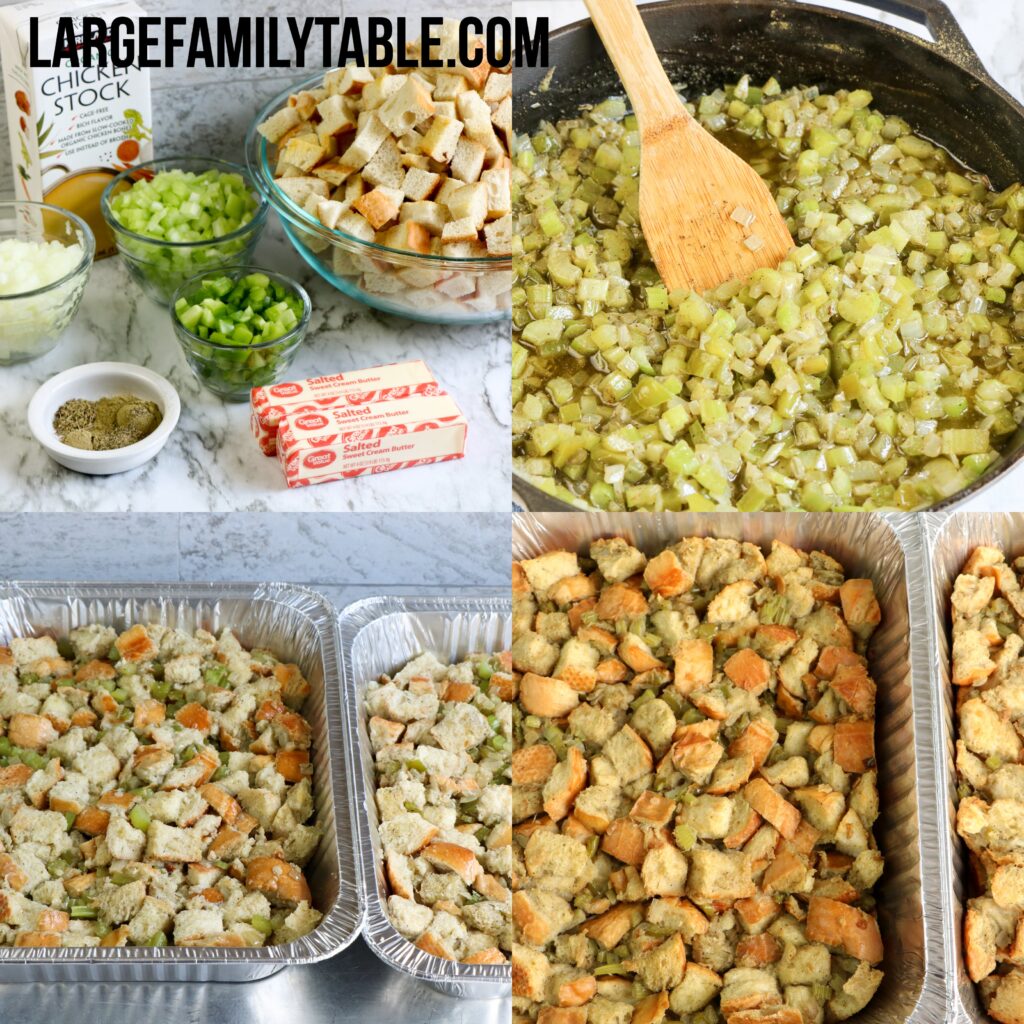 What to Add to Your Make-Ahead Stuffing
If you follow this Make-Ahead Stuffing recipe, you will have created a delicious side dish for your large family. However, you can adjust the recipe a bit and add more to your stuffing if you would like.
For example, you can add pieces of shredded carrot and chopped onions to the stuffing for additional flavor. You might want to pour a bit of turkey or chicken gravy on top of the stuffing for extra flavor. No matter what you decided to do with the Make-Ahead Stuffing, your large family will love its wholesome taste!
Need more ideas to feed your Large Family over the Holidays?
I am very excited to share this newest big-batch cookbook with you because I truly believe it will be helpful as you plan your family holiday get-together meals (or, really, any large family gathering where you need to feed a crowd)! In my Make-Ahead Holiday Meals to Feed a Crowd, you will find some of those wonderful and traditional holiday favorites like green bean casserole, stuffing, and gravy. But you also will get some "out-of-the-box" recipes that might just possibly become your family's NEW holiday favorites!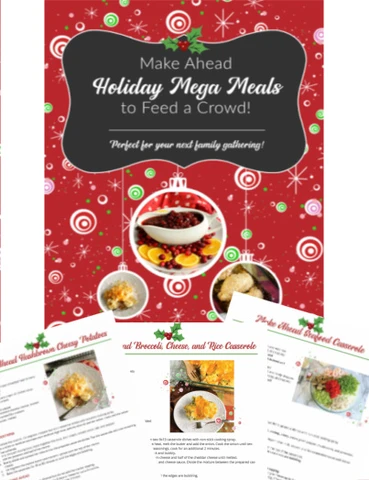 Here are more Large Family Make-Ahead Meal ideas!
Large Family Make-Ahead Stuffing that's Freezer Friendly
Print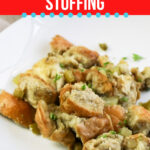 Large Family Make-Ahead Stuffing that's Freezer Friendly!
Author:

Prep Time:

25 Minutes

Cook Time:

45 minutes

Total Time:

1 hour 10 minutes

Yield:

2 9×13 Casserole Dishes

Category:

Dinner

Method:

Oven
---
Description
Offer your loved ones a flavorful and comforting side dish with this easy Make-Ahead Stuffing. It is delicious and goes with all kinds of incredible entrees, such as turkey and baked chicken.
---
Ingredients
2 large loaves french bread, cubed

1 cup butter

2 onions, diced

4 stalks celery, diced

1 bell pepper, seeded and diced

1 tablespoon salt

2 teaspoons poultry seasoning

½ teaspoon ground pepper

½ teaspoon dried thyme

½ teaspoon dried sage

4 cups chicken broth, or as much as needed.
---
Instructions
Preheat the oven to 350 degrees. Prepare two 9×13 casserole dishes with nonstick cooking spray.

Line two large baking sheets with aluminum foil. Top with the cubed bread and bake for 15 minutes or until toasted, stirring often to keep from burning.

In a large (12 inch) skillet over medium heat, melt the butter. Add the vegetables and cook for about 10 minutes, stirring often. 

In a large bowl, add the toasted bread, vegetables, and seasonings. Pour enough of the broth over the mixture to moisten. 

Divide between the two casserole dishes and bake for 45 minutes.
To make ahead:
Cover tightly and refrigerate up to 3 days or freeze up to 3 months. 

For best results, thaw the casseroles overnight in the refrigerator before baking as directed.
Keywords: Large Family Make-Ahead Stuffing
This Make-Ahead Stuffing is the perfect dish to serve at your next holiday because it saves you so much time! It's also delicious and a holiday classic so you just can't go wrong!
FREE Emergency Pantry Planning Pack!
Don't forget to sign up for the emergency pantry planning pack for free to help you plan your pantry meals! The free Emergency Pantry Planning Pack will help you plan your needed pantry items! Printable pages include pantry inventory, grocery lists, meal planners, list of pantry staple items, and more.