Realistic Large Family Meal Planning Using Freezer Meals
You can use the freezer full of freezer meals you make with your large family freezer meal packs to make mealtime enjoyable every day! Snag your large family freezer meals bundle here.
DON'T MISS the entire ULTIMATE SUPER MEGA Large Family Freezer Meal Packs 1, 2, 3, 4, 5, 6, 7, 8, & 9 here and use special promo code HELLO20 to take 20% off your first order! EXCITING, Brand new packs 7 & 8 are low carb and pack 9 is by special request Dairy Free!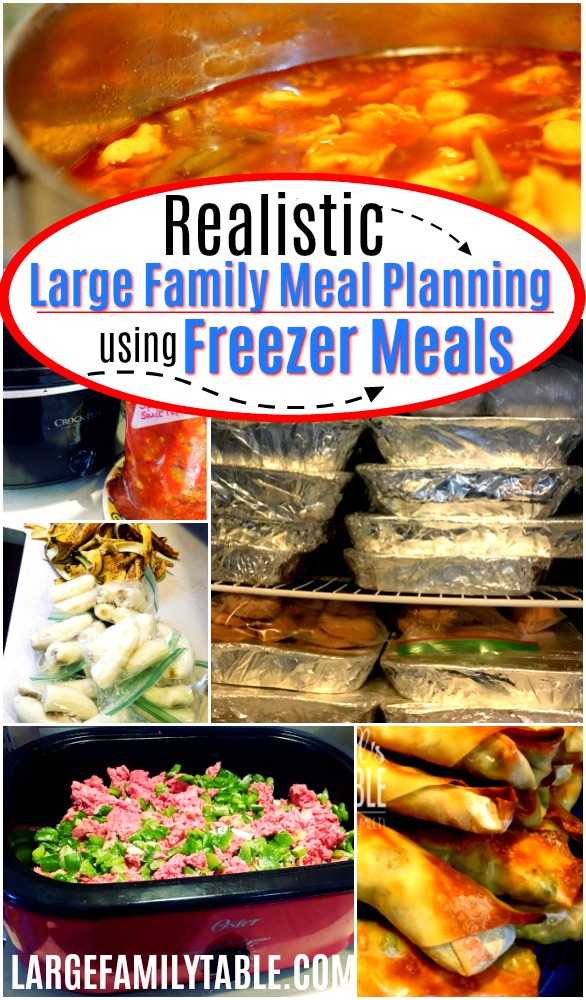 We've been chatting a lot about making freezer meals for a large family over the past weeks. We talked about the best freezer cooking methods to fill your freezer fast, 10 amazing benefits of having large family freezer meals, and 5 tips for grocery shopping for your large family freezer cooking day.
Today we're going to take two of my favorite topics, both large family meal planning and making large family freezer meals, and discussing realistic large family meal planning options using freezer meals.
Large Family Meal Planning Basics
If you're new to the world of large family meal planning, welcome! If you're a seasoned pro you still might find a few ideas you'd like to take for a spin. There are some pretty standard methods of meal planning that I've used over these last 20 years as our family has grown. There's weekly meal planning where you plan out the meals your family is going to eat for the next 7-days. There's bi-weekly meal planning in which you plan out your family's meals for the next 14 days. Then there's monthly meal planning where you plan out a month of meals at one time. Whichever way we plan it, as moms with lots of kids we know there's a lot of food to shop for, haul home, plan out, cook up, and serve.
Some moms make a collection of weekly meal plans and rotate those for variety. Other moms keep their meal plan in the Evernote or Notes app. There are moms who use Large Family Freezer Meal Plans to fill their freezers fast. Whichever way you choose to meal plan for your family working in freezer meals is additionally helpful!
For further inspiration here are all of my large family meals plans plus here's a fun post on my large family meal planning system for the month from several years ago.
Large Family Meal Planning Using Freezer Meals
There are endless ways you can meal plan using freezer meals. Use them for every meal, plan to use them a few times a week, keep a stash just for real life unexpectedness. Make them work for you and your family's current season!
Every Meal Is a Freezer Meal
When I was pregnant last summer with baby number eight, Benjamin David, I knew by experience that by the time I reached my 3rd trimester I'd have more rest days than not. There would be days I'd sleep in until 10, waddle around in slow motion with the kids for a few hours, then I'd be right back to lay down and resting by 2, or 3, or 4 – it just all depended on the day and my body.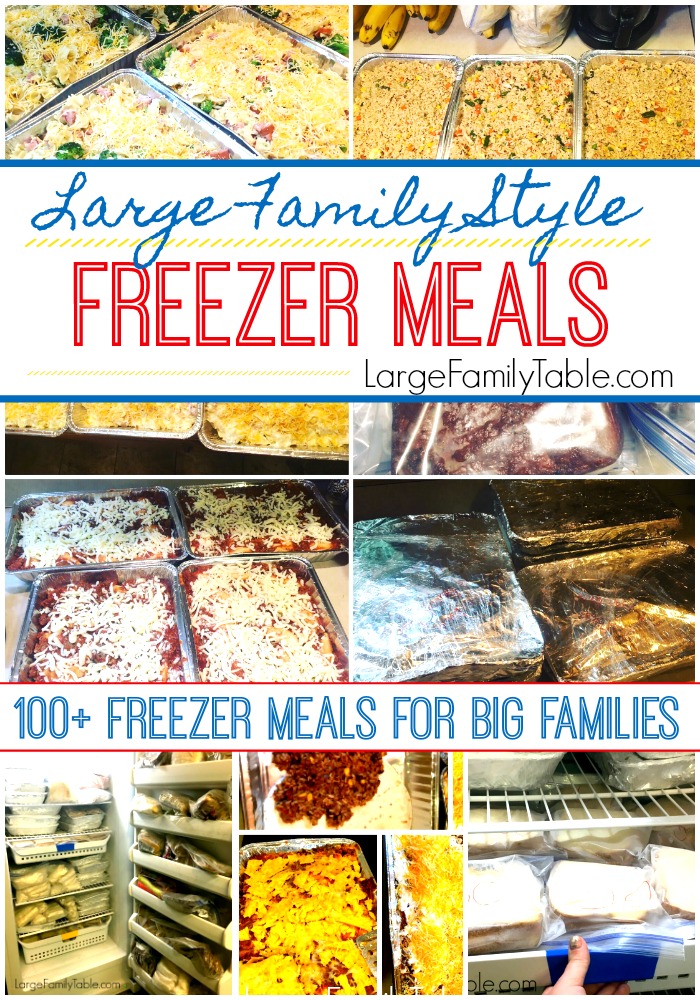 About the only thing I did accomplish at the beginning and middle of my 3rd Trimester (besides growing a healthy baby and taking lost of naps) was stashing away a bazillion large family freezer meals. Granted making these freezer meals took me several days of working a few hours each day to complete. I'd freezer cook for a few hours, take a long nap, then get back on it again later that day. But let me tell you, it was so worth it. For the last 4 weeks before the baby and for a good 4 weeks after the baby, all of our meals were freezer meals. Sure we'd have a 40 lb box of bananas and other fruit to go around. But breakfast, lunch, and dinner for that entire 8-10 week time were meals I had prepped and jam-packed in our freezer. It was glorious!
Here's the Mega Freezer Cooking I completed during the beginning of my 3rd trimester where I made 26 dinners, 21 breakfast, and 16 lunches. And don't miss the 2nd large family freezer cooking push I did in the middle of my 3rd trimester where I made 100+ big family freezer meals. This included over 40 large family dinners, 44 freezer meal breakfasts, and 22 large family lunches!
You don't have to be having another baby to fill your freezer full of super helpful freezer meals! I share more below on how I currently use up a freezer full of food.
Freezer Meals Several Times a Week
You can give yourself a break in the kitchen by planning freezer meals on your meal plan two, three, or even four times a week. This still gives you nights to cook fresh, try some new recipes, or let the hubby grill on the deck. Plan to use your freezer meals on evenings when you know you won't be able to put in a lot of time in the kitchen. Freezer meals don't have to be what's for dinner every night, but then again they can be – whatever works for you!
Freezer Meals Just for Specific Meal Times
Are mornings where you need the most help? Dinner time is under control and lunch is not a problem? Fill your freezer full of easy breakfast options to make your mornings run smoother. If mornings and lunches aren't the issues, but dinner time seems to be where life goes off the rails, cook up a bunch of homemade dinner freezer meals to lighten your load and make dinner time a blessing again.
Freezer Meals are Just for Emergencies
If you're just not sure where to put freezer meals in your meal plan, or you enjoy getting in lots of time in the kitchen each day, you can always cook up a stash just for those unexpected real life times when there's no time to think but people still need to eat. If you put a few meals away in the freezer for such a time as this, chances are more sooner than not you'll eat that freezer stash down to nothing.
My Personal Current Large Family Meal Planning System
You can read here where I share my current large family meal planning system that I call "wide sweep then drill down deep." In short, I still bulk shop for 4-6 weeks at a time with my large family once a month grocery shopping – that's the wide sweep. Then I meal plan for breakfast/lunch/dinner/snacks for each week based the food I have prepped and available along with our weekly calendar and real-life events – that's the drill down deep because I'm drilling down to every. single. meal. You can also see a sample of my One Week Large Family Freezer Meal Plan here.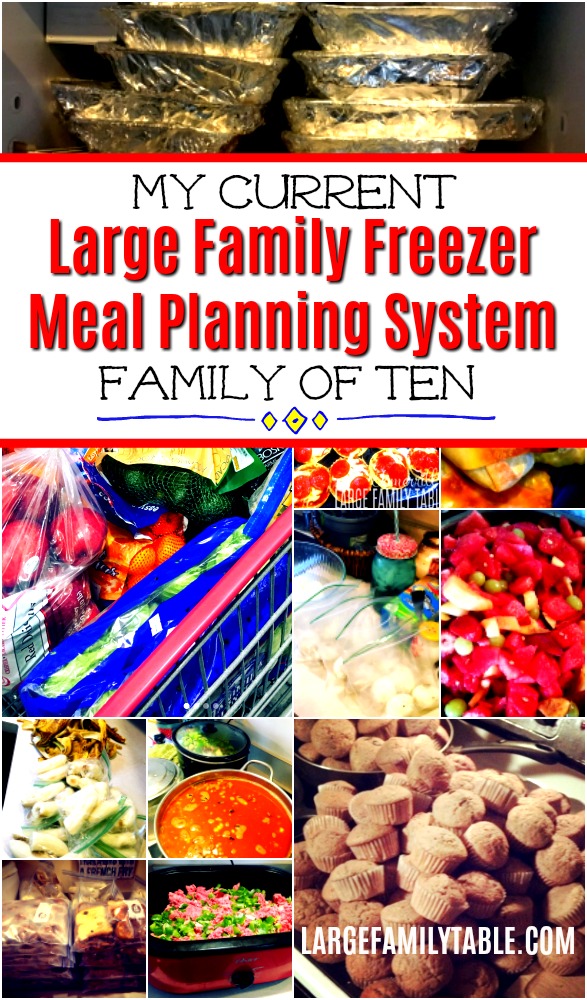 My hope is this post has given you many new large family meal planning ideas using freezer meals to lighten the load. Please share in the comments how you make freezer meals work for you!
Don't forget that the Large Family Freezer Meal Bundle including packs 1, 2, 3, 4, 5, 6, 7, 8, & 9 including brand new low carb & dairy free packs, too!