Quick note from Jamerrill: Friends, as we roll into the New Year I think we can all get a good chuckle out of my friend Tauna's post today. She shares some funnies that will help us laugh at ourselves plus reminds us of an all-important truth. Enjoy her post below!
Tauna from ProverbialHomemaker.com shares,
When you begin having enough children to be considered a "large family mom," you start to get some interesting looks and comments. Like you're crazy. Or Super Woman. Or a saint. Or just crazy. What they don't know, is that really you are all of those things and none of those things. It just depends on the day!
As the New Year rolls in I can't help but think of what kind of unrealistic expectations others put on us (and that we sometimes put on ourselves) and decided to make a list of UN-resolutions. That's right – this is my list of things I am letting go of this year.
Care to join me?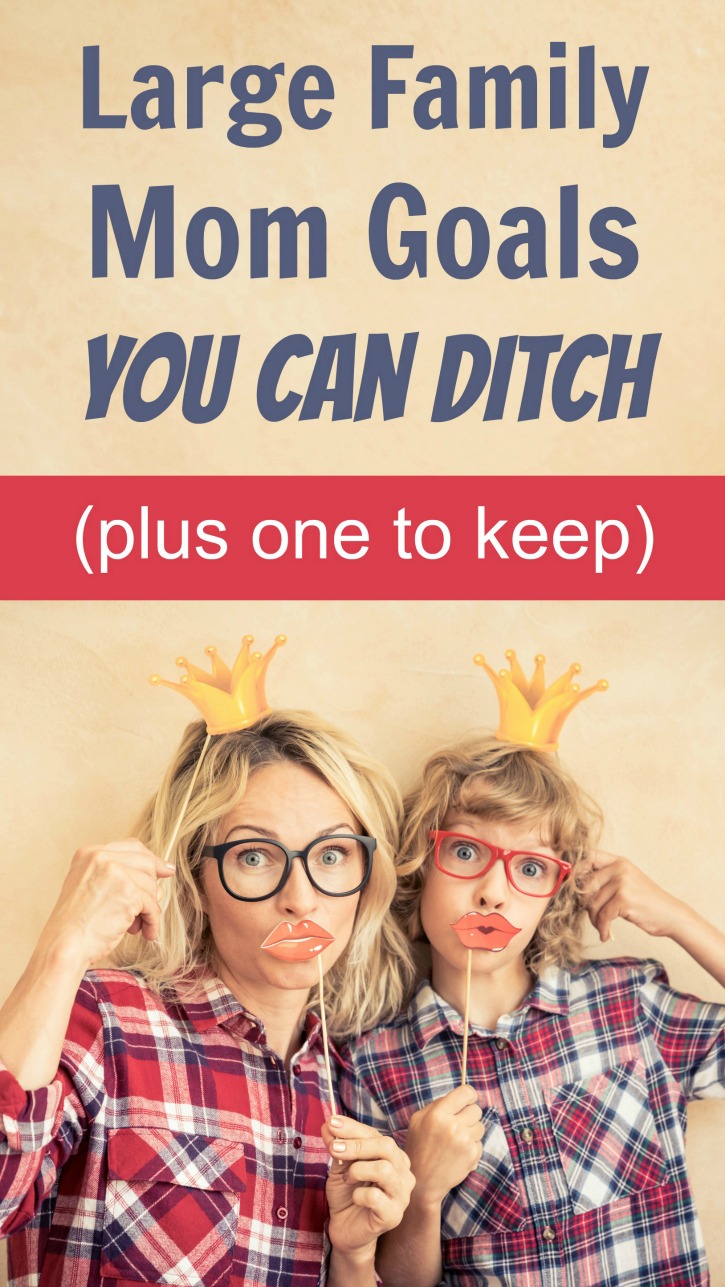 Large Family Mom Goals You Can Ditch (plus one to keep)
Keep up with Journals, Albums, and Scrapbooks
Our mental list of to-do's in this category is staggering! The first two or even three kids might get special pre-birth videos made, journals with your thoughts and prayers, memory boxes, photo albums, pregnancy and baby books, and more.
But now there's a whole mess of kids and it's plain hard to keep up! Lower the bar, my friend. Sure, do some things to capture these memories you're always busy making, but don't stress over it! If I'm on my game, I use digital scrapbooks, Facebook posts, and online calendars to mark special thoughts and events. But most of the time I'm doing well if I can just manage to snap photos! I'm ok with that.
Have a Witty Reply to Every "Are They All Yours?" Question
You know the ones. "Are they all yours?" "Do you know how that happens?" "Are you having more?" The strangers in the grocery store always want to know.
Although amusing, all the witty comebacks we might want to indulge in are just about as crazy-making as the questions themselves, and who has time to dwell on such things? Just try "we love our kids!" It's a gentle answer that is easy to remember and changes the conversation for good. You know Proverbs 15:1? I like to think of it as "A gentle answer turns away MY wrath." Lol!
Be a Paradigm of Patience
Since everyone else thinks you're Super Mom who has it all together and is SO patient with all your kids, maybe you should live up to that standard, right? No pressure.
Although growing in patience is definitely worthwhile, don't compare yourself to everyone else's unrealistic assumptions about what a large family mom should be. Rest in the fact that the Lord is still working on you and don't think you're a bad mom just because you had a bad moment. Instead, apologize well, hit the reset button, and pray for that patience you need.
Keep an Immaculate and Organized Home
I get it. You become frustrated with the clutter and get a bug in your ear to "get things under control," resolving to keep a clean and organized home from now until the end of time. That would be a great idea if nobody lived in it! But they do. A LOT of them do.
So make friends with "good enough" and aim for a level of cleanliness and organization that allows you all to enjoy your home and do what needs to be done. Get your house in order, but go of perfection!
Meet Everyone's Needs at All Times
First of all, not going to happen. Not only is it impossible to meet everyone's physical and emotional needs, but it isn't a good aim to strive for! Yes, we want to nurture our individual relationships with each child, and we want to tend well to our marriage. But part of being a family is helping to meet each other's needs.
Teach your children to perceive needs and serve each other with glad hearts. Then begin teaching them that the Lord truly supplies all our needs, instructing them by guidance and example to turn to Him when they are struggling.
Have a Peaceful and Quiet Home
I don't know about you, but I have 4 boys in my brood! Peaceful and quiet aren't the first words that come to mind. The truth is, large families (especially those with young kids) are loud, whether happy, sad, or otherwise.
Embrace the loud, and work in quiet pockets where you can. It's ok to take 5 in the bathroom just to escape the din. Or do like I do and set a time block in the middle of the day for quiet/nap time so mom doesn't lose her mind. (Too late, they say, hahaha)
Remember Things
That's all… just remember things. You know, things like what you were doing just now, where you put your coffee, what you were talking about, and what your kids' names are the first time.
Sound far-fetched? It is for me, too!
Be on Time
Ok, this one I'm actually working on this year because it drives me crazy to be late, and yet it happens almost every time. Get everyone's shoes, coats, waters, diapers, and whatever else they need… and in what seems like eleventy hours later we're on the road and I'm stressed out because we're late again.
Share your secrets in the comments! I'm all ears. Here's a super secret mom hack that IS working for me lately: Put them in their Sunday clothes BEFORE they go to bed. Mine are all 10 and younger so it seems to work pretty well. I stopped short of having them put their shoes on, but it was tempting.
Give Up Coffee
Ha! Just kidding. 🙂 (Please don't cry.)
Catch up on the laundry
Also not going to happen. Laundry is a constant for us, like time and gravity. We stay mostly on pace with our laundry system by doing a load a day and then extra on Saturdays. If you have a fantastic laundry system to share, please do!
Get More Sleep
Hello Fatigue, my long-time friend. Taking care of ourselves is important, but I often say that parenthood and fatigue go hand-in-hand. Each age and stage comes with its own challenges, whether keeping them in bed (please, just stay in bed) or late-night talks with the teens. We have learned to accept it, to some degree, and find rest where we can!
The one to keep: Sit at the feet of Jesus
Whether your list of UN-resolutions looks just like mine or completely different, I hope we can settle on this one together as the MUST do of the year.
The most worthwhile thing we can do, dear moms, is sit at the feet of Jesus. No goals, resolutions, or One Word challenges compare. This mom journey is as important as it is challenging and nothing will equip us for the task like keeping our eyes on Christ. May we prioritize our time and energy in this above all else, meditating on His Word and spending our days in prayer!
Have a blessed year!
---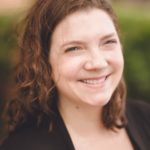 Tauna is a Jesus follower, wife, mom, [domestically challenged] homemaker, homeschooler, and writer. Her passion is to help women pursue God's call on their lives (no matter the learning curve) and rely on Him to equip us for the task!
You'll find her at ProverbialHomemaker.com, bringing you encouragement and tools for your journey.