Note from Jamerrill: I know as a large family mom it can be very hard to have a moment to ourselves. This is true for all mommas, but of course, moms of large families take things to a whole new level of fun. My friend Tauna is sharing with you today how she has creatively developed her personal morning quiet time routine as a mom of six. I hope her thoughts encourage you! ~ Jamerrill xoxo
Large Family Mom Morning Quiet Time Routine
"I am going to make it a priority to have quiet time with the Lord every morning!" I said. On New Year's Day.
Day 1. 
Determined, I got up early the next morning, Bible in hand, and started down the hall. However, our hall floors are so squeaky that I looked like a page straight out of Dune, trying to tiptoe wildly across the sand in an intentionally random way so as not to wake the giant sand worms. Bible flailing, legs stretched to avoid squeaky boards, I slipped up once and it was all over: 5 doors immediately opened and my children's smiling 6:30 am faces were staring at me.
Day 2. 
This time I made it past the gauntlet. With a sense of accomplishment, I made myself some coffee and went to the couch to read. Little did I know there were booby traps. I took a square step on a few well-placed legos and then silent screamed, making a face-plant into the couch to avoid waking up the household. Crisis averted. That is, until the coffee pot beeped to say it was done, and 5 smiling 6:30 am faces rushed downstairs to join the fun.
Day 3. 
The alarm goes off and instead of even trying this time I decide to lay there and read the Bible app on my phone. Which if a fantastic idea except that Facebook is also on my phone. So is email. 30 minutes later I'm reading a feed instead of God's Word.
Day 4. 
I hit snooze.
Day 5. 
I forget to set my alarm from then on out, and only occasionally remember what my desire had been for morning quiet time. Cue the guilt.
Sound familiar?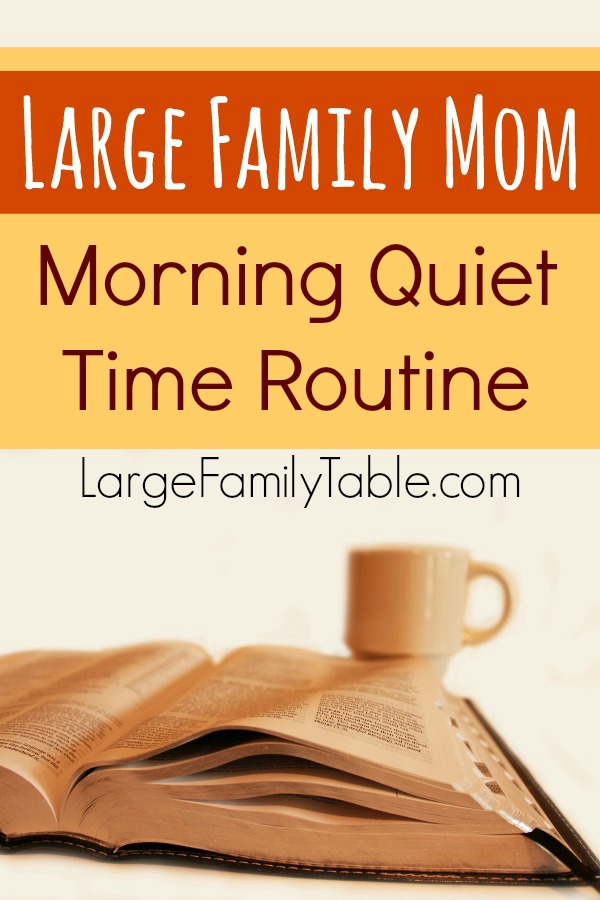 We Know Morning Quiet Time is Important
We are often told that we should make time for morning quiet time with the Lord. We smile and nod, knowing it's absolutely true but completely unreachable. At least, that's how I felt for a long time. It was frustrating and embarrassing. I have 6 kids, I'm not a morning person, I can't seem to carve out the time, I lack self-discipline… something was always going wrong.
However, I've learned some things over these past years that have really helped me overcome these hurdles and develop a consistent morning quiet time. So today I'm going to share a peek into my real-life imperfect large family mama morning quiet time, plus some key steps to creating a morning quiet time that YOU can actually do!
Real-Life Large Family Mom Morning Quiet Time
Want to know what my morning quiet time looks like now? Here's a peek into my day:
The alarm goes off
If I'm up for it I pull the folding workout bike from the closet and workout in the bathroom (yes, you read that right)
If the workout isn't going to happen,  I go right for the shower
I fill and the electric tea kettle that's in my bathroom (yes, you read that right, too)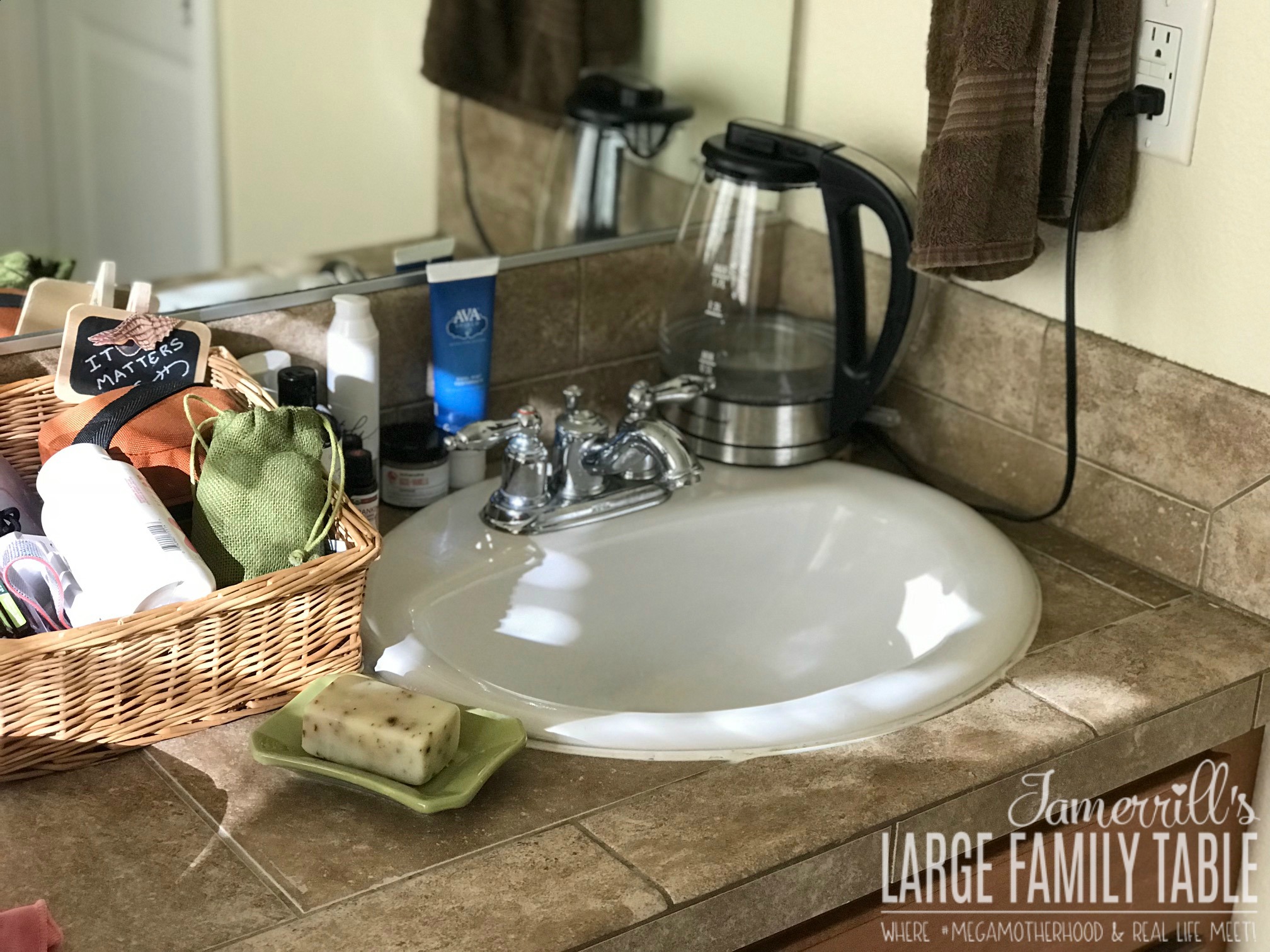 I get dressed, make my tea, and grab a breakfast bar from my stash
I head to the hallway and sit in the rocking chair
I grab my Bible and study workbook from the bookshelf next to me (which also doubles as a diaper changing station)
I read, pray, and meditate on God's Word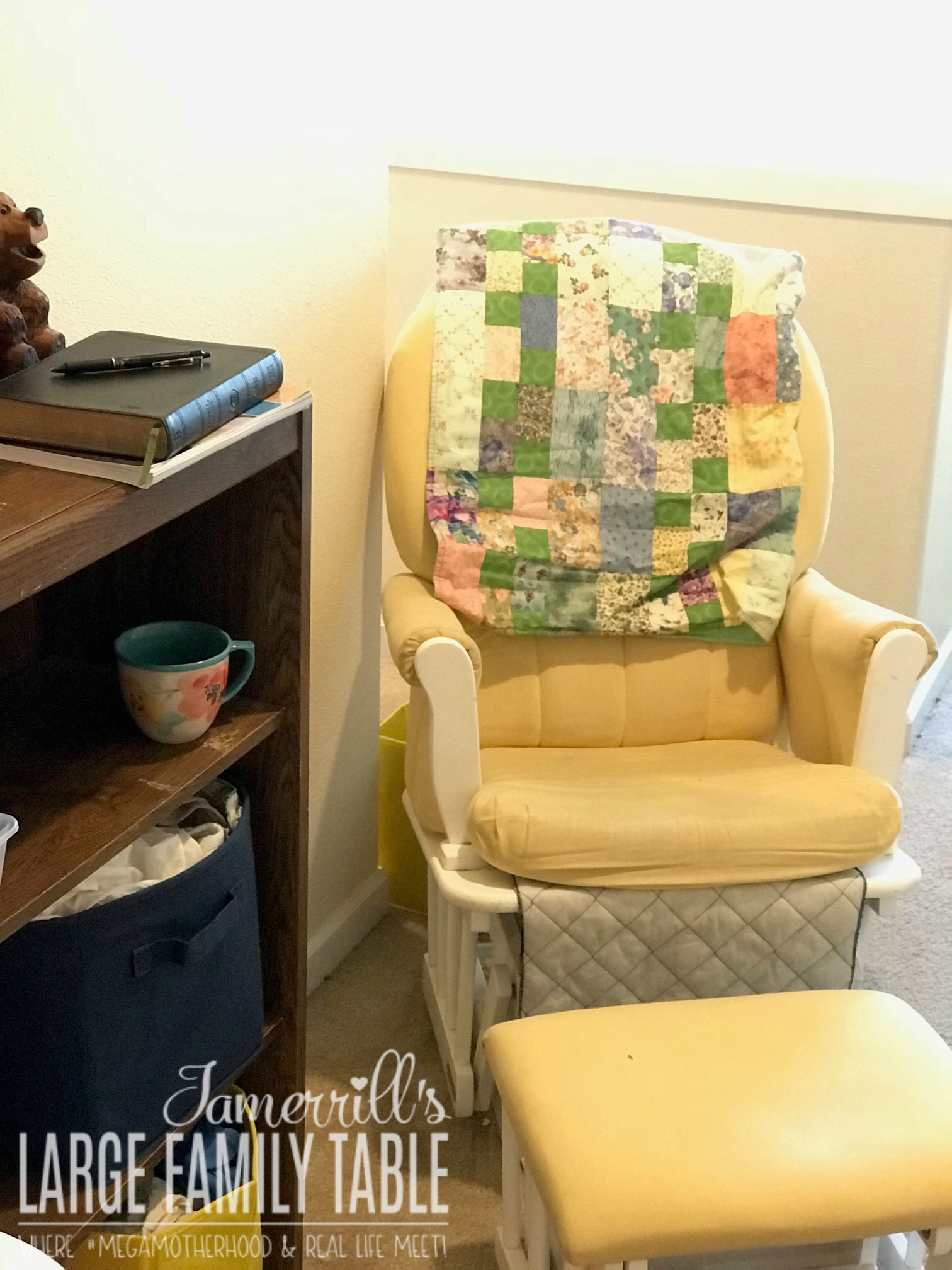 Every 15 minutes or so I tell the 5-year-old to go back to his room until the light turns green (they all have a clock in their room and can get up when it's 7:30. The littles' clock turns green at that time)
When 7:30 arrives, they come out to see mama reading her Bible as usual, and we go downstairs together
Eeyore and I drink coffee – Lots and lots of coffee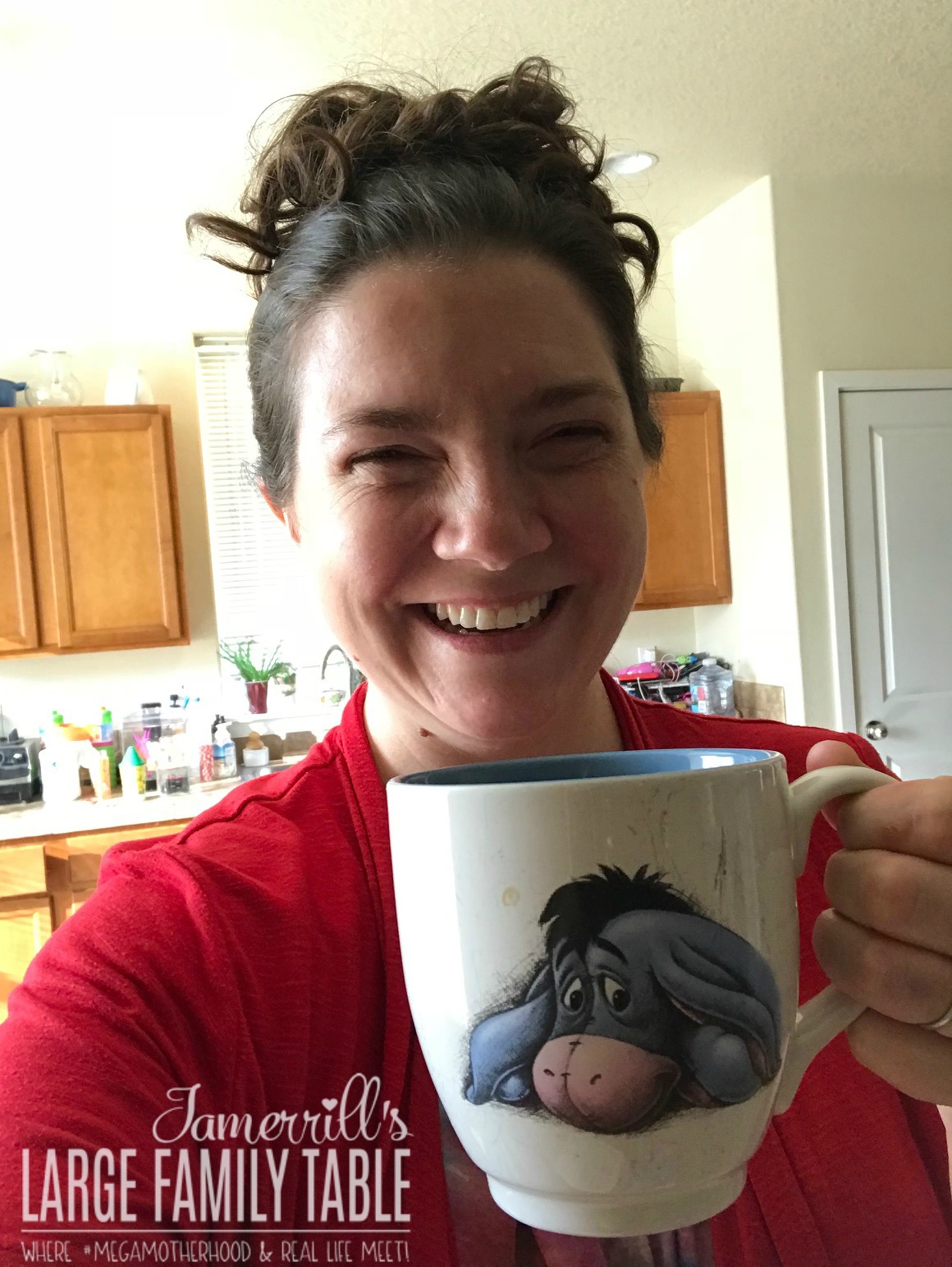 Is it perfect? No. Is it kind of weird? Probably, but who cares?! It works, which means that more often than not I start the day with God's Word and a Christ-centered focus. Plus, a shower, which is a nice bonus.
Crafting Your Own Successful Large Family Mom Quiet Time Routine
There are two major obstacles we face in developing a quiet time routine that really works. First, self-discipline. I'm sorry – we all know it's true so let's just get that out of the way.
The second challenge is key, however, and I think we can often make self-discipline more successful if we can conquer this. What is it? Our assumptions about what quiet time is supposed to look like. 
We often have this ideal in mind of what the proper morning quiet time will look like if we are really doing it right. For busy large family moms, especially those of us who are night owls or are in a limiting season of life, that vision will most likely get in the way of success rather than spur us toward it.
Here are a few important points I want you to keep in mind when it comes to developing your own quiet time – these are things that will help you get past those assumptions to something that will work for you!
Proactively Overcome Obstacles
Write down a plan for a morning quiet time. Then think of all the things that could go wrong. For each of those things, think of an adjustment you could make or some way you could prepare for that. As your routine evolves, continue evaluating pitfalls and plan for success!
Examples:
You left your Bible in downstairs. Get a second Bible that stays where you do quiet time. 
Your phone distracts you. Buy a regular alarm clock and leave your phone in the kitchen. 
Don't know what to read. Pick a reading plan. Set plan B to always be reading the Proverb chapter corresponding to the day of the month.
Think Outside the Box
Sometimes that proactive problem solving means coming up with ideas that don't fit that vision we talked about. Ask your husband for some ideas if you're stuck! He might suggest something crazy like putting a tea kettle in the bathroom and then you realize it's a crazy kind of brilliant that just might work.
Be Flexible and Adapt
You WILL need to make adjustments to keep a morning quiet time that is consistent. Such is life with children! When things fizzle out or you just lose your groove, don't give up! Pick up where you left off, figure out what to tweak, and try again.
Progress Not Perfection
If you're just not there yet with a morning time routine, do not let that get you down. There are times when I've chosen to give myself grace and choose to focus my energies on just one thing that would draw me to Christ each day, such as memorizing scripture, praying through the Word, or listening to the Bible on audio during the day.
Need more ideas?
Bottom Line: We Are All Desperate for Jesus
I hope this encourages you, dear mom! Our goal isn't to perform a picture-perfect quiet time. Instead, our goal is to come to the foot of the cross each and every day. Whether gracefully or stumbling, it really doesn't matter. What matters is that we are faithful to keep seeking Him above all things.
May the Lord bless you in your efforts and help you to see what your quiet time with Him can be!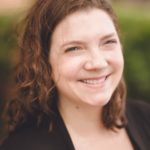 Tauna is a Jesus follower, wife, mom, [domestically challenged] homemaker, homeschooler, and writer. Her passion is to help women pursue God's call on their lives (no matter the learning curve) and rely on Him to equip us for the task!
You'll find her at ProverbialHomemaker.com, bringing you encouragement and tools for your journey.