Large Family Spring Cleaning and Decluttering Project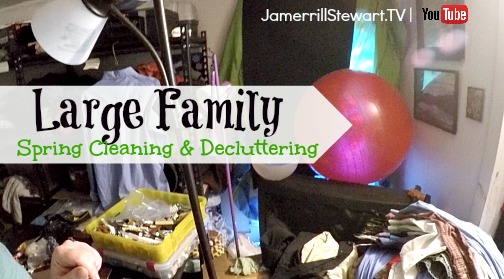 In today's video I share about our Large Family Spring Cleaning and Decluttering project day!  Now don't be scared. I share the mess under our kitchen cabinets, the pantry, and our make-shift clothing closet, and even the bookshelves beside my bed. I'm sharing our decluttering day to encourage you that we all have messes and sometimes it's worth it to take a day to deal with those messes. 
Large Family Spring Cleaning and Decluttering Project Day Video
The end result is we filled eight 33-gallon trash bags full of clothing and household items to donate to our local thrift store.  Jadin got our pantry cleaning completely done. Meanwhile Zion cleaned and reorganized our lower kitchen cabinets. Naomi worked on purging toys in her bedroom. I hit our clothing hard and worked on the seasonal clothing switch out (Lord help us all!).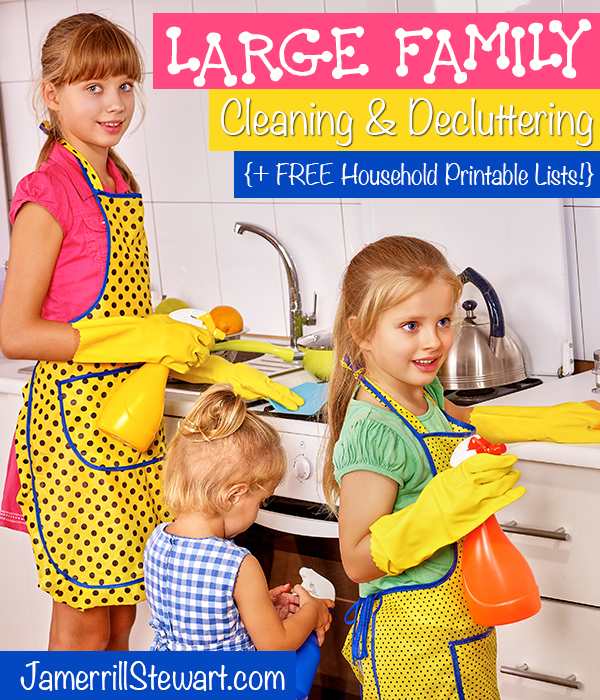 You'll see in the video there are several other areas I need to purge and declutter in our old farm house. We'll get there. It's a process and I'm thankful to share the journey with you. My helpful tip is to take a dedicated day with a new box of trash bags and tackle those areas that are weighing on your mind. Purge, clean out, donate, and weed through the messes.
*affiliate links included* For more inspiration here's a huge list of FREE Printable Household Cleaning Checklists!
What areas do you need to work on purging and decluttering in your house?  Share in the comments below! 
And if you've noticed this video and article are on my JamerrillStewart.com site. I'm finding that my articles and YouTube videos on JamerrillStewart.TV get easily lost amongst the thousands of homeschool freebies, homeschooling deals, and homeschool resources on my other blog, FreeHomeschoolDeals.com.
Several viewers have asked me to just started another site to house my encouraging articles. I've played around with this JamerrillStewart.com site over the last year. I think I finally have a vision pulling together. So for now, and thanks for being my friend and sticking with me, I'm going to start publishing *Jamerrill specific stuff* here on JamerrillStewart.com – encouraging moms in motherhood, homeschooling, and big family life. All of the awesome homeschool freebies, deals, and resources continue with the party that is a *big hot homeschool mess* on FreeHomeschoolDeals.com. And somehow we'll hang out and enjoy all the fun in-between.
M'kay?  Confused?  Good, that makes two of us, lol! 😉
Be sure to subscribe to JamerrStewart.com to get updates so you never miss an encouraging post or video about motherhood, homeschooling, and big family life!