Quick note from Jamerrill: Today Clarissa is sharing her large family mom strategy of having a weekly catch up day in her family's routine. This is a very helpful idea that you might like to implement during different seasons in your family life. Clarissa has 8 children, including two with special needs. Below she shares how a catch up day makes it all work! ~ Jamerrill xoxo
Having a weekly catch up day helps us stay mostly on track in our home and school as a large, busy family. I thought I'd share how that has been working for us for the last few years.
I have shared about our large family homeschool schedule over the years, why we transitioned to year-round homeschooling and our current homeschool schedule. But, I wanted to share more details about how a typical week looks for us as a large family of nine.
We currently have seven children ranging in age from 3 to 12. Two of our children have serious medical and special needs including global developmental delays – you can read how I homeschool our disabled children HERE.
For our other five – typically developing – children, we try to maintain a more structured homeschool day & week. Homeschool moms know that incorporating household chores and family time into our schedule/routine is a matter of reality.
We have a revolving routine and to-do list in our home. Our entire family works best with a consistent routine, which provides stability in our somewhat chaotic life.
From our seven-day simple meal plan to our daily chore list, we are quite repetitive in our home. This helps balance our often crazy medical rollercoaster ride!
Large Family Weekly Catch Up Day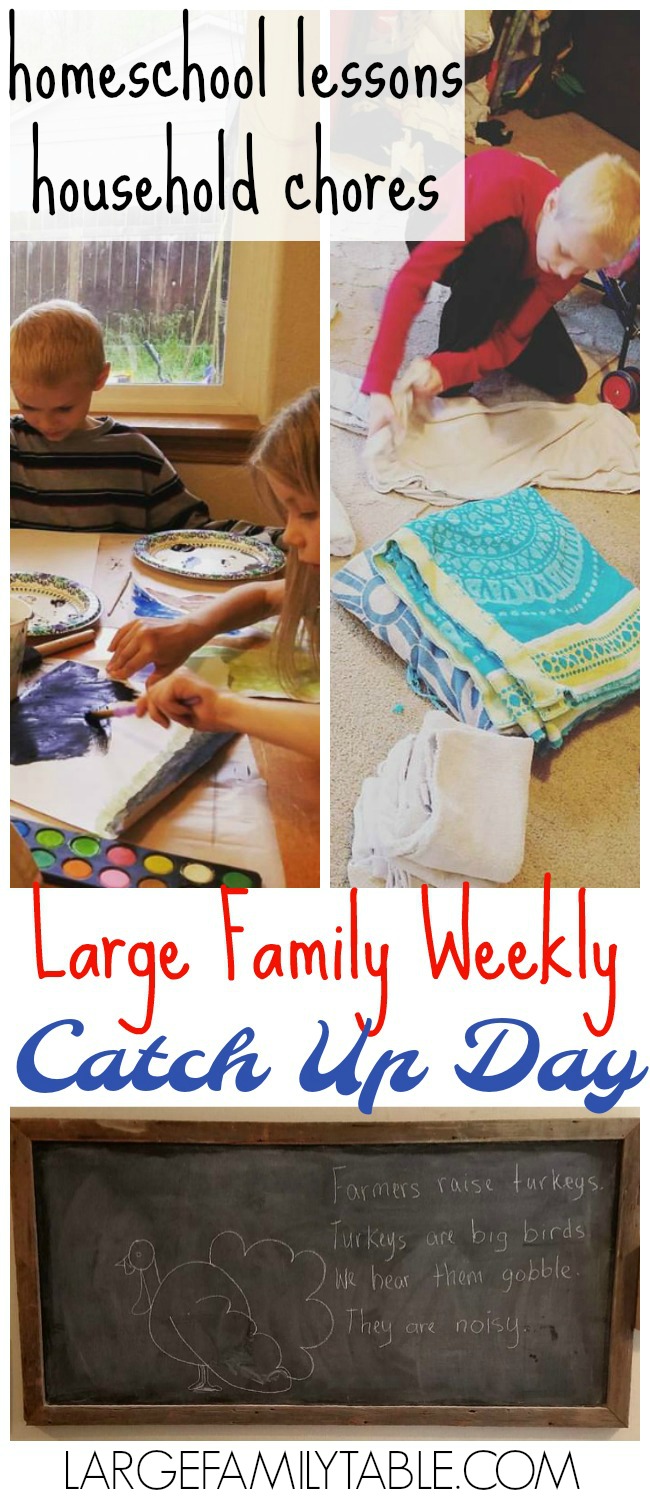 We have chosen one day per week to do our catch up. This includes getting caught up in our homeschool lessons and doing our fun electives, and it also means getting caught up in our household chores like laundry.
We do all of this on Fridays when my husband is still at work because we like to reserve Saturdays & Sundays for family time that includes Dad! This has worked well for us for the last few years.
What Our Typical Large Family Week Looks Like
On Monday through Thursday, we do our regular homeschool lessons and household chores. This includes Bible reading, math, language arts, science, history lessons, and us working together to keep our home comfortable by doing the dishes, washing clothes, vacuuming, and emptying the garbages. I also spend an hour or so working on my laptop in the living room most afternoons before making supper.
Our Bible reading continues through the weekend, but we don't do any math, language arts, science, or history unless we need to get caught up. Often, we do need to get caught up in our history reading.
On Fridays, we do our art lessons, music lessons, and extra household work. In addition to hiring my younger sister to do my weekly cleaning, my children and I try to get our mountain of clean laundry folded, something purged – decluttered – organized, and I spend a few more hours working.
Yes, I hire someone to clean my house for 2 hours every week. I simply can't do it all, and I have the means to hire my sister to help, so that's what I do.
Having all 8 of my children within 9 years time means that for a long while I was simply way too busy caring for several little children to do it all! And as I added more "students" to our homeschool, I finally realized that I needed help – and I chose to get help with cleaning since I enjoy cooking for my family and teaching/caring for my children.
I believe in having my children help with household chores, and things have gotten easier over the years as they have grown up, but hiring a cleaner gives me the brain power and time to enjoy my kids. I have been very thankful for the help the last few years!
So, my sister cleans for 2 hours most Friday mornings while we get caught up on homeschool or whatever else. Some Fridays my kids listen to Adventures in Odyssey, or I read to them while they fold their clean clothes, or I get some work done online, purge/organize a closet, or we all clean out the toy box together.
The beauty of large family life, homeschool life, and just plain life is that we are all unique families with unique needs and styles of living and we can work together as a family team to create an atmosphere and home life that makes sense for us!
I've learned not to expect our home to look like anyone else's and I don't expect anyone else's to look like ours, but learning from each other is a wonderful gift from God. Just take what works, tweak it for your family, and leave the rest!
Why You Could Consider A Weekly Catch Up Day As A Large Family Mom
Just to give yourself a break from usual schedules and routines on the day you choose. Being a homeschool mom and homemaker is often tedious and mundane work, so switching things up a little is nice.
Removes the pressure to get it all done every other day of the week. I have realized I simply can not get everything done every day. Our household runs smoothly when we focus on the most important tasks every day to stay on top of it all (think: maintain our sanity). Which gets to my next point…
You can get to the extra things in your homeschool lessons and/or household chores on your catch up day. Because you focused on the foundational parts of your school & home most of the week, you can feel okay about shifting your focus to other things for one day.
How To Plan Your Own Weekly Catch Up Day
Consider your regular weekly routine (home & school) and choose a day that can be a used for electives, catch up, fun outings, or whatever else.
Write a reasonable to-do list for that day that will cover a few things in your homeschool and household to complete – include some fun things!
Let your children know that after working hard on regular homeschool lessons and household chores the rest of the week, you all will have a day to mix things up and do something different.
If you don't have a general routine in your home, consider creating one so that you can have a regularly planned catch up day each week. Read my Family List Making Guide for some ideas!
Make it happen! Once you get into a rhythm and know you can play catch up on the other – important, but not urgent – tasks will help you enjoy homemaking and homeschooling more!
Homeschooling, homemaking, and large family life can be overwhelming at times. Learning what works for our family through experimentation and choosing to focus on the blessings make it all worth it!
Clarissa is a Christian, Wife, Homeschool Mom to 7 Children with Medical & Special Needs, Grieving Mom to 1 Child in Heaven, Homemaker, and Writer. You can find her at www.ClarissaRWest.com sharing practical tips & encouraging others to count blessings, seek joy, and find strength in Jesus.