This is a weekly homeschool wrap up of our homeschool life from August 2010. Jadin is age 10. Zion is age 7. Naomi is almost 5. Gabriel is 15-months. Currently pregnant with baby #5. 
Creating Lego Lapbooks
This week Jadin and Zion finished their Lego Lapbooks
. They completed the math activities and put their books together. They also drew several of their own Lego pictures. (Jadin has to have every picture perfect, so he will not let me post pictures of his book until he finishes his last "Lego Luke." More to come from him!)
This FREE study was great. So much more than we could ever fit into a lapbook. There were videos to watch, building challenges to complete and a digital Lego designer software we downloaded.
I went with two file folders and honestly couldn't fit all the printed activities in it. In a perfect world, I would have added a top and bottom flap from a third folder. I've seen several things online where mothers use duct tape along the sides of their lapbooks to reinforce them and also punch holes in them to store inside a notebook.
I may do that at some point if that's all I have to work with (which could happen, wink.) However, I've found a way I prefer better. I take a clear sheet protector and open it with scissors along the bottom and one side. Then I place the lapbook inside and staple along the edge. This is quick and easy. In addition, it provides a protective covering along with allowing the lapbook to be stored easily.
I hope you can tell this simple trick from the pictures of Zion's book below.
ZION'S LEGO LAPBOOK – AGE 7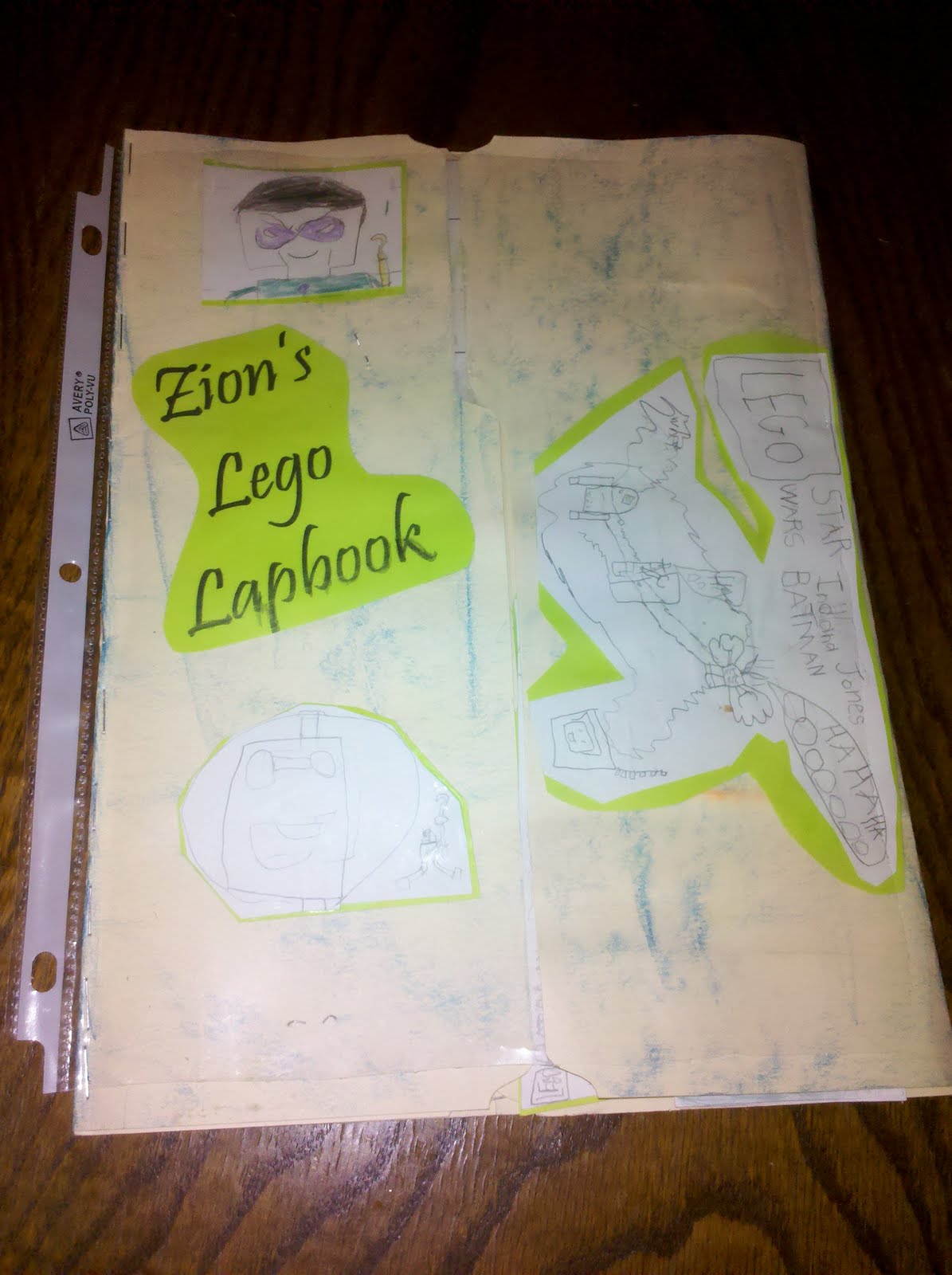 The Lapbook looks like it's in a sheet protector, however, you can still open it like a book!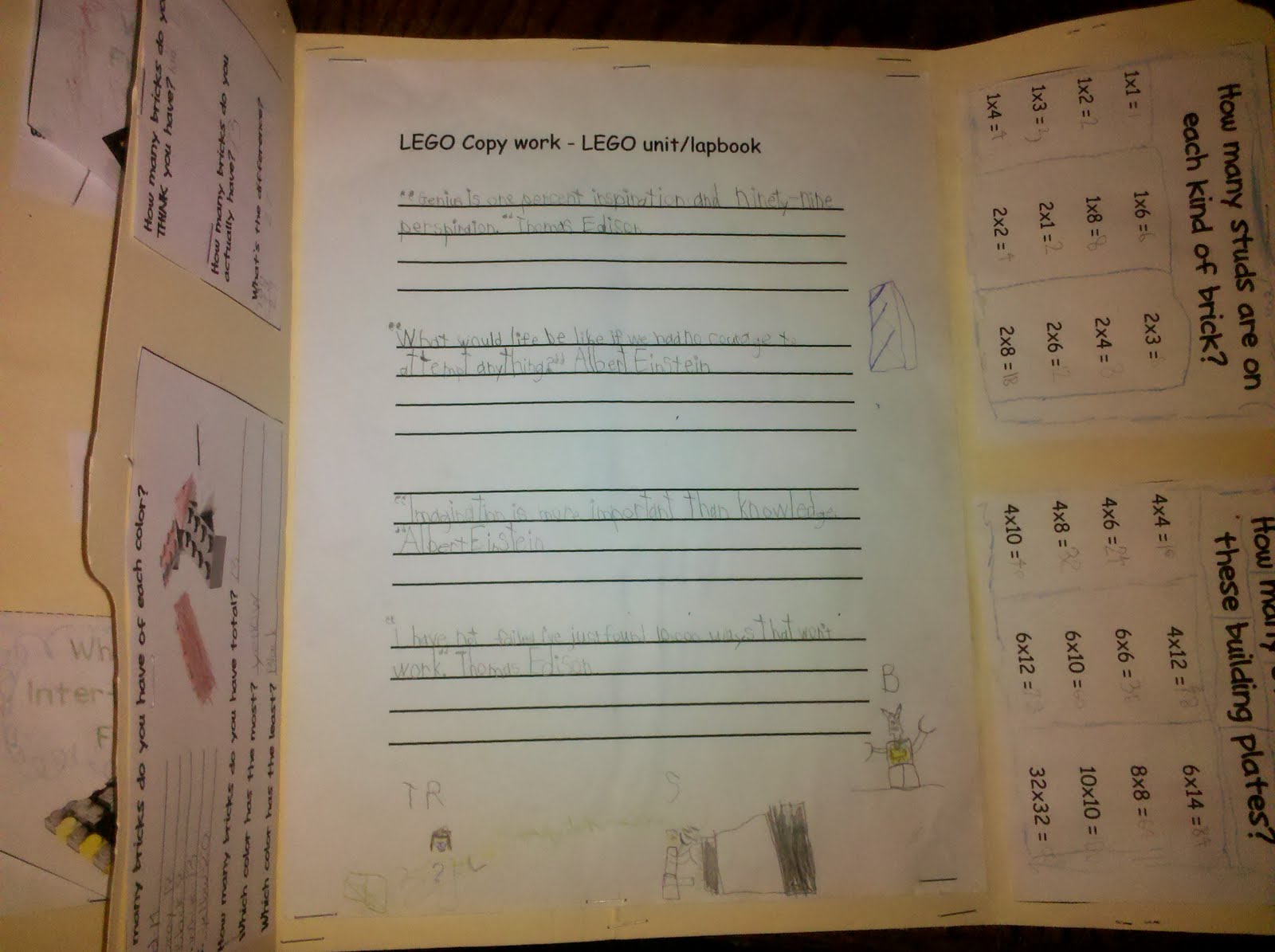 Zion's Lego Copy work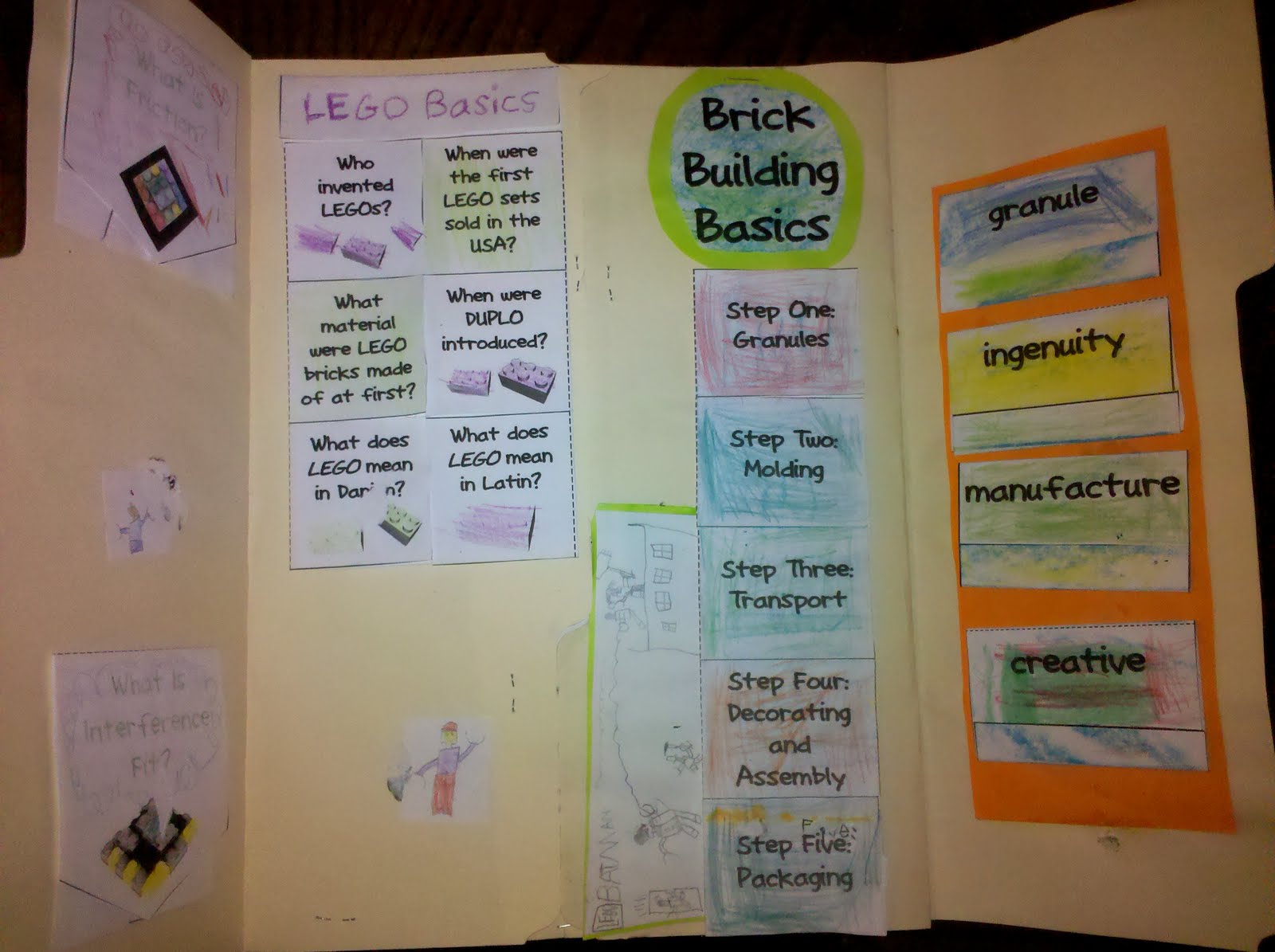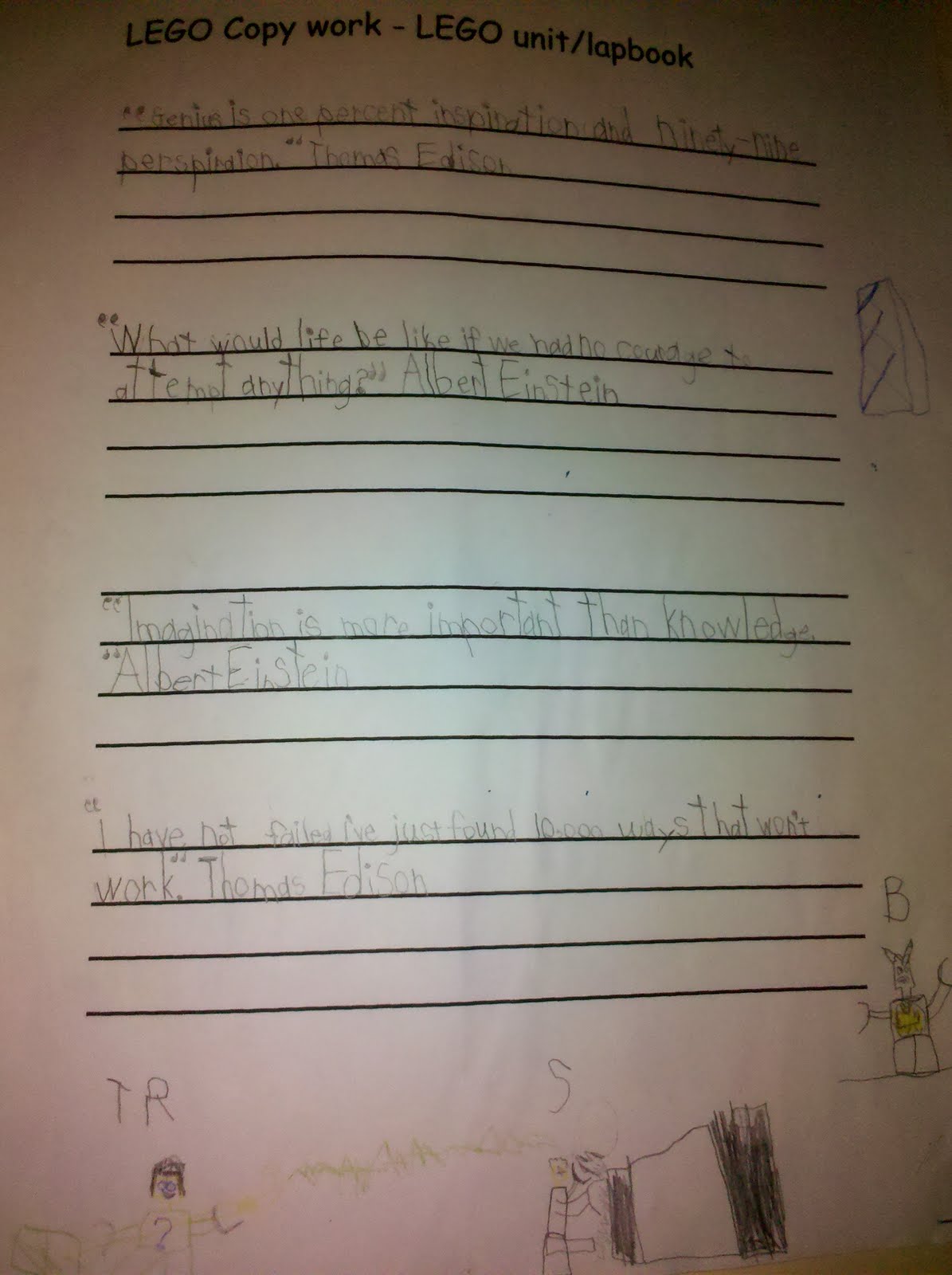 Creating Get Well Cards & Making Meals For Those In Need
This week the boys made cards and dinner for a friend from church who is hurt. Jadin picked the blackberries and made the cobbler himself. It made me realize my boys need to cook more. For their writing assignment one day the boys also made Get Well cards. They both copied healing confessions from a book by Charles Capps.
Jadin's Card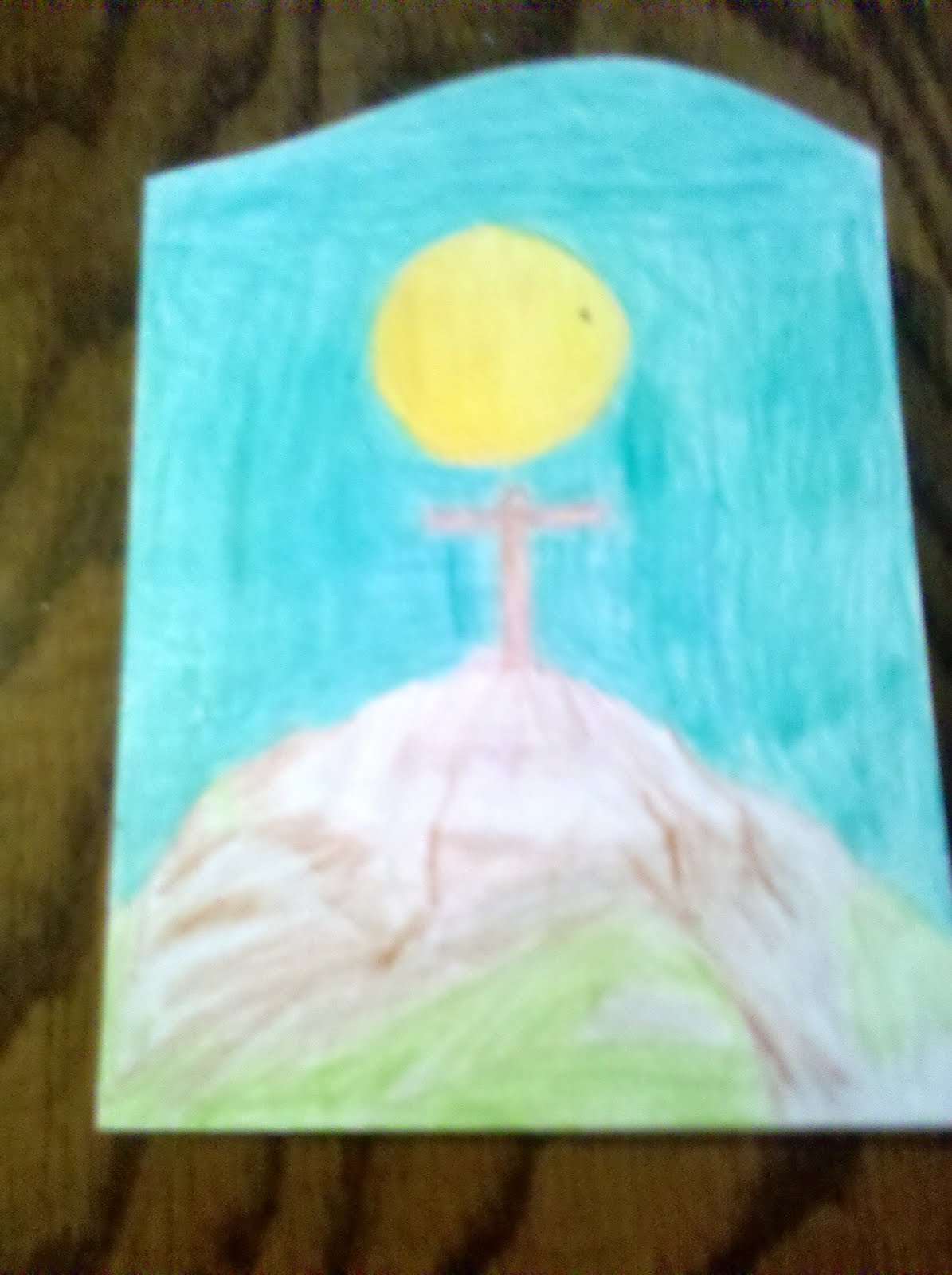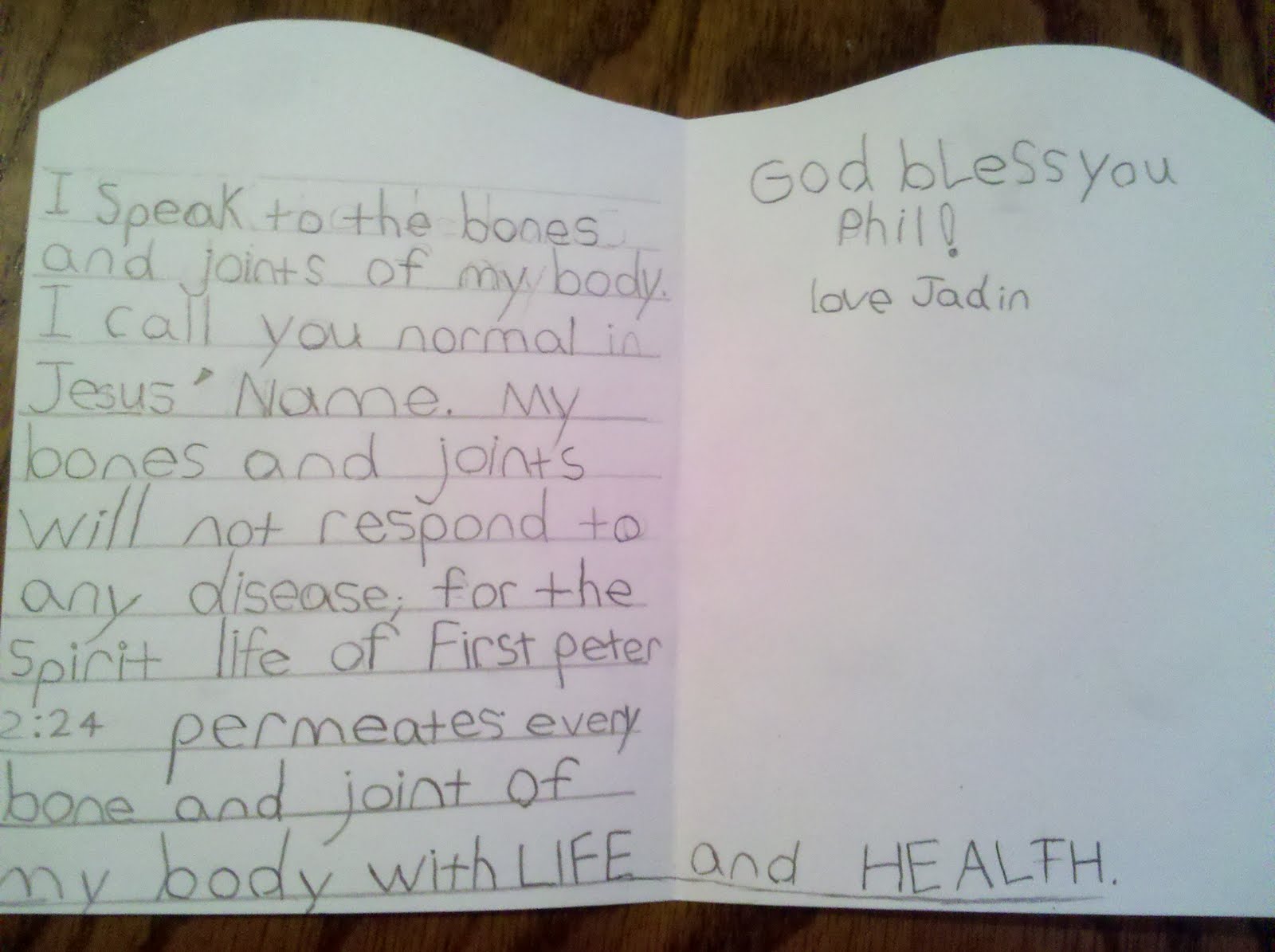 Zion's Card (Lego Batman no less)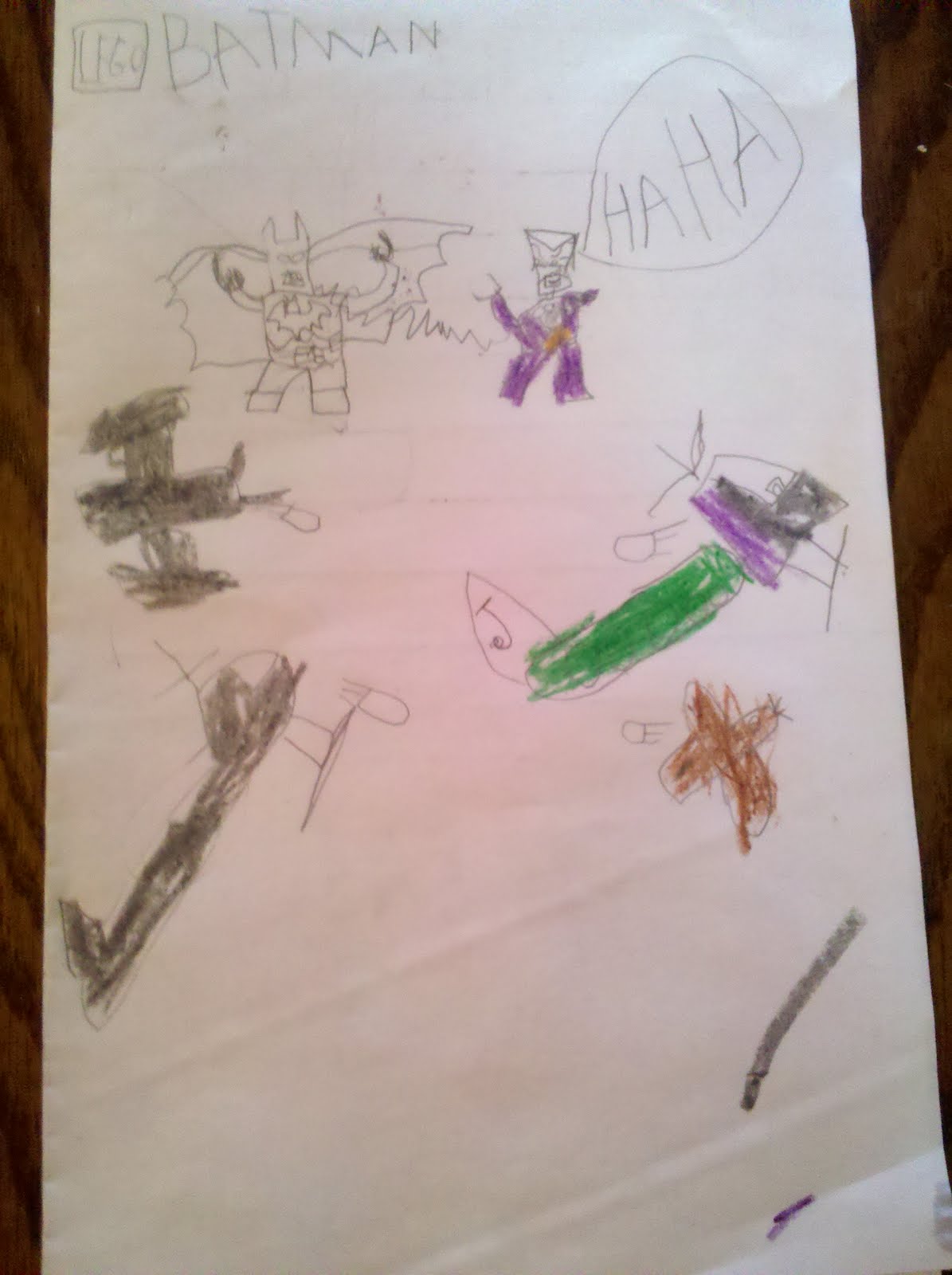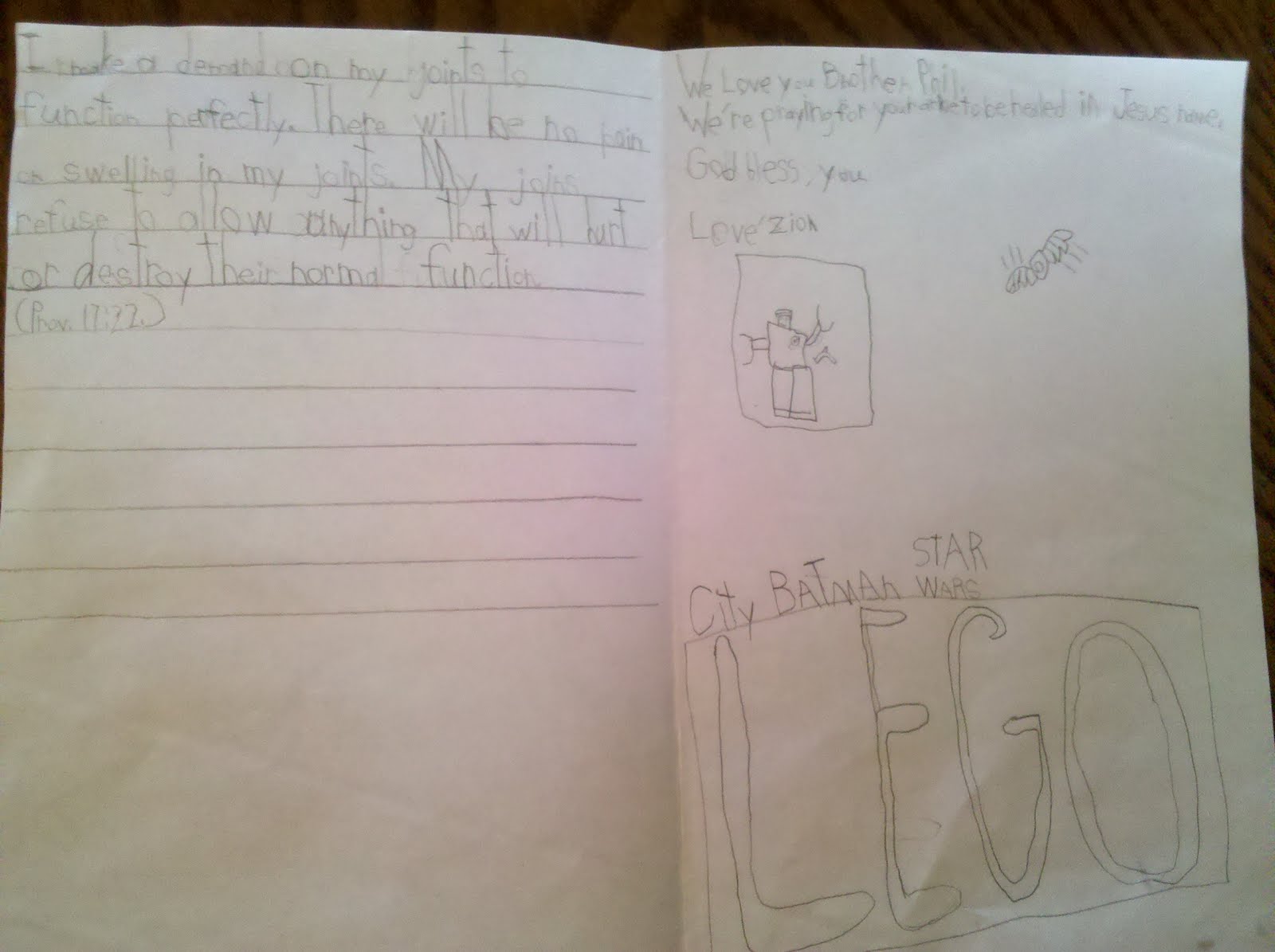 Naomi Preschool Update
Naomi has completed A, B, and C in her lap n' note. She's also on a kick of drawing caterpillars. Mommies and babies of course, wink. This week she also learned how to play Candy Land. She says everyday "I love playing games with my mommy!"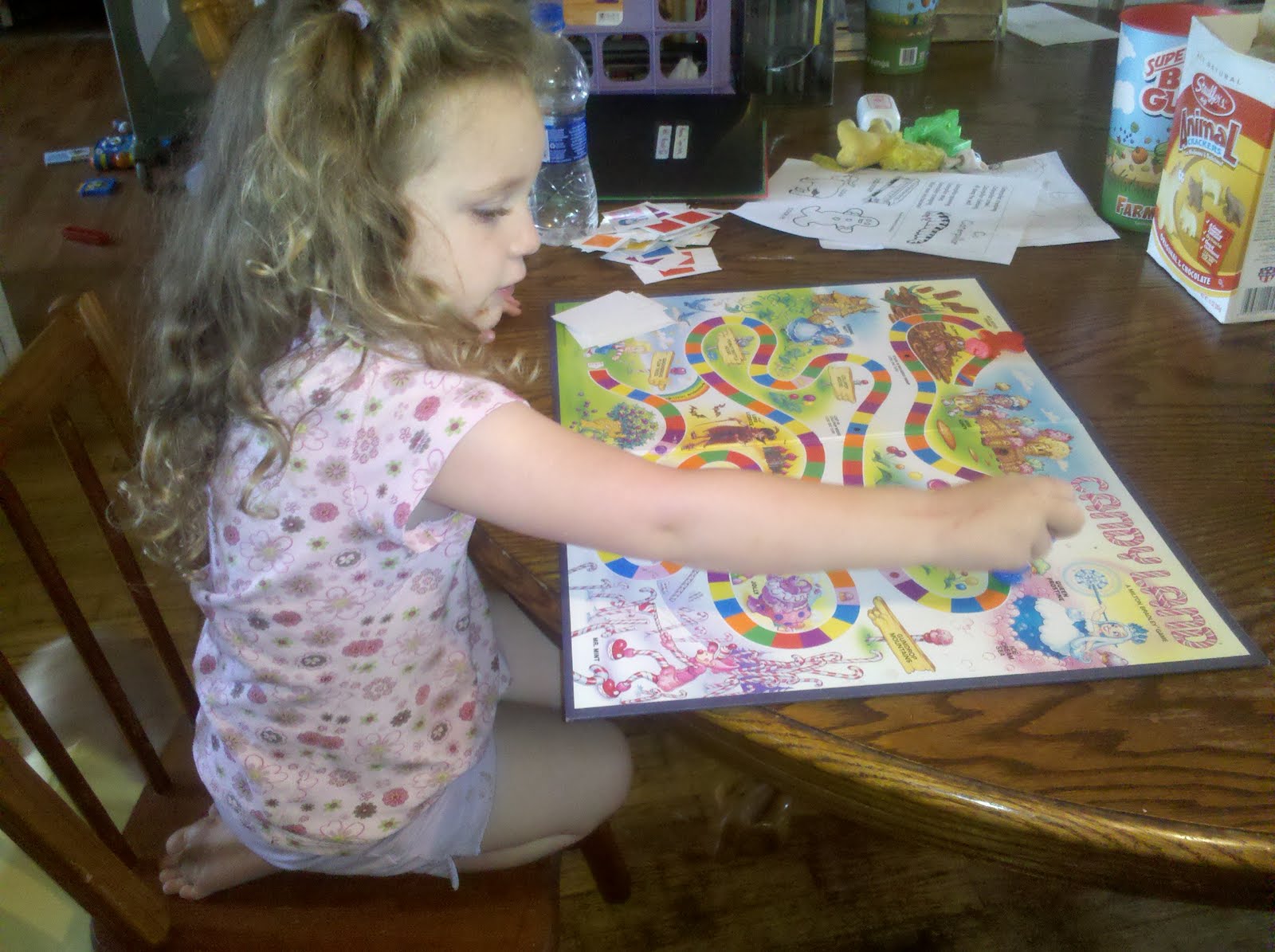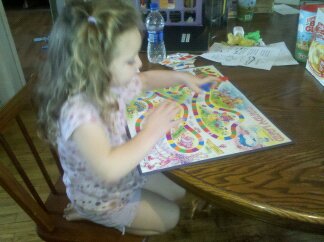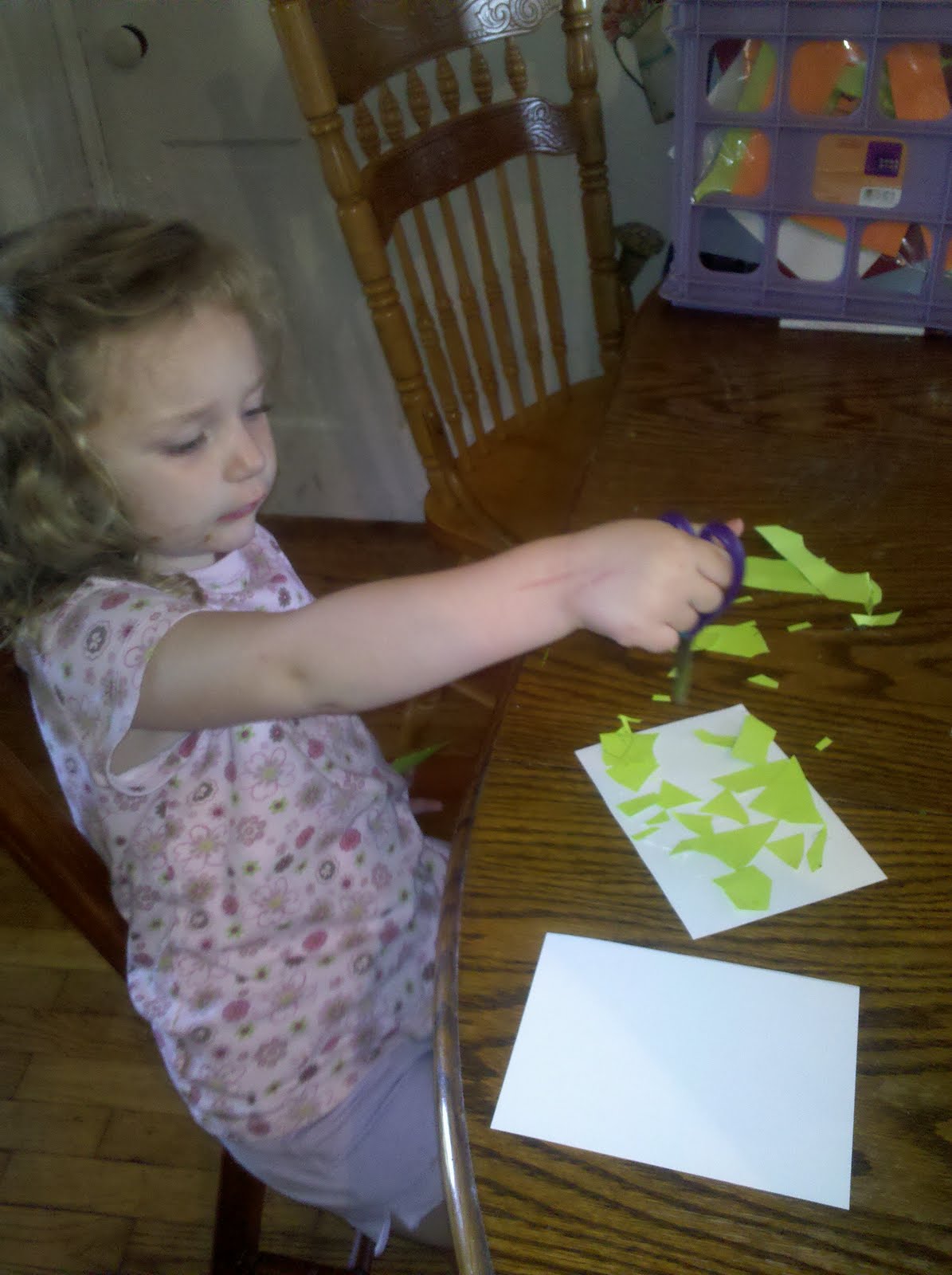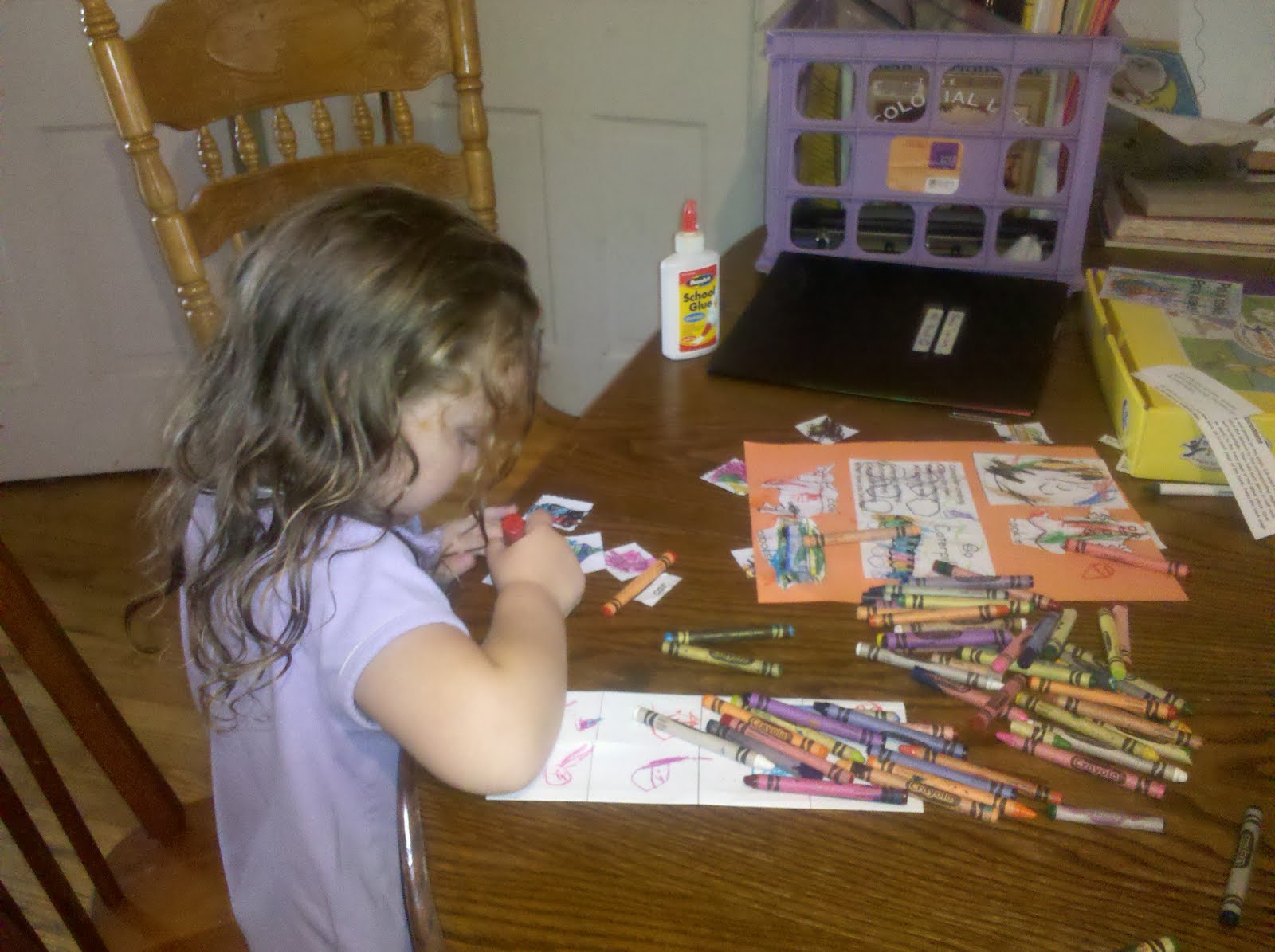 Cooking for the Family
One morning Naomi helped me make "Hashbrown Casserole." She had her own casserole dish and she was a "good little mother" following the directions. (Note the PJ's, if it's something I don't have made in advance, I try to whip it up in the early morning)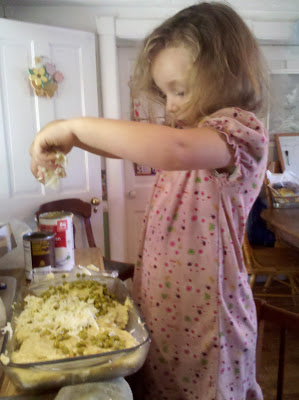 HASHBROWN CASSEROLE
(This recipe made TWO large casserole dishes)
1 (32 oz.) pkg. frozen hash browns (2 lbs.)
1 (26 oz.) can cream of chicken soup
1/2 c. milk
2 t. onion powder
1/2 t. pepper
2 c. grated cheese (your cheese choice)
1/4 c. melted butter
3 c. cornflakes, crush cornflakes in Ziploc™ bag, pour
melted butter in & shake.
I also added two cans of peas to this recipe. I always look for a way to sneak in more veggies and add bulk.
Spray casserole dish with oil. Layer 1/2 hash brown first. Then pour 1/2 of soup mixture = cream of chicken, milk, 1/2 can of peas, onion powder, salt, & pepper. Then half of the grated cheese. Repeat… Hash browns, soup mixture, etc, grated cheese. Top with crushed, buttered corn flakes. Bake at 350 for 45 min.
Free Family Movie Night
We also went to a FREE outdoor showing of the movie UP! (tear jerker) in downtown one evening. We met friends and had a great fellowship time, minus me walking Gaby who was over stimulated for almost 2 hours.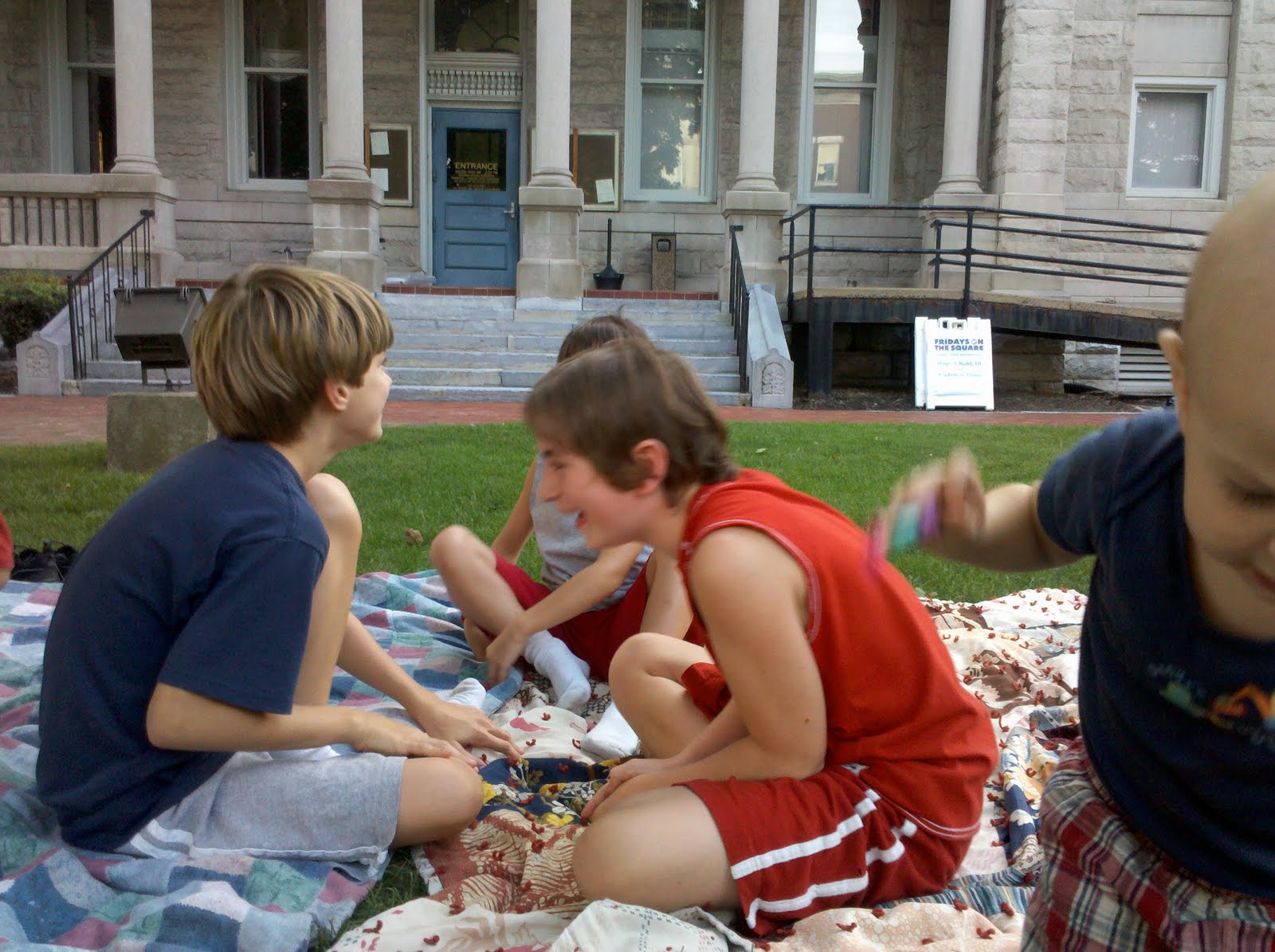 They played the movie on the stairs behind them.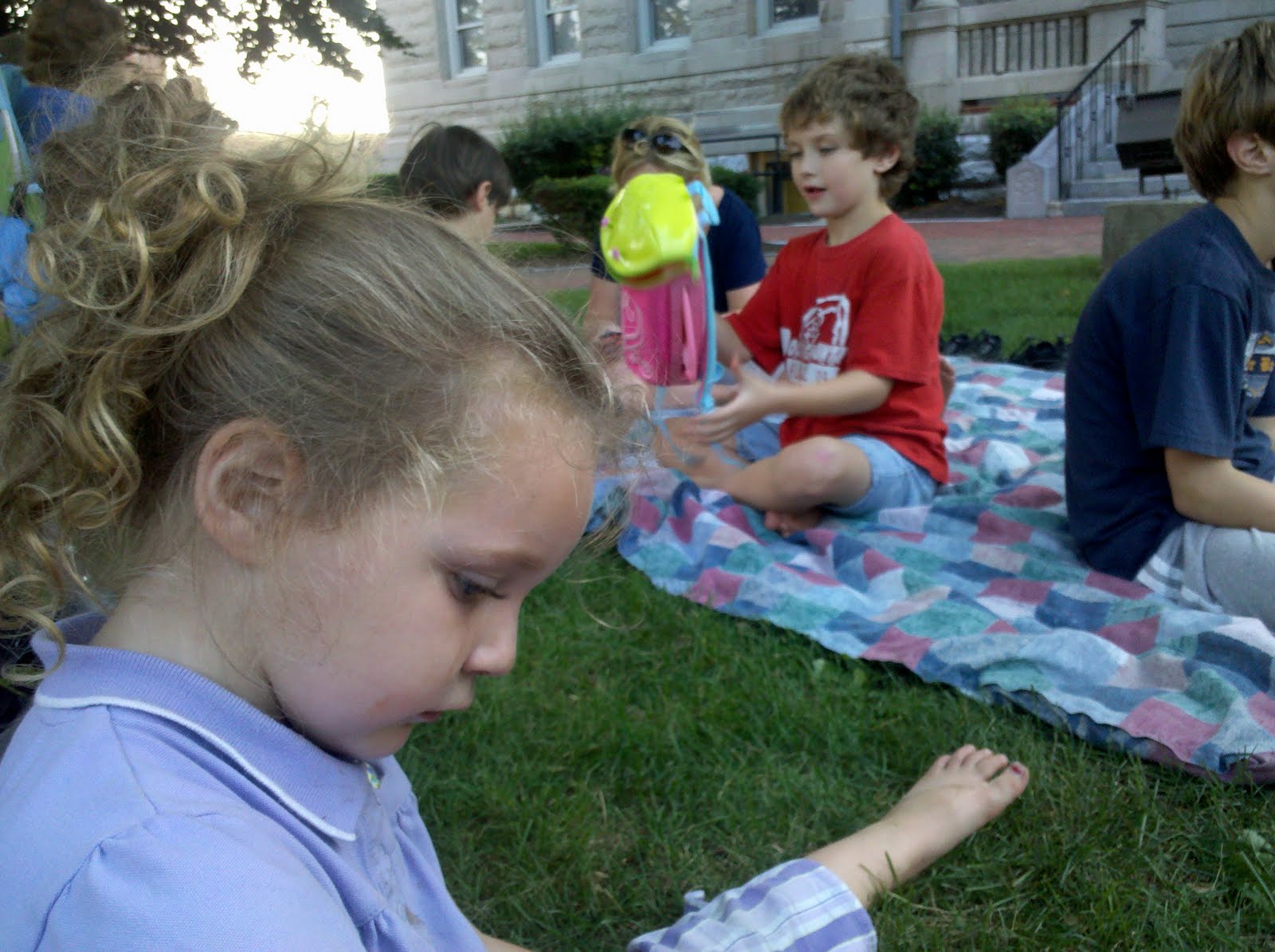 Naomi and Zion waiting for the movie to start.
 Colonial Read Aloud Update & Bible Reading This Week
We've continued in our Colonial read alouds, also our annual JesusFreaks collection of martyred stories. For our classic literature, we've been reading PeterPan this week. In an effort to get MORE of God's Word into all of us we've been playing the Bible on DVD on the laptop in the kitchen during the day and meals.
I've been so thankful for the spirit led conversation it's sparked every morning over breakfast. We've watched several end times movies and discussed God's plan for us and this world in great detail. However, the boys have never read Revelation. Hearing it has been a great experience for them.
Football Updates
Jadin had his football physical this week. We also got him signed up for his 2nd year of tackle football and Zion is signed up for his 2nd year of flag football. Big practices start Monday! A blessing to us, the field is 5 minutes from our house with a very nice track around the field. I'm able to walk the stroller with friends and make it into a great fellowship time as well as a time to watch and support Jadin.
Momma on the Home Front
On the home front momma here, in my incredible nesting whirlwind, I reorganized our main bathroom/laundry room (Even the piles hidden under quilts…gone!) I finally got Naomi's room cleaned and organized. She now has one giant tote for her small doll houses, Polly pockets, Barbie's, Barbie clothes, doll house furniture, etc.
I also ordered our 1st batch of cloth diapers. I was lost in all the websites out there on cloth diapers. I wanted to do it the easiest way w/o diaper pins and plastic pants. I ended up going w/ an AIO (all-in-one) diaper for sizes 7 .lbs-35 .lbs w/ micro-fiber inserts. I got a great deal on 20AIO/20 Inserts ($82 w/ free shipping). I've read reviews, message boards, watched moms diaper opinions and demo's on YouTube, whew…it's been a crash course but I'm just glad to have made the order. I'm very excited for them to get here so I can start using them on Gabriel! If anyone is interested, here are some of the links of these cheap AIO's that helped my choice. I may regret it, or like some of these mom's, I may be VERY thankful for finding a wonderful alternative to the expensive $250 per 12 designer diapers. I'm believing for the latter.
https://community.babycenter.com/post/a10527565/sunbaby_on_ebay_amazing
https://community.babycenter.com/post/a23021071/sunbaby_2.0_cloth_diapers?cpg=1&pd=-1
(Here is where I ordered them directly from the seller and save an additional $12 off what she would have to charge as EBAY fees through her store.)
I already made a big load of reusable diaper wipes with directions I found online https://www.ehow.com/how_2073987_make-reusable-cloth-baby-wipes.html
My next adventure is going to be making homemade laundry detergent. 3 cents per load is exciting.
Baby #5 Update
Next week we find out what our next baby blessing is. I've been preparing Naomi that Jesus may have seen fit to bless us with another boy (b/c I could get see her screaming at the ultrasound if it's a
boy,
since she's already decided otherwise.)
This is our third homeschool week wrap up. Click
HERE
to read other wrap ups!
Oh, Our FREE GLOBE
OH, and this week's FREEBIE was a gently used GLOBE!  Jesus even cares about our "we need a new globe" prayer request. Through a good friend and facebook, someone gave us theirs.  I'm thankful b/c all our stores locally are sold out, and ordering online looked like it could get pricey.
THANK YOU JESUS, caring for even the little flowers.