---
Description
Oh wow, mommas! Are you ready for a LOADED breakfast freezer meal? Cook up a batch of these LOADED Breakfast Biscuts for your family and friends. These are perfect for big family breakfasts on the go or when extra family is visiting!!
---
Ingredients
2 lb sausage, cooked & drained
1 cup all purpose flour
1 tsp salt
1 tsp pepper
2 cups milk
4 cups frozen square hash browns
4 tbs butter
8 eggs
4 cans large biscuits
3 cups shredded cheese (I've used cheddar, colby, and mozzarella)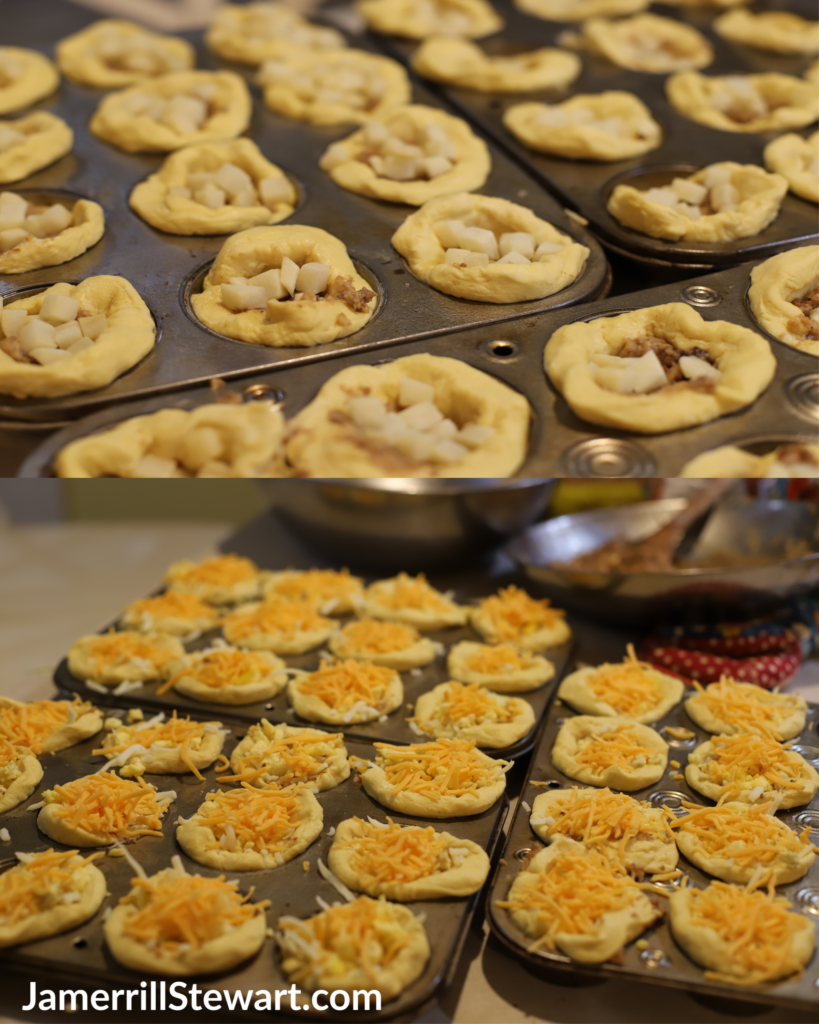 ---
Instructions
Cook 2 lbs ground sausage in large pan. Drain grease once finished cooking and no longer pink. Mix in flour, salt/pepper, and milk into pan with cooked and drained sausage. Allow mixture to thicken and come to gentle boil. You'll want to be stirring and "baby sitting" the sausage gravy during this time. After 1-2 minutes remove from stove. You can also read my orginal homemade sausage gravy recipe here!
Spray 24 muffin cups with non-stick spray. Press biscuit dough into 24 muffin cups. Fill each cup 1/2 with sausage gravy mixture, sprinkle shredded cheese, sprinkle cuded potatoes, layer of scrambed eggs, sprinkle of cheese then top with cheese. Repeat for each 24 LOADED Breakfast Biscuits.
NOTE, Yes these will be LOADED! You will need the help of a spoon to help stuff down each layer 🙂
Bake in preheated oven at 400 degrees for 20 minutes or until completely done.
To freeze allow LOADED Breakfast Biscuits to cool completely. Freeze in gallon freezer bags, or in another freezer safe container. For longer term storage wrap each biscuit in plastic wrap before placing in freezer bags. When you're ready to have the loaded breakfast biscuits for a meal just set a frozen bag from the freezer into the refrigerator the night before. Place several loaded breakfast biscuits on a microwave safe plate and warm for 1 minute. Check for desired warmth and microwave for additional time if needed.