Some things are hard to assimilate into a low carb lifestyle. This is usually the pasta heavy dishes like chicken spaghetti. Never fear, I am here to help you with this large family low carb chicken spaghetti recipe that the whole family is sure to love. AND this recipe doesn't put you in a carb induced coma and needing a nap afterwards.
**Use special promo code HELLO20 to take 20% off your first order in the shop including the SUPER MEGA ULTIMATE Large Family Freezer Meals Bundle here! Get packs 1, 2, 3, 4, 5, 6, 7, 8 & 9!**
Large Family Low Carb Chicken Spaghetti Recipe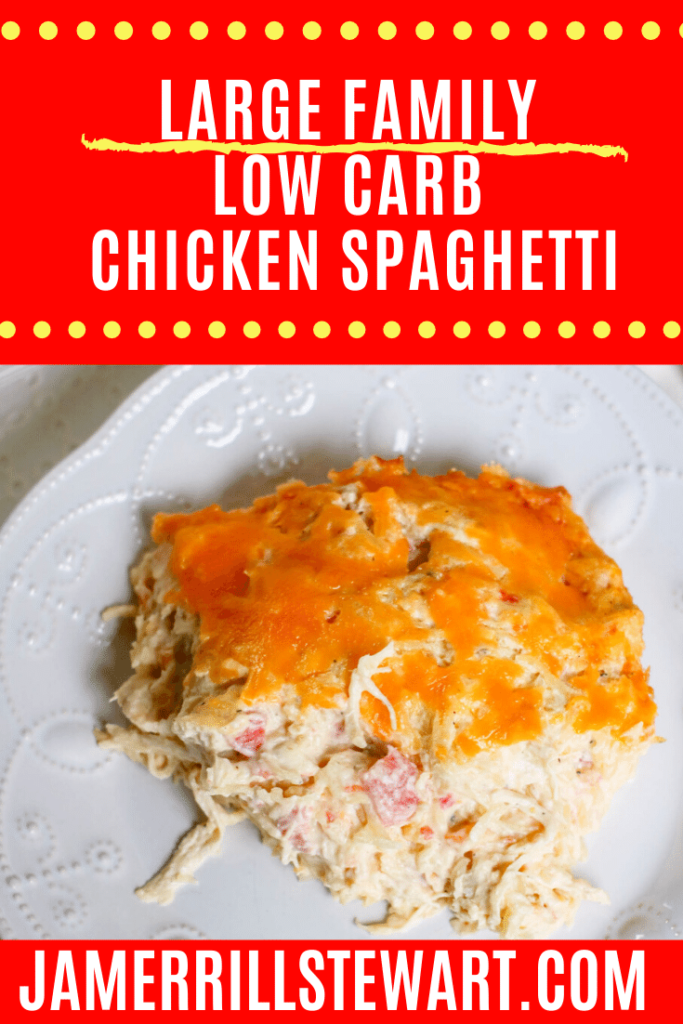 Does your family always beg you to have spaghetti night? I love Low Carb Chicken Spaghetti because you can enjoy the scrumptious taste of spaghetti without all the added carbs of regular spaghetti noodles! This low carb recipe will raise your spaghetti game to a whole new level and don't be surprised when your family asks for this dinner over and over again! Bonus points for Momma if you can prepare a low carb dessert to follow this delicious low carb chicken dinner!
What ingredients I need for Low Carb Chicken Spaghetti?
spaghetti squash
chicken
Rotel
cream cheese and sour cream
sharp cheddar cheese
garlic powder, salt, and pepper
How to Prepare Low Carb Chicken Spaghetti
Preheat oven to 350 degrees. Spray a 9×13 baking pan with non stick cooking spray. Your future self will thank you. Using your large family style mixing bowl, combine all the ingredients with the exception of the spaghetti squash. After it's thoroughly mix, carefully fold in the spaghetti squash to avoid mushing it.
Pour mixture into baking pan. Top with cheese. Cook uncovered for 30 minutes or until the cheese is brown and the sides are bubbling.
Need some tips for cutting your spaghetti squash?
I like to cut one side then cut the other side. You might need to cut the ends separately. Cutting a dotted line first can help if it's a bit tough. Microwaving for 5 minutes or so to soften it up can help as well. No matter what, don't try to cut all the way through unless you are Hercules. It won't end well.
HERE is how to cook Spaghetti Squash in the electric pressure cooker!
So cut your spaghetti squash then scoop out the insides and get all the seeds out. It should be a smooth surface. Brush with olive oil then salt and pepper it. Put face down on your sheet pan. Pierce the top with the tip of your knife then cook for about 45 mins. You are looking for soft but not mushy. Pull from oven and scoop out the insides. Separate the strands using 2 forks. I will often use the fork to pull the strands out directly from the shell. Do whatever works for you.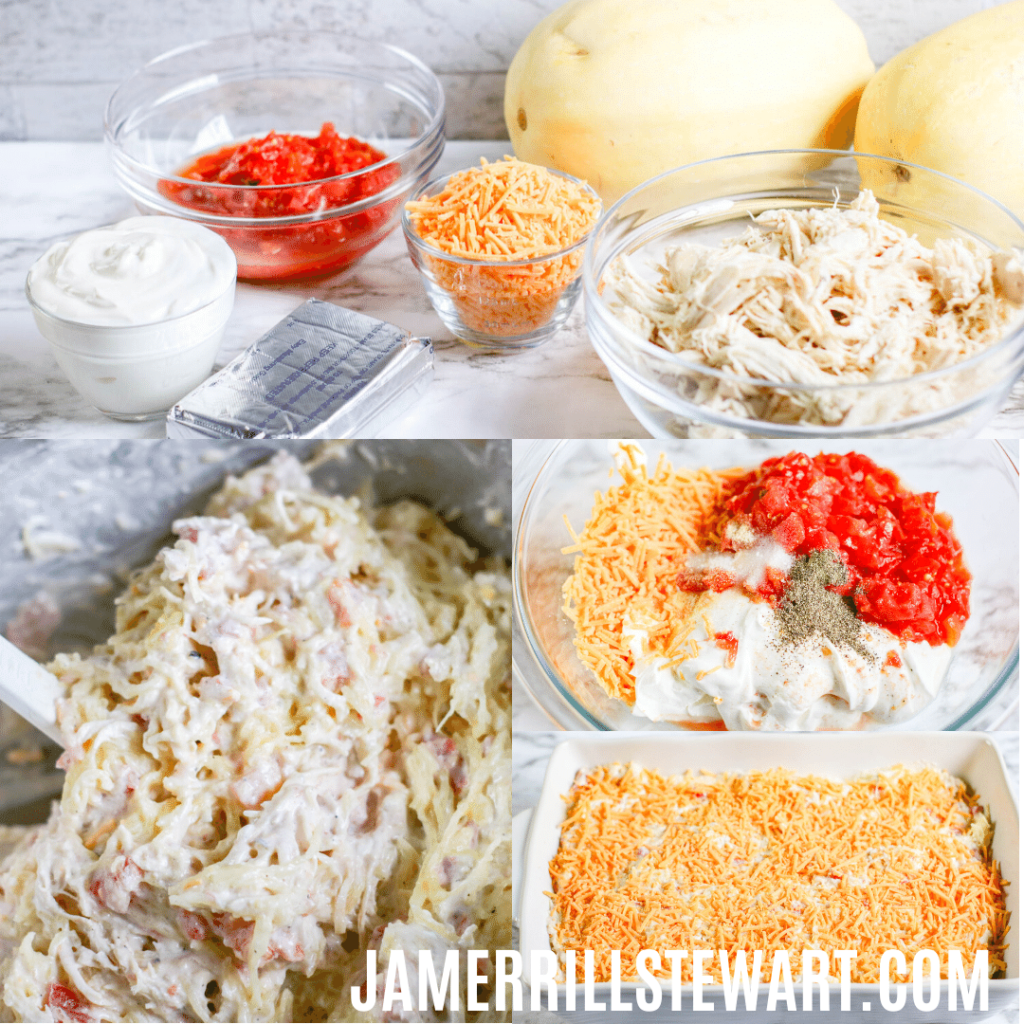 Looking for more low carb recipes?
If your family loved this Chicken Spaghetti, you'll want to check out these amazing Large Family Low Carb Meals to Feed a Crowd (Budget Friendly, too!). This post has over 65 low carb meal ideas including low carb recipes made with beef, chicken, soup, slow cooker recipes, and low carb instant pot recipes. You also might enjoy the LOW CARB Large Family Freezer Meals Pack 7 and LOW CARB Large Family Freezer Meals Pack 8 to FILL YOUR FREEZER with amazing low carb freezer meals!!
Here are several more low carb casseroles!
Large Family Low Carb Chicken Spaghetti
Print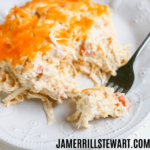 Large Family Low Carb Chicken Spaghetti Recipe
Author:

Prep Time:

15

Cook Time:

30

Total Time:

45 minutes

Yield:

12 servings

Category:

Low Carb

Method:

Baking

Cuisine:

Dinner
---
Description
Comfort food is the hardest to assimilate into a low carb lifestyle. This casserole does it flawlessly using spaghetti squash instead of carb filled pasta. This recipe makes one 9×13 pan. 
---
Ingredients
4 cups cooked spaghetti squash
3 cups cooked and shredded chicken
2 cans (10 ounce) Rotel
1 package (8 ounce) cream cheese, softened
1 cup sour cream
1 cup shredded sharp cheddar cheese, divided
1/2 tsp garlic powder
1 teaspoon salt
1/2 tsp pepper
---
Instructions
To cook spaghetti squash: Preheat oven to 400 degrees. Cut spaghetti squash in half and remove seeds and membranes from the core. Brush inside spaghetti squash with olive oil and season with salt and pepper. Place with the cut side down on a baking sheet prepared with aluminum foil. Pierce a small hole through the back of the spaghetti squash. Cook for 45 minutes or until the squash is tender but not mushy. Scoop squash from the peel and pull into strands using two forks.

Reduce oven heat to 350 degrees. Prepare a 9×13 casserole dish with nonstick cooking spray.

In a large bowl, mix together chicken, diced tomatoes and green chilies, cream cheese, sour cream, ½ cup cheddar cheese, garlic powder, salt, and pepper. Carefully fold in spaghetti squash to avoid mushing the strands.

Transfer to casserole dish and cover with remaining cheese.

Bake for 30 minutes or until the cheese is golden on the edges and the casserole is bubbling.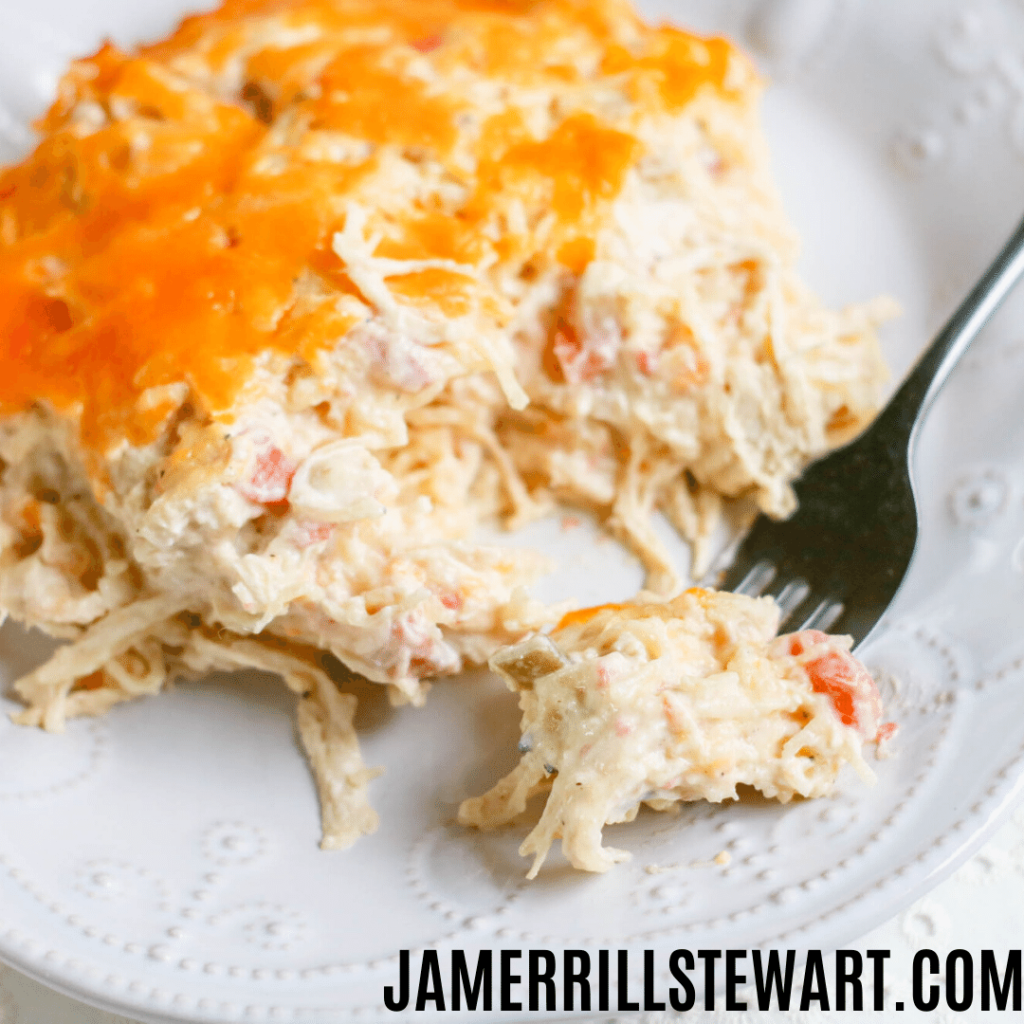 Serve your large family this low carb chicken spaghetti and wait for the accolades to roll in from everyone. The carb heavy version is a family favorite. This version is comparable without the carb induced coma you get from the original. Our kids aren't always fans of low carb but this version always make the cut.
FREE Emergency Pantry Planning Pack!
Don't forget to sign up for the emergency pantry planning pack for free to help you plan your pantry meals! The free Emergency Pantry Planning Pack will help you plan your needed pantry items! Printable pages include pantry inventory, grocery lists, meal planners, list of pantry staple items, and more.