Baked Beef Macaroni and Cheese Freezer Meal | Large Family Recipes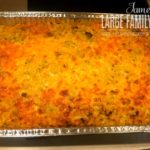 Our large family gobbled up this baked beef macaroni and cheese freezer meal.  One of the 19 x 11 deep dish pans is 2-3 meals for our large family of ten. Dish out this same volume recipe into the more standard size 9 x 13 pans and you should yield about 8 pans full. This recipe is good for about 3 months or so in the freezer, so cook ahead for when real life happens!
Ingredients
2 cup butter (or margarine)
2 cup flour
16 cups milk (one gallon)
2 tsp salt/pepper to taste
16 cups shredded cheese (for cheese sauce)
6 cups of shredded cheese (for topping)
96 oz cooked and drained elbow macaroni (this would be similar to three of these 32 oz boxes of elbow macaroni from Walmart).
Instructions
Cook, crumble and drain 10 lbs of ground beef.
In a separate large stockpot melt 2 cups butter in the pot. Stir continuously so you don't burn your butter (ask me how I know it happens 🙂
Pour 2 cups flour into melted butter and stir together until flour is thoroughly moist. This happens quickly so stir, stir, stir!
Whisk in 16 cups of milk (yes, an entire gallon!). Stir constantly for several minutes until boiling. This is where having a strong-armed teen can come in handy.
Using a metal or wooden spoon, stir in 16 cups of cheese until completely melted. This takes about 2-3 minutes of additional stirring. Remove from heat when thoroughly melted.
Pour in 96 oz of cooked and drained elbow macaroni and the 10 lbs of precooked, drained, and crumbled ground beef into your large stock pot of homemade cheese sauce. Stir gently, so you don't mash your noodles.
Spray your baking dishes with non-stick spray. Fill each dish 3/4 of the way full with Baked Mac and Cheese mixture. Top with remaining shredded cheese if you'd like. I didn't have any more on hand and it still turned out nice and bubbly.
If using the 19 x 11 large deep dish pans fill three about 3/4 of the way full with your beef mac and cheese mixture. Top each pan with about two additional cups of shredded cheese.
If using 9 x 13 pans fill up to 8 pans 3/4 of the way full with your beef mac and cheese mixture. Top each pan with remaining shredded cheese (more or less as you prefer).
FREEZER MEAL STORAGE DIRECTIONS
Allow your meals to cool completely before placing in the freezer.
Wrap each pan with two layers of foil.
Label the top of each pan with recipe name and date.
Wrap each pan with a few layers of plastic wrap.
Set each pan to freeze in the freezer. Do not stack the pans on top of one another until each pan is individually frozen.
FREEZER COOKING DIRECTIONS
Set the desired pans in the refrigerator 24 hours before you'd like to serve them.
Preheat your oven to 375 (oven times may vary).
Remove plastic wrap and one layer of foil. Leave a tented foil layer on top of your pan.
Place the big deep dish pan on the middle oven rack in preheated oven for up to 2 hours or until heated through and hot and bubbly. Check on your deep dish about an hour into the cooking time. Remove the foil tented layer about 30-minutes before cooking time is complete.
For the smaller 9 x13 pans follow the same directions, however, cooking time total should come in no more than an hour.