Make a Full-Time Income Online
The Blogging Beginnings
Our fifth baby was born on January 1, 2011. His New Year's birth also ushered in a new season in our family life. I had a little flicker in my heart of wanting to have a voice. I had thoughts, feelings, and encouragement I wanted to share. I wasn't sure if I should write a book, start a women's group, or what life my little soul-flicker was supposed to take on.
Liam Joseph at two days old – January 2011
The reality was I was home with our (then) five beautiful children ages newborn, almost two, 4, 7, and 10. I also had the daily privilege of pouring into and homeschooling them. They were and still are my first ministry.
2011 Reading aloud to my children. One of my greatest joys!
But what of my flickering soul? This need to pour out, even if just a little, into the lives of others? As I sought the Lord for direction, I started getting a weird desire to start blogging more. You see, I had kept a little hobby blog I started in 2008. This little hobby blog was pre-Facebook and was a place to share pictures of the kids with out-of-state family and friends.
In 2010 I volunteered as our large state homeschool organization's social media manager. I didn't know much about social media management at the time, but I was a homeschool mom with a Facebook account. As I searched the internet for content to share on their homeschool support Facebook page I started reading some other blogs like Raising Arrows, Money Saving Mom, and The Pioneer Woman. I wasn't sure what it was supposed to look like, but while reading these other lovely blogs, I felt led to start blogging in the mornings before the kids got up. I called my new blog Holy Spirit-Led Homeschooling and jumped right in.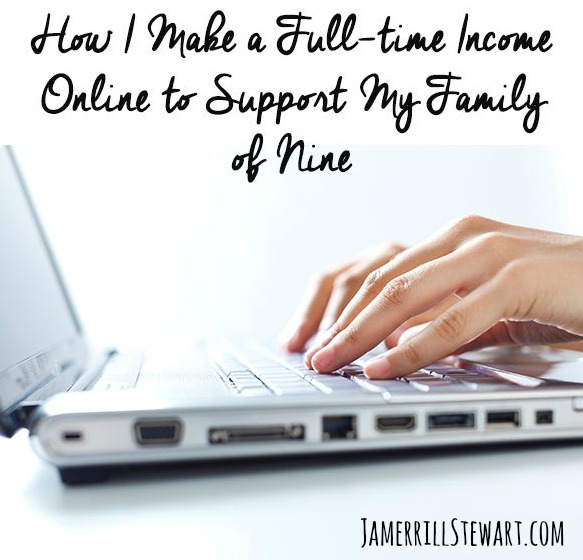 Long story short, through a series of events my hobby of blogging, turned into a full-time business within a year of jumping in that even brought my husband home full-time (you can read the full article of how my blogging brought my husband home full-time here).
You can also watch my video where I share more about How I Support My Family of Nine Online.
Click here to watch How I Support My Family of Nine Online video Q&A.
I support my family through my online work by having built a blogging and social media platform over the last four years at the time this article was originally published.
After that beginning, with Holy Spirit-Led Homeschooling, my efforts turned into a new blog, FreeHomeschoolDeals.com, which receives traffic from loyal homeschooling families from around the world each day and includes my social media channels of hundreds of thousands and an additional large email list. I have multiple income streams, a small army of workers who help me each day, and the grace of God to hold it all together.
Usually, moms aren't as interested in how I support my family of nine online as they are interested in how they can start a blog to supplement their husband's income in some way. So based on my experience and lessons learned over these last four years, I'm going to share my thoughts with you on this topic.
How to Start a Blog
And some quick disclosure 🙂 This post contains my affiliate links. Here's my full disclosure policy. This is one of the ways that I make money blogging and costs you nothing additional. My information, blog, videos, and many resources are free.
Pick Your Domain Name
The first step is to choose the topic that you're very passionate about as your base. You can expand over several different topic points, but having a central theme is generally a good idea. Pick a topic that you feel you would never get tired of talking about on your blog. For me, I can talk about homeschooling and ways to save money until the cows come home, hence my creation of FreeHomeschoolDeals.com in 2012.
Quick update 2017, for the last 2-3 years I've had all of the needed daily work for FHD hired out (that was quite a process to work through and took several years to get settled). I've focused my efforts on gently growing my personal brand during this time, which is now Jamerrill's Large Family Table. Between the Large Family Table blog and popular YouTube channel, I continue to share about homeschooling, large family food, and motherhood/family life, and being a working homeschool mom. I went with the URL LargeFamilyTable.com because it encompasses the feel of all that I'm inspired to share.
You can get your domain name through BlueHost, which I'm sharing more about next. Some bloggers think long and hard about their domain names. I went with the first name that stuck in my head as far as my FHD blog goes. I don't give you too many important rules to follow because I don't follow too many myself (and if you've been a reading friend for awhile you know I've changed my personal brand URL several times to get the right fit). You will need to have a https://www.yourdomainname.com anyway it goes, so getting one through your easy BlueHost blog setup might be the way to go. Later down the road if you find the need to change your URL that can be done. I've done it myself, but usually for a small amount I have a tech support person do that for me.
Build Your Blog
To actually do the work of building a blog you'll want to sign up for a hosting company like Bluehost. BlueHost offers professional web hosting for just $5.95 per month. With the BlueHost service, you can get your domain name, integrate a WordPress blog, and start publishing as a blogger!
BlueHost has step-by-step directions on how to build a blog. All you need to do is follow BlueHost's guide, and within about 20 minutes you'll have your WordPress blog up and running!
Some of my friends use Hostiserver and they seem to love it, so if you can't find the perfect web host, you could always check them out.
Create Awesome Content
Once you get your site up and running, you'll want to get some good content pieces loaded on your new site. Now, you can be like me and build a site and launch it the same day (FreeHomeschoolDeals history 😉 ), or you can be wise and lay the ground work. Shall we pretend that we're wise and always take the time to plan? Yes, let's do that.
Write several excellent posts on your passionate topic. Is it homemaking, homeschooling, natural cleaning, baking, saving money, laundry hacks, or ___________? I've always heard if you're going to "do it right," (and I probably read this from Amy Lynn Andrews) you should have about 10 or so posts already written. You're going to need time to craft your posts. It will feel odd at first, and you may feel like you're "doing it wrong." However, the best way that I've ever learned to do anything (as I'm currently learning with YouTube) is just to jump in and start doing it.
I highly recommend reading Micheal Hyatt's book Platform,
Read Platform: Get Noticed in a Noisy World
Read Start
and Jon Acuff's book Start for encouragement to jump out there and as Nike says, "just do it." There's planning and laying a foundation; but there's also high value, in my humble opinion, in getting dirty and doing it.
Get Social
Start your social media accounts. I recommend starting a Facebook Page (you can read here how to start a Facebook page and here on how to create a custom Facebook Page URL), Pinterest Account (here are great tips on how to make Pinterest work for you with The Ultimate Guide to Pinterest), Twitter, Instagram, and now even Periscope.
Read Pinteresting – Pinterest Strategies for Brands and Bloggers
Also, read Pinterest Savvy: Strategies, Plans, and Tips to Grow Your Business with Pinterest,
Read How To Blog For Profit Without Selling Your Soul
Blogging Wisdom from Jamerrill
Once your blog is up and running, your social media accounts are set up, and you begin posting, I want you to remember some wisdom here from Jamerrill. You have a message that's important to share. You need to be heard. When you first start blogging it's going to feel like you're shouting into a chasm and no one hears you. Don't worry. Continue to create excellent content that matters to you. Don't get bogged down with what everyone else is doing.
Honestly, I hardly look at what others are doing. The times when I do, I immediately feel my creativity leaving and my inspiration and drive going out the window. If you are inspired to blog, you need to go forth with your own unique vision.
"Be yourself. Everyone else is taken." Oscar Wilde
Now, back to the money part.
Okay, so you're sharing your message, and now you want to be paid. This article IS about how I support my family of nine online. I DO make an income through blogging. But I didn't get into blogging to "make money." I started blogging with a hunger to share and encourage. I did not start to make an income or create a business. That said, with all the effort and hard work blogging takes I feel that a worker is worth their wages. If you're putting time, creativity, and energy into a blog that's helping others and changing lives, then you should be paid for your time. If you spent hours making quilts, doing photography shoots, graphic design, etc.to also be, it would only be natural to be paid for your efforts. When I left my family home for 20-40 hours a week as a Charge Nurse, yes I enjoyed the patient care and even crises management aspects; I also had to be paid for my efforts and time away to make it worth it for our family.
So, how can you be paid? The simple ways to start making money blogging have 3rd party ads on your blogs, such as signing up for Adsense or something like The Blogger Network. I work with a company called AdThrive which manages multiple 3rd party ad networks that I'm a part of (I used to manage it myself). As far as YouTube there are ads that run on your videos which can also be an income earner. Over time as you build your platform and brand there will be companies that will pay money to work with you and have you present their brand.
There's also affiliate marketing. Now affiliate marketing is you sharing about products you love and have experience with and telling your readers about those products. (There are FTC rules for affiliate marketing, and you'll always want to tell your readers when you're using affiliate links.) So, for example, if I share with you that my friend Ruth Soukup has a book called How to Blog for Profit Without Losing Your Soul and you click and buy her book through Amazon, I'll make a minuscule percentage. You can read here The Ultimate Guide to Making Money with the Amazon Affiliate Program.
You can find products to be an affiliate of over time as you blog more. When I first started blogging, I didn't know of any companies or affiliate marketing in general. Now I know, and you can learn too, that every niche of blogging has products. If your blog is going to be about gardening, there are affiliate programs about gardening tools. This is something that you'll learn as you hone your blogging passion.
More ways to make money blogging
VA – I know bloggers who take their blogging knowledge and start their own businesses as Virtual Assistants. I haven't done this myself. However, several Virtual Assistants are part of my team. Read The Bootstrap VA: The Go-Getter's Guide to Becoming a Virtual Assistant, Getting and Keeping Clients, and More!
Consulting – share your expertise with others who need your wisdom.
Public speaking – You can even branch out and speak on topics you're passionate about at conferences and events. You should eventually be paid to speak and have your travel expenses covered as well.
Other businesses – Bloggers may intertwine various MLM businesses into their platform. I've watched bloggers get into selling oils, health supplements, household cleaners, and more over the years. I think this can be a great addition to your platform if you find the right product. For me, I can never get settled in adding on an MLM because, in the end, I feel like I would be building that other business and not my personal platform. Again I've seen many who this works for so keep it as an option that might work for you.
Through blogging, you can get into podcasting, Youtubing, and more. Podcasting and YouTube have their own various ways to produce income streams. Again, this is where you'll need to do your own homework (I Google my way through most things) least I turn this post into a 10,000 world novel.
Brand Rep – Work with companies and represent their products and services.
Website advertisers and sponsors – Sell ad space on your blog. This can also get into offering full packages that include sponsored posts, special promotions, giveaways, and more. I take a limited amount of sponsors and charge a higher amount because of the quality time and energy this type of work involves.
Sponsored posts – Get paid to write about certain products or resources on your blog.
Selling your own products – ultimately you want many income streams from various sources. Your main source needs to eventually come from your own products (eBooks, curriculum, printables, physical products, online course, and more), so you are not majorly affected by fluctuations in income streams based on other companies' rules, changes, etc. I have been told that I'm a failure in that I do not have a lot of my own products at this point (update as of 2017 I have a few, but not many), although that is my slow goal that I'm working towards. However, if you reach a strong audience, once you are able to get into a creative season where you push out your own products, the idea is those people should be ready and willing to buy what you've created for them. I have highly successful friends who make $10,000-$30,000+ a month just off their own product creations. So it's certainly worth adding to your list of income streams. My gentle words to you are we don't all have to match, and the ways we make money online may not look like everyone else.
Membership Sites – you will need to do your homework here as well and Google simple terms such as "how to build a membership site." The basic theory of creating a membership site is offering an exclusive community who pay a very small fee (I usually see $5-$ten a month) to have access to your special features. This doesn't sound like a lot. But what if you charged $5 a month and had 1,000 members? You can quickly see how this math works.
Traditional Publishing – Also, within building your blog and brand, the opportunity to pursue traditional publishing becomes an option. Some are not favorable of traditional publishing because of the time involved; many times you can make more producing and self-publishing your own products. I have a dream I haven't yet pursued of traditional publishing and feel it's still an excellent overall method to connect with readers while also building your brand in new ways.
I've given you a lot to chew on, I know. There are also much more ways to make money online than the ways I've listed above. Moms write me all the time and want to know how to start a blog. I have friends at church, people at the grocery store, and even family members who have begged me to share some of what I know. I took blogging on as a hobby, and I've become a student of blogging over these years. I've gone to conferences, read books, taken wisdom from other blogging friends, and more than anything else I've shown up most days and done the hard work to build an online business, and you can too! You have to love blogging for the sake of blogging. You also have to be willing to pour hours into research to learn the ins and outs you need to know. It is not overnight, and it does take a ton of effort. It is also extremely rewarding and fulfilling.
2018 Update
I wrote the above article in 2015. I've since written helpful working homeschool mom articles in 2018 that share and update you on my journey and may give you ideas for your own journey.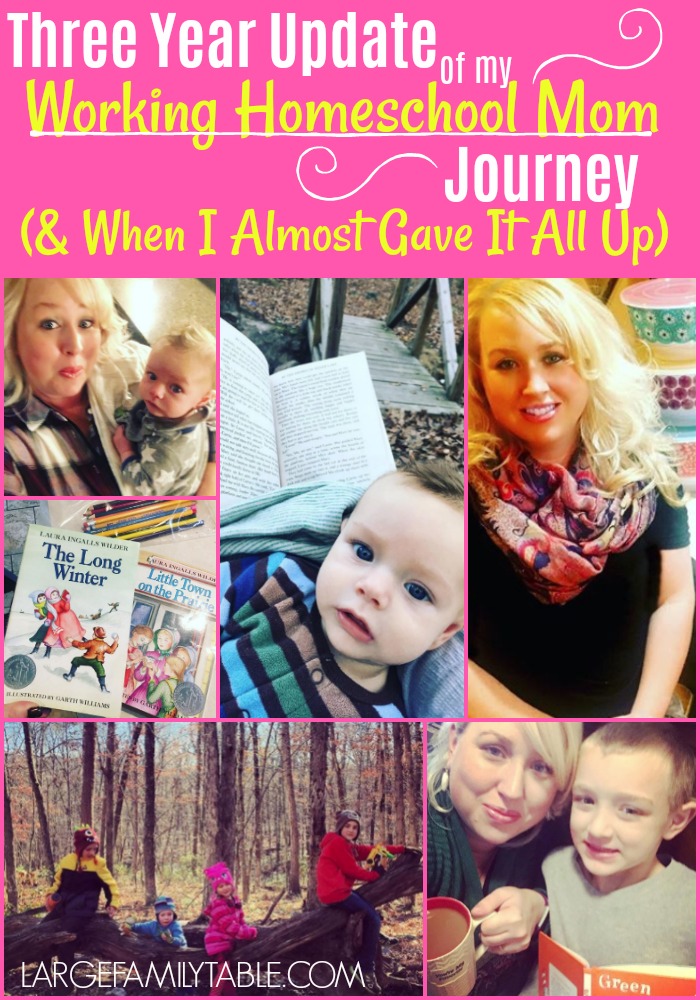 What other questions do you have about blogging and making money online?
What about health care coverage for bloggers?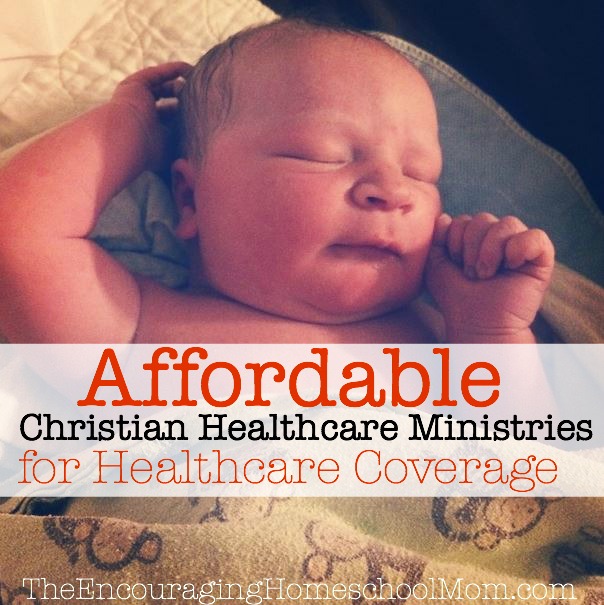 LARGE FAMILY INCOME UPDATE 2019
2020 update –> 💥WORK AT HOME HOMESCHOOLING MOMS with 19 KIDS!!! How We Run Businesses, Homeschool, & Run Our Homes!