Money Saving Tips for Large Family Travel
Yeehaw! On our way to the Teach Them Diligently Convention in Nashville, TN!
*Dollar Tree Treats
If we have a long trip on the horizon, my husband or I try to pop into the Dollar Tree for special "travel treats" for the kids. In this picture with our 6 kids (above) all buckled in for what turned out to be a 13.5 hour long van ride to Nashville, you'll notice that several kids have glow sticks in their hands. My husband thought this would be a fun early morning treat for our 6 a.m. departure.
You can also find neat activity books for kids that are themed (some Disney themed!) and include stickers and markers. Even a pack of plastic dinosaurs from the Dollar Tree can create hours of fun for traveling with kids! Take $5-$10 into a Dollar Tree and you'll find plenty of travel treasure. 😉 Remember that you can ship to your local Dollar Tree store for FREE!
*Ways to Save Money on Food
We try to take as much of our own food as possible. I got into this a lot in the video because every family thinks about food costs and ways to save money on food. One way that I save money on food is to take healthy roll ups, Joseph's Oat Bran and Whole Wheat Flour Pita Bread, or even cheap Tortillas. I use these in place of sandwich bread on trips. This saves me the frustration of hauling bread loaves on our travels and the kids enjoy the change, too!
Bread Disclaimer! Of course in the picture below of me making food at a rest stop on our way to Nashville, I'm making sandwiches with bread – after all that roll up talk above! Have no fear, I simply grabbed our last 2 loaves at home before we left because I knew we'd stop for lunch in just a few hours and the bread would be quickly used up early in the trip. Just thought I better explain my bread use. 🙂
Making lunch at my roadside kitchen!
Another way that I save money on food is the kids and I pore through our pantry and pull out any food items that could possibly be taken on our trip. If we're taking food that we already have on hand then that's less that we have to spend for food expenses on our trip!
In the video I also mention a store by the name of Sharp Shopper. If you live in Virginia or Pennsylvania I highly recommend that you find your way into the nearest Sharp Shopper location.
I have been happily shopping there for the last 11 years. It is the first store I hit for our once-a-month grocery shopping and it is a huge money saver. We have relatives that live 4 hours away from the nearest Sharp Shopper. When they come to our area for a visit they load up on several months worth of discounts! This store is the reason I personally don't do a lot of couponing. What do you think, should this store and I get married? 😉
Here's my monthly "raid" that I did on our local Sharp Shopper for 4/$1 yogurt, 25 .lbs of oatmeal, 7 .lbs of cheese, and more!!
You can read an older article on how I have fed my family for $400 a month here. Of course, our eating style has changed over the last 2 years and I'm able to spend a little more on our grocery budget now. However, readers have told me it's a helpful article to springboard ideas. You can read my updated
Gabriel, Naomi, and Zion on our balcony at the GayLord for the Teach Them Diligently Convention.
*Museum Discount Pass
I go on raving about the benefits of the ASTC Passport Family Pass in my video. I usually buy my pass through the Richmond Science Museum which gives our family of 8 membership for a year, plus 4 guest passes and iMax tickets! If you do the math on our family of 8 after we go on ONE trip to the Richmond Science Museum the annual pass pays for itself.
Plus, here's the BIG seller for me, we get free or heavily discounted admission to over 300 science and technology centers worldwide – included in this list are also aquariums, zoos, and other centers! In the video I mention several locations around the country that we've been able to take in for free or extremely cheap. I'm generally like a crazed homeschool mom milking our annual pass for every penny!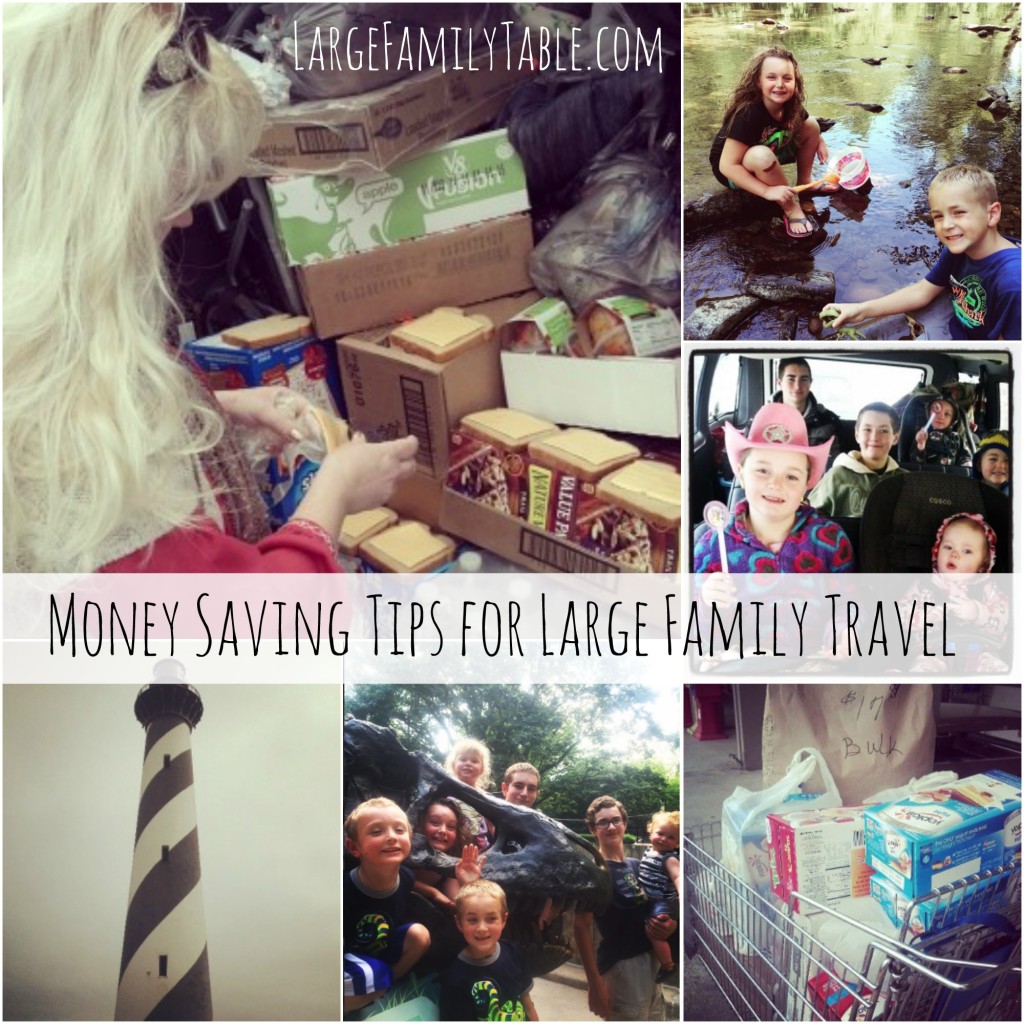 *U.S. National Parks Free Days
Another money saving tip that I completely forgot for the video – there are so many – don't forget about the Free Entrance Days in the National Parks! When we travel I try to check the dates, and sometimes even plan our trips around the dates, of U.S. National Parks Free Days. I did this last year when we went to Outer Banks, N.C. and we went to several lighthouses and historical sites for free!
Our Outer Banks 2013 trip on a budget!
What are your money-saving tips for family travel? There are so many; just leave your best tips in the comments of this post or at the bottom of the Money-Saving Tips for Family Travel video.
In today's video I share money saving tips for family travel with ideas for traveling with kids included! Click here to go to the Money Saving Tips for Family Travel video if you can't see the video above.
Jamerrill Stewart is wife to Travis for nearly 16 years and mother of 6 children ages 13, 10, 7, 4, 2, 1. She and her family make their home in the rural Shenandoah Valley where their days are filled with classic, read- alouds, sippy cups, and laundry. Jamerrill is the creator and owner of FreeHomeschoolDeals.com where she helps families afford the homeschool life. You can also find Jamerrill on her latest project at JamerrillStewart.tvwhere she shares weekly videos on homeschooling, motherhood, and family life.