More of My Journey of Growing a Successful Online Business (Or How I Feed My Family of Ten on the Internet 🙂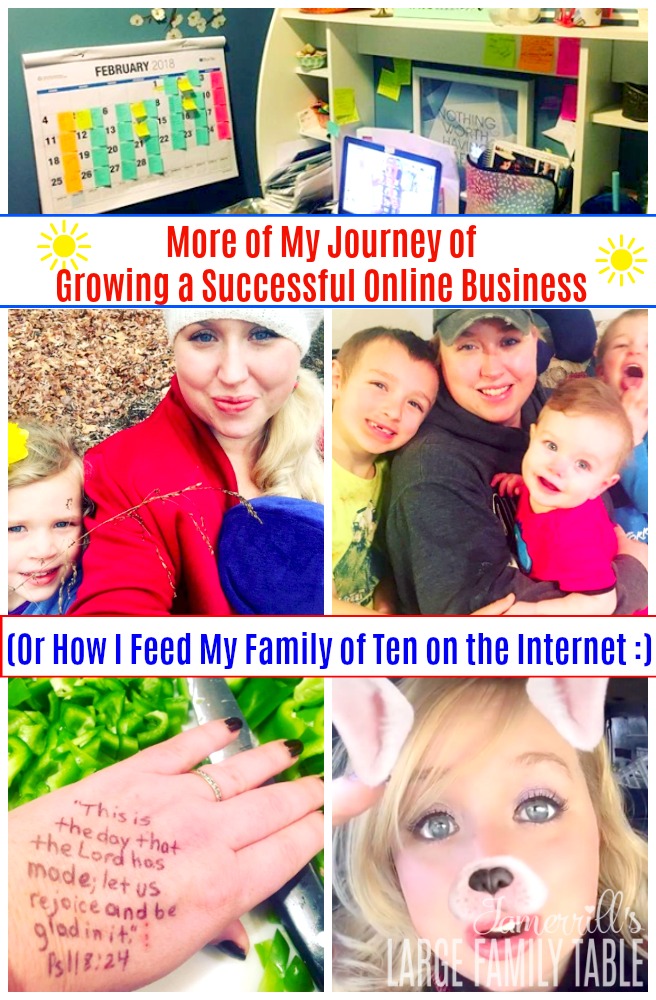 I have a special treat for you mommas who've followed my working homeschool mom journey over these last several years. And yes, it continues to be a step-by-step journey! Also, even though we're talking "business," please know that I consider everything I do a ministry to moms.
The reality is as a focused momma with very limited actual work hours, I have to make an income as well from my online efforts to in turn bless and provide for my family. Otherwise, I couldn't invest the time and energy I've put into my blogs and vlogs over the years. I'm so thankful though to be able to work from home and help mommas from behind the screen of my laptop and camera.
On that note, today I'm sharing on my friend Leslie Samuel's blog and podcast talking about How to Grow a Successful Blog.
I want to quickly share a few key snippets that I shared with Leslie with you here on the blog today and for the full meat and potatoes, if you're interested in blogging and vlogging yourself, you'll want to listen to the full blogging interview here.
3 Quick Tips for Being a Blogging and Vlogging Mom
Here are three of my quick tips on being a blogging and vlogging mom and growing a successful online business. I've ungracefully (but always full of hope and faith) grown my blogs and YouTube into a full-time business over these last 7-years. It started as a hobby in 2011. Then it became a business in 2012. From 2012-2015 I worked myself in the ground which eventually resulted in a neck injury. Since that time I've steadily walked out a part-time gentle hustle (gentle is my favorite
).
Go With Your Wild Ideas
While many people get great ideas and fill notebooks and voice notes on their phone with things they could do, you need to actually get started and do it. The only way I learned to blog and continue to learn more to this day, is I jumped out and started in 2011. The only way I've learned how to vlog and reach many on YouTube was to jump out and start in 2015.
I've had success, but I've also had hiccups and mistakes along the way. I haven't let my fear of failure hold me back overall. I've prayed, I've stepped out, I've gone with my wild ideas. Many people told me there was no need for a homeschool freebie and deal site (started FreeHomeschoolDeals.com in 2012), yet to this day it daily has tens of thousands of visitors and blesses homeschoolers around the world.
Several told me doing YouTube was stupid when I dipped my toes in those waters in 2015. I had a wild idea though that maybe there was something there and I should push YouTube around a bit. I'm so thankful I didn't miss the opportunities to connect with so many amazing viewers through YouTube that I would have never met through just blogging. YouTube has blessed my heart tremendously!
Now I have some new wild ideas of ways I can serve my reading and viewing friends that I'll be sharing in just a few short weeks (BIG HINT! Sign up for my Free Mega Freezer Meals Planning Pack if you haven't already so you'll be the first to know as I jump out following more of my wild ideas!).
Keep Moving Forward
"Yes, but Jamerrill there are so many blogs and so many vloggers. How will I be heard? Everything is oversaturated. Why would anyone listen to me?"
I'm a very positive person. I push down negative thoughts and possibilities and am just bold enough to attempt to look for the very best in every situation. It's a mindset the Lord has walked me through over the years in many hard life situations. If you want to blog and/or vlog you have to (as I mentioned above) START, and two you have to then keep moving forward.
Many people will tell you that you can't, everything is oversaturated, no one will listen. I say "whatever," do the next thing and keep moving forward.
Which leads us to my last tip,
Slow and Steady (even though I can be quick and jumpy)
That's right, as I share today with Leslie, play the long game. Grow slow and steady (even though I've been fast and jumpy!). The big key to being successful with blogging and vlogging in my experience is to just keep showing up. Share what you can share. Create what you can create. Can you only write one blog post a week or record one vlog a week? That's great, in one year you'll have 52 amazing evergreen blog posts or 52 solid videos on your YouTube channel. That means you'll be much farther than you currently are at this moment!
Growing a Successful Online Business
If you'd like to hear more of my blind faith online business journey and learn more tips and mindset for doing this online thing be sure to read and watch my interview with Leslie today. Also on this topic of being a business-minded momma, please share any additional questions or comments you have for me in the comments below. Maybe I'll be able to share more in the coming months.
Here are more posts I've written about being a working homeschool mom, making a full-time income online, and moving forward on this journey that's before me. My hope is you'll be encouraged on your own journey to using these online tools to help provide for your family as well.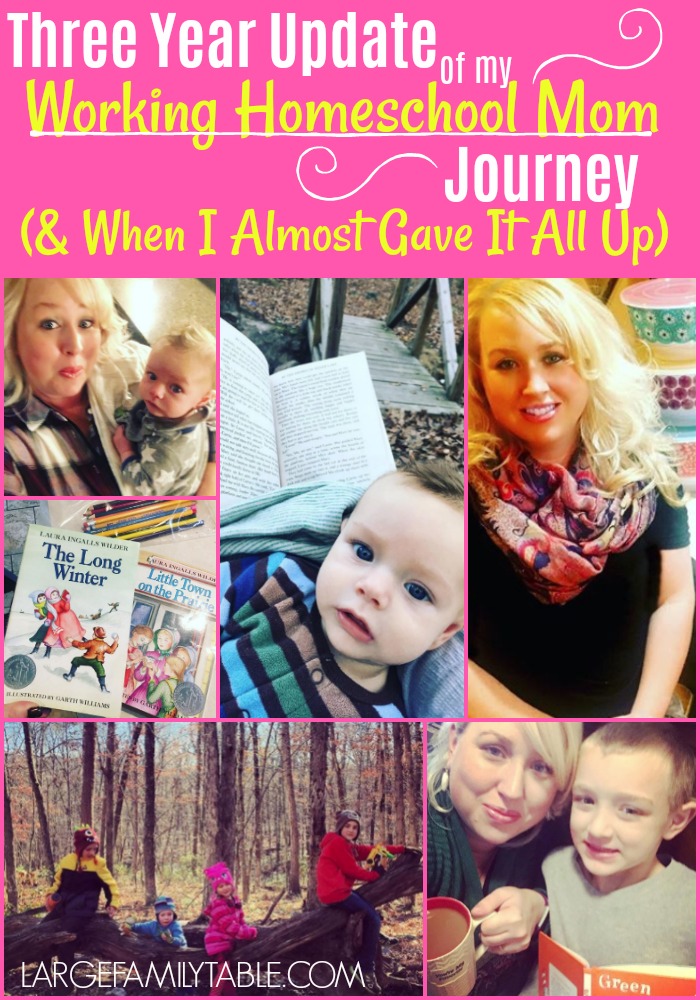 Here's more in Work-at-Home Mom Adventures.
2019 LARGE FAMILY INCOME UPDATE
2020 Update –> 💥WORK AT HOME HOMESCHOOLING MOMS with 19 KIDS!!! How We Run Businesses, Homeschool, & Run Our Homes!