My First Amazon Subscribe and Save Haul + Does it Save Time and Sanity?
This article contains my affiliate links. Thank you for your support!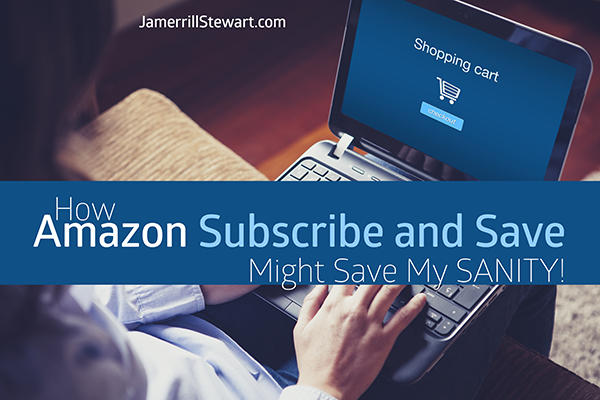 Today on YouTube I'm sharing my latest Amazon Subscribe and Save Haul! As I've continued to fine-tune the way I grocery shop once-a-month, or sometimes (although I despite it) grocery shopping weekly, I'm always open to try new things. With living rural, managing a growing family in a shrinking house, homeschooling a herd, working part-time running a full-time online business, and all the various hats that we moms wear, I'm always on the look out for services that help me manage my time and resources better.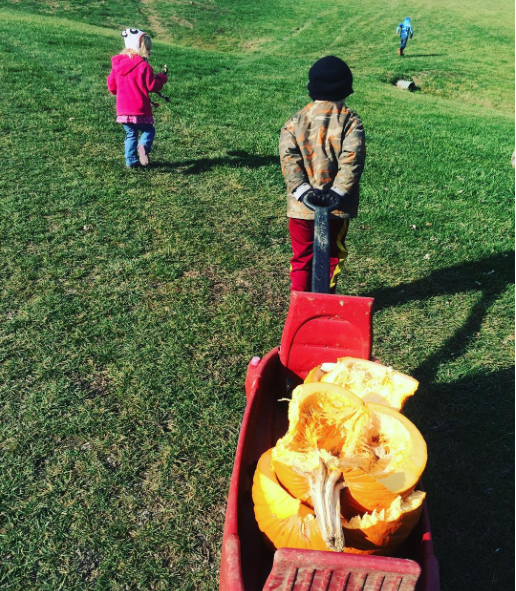 A day in our busy and blessed world, for an extra workout today we hauled our harvest pumpkins to the chicken coop for a chicken treat.
One of my most important resources is my physical and mental energy. I'm even all for spending a little more in the name of sanity or precious time savings. I'm happy to share though that my Amazon Subscribe and Save items haven't cost me anymore than I'd pay for the same products at the store. Plus (and this is a BIG PLUS HERE) all the items get delivered on my porch with free shipping. HELLO sanity, time-savings, and efficiency!
My First Amazon Subscribe and Save Haul + Does it Save Time and Sanity?
This new YouTube video is actually my 2nd Amazon Subscribe and Save haul. I wanted to work with the Subscribe and Save service first before I started to share about it. Here's the run down of the Amazon Subscribe and Save service as I've experienced so far.
What is Amazon Subscribe and Save?
Amazon Subscribe and Save is a service offered by Amazon where you schedule your favorite household items, beauty products, bath products, toiletries, baby products and more (even items like gummy bears and batteries), to be delivered to your home on a scheduled bases. You can choose monthly, bi-monthly, every 3-months, or even 6-months!

With Subscribe and Save you save up to 15% on your entire order. The items are shipped free to your door. And you can cancel your subscriptions at anytime! What I like is that I can skip a scheduled order if I find out it's an item I don't really need more of one month.
My FIRST Subscribe and Save Haul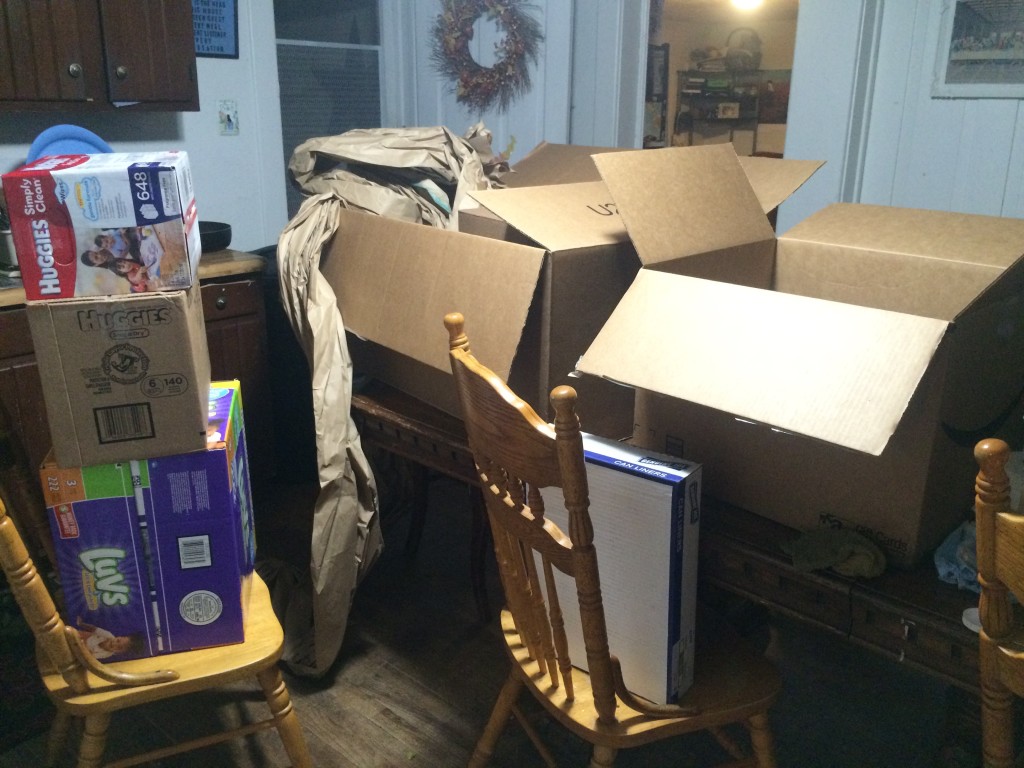 So this is what my kitchen looked like after my very first Amazon Subscribe and Save haul in November 2015. It was a lot of boxes, which the kids loved!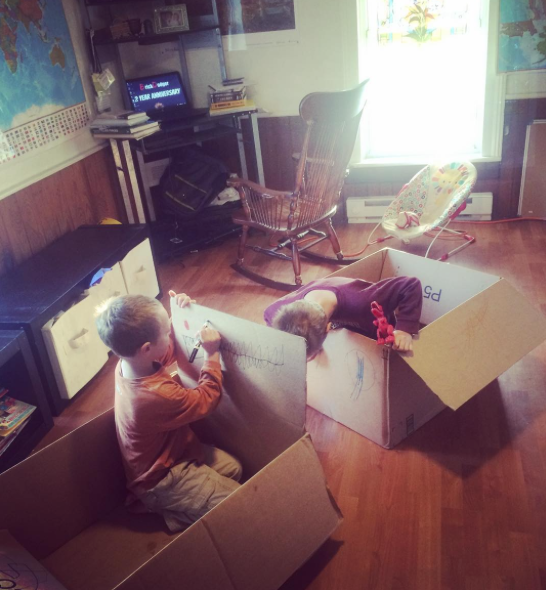 #Homeschool mornings are better with big boxes! One of the perks of this time of year ?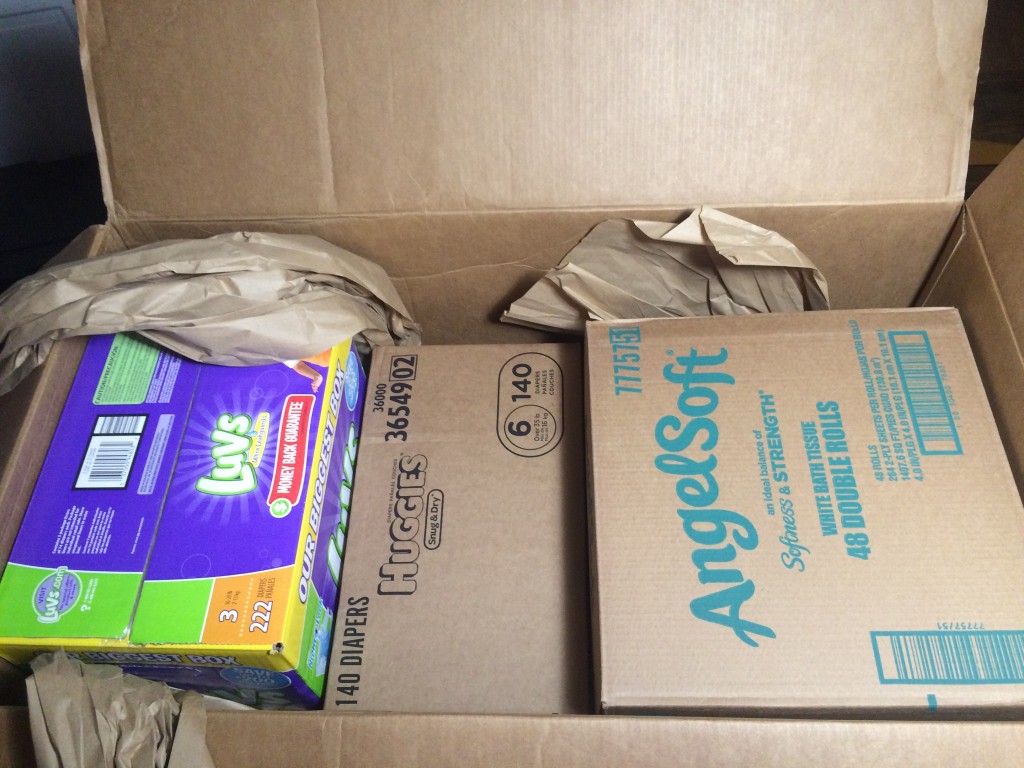 Here's a full list of everything in my first subscribe and save order:
Angel Soft 48 Double Rolls Bath Tissue, 4 Count (Pack of 12) — yes, toilet paper deliver to our door!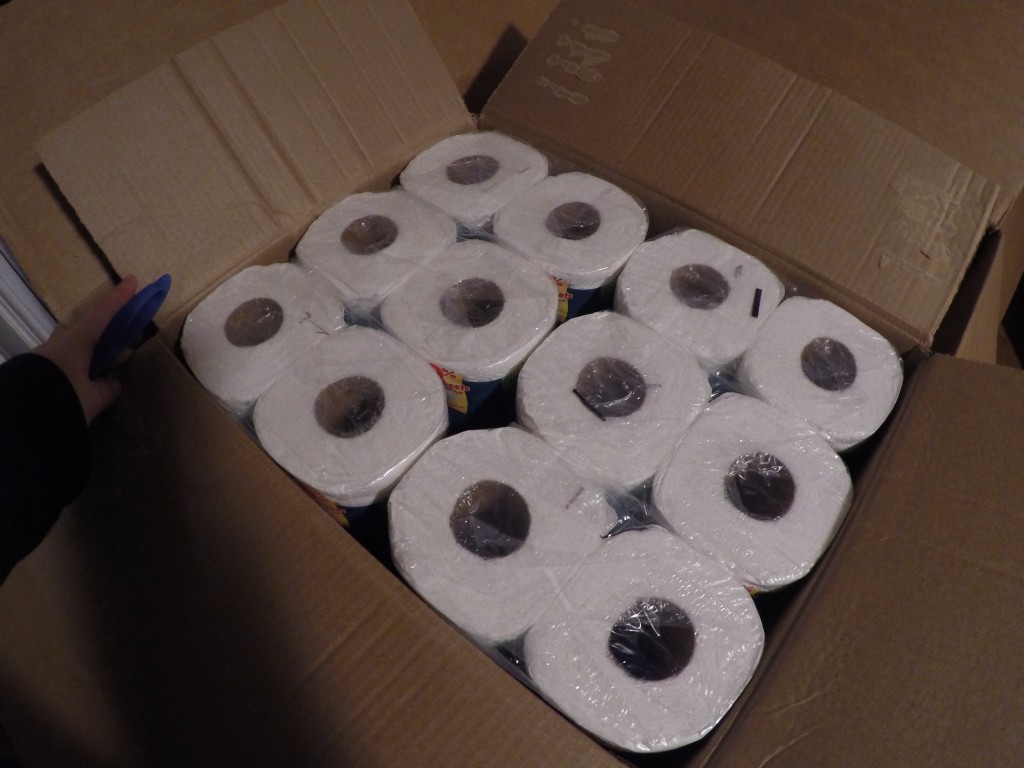 Luvs Ultra Leakguards Diapers, One Month Supply, 222 Count — Daniel's diapers
Huggies Snug and Dry Diapers, Size 6, Economy Plus Pack, 140 Count — Amelia's diapers (I don't potty train until right around age 3. Usually after that my kiddos still need a night time diaper for a season as well.)
Desitin Diaper Rash Cream Rapid Relief — this works well on my babies bottoms.
Huggies Simply Clean Baby Wipes, Unscented, Refill, 648 Ct
Excellence Extra Light Ash Blonde — my hair color delivered right to the porch. Plus, it was $3 less than at the drug store or even Walmart!
John Frieda Frizz-Ease Original Serum — I need lots of "Frizz-Ease." Here's proof in this picture!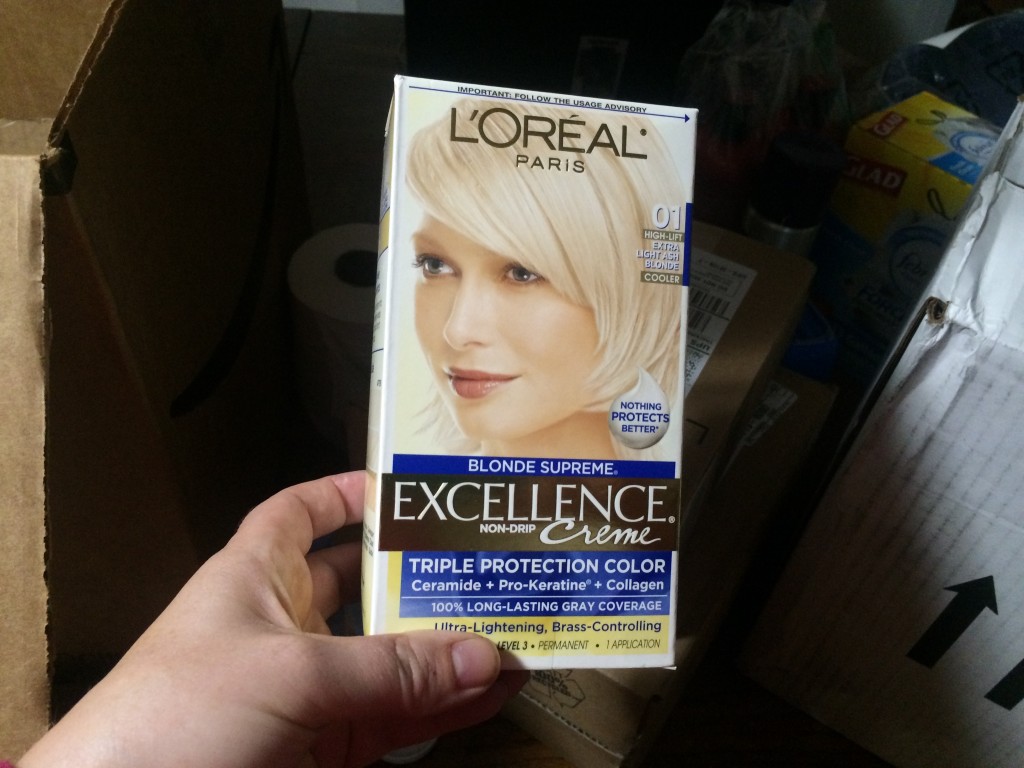 Miracle Noodle Shirataki Pasta, 6 bag Variety Pack, 44 ounces (Includes: 2 Shirataki Angel Hair, 2 Shirataki Rice and 2 Shirataki Fettuccini) — I show these noodles in today's YouTube video. If you're doing Trim Healthy Mama you'll like these noodles!
Garnier Fructis Sleek & Shine Intensely Smooth Leave-In Conditioning Cream — This is a leave-in conditioner product that I've used in my hair for years. It's normally around $5 a bottle at regular stores. With Amazon Subscribe and Save I can get it delivered for around $2.50!
TRESemme Shampoo, Keratin Smooth and Tresemme Keratin Infusing Conditioner
John Frieda Frizz Ease Moisture Barrier Firm Hold Spray — even my hair spray!
L'Oreal Kids Strawberry Smoothie 2-in-1 Shampoo for Extra Softness — This is an example of how prices can change. Amazon will send you an email a few days before your Subscribe and Save order ships. Your job is to quickly check the items on your list and either 1) leave everything how it is 2) skip items you don't need delivered 3) change out any items with price changes. This Kids Strawberry Smoothie Shampoo was a little over $2 when I ordered it. As of this posting Amazon is showing a price several dollars more, which I'd never pay. Just keep your eyes open and do a quick check as needed!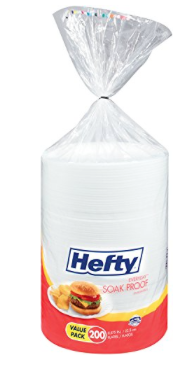 Hefty Everyday Foam Plates — I've come to consider having a huge stack of disposable plates on hand as a life saver in our busy household. It makes meal clean up easier during times when we know we have to run out the door for a field trip, church, homeschool group, or other events. My husband laughed that this order of disposable plates was cheaper than at the store, plus was delivered for free.
Clear Gel Cool Wave Antiperspirant and Deodorant — This is for my hubby. It's the kind he prefers and again…delivered to the door. 🙂
Irish Spring Signature Hydrating Bar Soap — and he likes Irish Spring so I figured these "man size" bars would work!
Dawn Ultra Antibacterial Dishwashing Liquid — We still hand wash dishes here at the old farm house. It's what we've always done so we don't really know any different (gasps 🙂 ). My 9, 12, 15-year old, and myself each take a turn hand washing the dishes each day (another reason why a huge stack of disposable plates is so welcome!).
Softsoap Liquid Hand Soap Aquarium Series Refill — we refill our soap dispensers around here too! This case should last several months.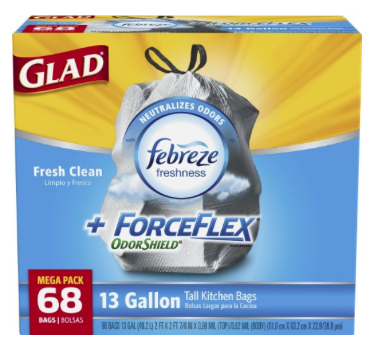 Glad ForceFlex OdorShield Tall Kitchen Drawstring Trash Bags — I'm actually in love with these trash bags. They really are strong and the Febreze scent is perfect. I use these trash bags in our bathrooms and diaper trash can.
Genuine Joe Maximum Strength Low-Density Resin Trash Can Liner, 45 gallon — We have a large can in the kitchen and change it out daily. So far these large trash bags have held up well!
Tide PODS Spring Meadow HE Turbo Laundry Detergent Pacs 81-load Tub — In the past I made homemade laundry detergent for several years. Now I'm currently using Tide PODS for this season.
Clorox Disinfecting Wipes Value Pack, Fresh Scent and Citrus Blend, 225 Count — for all the reasons!
Mr. Clean Magic Eraser Extra Power Home Pro, 8 Count Box — all. of. this.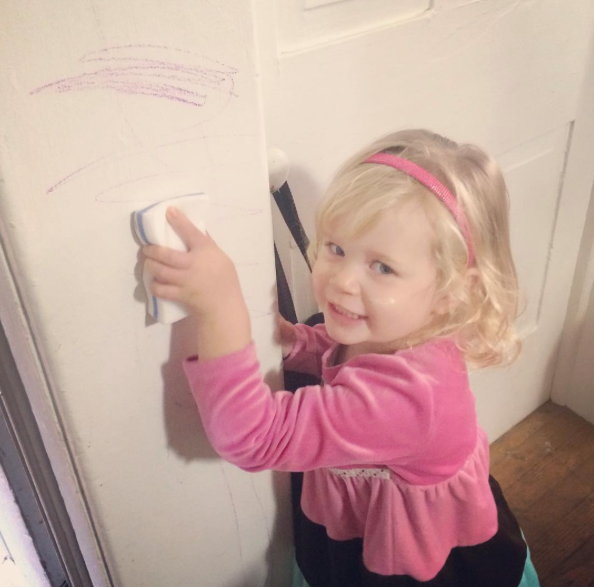 Ms. Amelia has learned about Magic Erasers 🙂
Now my first order listed above contained a lot of products. As I mentioned in today's video there are several items that I ordered in this first shipment that I thought we'd need each month. However I skipped items for my 2nd shipment which is shown in today's video because we didn't need those items as of yet. This shows that Subscribe and Save is flexible and easy for even a busy homeschool mom like me to manage.
My items currently scheduled in my January 2016 Subscribe and Save order: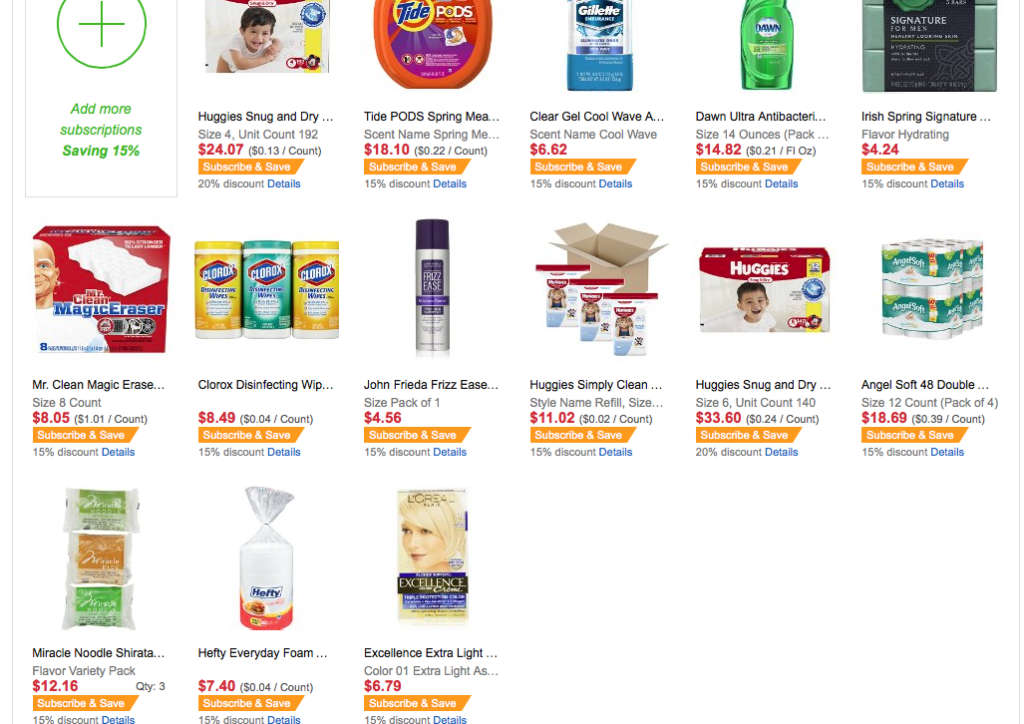 Click here to watch my My First Amazon Subscribe and Save Haul on YouTube!
Do YOU use Amazon Subscribe and Save?