My Real Life Work-at-Home Mom Schedule: Part One
Daniel Joel getting lessons in being a work-at-home baby!
Friends have asked me to share exactly what my work-at-home mom schedule looks like, especially now that we've just added baby number seven to our brood. I've also mentioned my work-at-home mom schedule on social media like Instagram a few times in which several ladies responded with similar questions.
I'll be completely honest with you and share that I don't have a perfect, flawless, system (shocker!). My family and I live real life here at the Stewart pretend-farm which certainly includes days in which nothing goes as planned.
That being said, I am a planner at heart. I've learned over the years that my list will not always be checked off exactly. However, I'm able to manage better with a list to begin with and a vision of what I'm trying to achieve–whether it's trying to pull our homeschool room that has exploded back together, complete once-a-month grocery shopping for our family of nine, or run my online efforts such as FHD.
My 6ft 6 husband, Travis, helping me wrangle the youngest learners during our tablework time.
Before I go any further I'll bring up that yes, my husband is home full-time, which is a personal family-sanity decision that we made over a year ago after struggling for years with his 70+ hours a week night shift position, and figuring out just how God wanted us to handle the demands of my semi-overnight business (hello, FreeHomeschoolDeals.com!).
Travis is home to help me keep myself, the business, and the kids, home, and homeschool together. However, that doesn't mean this has been easy, or is any easier now, over a year later. But we're in this together. He supports me and I support him. After 16 years of marriage, we know it's us and Jesus figuring things out!
How Many Hours I Work From Home
I work anywhere from 20 to 40 hours a week from home depending on the season, my project list, and size and effectiveness of my current business team. Currently, my team takes care of much of the daily tasks on FHD such as making sure the latest homeschool freebies and homeschool deals are posted, among other tasks.
In this season I'm able to focus most of my working hours on:
taking care of all the behind-the-scenes business duties such as working with advertisers, marketing, social media (although I have a new team member helping more with various social media tasks), email marketing, invoicing, billing, bookkeeping, daily email tasks, and several other etcs. These business-running tasks that no one sees can take me 10-20 hours a week. I try to keep them to 10, but that's not always realistic,
writing a new eBook which will be out hopefully sooner rather than later,
developing new products that you'll hear more about soon,
getting ready to do some more traveling and speaking, and
getting back to actually blogging again (hey, I'm doing it now!) which has been a great burden on my heart to work back into.
 I share in Part Two exactly how I fit in my more often than not 40-hour work week while still attempting to be a full-on focused homeschooling mom and wife. Whew, wiping the sweat from my brow. 😉
Are you a work-at-home mom, or would you like to be?  What kind of work do you do and how do you creatively get your working hours in? Share in the comments below and let's chat!
2018 Update
I wrote the above article in 2015. I've since written helpful working homeschool mom articles in 2018 that share and update you on my journey and may give you ideas for your own journey.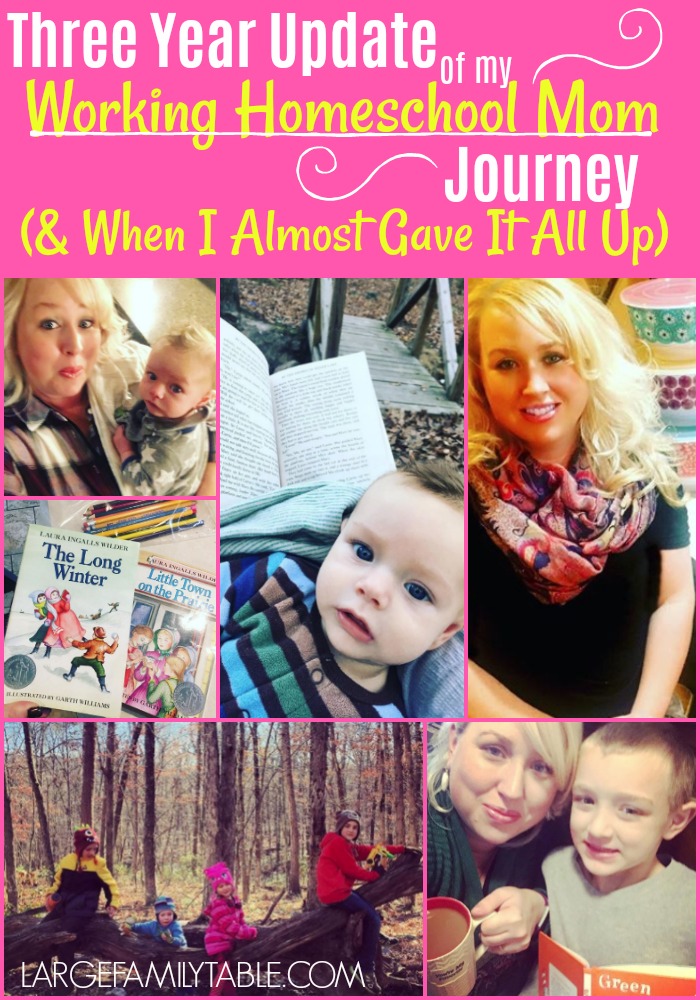 2019 LARGE FAMILY INCOME UPDATE (YES, STILL WORKING FROM HOME AND MAKING A FULL-TIME INCOME!)
2020 Update –> 💥WORK AT HOME HOMESCHOOLING MOMS with 19 KIDS!!! How We Run Businesses, Homeschool, & Run Our Homes!