My Work-at-Home Mom Scheduling Secret Weapon
This week I've shared My Real Life Work-at-Home-Mom Schedule Part One and Part Two – start there if you missed those.
I never wanted to add "work a full-time schedule," or "own/run an online business," to my to-do list when I started blogging as a hobby a little over 4 years ago. I just wanted to express a few thoughts and share some pictures. Over time the Lord opened doors and showed me how I could do wild things like buy more fruit and more for my family through blogging (you can read the full back story here in How My Blogging Brought My Husband Home Full-Time).
My heart is to be home with my children, teach them about the Lord, and read to them. That's my big life plan summed up.
I reiterate this again to express that I didn't start out with a plan. These last 4 years have been full of a lot of trial and error for my family and me. I feel like over the past year we've slowly come together to now be in the best place that we've been as a family in a long time.
I hope my sharing a look into my current schedule only encourages you that everything in life is a process. You may not be exactly where you want to be, but that doesn't mean you're in the wrong place. What I'm doing isn't easy and it's not a path meant for everyone. It hasn't been handed to me. It has been hard work. That doesn't mean it's not where the Lord wants me to be just because it has taken work and sacrifice. He has given us abundant grace for this journey as well and we are grateful.
My Work-at-Home Mom Scheduling Secret Weapon
Part of my journey of walking out this work-at-home mom thing has been to constantly evaluate and re-work my scheduling attempts. Over 2014 I added what I have come to consider my biggest "secret weapon" in my real life work-at-home mom schedule,
my weekly one power-packed work day.
As I shared in My Real Life Work-at-Home-Mom Schedule: Part Two, by working 4 hours a night 5-6 nights a week I get in 20-24 hours of work. For almost a year now I additionally take ONE FULL day a week to pound out my massive business related to-do list items and big projects. Usually, I work this 12-14 hour day on Saturdays. This bumps me up to working somewhere in the 35-38 hours a week ballpark. Also, yes, if we have a family event or activity on Saturday I just take that Saturday off. 🙂
About a year ago on Instagram I shared, "My Saturday office #13hrworkday #thetruthaboutbeingsuccessful."
This one long work day works well for me because
I'm able to focus my energy into work for one day. We can all do anything for one day, right? On this one day, I don't have to additionally put major energy into "mom life," which means I can put intentional focus into business. I'd rather spend one day in focused work than try to work in another several hours a day of work-time on a daily basis (we tried that, too!).
The family really is fine without me for this one day. My husband runs the show household-wise and I lock down for focused work-time. Before baby Daniel was born I worked many Saturdays spread out at our local Panera Bread. Since the new baby, on my big work day I stay home in my flannel PJs all day in bed and work away on my list. I usually pop downstairs to have lunch and dinner with the family, a plus being I didn't have to make it. 😉
12-14 hours, really?! I worked as a charge nurse for several years so I'm used to a 12-16 hour shift when need be. I love the scheduling flexibility that nursing offers. I worked full-time outside of our home the first several years we homeschooled, largely because I could get all of my hours in over 2-3 days.
So friends, that's a look at how I'm homeschooling, working full-time, and accomplishing some of my goals like reading through my book stack. In the comments of the other posts some moms have asked how I get in my errands, or how we meal prep, etc. You can check those comments for the answers to those questions. I'm here if you'd like to know anything else. Just leave your questions in the comments below!
What other tips would you give to moms who work from home?
2018 Update
I wrote the above article in 2015. I've since written helpful working homeschool mom articles in 2018 that share and update you on my journey and may give you ideas for your own journey.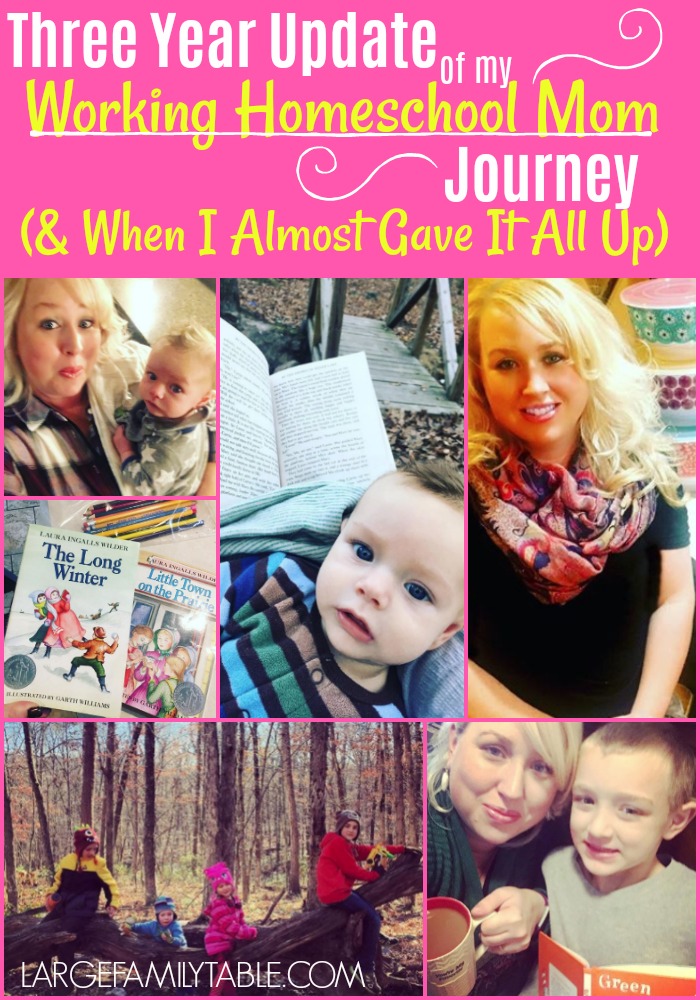 LARGE FAMILY INCOME 2019 UPDATE – HOW I *STILL* SUPPORT MY FAMILY ON TEN ON THE INTERNET!
2020 Update –> 💥WORK AT HOME HOMESCHOOLING MOMS with 19 KIDS!!! How We Run Businesses, Homeschool, & Run Our Homes!