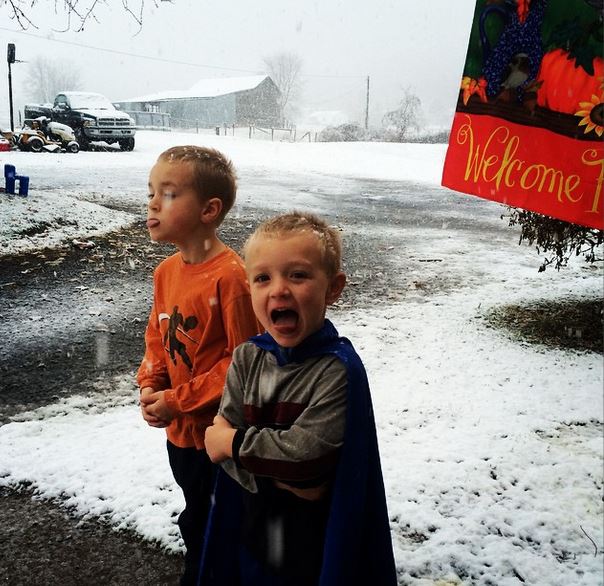 Thanksgiving 2014 Adventures
I hope you have a wonderful Thanksgiving holiday with your family. We had a few mini adventures around here, it wouldn't be a large family holiday otherwise. The day before Thanksgiving Liam and Gabriel were thrilled with our first official snowfall of the season! We ended up with about 5 to 6 inches, followed by lots of snowman making and sledding. In the picture above I let the little boys go out on our sidewalk to catch snowflakes on their tongue when it first started to come down.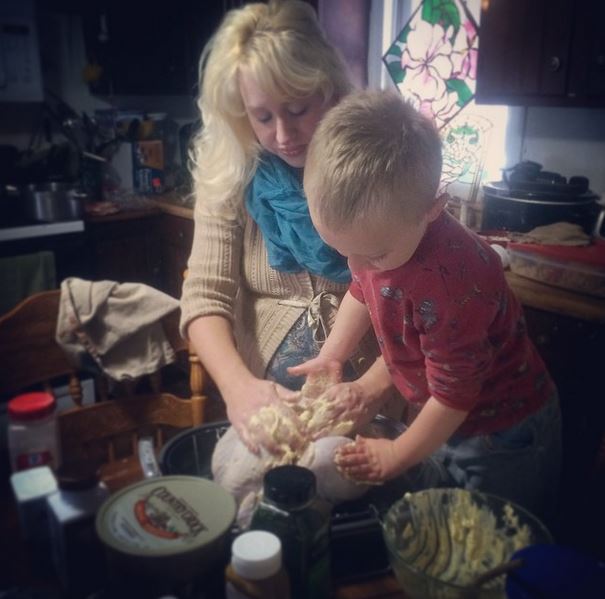 BACON wrapped turkey
We had plans to try out a new recipe where we  wrapped our turkey in bacon. In the picture above Liam and I are completely coating our turkey in seasoned butter. I look like I may be saying a prayer for our turkey fella',  but it's just my third trimester mama face trying to keep my legs standing up! Things were going well until time to put our turkey creation of the oven.
Then, surprise, surprise, our electricity went out!
We certainly made the best of it, and had a real-life reminder in giving thanks. We packed up all of our food that we were in the process of making into one of our three refrigerators (talk about a blessing!). Then we headed to town to have Thanksgiving dinner at a local restaurant.
Appreciating blessings and all I was still aware of the reality that I was not in the mood to return home with six children and toilets that did not flush 🙂 So my husband was good enough to take us on a Christmas light tour which also included several hours of listening to Brian Reagan and Tim Hawkins comedy.
That's the sign of a good man.
By the time we returned home our electricity was restored, including flushing toilets. This momma was thankful.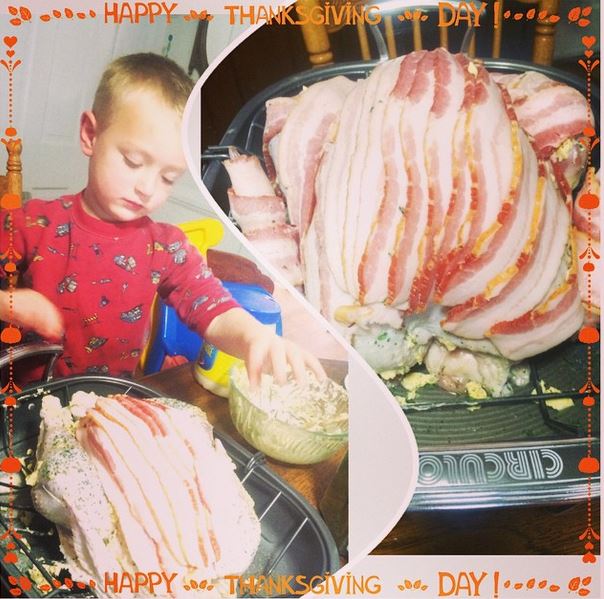 Bacon wrapped turkey recipe
The following day we had Thanksgiving number two with several family members at our house and that bacon wrapped turkey…turned out fabulous!
A few reading friends have asked me on Instagram exactly how we did the bacon wrapped turkey. I simplified several complicated recipes that I saw online. All we did was season butter with spices that we generally like (powdered garlic, powdered onion, parsley, salt, pepper). Then we laid strips of bacon on the turkey overlapping each strip. We followed the cooking directions for baking our turkey for its weight.
The result was an excellent turkey that had a smoky flavor, and crisp bacon, which makes everyone in my house happy. The sad news is I don't have an updated picture of what our turkey looked like when it came out of the oven. We ended up cutting into it so quickly and literally gobbling it down – there's no evidence it was even here, ha ha!
How was your Thanksgiving? Let me know in the comments below! Any adventures that you'd like to share?